If you love lemon desserts – then you need to try this Starbucks Copycat Lemon Loaf! It's buttery, moist, bursting with lemon flavor, and topped with sweet lemon glaze!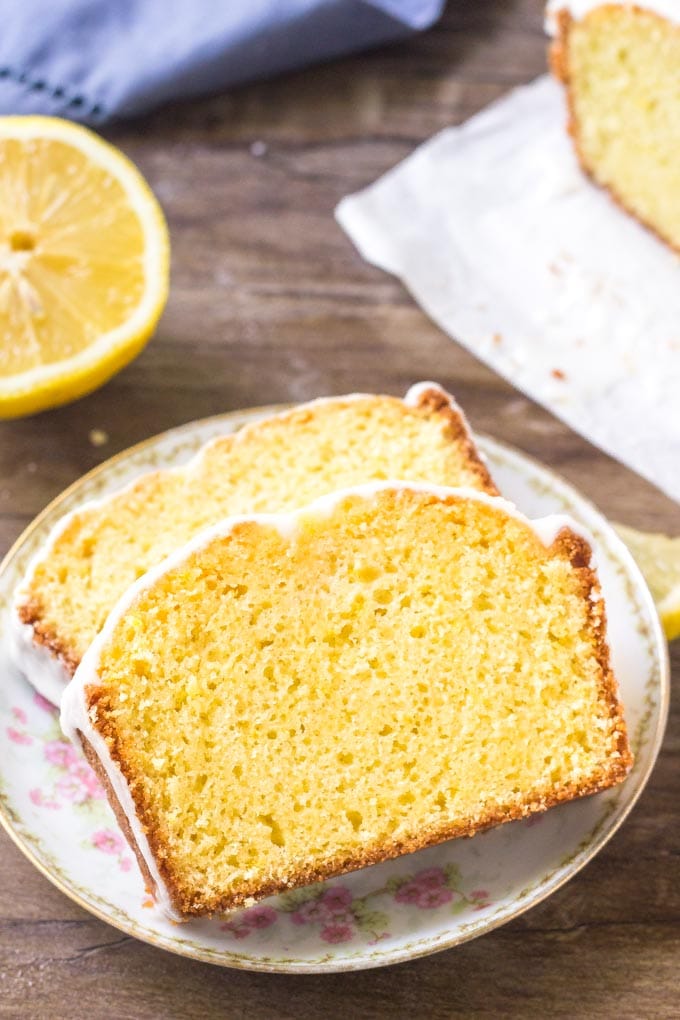 This lemon loaf tops the list of favorite lemon desserts, along with Lemon Pound Cake and Lemon Blueberry Muffins.
Starbucks Famous Lemon Loaf
Have you ever tried the lemon loaf from Starbucks? As much as I love homemade treats, I can't turn down a slice of their lemon pound cake. It's so tender and packed so much lemon flavor in every single bite.
When I was a student, I'd go to Starbucks on a Sunday to do homework. And without a doubt – I'd always order a slice of their lemon loaf. It has the perfect balance of delicious butteriness without being greasy, and the lemon flavor packs a punch without being sour whatsoever.
So I wanted to find the perfect Starbucks copycat lemon loaf recipe so that I could make a delicious lemon loaf at home and eat 3 slices without the embarrassment of ordering all 3 from the Barista.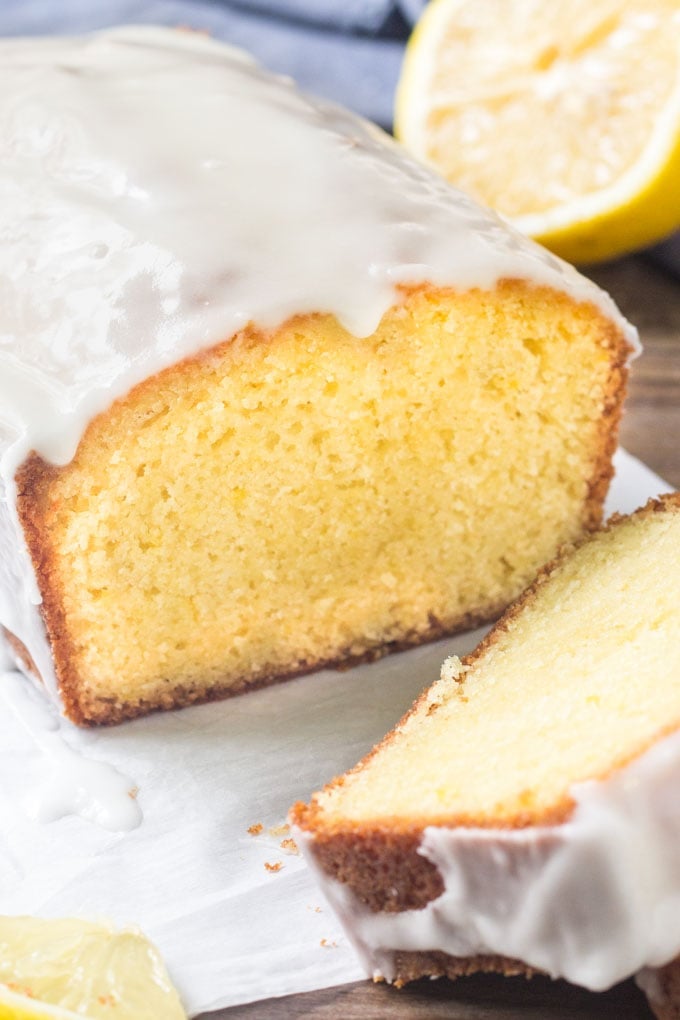 Starbucks Copycat Lemon Loaf Recipe
To develop the perfect lemon loaf from scratch – I had to do some sleuthing. I first looked at the Starbucks website to see the ingredient list for their lemon loaf. While there's a ton of ingredients I didn't understand that are obviously only used in commercial kitchens, I did learn a lot about the ingredients they use.
They use butter instead of oil for the fat.
They're using lemon juice, lemon peel and lemon oil for the lemon flavor.
Both baking powder & baking soda to help it rise beautifully.
There's sour cream to keep it moist.
So in order to get a recipe that's close as possible to the original – I wanted to make sure I had those ingredients in my recipe too. Obviously, they don't show the exact proportions on their website, so from there it was time to start experimenting in the kitchen.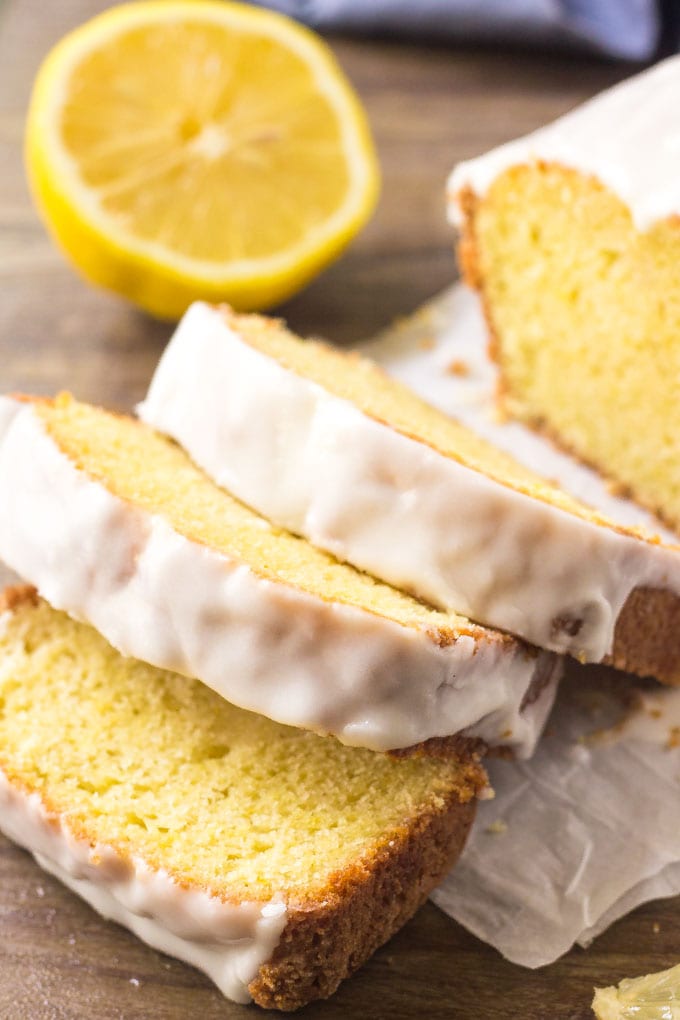 Developing the Perfect Lemon Loaf Recipe
The first lemon loaf recipe I tried was too dry – so I knew I needed a little more sour cream and an extra egg to keep it tender and moist. Then the next one wasn't quite lemony enough. Finally, number 3 was just right. Tender, moist, and bursting with fresh sunshine lemon flavor.
To get a lemon flavor that was the most similar to the Starbucks version, I used lemon juice, lemon zest and lemon extract. I found that the lemon extract made the flavor the most similar to the Starbucks version. However – I know it's a little harder to come by. So feel free to leave the lemon extract out. Your lemon loaf will still be delicious.
Whether you've tried the lemon loaf from Starbucks or not – you definitely need to try Starbucks copycat lemon loaf recipe. It's perfect for breakfast, a midmorning snack, or even dessert. And the bright lemon flavor makes it taste like sunshine in delicious pound cake form.
Top Tips
We have received a lot of comments in regards to the icing. The proportions in the recipe include a note to add more powdered sugar as needed until you have a nice thick consistency. This can vary from kitchen to kitchen depending on personal preference, and what type of milk you use. I've updated the recipe with less liquid to start for the icing, but keep in mind that you may have to play around with it to get a flavor and texture that you love.
Check for browning as it bakes. If the top is getting too brown, cover with foil.
If you want more lemon flavor in the bread and the icing, use lemon extract along with the lemon juice. The flavor will be more intense. It can however have a "fake" taste so be cautious using too much.
Store and Freezing
Your Lemon Loaf will remain fresh for up to 5-6 days when properly stored, or up to 6 months in the freezer.
Store leftover Lemon Loaf in an airtight container at room temperature for 4-5 days. Do not refrigerate as this can dry out the cake.
For long term storage, you can freeze the Lemon Loaf and store in the freezer for up to 6 months. Place frosted lemon loaf (whole or slices) on a sheet pan and pop it into the freezer for 2-3 hours. Once it's frozen, wrap it up in plastic wrap and a layer of foil, then into an airtight freezer container. Unfrosted lemon loaf you can just wrap and freeze.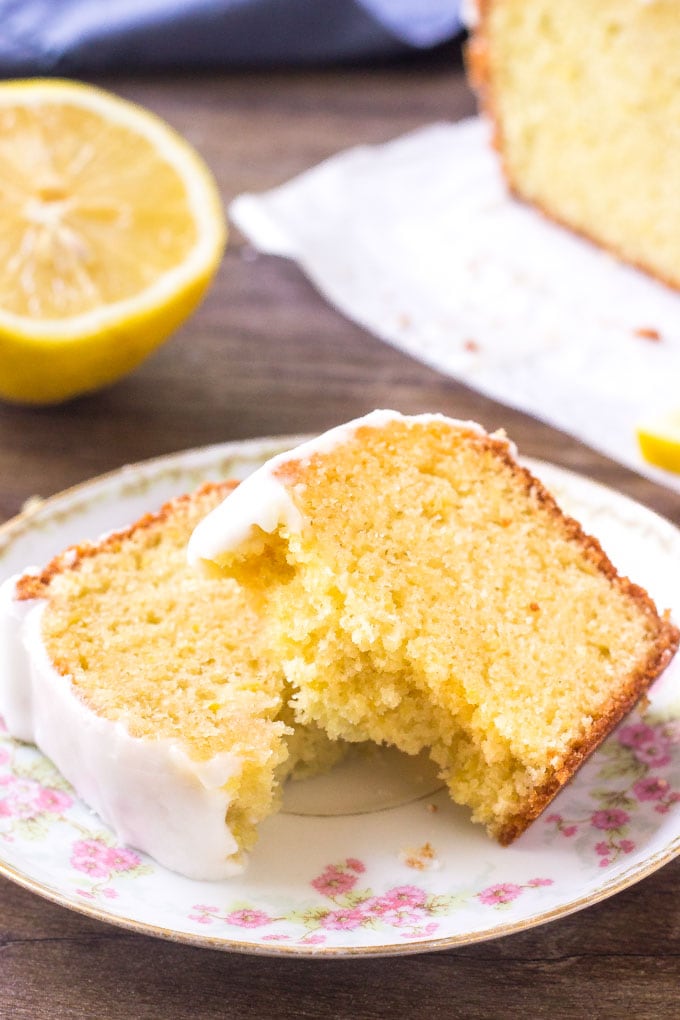 More Lemon Desserts
Lovely Lemon Recipes
Recipe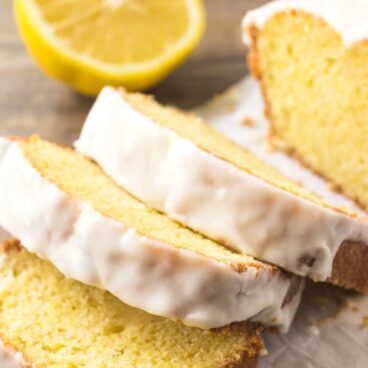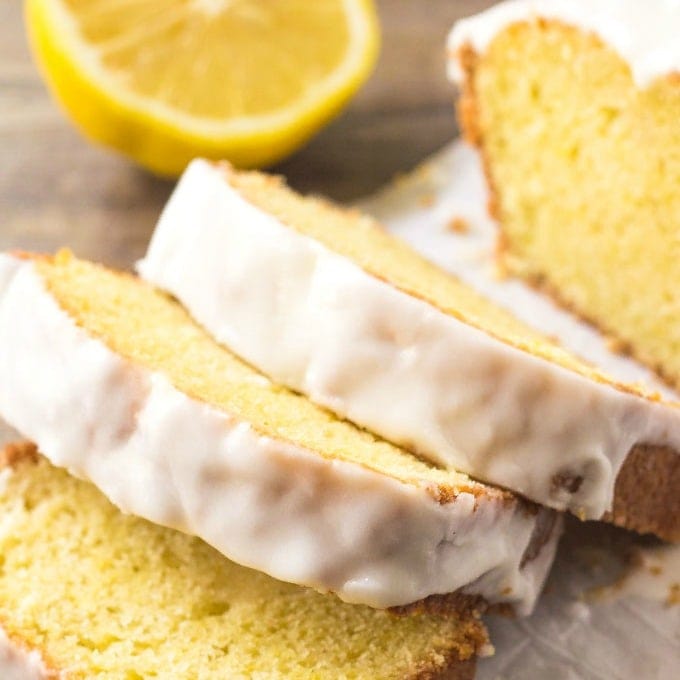 Starbucks Copycat Lemon Loaf
If you love the lemon desserts – then you need to try this Starbucks Copycat Lemon Loaf! It's buttery, moist, bursting with lemon flavor, and topped with sweet lemon glaze.
Total Time
1

hour
10

minutes
Ingredients
Lemon Loaf
1 1/2

cups

all-purpose flour

1

teaspoon

baking powder

1/4

teaspoon

baking soda

1/4

teaspoon

salt

1/4

cup

unsalted butter

melted and at room temperature

1/4

cup

vegetable oil

1

cup

granulated sugar

3

large eggs

1

teaspoon

vanilla extract

1

teaspoon

lemon extract*

or add additional ½ tablespoon of lemon zest

1

tablespoon

lemon zest

2

tablespoons

lemon juice

1/2

cup

sour cream

or buttermilk
Lemon Icing
1

cup

powdered sugar

add more until desired consistency is reached

1

tablespoon

lemon juice

1-2

tablespoons

cream or milk

adjust as needed for consistency
Instructions
Lemon Loaf
Preheat the oven to 350F degrees. Grease and flour an 9×5-inch loaf pan, or line with parchment paper.

In a medium size bowl, combine the flour, baking powder, baking soda, and salt. Whisk together. Set aside. 

In a large mixing bowl, with a electric mixer on medium speed, mix the granulated sugar and the eggs for 2 minutes. The extra time helps to incorporate air into the batter which makes the bread more fluffy.

Add the melted butter and the oil. Mix to incorporate.

Add the vanilla, lemon extract, lemon zest and lemon juice. Mix on medium speed until all ingredients are combined.

Add in the sour cream and mix well. 

Add the dry ingredients to the wet, approximately ⅓ of the mixture. Mix until almost incorporated and add more. Continue until all the flour is incorporated in the wet mixture. Don't over mix. Sometimes I will use my hand mixture but finish with a spatula when I only have a little bit of dry flour left.

Pour the mixture into the prepared loaf pan.

Pour the batter into the prepared pan and bake for 50 minutes or until an inserted toothpick comes out clean and the top feels firm to the touch. If after about 30-40 minutes the top is browning too much, tent a piece of aluminum foil over top and continue baking.

Cool completely. Once the loaf is cool, prepare your glaze by mixing all ingredients together
Lemon Icing
In a medium bowl whisk together the powdered sugar, lemon juice, and cream/milk until smooth. Add in more powdered sugar or cream as needed for desired consistency.

Remove the cooled loaf from the pan and drizzle or pour over top. 
Notes
Store in an airtight container at room temperature for up to 3-4 days. 
Melt butter in the microwave then let it cool for a few minutes before adding to the batter. 
The original recipe used buttermilk, but I adjusted and now use sour cream instead. It provides more moisture, preventing the bread from turning out dry. 
This recipe uses a 9×5-inch loaf pan. The size is important! You can use an 8×4-inch pan, but will need to adjust the time and temperature. It would also result in a thicker loaf and you risk losing moisture.
This recipe was updated in May 2022 when we adjusted a few ingredients and swapped out buttermilk for sour cream, reduced the butter and added oil. This adds more moisture to the bread.
If you preferred the old recipe – use ½ cup buttermilk instead of sour cream, omit the oil and add an additional ¼ cup of melted butter, and reduce the amount of baking powder and vanilla to ½ teaspoon each. Bake in an 8.5×4.5 loaf pan. 
Nutrition
Calories:
398
kcal
Carbohydrates:
59
g
Protein:
5
g
Fat:
16
g
Saturated Fat:
9
g
Polyunsaturated Fat:
1
g
Monounsaturated Fat:
4
g
Trans Fat:
1
g
Cholesterol:
101
mg
Sodium:
139
mg
Potassium:
131
mg
Fiber:
1
g
Sugar:
41
g
Vitamin A:
537
IU
Vitamin C:
3
mg
Calcium:
56
mg
Iron:
1
mg