These Black Pepper Biscuits are fluffy, tender and flaky – they make a great side to any meal. With flecks of spicy black pepper, these biscuits are different than anything you've ever had!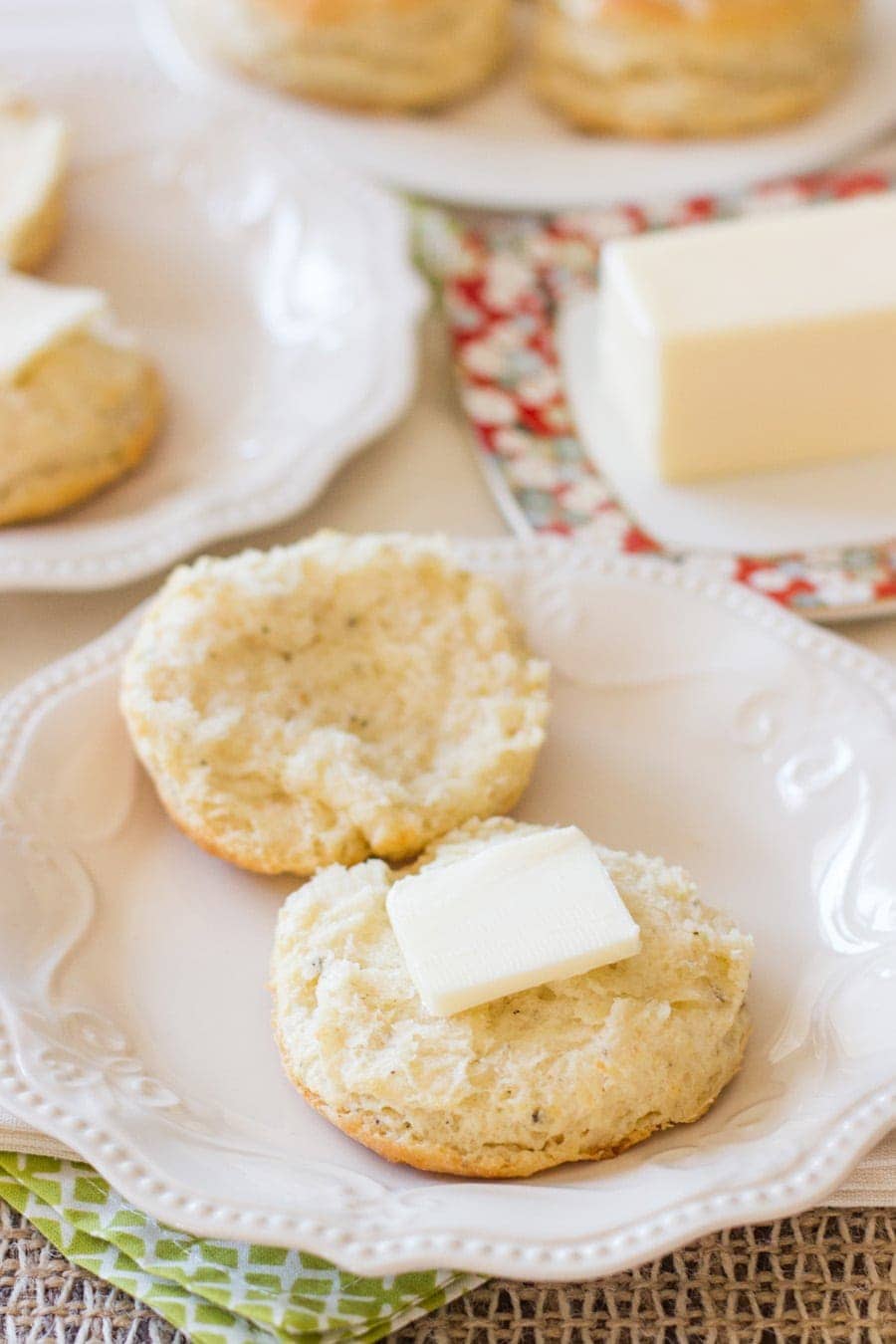 Hi! This is Melissa from Ice Cream Inspiration. I am so excited to be here on Yellow Bliss Road and to share one of my all-time favorite non-ice cream recipes 🙂
When I was growing up, I had no idea what real biscuits were supposed to be like. All I knew was that the ones my mom made were ENTIRELY different from the ones you got from Kentucky Fried Chicken. The few times we actually went to Kentucky Fried Chicken and I got a biscuit, I remember it being huge and fluffy, but I also remember it sticking to the roof of my mouth and making me really thirsty. On the other end of the spectrum were the really flat ones that my mom made and topped with tuna gravy. This was not my favorite dinner.
I have tried many different biscuit recipes, and there were some that were pretty great. But NOTHING, and I mean NOTHING beats these Black Pepper Biscuits.
Just look at how high and fluffy they are!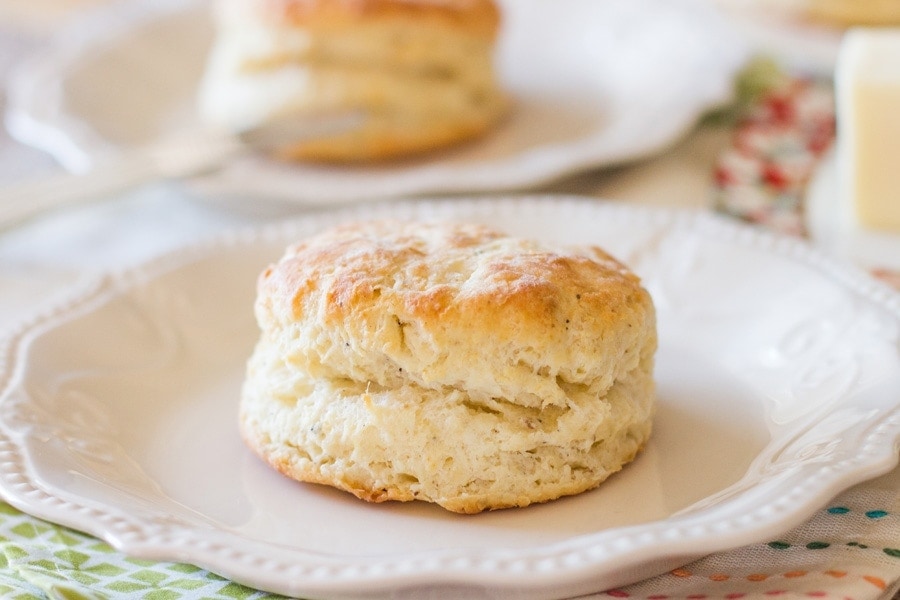 Aside from their impressive size, what makes these biscuits truly special is the freshly ground black pepper that gives them their name. You can't use the kind in your pepper shaker. You have to use actual ground pepper. If you don't have one of those wooden pepper grinders, you can use this cute little McCormick Black Peppercorn Grinder!
Alternately, you can throw some peppercorns into your Blendtec or VitaMix and and pulse them a few times. I do think that you need a powerful blender, like a Blendtec or VitaMix. I tried blending the peppercorns in my Ninja, and it was not very effective. Also, be aware that if you crack the peppercorns in your blender, it may cause the bottom of the container to become a little filmy (because of the force of the peppercorns slamming into the side).
But it is SO worth it. Look at this: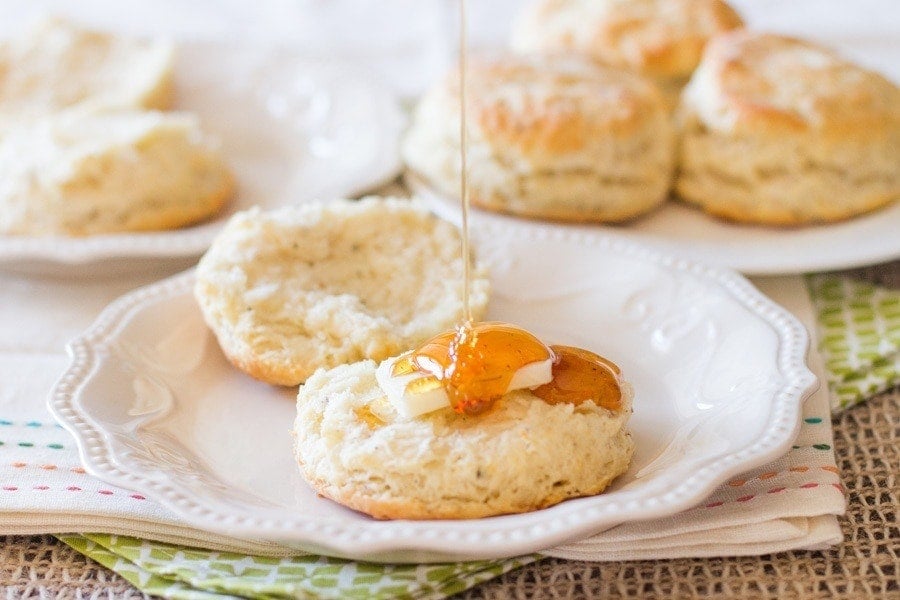 See those big flecks of pepper!
Wait. Were you too busy looking at the honey? That's o.k. These biscuits taste AMAZING with butter and honey. Or try chicken salad sandwiched between the two sides. I can't image anything that would not be delicious with these biscuits.
And if you end up with extra ground pepper, don't worry. You can just make a second batch. 🙂
For more great bread recipes, try these!
Recipe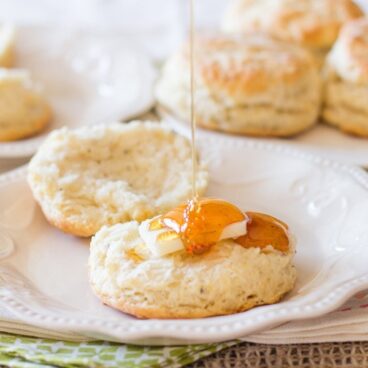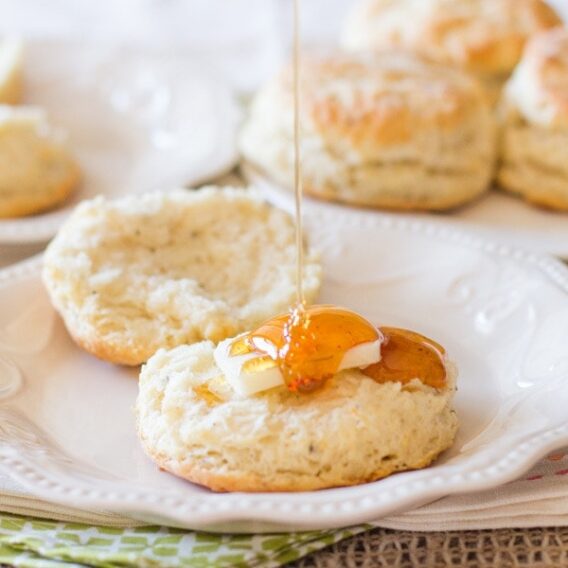 Black Pepper Biscuits
Mile-high Black Pepper Biscuits with freshly ground pepper.
Ingredients
3

cups

flour

1

tablespoon

sugar

1/2

teaspoon

salt

4

teaspoon

baking powder

1/2

teaspoon

cream of tartar

3/4

cup

cold butter

not room temperature

1

egg

1

cup

milk

2

teaspoon

freshly ground black pepper
Instructions
Remove butter from the refrigerator and cut into 1 Tbsp. portions. (You may cut them into even smaller pieces if desired). Put them back into the refrigerator. Cold butter is imperative!

Preheat your oven to 450 degrees.

Mix all the dry ingredients together in a medium-sized bowl.

Remove the butter from the refrigerator and cut into the dry ingredients with a pastry cutter. Cut just until you see small chunks of butter (no larger than peas). Don't try to completely blend all the butter in until it disappears. Those small pieces of butter are important.

Slightly beat the egg with the milk and add to the flour/butter mixture. Mix until just combined. Don't add more floour or keep stirring the dough, even though it is sticky.

Generously flour a large surface (such as a clean counter or big cutting board).

Put the dough on top of the flour and add more flour to the top of the dough. Knead 10-15 times. If it is too sticky, add a little more flour.

Roll or pat the dough so that it is ¾ to one inch thick. This height is important. Anything smaller than this will not give you the tall biscuits you desire.

Using a large cup or glass, cut the biscuits out and place them on a lightly greased cookie sheet. When you cut out the biscuits, do not rotate the cup back and forth. Just push it down and lift straight up.

Keep collecting and gently rolling the remaining dough so that you can cut out more biscuits.

Bake for 10-15 minutes until golden brown on top.
Notes
If desired, brush butter on the top of the hot biscuits.
Nutrition
Calories:
288
kcal
Carbohydrates:
32
g
Protein:
5
g
Fat:
15
g
Saturated Fat:
9
g
Polyunsaturated Fat:
1
g
Monounsaturated Fat:
4
g
Trans Fat:
1
g
Cholesterol:
56
mg
Sodium:
431
mg
Potassium:
141
mg
Fiber:
1
g
Sugar:
3
g
Vitamin A:
494
IU
Calcium:
162
mg
Iron:
2
mg