Looking for a Printable Christmas Planner for 2017? Find them HERE or click the image below to see the latest design!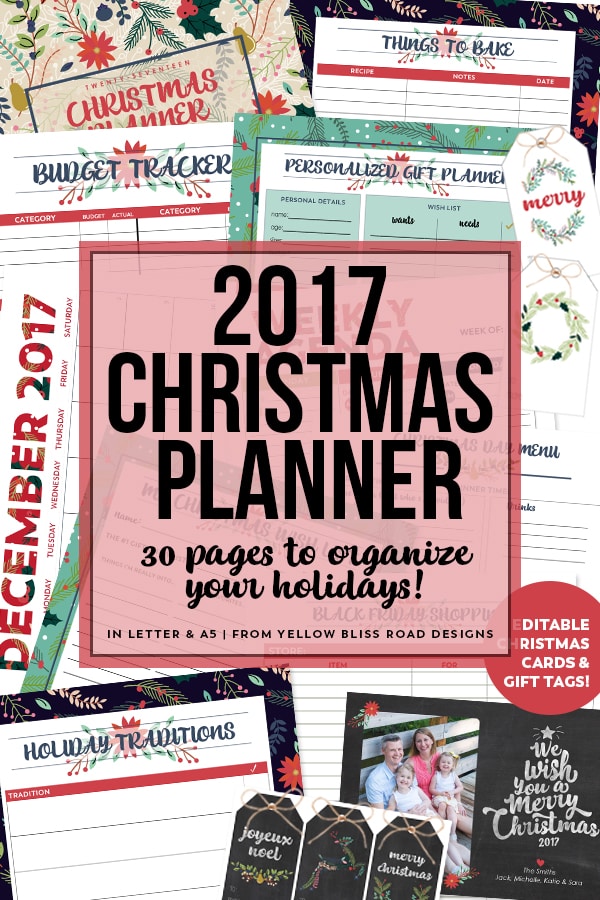 This 24-Page Christmas Planner will keep you organized for the holidays. There are calendars, agenda, financial and gift trackers and so much more! The Christmas Planner would be a great addition to the 2016 Day Planners, which are also available in the shop.
I know, I know, it's only October 1 and we're already talking about Christmas. But the truth is, if you really want to get organized for the holidays, now is the time to start.

MY LATEST VIDEOS
The holidays are such a busy time of year and it's hard to stay on track with budgets and events and gifts. I needed something that could keep me in check and this planner is just the tool I needed. Each of the 24 pages included in the planner will help to keep you on track with your planning and spending, and will become a useful tool for the years to come.
WHAT'S INCLUDED 
Cover Page
November and December 2015 Calendars
Weekly Agenda (2 page spread)
To-Do List
Budget Tracker
Holiday Shopping List
Black Friday Shopping List
Cyber Monday Shopping List
Gift Ideas Chart
Gift Giving (purchases)
Christmas Wish List (for kids or adults)
Things to Make
Things to Bake
Things to Do
Holiday Traditions
Party Planning Tips
Event Meal Planning with shopping list
Christmas Eve & Christmas Day Event Planners
Grocery Shopping List (full page)
Recipe Cards
Notes & Sketches