No-bake Nutella Cheesecake is smooth and creamy and filled with chocolate hazelnut flavor in a crunchy Oreo crust. It's a decadent cheesecake recipe that's so easy to make!
For more delicious no-bake cheesecakes, try Biscoff Cheesecake, Blueberry Cheesecake and Easy Cherry Cheesecake Dip.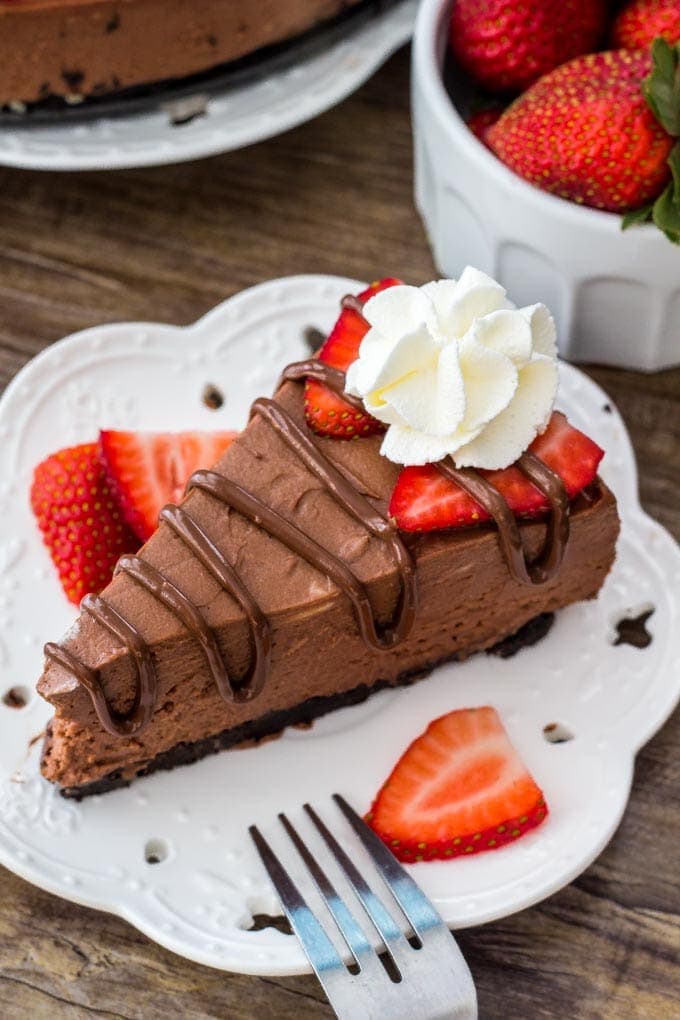 Pin this recipe for later!
Why I Love This Recipe
Do you love Nutella? What about creamy cheesecake? If you said yes to either – then keep reading. Because today I'm sharing this easy no-bake Nutella Cheesecake recipe.
I'm always a fan of cheesecake – but this Nutella cheesecake just might be my new favorite. Creamy, smooth, tons of Nutella, and way easier than any baked cheesecake. You're going to love it!
It starts with a crunchy Oreo crust. Then the dreamiest, creamiest, silky smooth chocolate hazelnut cheesecake filling. Best of all – it's a super easy, no-fail, no-bake cheesecake recipe.
It's a perfect holiday dessert, especially for sharing with your love on Valentine's Day!
Ingredients
Oreo Cookies – crushed and combined with butter to make the pie crust.
Heavy Whipping Cream – To make your own homemade whipped cream.
Cream Cheese – Full fat, brick style, softened to room temperature for easy mixing.
Powdered Sugar – (Also known as confectioner's sugar) For sweetening the whipped cream.
Cocoa Powder – to make it extra chocolatey.
Nutella – A rich and chocolate hazelnut spread that's perfect for spreading on toast or making Nutella Cookies or cheesecake!
Garnish, if desired – Fresh berries and whipped cream
How to Make Nutella Cheesecake
Before getting started, you'll need to make sure that your cream cheese is well softened. Otherwise, the cheesecake can end up with lumps instead of silky smooth.
Oreo Cookie Crust – Combine crushed Oreo cookie crumbs with melted butter and press into the bottom of a springform pan. You can either crush the cookies in the food processor or by placing them in a Ziploc bag and crushing them by hand. Then pop the crust into the freezer while you make the filling.
Whip the Heavy Cream – For the filling, whip the cream using a hand mixing and a chilled metal bowl until stiff peaks form – this keeps the cheesecake from being too dense and heavy.
Mix remaining ingredients – In another bowl, beat the cream cheese until no lumps remain, and mix in the cocoa powder, powdered sugar, and Nutella. You'll need the 26 ounce size jar of Nutella for the cheesecake – but you'll have some leftover. Then once it's smooth and creamy, gently stir in the whipped cream.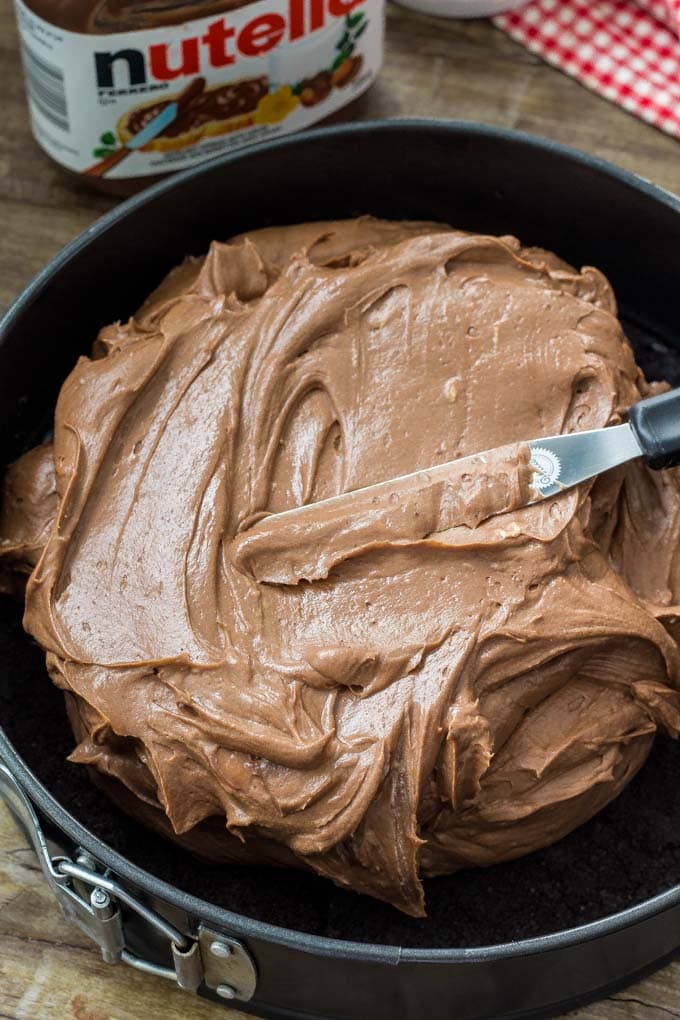 Fill the Crust – Spoon the nutella mixture batter over top of the Oreo crust, smooth the top, and pop the cheesecake in the fridge to chill.
Garnish and Serve – I topped mine with a few fresh strawberries, whipped cream and an extra drizzle of Nutella. Because more Nutella is always a good thing in my books. You could also sprinkle some chopped hazelnuts over the top, add some actual Ferrero rocher candies or spread on a Nutella ganache.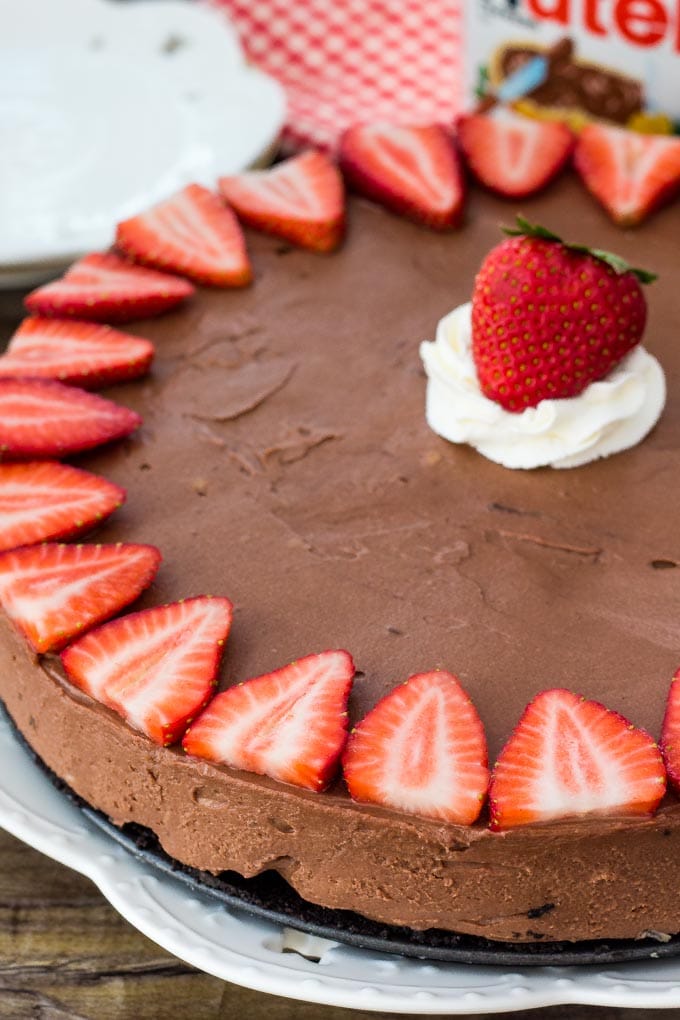 FAQs
Can I use milk instead of heavy cream?
No, you can't replace the properties of whipping cream with milk. It will get frothy, but it won't thicken into stiff peaks like you want.
Can I use a pie pan instead of a springform?
You can – There will be a lot of filling so it might actually fill 2 pie crusts.
Is no bake cheesecake better than a baked cheesecake?
I guess that depends on what you want. I love no-bake cheesecakes because they are fairly quick and easy. They are practically no-fail. A baked cheesecake is dense and fluffy but can be a little tricky to get just right.
Expert Tips
Read thoroughly. To combat any issues, be sure to follow the recipe exactly. Issues tend to arise when you don't have the right ingredients or you skip a step, like softening the cream cheese.
Soften the cream cheese. This is an important step. If you don't let your cream cheese sit out to room temperature, your batter won't mix properly and your cheesecake will be lumpy.
Use a food processor. If you have a food processor handy, it will make easy work of crushing the Oreos and blending them with the melted butter to make the crust.
Chill for the right amount of time. In order for the cheesecake to set properly, you need to chill it in the fridge for at least 4 hours.
Make Ahead and Storage
Make Ahead: You can prepare the cheesecake up to 2 days in advance. Cover tightly with plastic wrap and place in the refrigerator for up to 48 hours. Reserve garnishes for serving. Keep that time in mind when you're thinking of how long your cheesecake will last.
Refrigerating: Cover tightly and refrigerate for up to 3-4 days.
Freezing: Once the cheesecake has been set up properly in the fridge (after at least 4 hours time), you can wrap it tightly with plastic wrap then foil and freeze for up to 3 months. Thaw in the fridge, garnish and enjoy.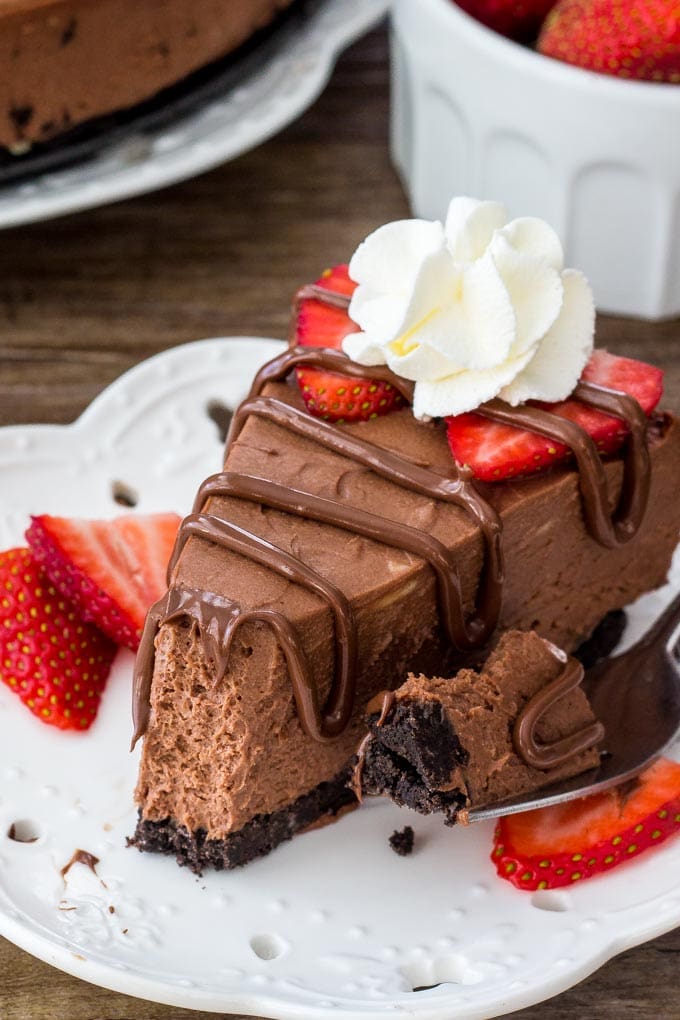 More Dessert Recipes
Recipe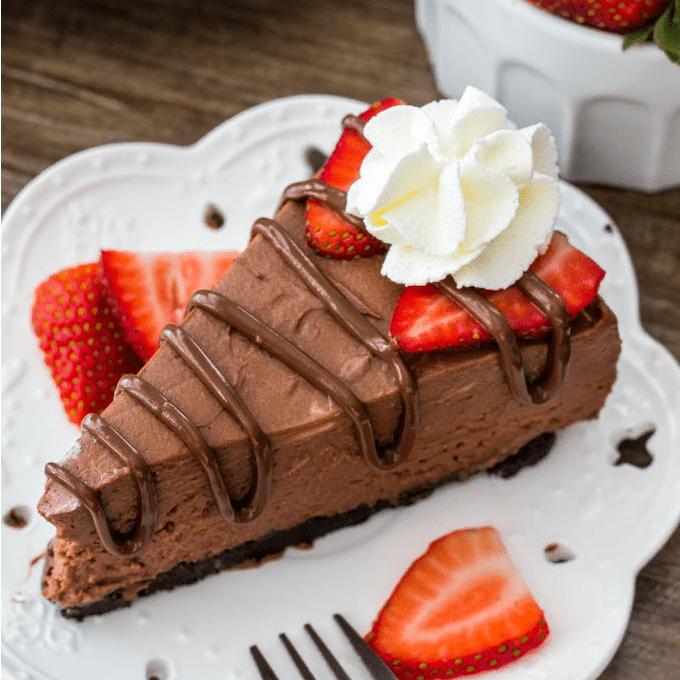 No Bake Nutella Cheesecake Recipe
No-bake Nutella Cheesecake is smooth and creamy and filled with chocolate hazelnut flavor in a crunchy Oreo crust. It's decadent and so easy!
Total Time
4

hours
20

minutes
Ingredients
24

Oreo cookies

4

tablespoons

butter

melted

1

cup

heavy whipping cream

20

ounces

cream cheese

softened*

1

tablespoon

plus ½ cup powdered sugar

3

tablespoons

cocoa powder

1 1/2

cups

Nutella

For serving: strawberries

whipped cream, extra Nutella
Instructions
Crush the Oreo cookies (including filling) in a food processor.

Stir together the crushed cookies and melted butter, then press into the bottom of the springform pan and place in the freezer.

In a chilled metal bowl, whip the heavy cream using a strong arm and a whisk or a hand mixer, with 1 tablespoon of powdered sugar until stiff peaks form. Place in the refrigerator until ready to use.

In a separate bowl beat the cream cheese until smooth. Beat in the rest of the powdered sugar (½ cup), cocoa powder, and Nutella.

Take the whipped cream out of the fridge and fold in the whipped cream until the mixture is smooth and even.

Stir the batter on top of the cookie crust and smooth the top.

Chill in the fridge for 4 hours or up to 48 hours.

When ready to serve, gently trace a line around the edges of the pan with a thin sharp knife. Then unclamp the springform pan.

Serve with fresh berries, whipped cream and a drizzle of Nutella. (To drizzle the Nutella, heat in a small bowl in the microwave for 20-30 seconds).
Notes
A food processor will make quick work of breaking down the cookies and mixing in the butter.
Always use full fat, brick style cream cheese for cheesecake.
To make ahead, you can prepare the cheesecake up to 2 days in advance. Cover tightly with plastic wrap and place in the refrigerator for up to 48 hours. Reserve garnishes for serving.
Nutrition
Calories:
717
kcal
Carbohydrates:
58
g
Protein:
8
g
Fat:
51
g
Saturated Fat:
34
g
Polyunsaturated Fat:
2
g
Monounsaturated Fat:
11
g
Trans Fat:
1
g
Cholesterol:
96
mg
Sodium:
346
mg
Potassium:
369
mg
Fiber:
4
g
Sugar:
44
g
Vitamin A:
1253
IU
Vitamin C:
1
mg
Calcium:
128
mg
Iron:
6
mg