No bake Nutella cheesecake is smooth, creamy and filled with Nutella. It's a decadent cheesecake recipe thanks to the chocolate cookie crust and rich Nutella flavor and it's so easy to make!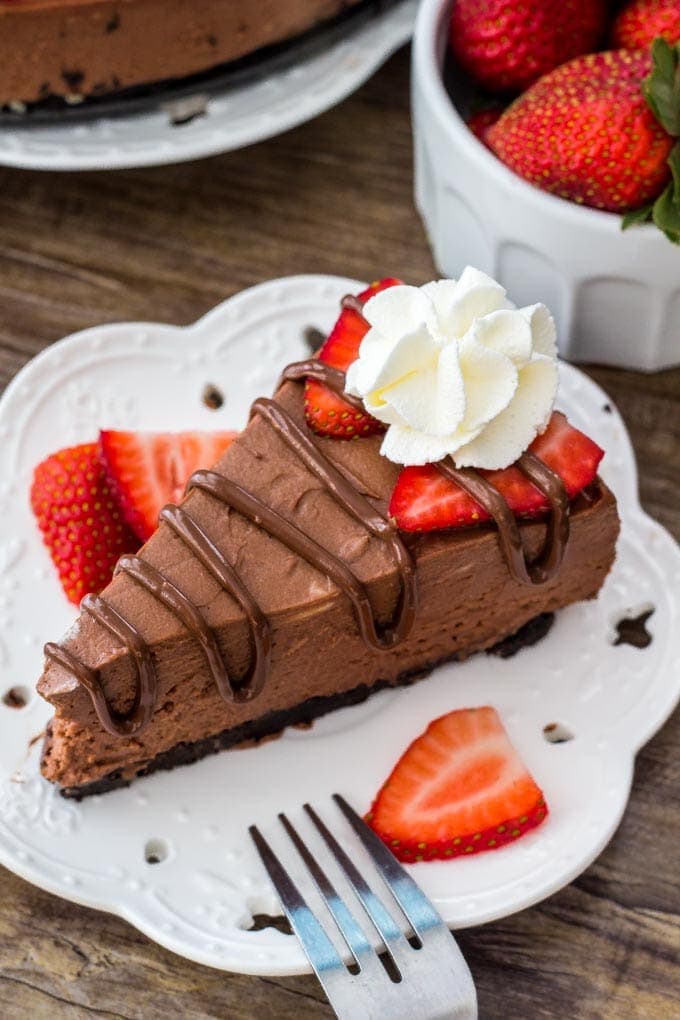 Do you love Nutella? What about creamy cheesecake? If you said yes to either – then keep reading. Because today I'm sharing this easy no-bake Nutella cheesecake recipe.
It starts with a crunchy Oreo crust. Then the dreamiest, creamiest, silky smooth chocolate hazelnut cheesecake imaginable. Best of all – it's a super easy, no fail, no bake cheesecake recipe.
How to Make No Bake Nutella Cheesecake
Before getting started, you'll need to make sure that your cream cheese is well softened. Otherwise, the cheesecake can end up with lumps – instead of silky smooth, which we definitely don't want.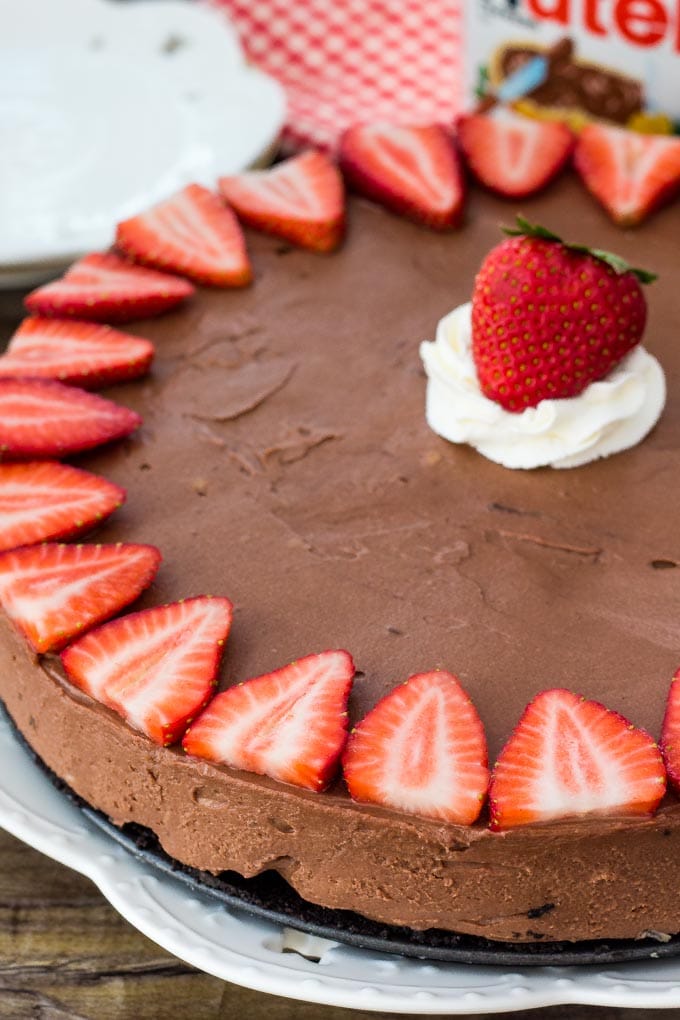 First, we make the Oreo cookie crust by combining crushed Oreo cookies with melted butter and pressing it into the bottom of a springform pan. You can either crush the cookies in the food processor or by placing them in a Ziploc bag and crushing them by hand. Then pop the crust into the freezer while you make the filling.
For the filling, whip the cream until stiff peaks form – this keeps the cheesecake from being too dense and heavy.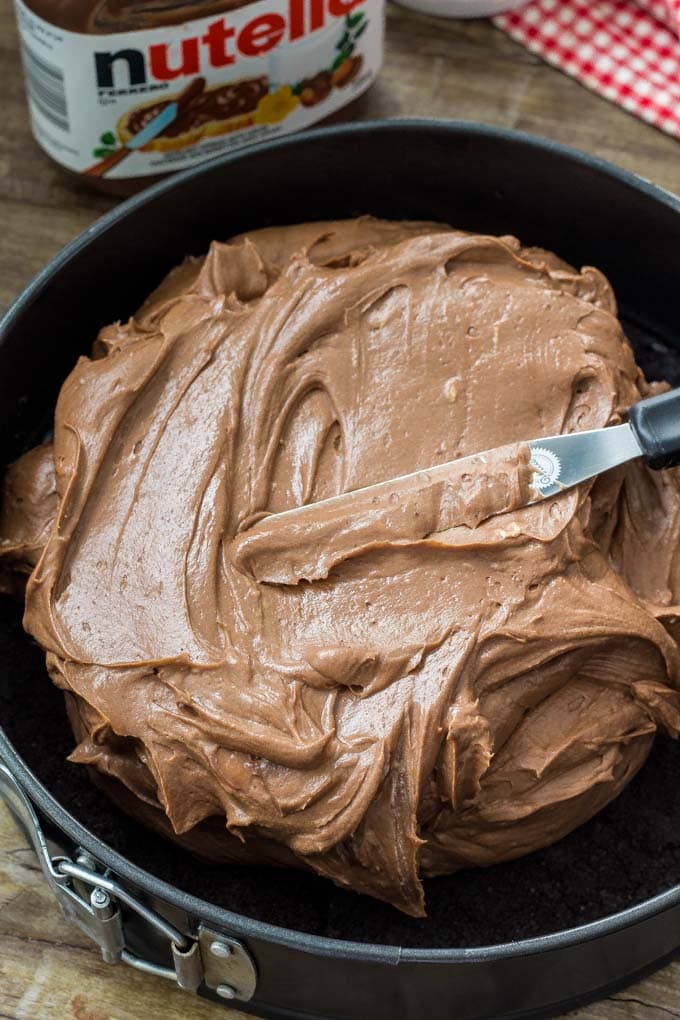 Then beat the cream cheese until no lumps remain, and mix in the cocoa powdered, powdered sugar, and Nutella. You'll need the 26 oz size jar of Nutella for the cheesecake – but you'll have some leftover.  Then once it's smooth and creamy, gently stir in the whipped cream.
Spoon the batter over top of the Oreo crust, smooth the top, and pop the cheesecake in the fridge to chill.
I topped mine with a few fresh strawberries, whipped cream and an extra drizzle of Nutella. Because more Nutella is always a good thing in my books.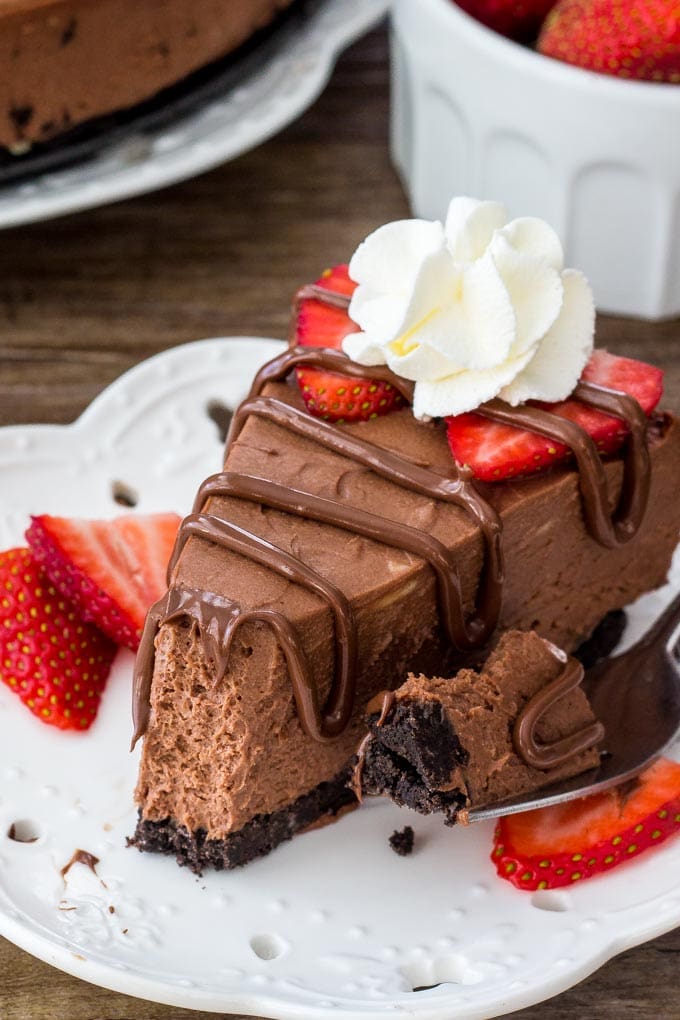 I'm always a fan of cheesecake – but this Nutella cheesecake just might be my new favorite. Creamy, smooth, tons of Nutella, and way easier than any baked cheesecake. You're going to love it!
If you love cheesecake, you'll love these desserts:
If you love easy no bake desserts, try these recipes: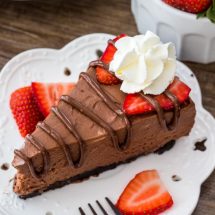 No Bake Nutella Cheesecake
No Bake Nutella Cheesecake is smooth, creamy and filled with Nutella. It's a decadent cheesecake recipe thanks to the chocolate cookie crust and rich Nutella flavor and it's so easy to make!
Print
Pin
Rate
Prep Time: 20 minutes
Total Time: 4 hours 20 minutes
Servings: 10 pieces
Ingredients
24 Oreo cookies
4 tablespoons butter
1 cup heavy cream/whipping cream 30-35%
20 oz cream cheese softened*
1 tablespoon plus 1/2 cup powdered sugar
3 tablespoons cocoa powder
1 1/2 cups Nutella
For serving: strawberries whipped cream, extra Nutella 
Instructions
Crush the Oreo cookies (including filling) in a food processor.

Stir together the crushed cookies and butter, then press into the bottom of the springform pan and place in the freezer.

Whip the heavy cream with 1 tablespoon of powdered sugar until stiff peaks form. 

In a separate bowl beat the cream cheese until smooth.

Beat in the rest of the powdered sugar (1/2 cup), cocoa powder, and Nutella.

Fold in the whipped cream until the mixture is smooth and even.

Stir the batter on top of the cookie crust and smooth the top.

Chill in the fridge for 4 hours or overnight.

When ready to serve, gently trace a line around the edges of the pan with a thin sharp knife. Then unclamp the springform pan.

Serve with berries, whipped cream and a drizzle of Nutella. (To drizzle the Nutella, heat in a small bowl in the microwave for 20-30 seconds).
Notes
*Use brick-style, full fat cream cheese. 
Fiona blogs over at Just So Tasty where she shares easy, classic recipes for desserts & sweet treats. A peanut butter lover, chocolate connoisseur, and sprinkle addict – she hopes to make your life sweeter, one cookie at a time. She also teaches yoga, because life is all about balance.