Graham Cracker Toffee is a simple sweet holiday treat that is perfect for gift giving! Crunchy graham crackers serve as the base for this sweet homemade cracker toffee, topped with semisweet chocolate, crunchy pretzels and sea salt.
Toffee is perfect for cookie trays! Add it alongside Pinwheel Christmas Cookies and Peanut Butter Blossoms.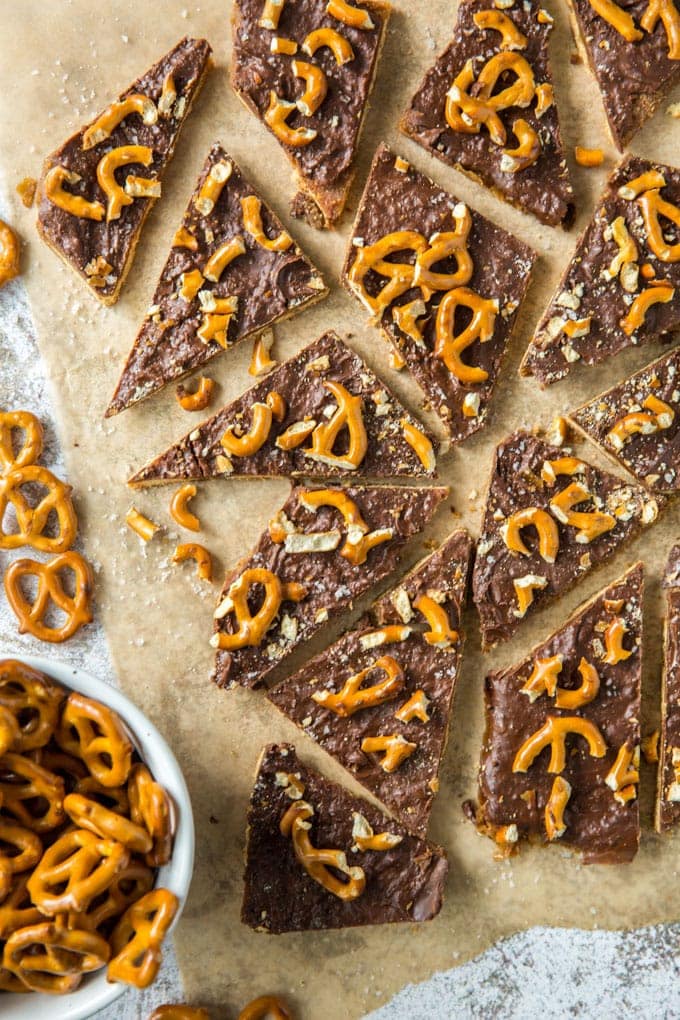 Graham Cracker Toffee Recipe
This recipe is a spin off of I Heart Naptime's cracker toffee recipe from a few years back. I thought how yummy it would taste with graham crackers instead of saltines. Apparently I wasn't the only one because when I searched it out I found several recipes! I knew I would love the graham crackers but was worried I'd miss the saltiness of the saltines. This was easily fixed by adding sea salt to the caramel mixture and of course with the crunchy pretzels sprinkled on top.
Candy making was always one of those things I thought was too complicated for me. If it calls for a candy thermometer in the recipe, I'm out. But this caramel is so easy, you just have to watch it, and watching I can do!
This graham cracker toffee would be a great gift for friends and neighbors at Christmastime, and is super addicting, making it a perfect movie night treat!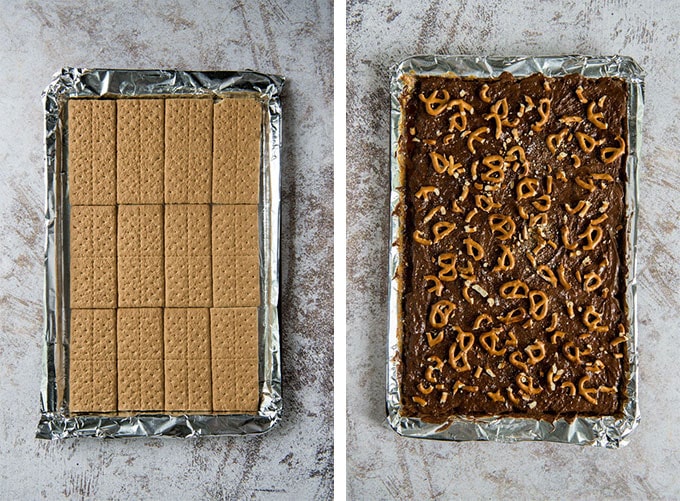 How to Make Graham Cracker Toffee
Start by preheating your oven to 350 degrees. Grab a large rimmed baking sheet and line it with foil, then spray it with nonstick cooking spray. Set out your broken pretzels, chocolate chips and sea salt so they are ready to go. This recipe is super simple but it does move fast.
Arrange the graham crackers on the baking sheet, side by side. Touching and slightly overlapping is ok; you don't want any open space between the crockers so feel feel to break them up to make them fit together better. Set aside, but nearby because as soon as the caramel is ready, you're going to need it.
Place a medium saucepan (about 3-quarts) on the stove over medium-high heat. Melt 2 sticks of butter then stir in a cup brown sugar. Stir, stir, and stir some more, until the brown sugar is completely dissolved and the mixture reaches a boil. Let it boil for 2 minutes, then pour over the graham crackers, using a silicone spatula to spread evenly over the top. Try not to shift the graham crackers around too much while doing this.
Slide the pan into the oven and bake for about 6-7 minutes. The caramel should be nice and bubbly – it will harden as it cools.
Remove the pan from the oven and immediately sprinkle chocolate chips over the top. As they sit over the hot caramel, the chips will begin to soften and melt, and after a few minutes you'll be able to spread them over the toffee. Before the chocolate has time to harden you'll sprinkle the crushed pretzels and sea salt over it, pressing the pretzels into the chocolate if needed.
Let the graham cracker toffee sit for 2-3 hours before breaking apart (make sure to remove the foil!). It will be hard to keep yourself back from a taste, but trust me, it's totally worth it! If you need to cool it faster, you can slide the pan into the fridge or freezer.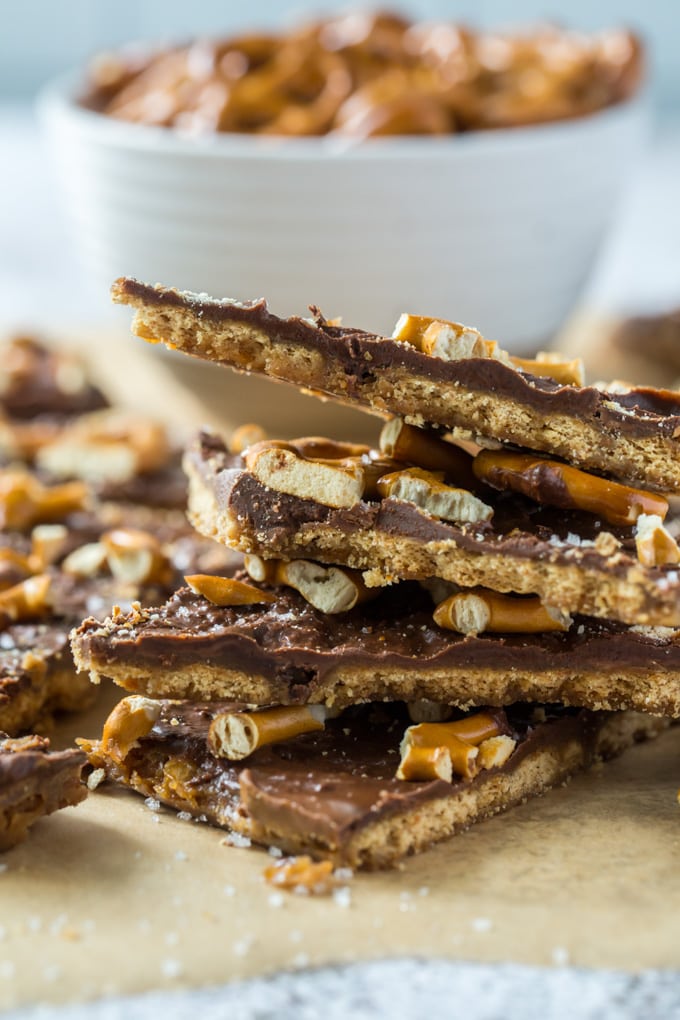 Customizations
We love this toffee exactly as it is, but there are a few options to customize the flavors.
Add holiday candies, like m & ms, with the pretzels for a Christmasy treat.
Mix peanut butter chips in with the chocolate chips.
Add slivered almonds, pecans, chopped peanuts or toasted coconut with the pretzels.
The original recipe uses Saltine crackers, so those will definitely work in place of the graham crackers. Just omit the added sea salt sprinkled on top.
STORAGE
Keep graham cracker toffee stored in a covered container for 1-2 weeks in the refrigerator.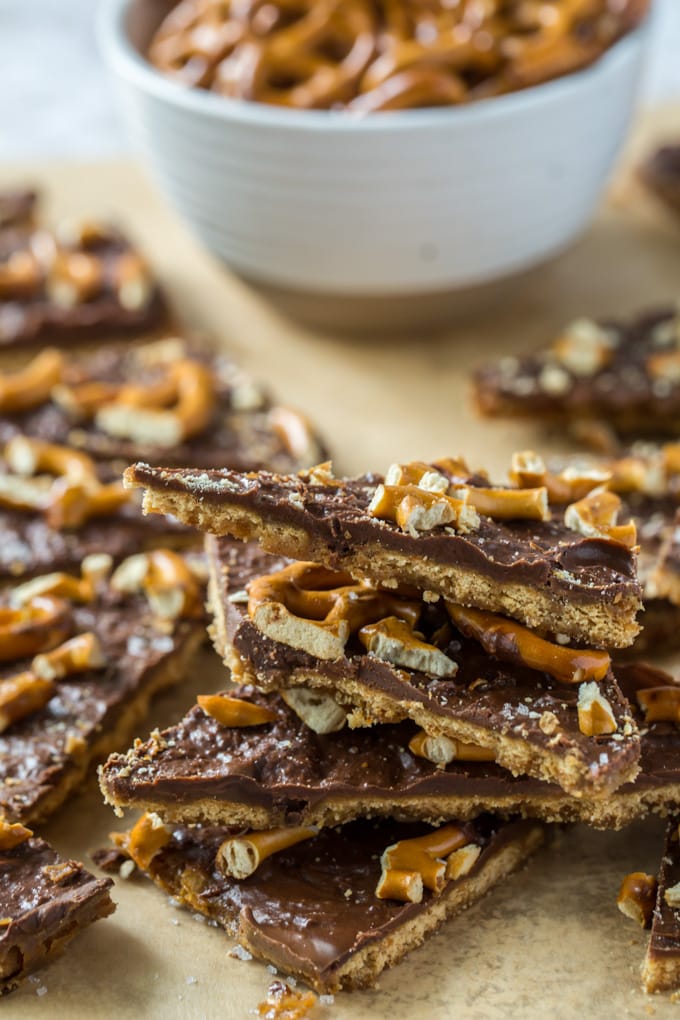 For more holiday sweet treats & desserts, try these:
Recipe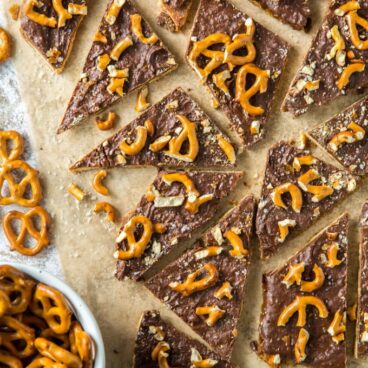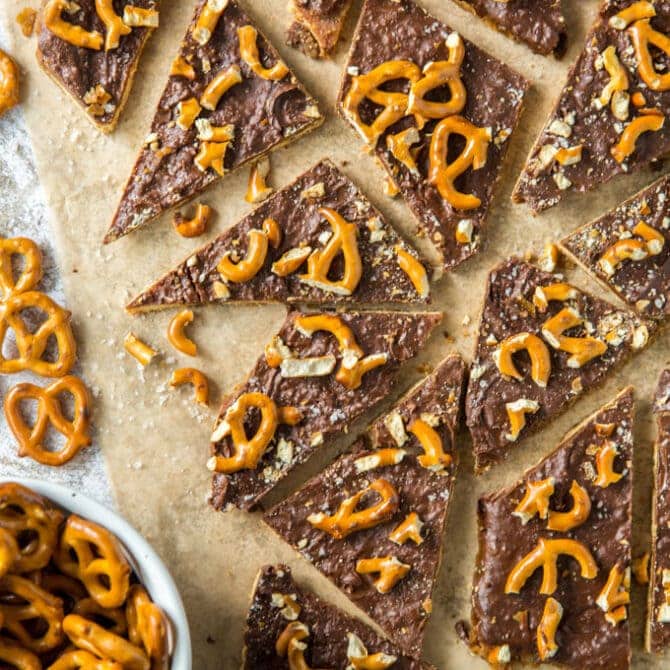 Salted Graham Cracker Pretzel Toffee
Graham Cracker Toffee is a simple treat that's perfect for gift giving! Graham crackers topped with buttery caramel, chocolate, pretzels and sea salt.
Total Time
3

hours
25

minutes
Ingredients
14-15

Graham Cracker sheets

depending on the size of your cookie sheet

2

sticks butter

1

cup

brown sugar

packed

Pinch

of kosher salt

1

cup

chocolate chips

1

cup

roughly chopped pretzels

Kosher salt
Instructions
Preheat oven to 350 degrees F.

Line an 11" x 15" baking sheet with aluminum foil. Spray lightly with cooking spray Arrange graham crackers touching side by side in a single layer, breaking some of the graham crackers in pieces that that they fit if needed. Set aside.

In a medium saucepan, melt the butter over medium-high heat. Stir in brown sugar until combined. Continue stirring, cooking until the mixture reaches a boil. Let the mixture boil for about 2 minutes,stirring occasionally, then remove from heat and pour over the graham crackers. Use a silicone spatula to spread the mixture gently and evenly over the graham crackers. Bake for 6-7 minutes, or until the butter mixture is nice and bubbly.

Remove pan from the oven and immediately sprinkle chocolate chips evenly over the graham crackers. Let sit for a few minutes until the chocolate is melted, then use a spoon to spread the chocolate evenly over the crackers. Sprinkle a pinch of kosher salt, then pretzels, evenly on top of the melted chocolate.

Let sit for about 2-3 hours and them break apart and serve. For a faster cooling time, place the pan in the fridge or freezer.
Nutrition
Calories:
288.9
kcal
Carbohydrates:
55.21
g
Protein:
3.08
g
Fat:
6.54
g
Saturated Fat:
2.98
g
Cholesterol:
2.7
mg
Sodium:
250.15
mg
Potassium:
74.83
mg
Fiber:
1.39
g
Sugar:
37.33
g
Vitamin A:
40.32
IU
Vitamin C:
0.11
mg
Calcium:
56.06
mg
Iron:
1.6
mg