This crisp and crunchy Thai salad is a perfect healthy lunch or dinner choice when you are craving takeout. Inspired by Thai flavors, it has two types of cabbage, shredded carrots, edamame, red bell pepper, green onions, cucumber, and peanuts – this salad is anything but boring! Top with an easy Thai peanut salad dressing for a perfect finishing touch.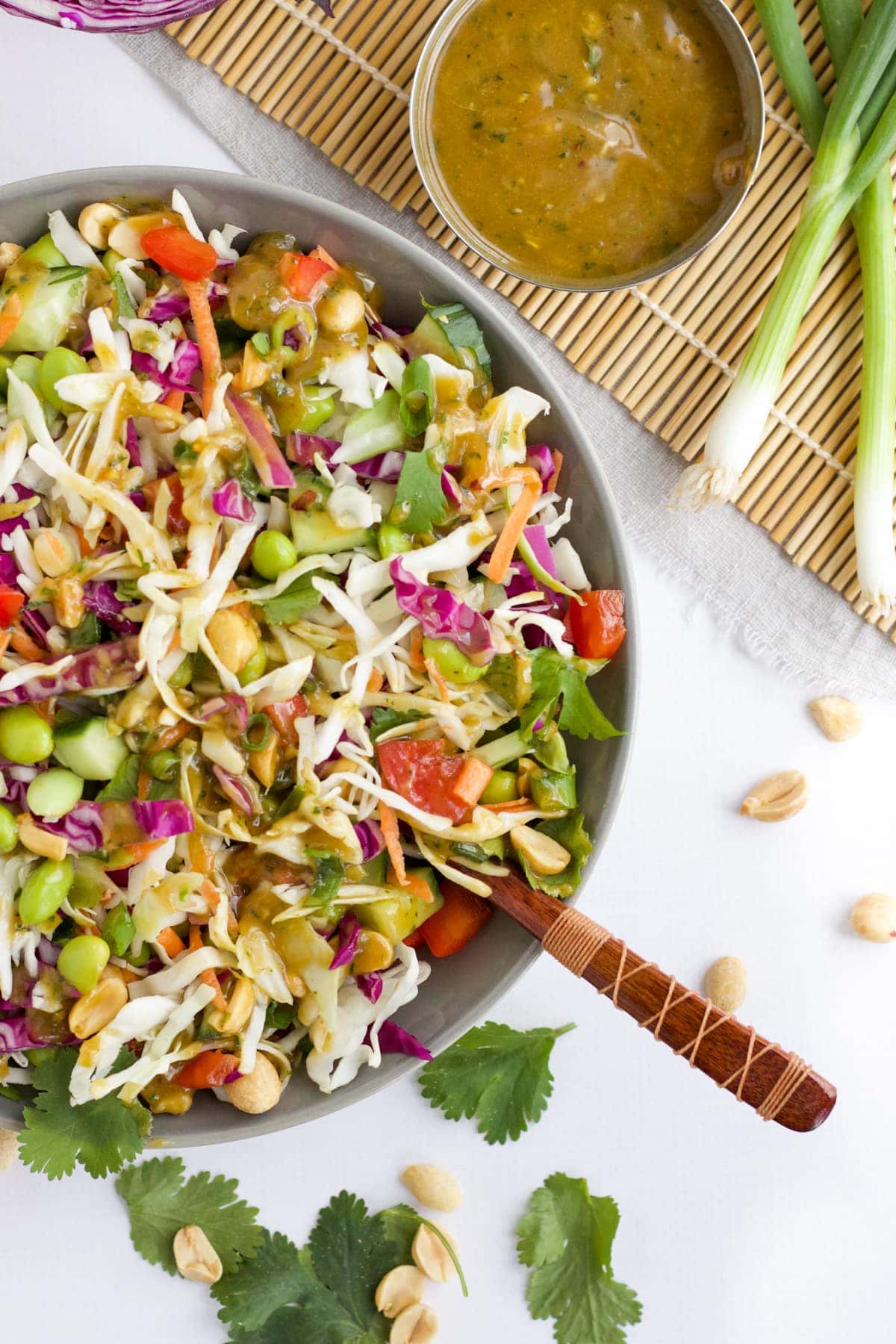 This Thai-inspired salad joins our selection of delicious, veggie-packed salads. We also love Strawberry Chicken Salad, Panzanella Salad, and Simple Cabbage Salad.
Craving Thai food? Me too! My family loves Thai takeout dinners. The classic flavors of authentic Thai cuisine are always so satisfying. I wanted to come up with a healthy salad recipe that would allow me to enjoy the spices and seasonings I love so much, in a light and healthy way. This Thai Salad is the perfect solution when you want takeout but need something lighter. The best part? It's quick and easy to make.
What's in a Thai Salad?
There is a rainbow of color in this Thai Salad!
Shredded Cabbage and Carrots: This recipe calls for bagged to make things super easy, but you can also shred your own. Using both green and red adds nutrient variation and color to the final dish.
Cucumber: Cucumber adds a cool and crisp bite of texture against the shredded cabbage. I prefer the English or Japanese cucumbers.
Red Bell Pepper: Red bell pepper not only adds a beautiful red color, but it adds a complex sweetness that really stands out against the other veggies.
Green Onion: If you don't care for green onion, you can skip this but it really takes the salad to the next level and keeps each bite interesting.
Edamame: A sweet and buttery addition to the salad with a nice gentle texture.
Cilantro: I love the fresh flavor and fluffy texture that cilantro adds to this salad. You can also substitute it for parsley.
Peanuts: One of my favorite Thai ingredients and the star of this salad!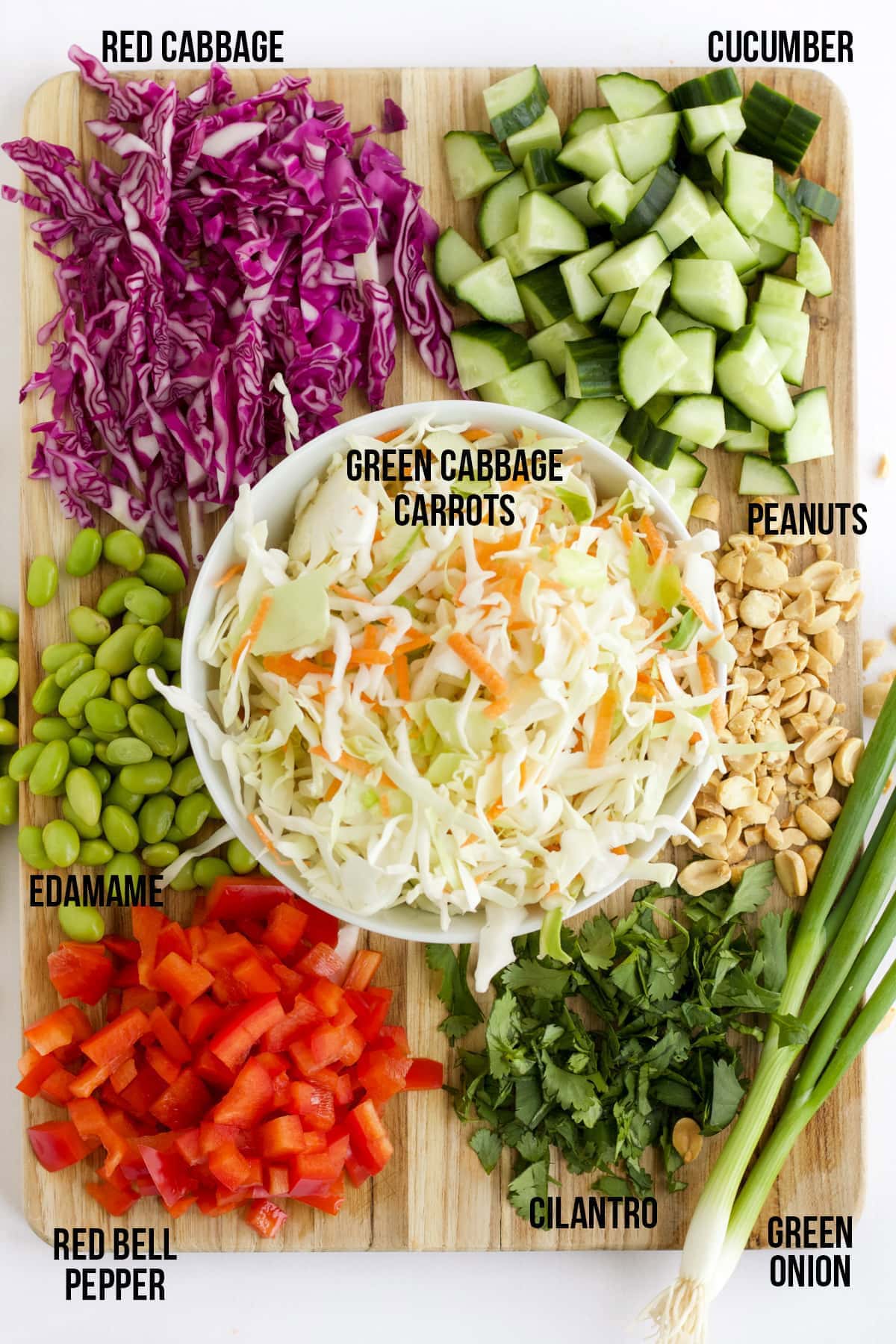 Thai Salad Dressing Ingredients
Even with all those wonderful ingredients, this dressing is hands down the best part! To make the dressing, you will need:
Peanut Butter: A creamy, nutty way to bring in classic Thai flavor
Rice Vinegar: Adds a sweet and sour tang
Olive Oil: For smooth consistency that allows the dressing to coat each and every bite
Soy Sauce: Gives the dressing a deep, rich salty burst of Asian flavor.
Ginger: Provides a fresh zip of flavor and subtle spice. Fresh is best, if you only have dried then you can skip it.
Garlic: Don't skip the garlic! Just a couple of cloves gives this dressing a subtle spice and slightly nutty flavor.
Lime Juice: The acidity of lime juice cuts through the rich peanut butter and adds a fresh and zesty finish to the dressing.
Red Pepper Flakes: Brings some heat to the dressing. You can add more or less depending on your preference.
Honey: Adds a bit of sweetness.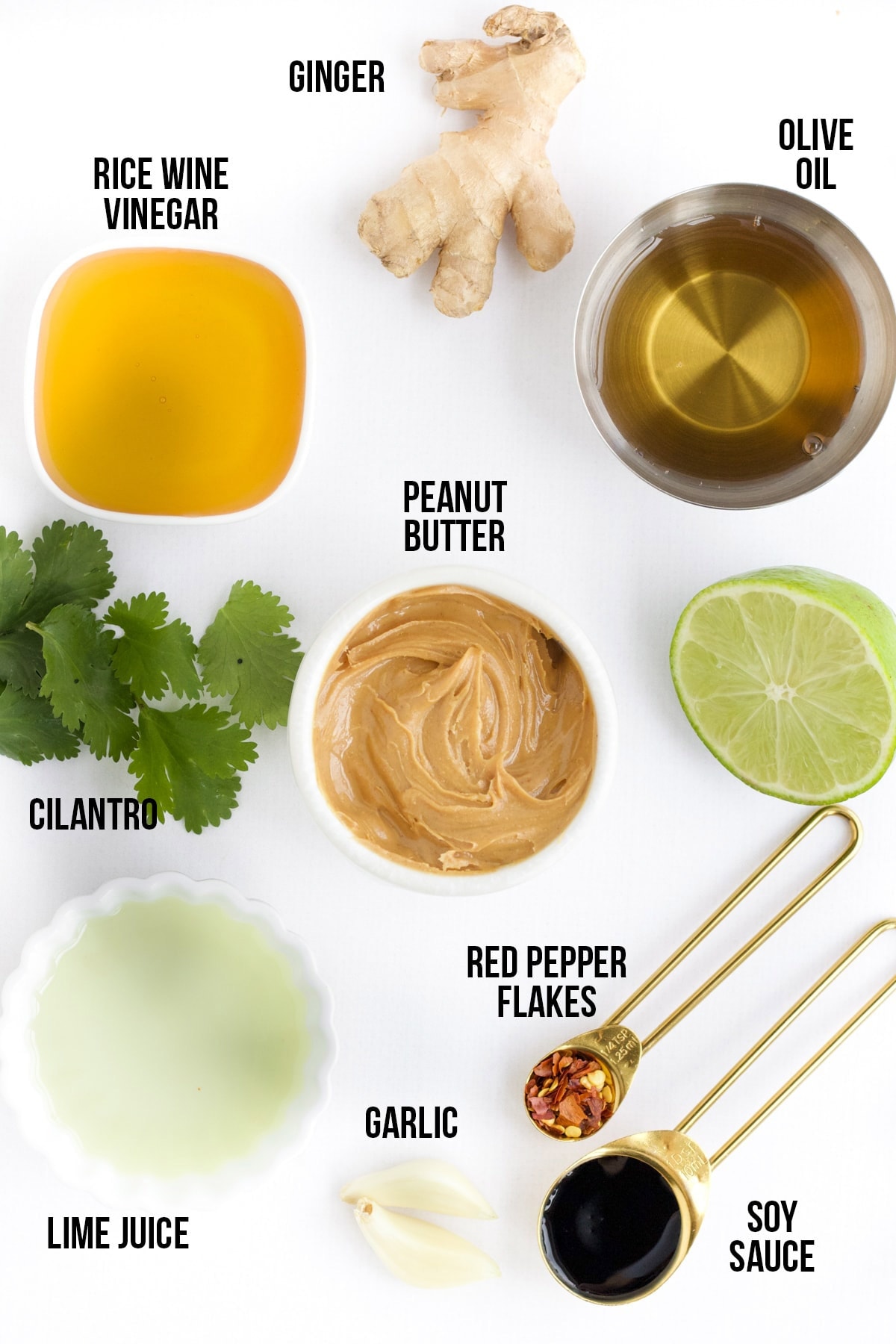 How to make Thai Salad with Peanut Dressing
Start by combining all the ingredients for the salad in a large bowl. This salad is very forgiving, so if there is a particular ingredient you don't care for, you can leave it out and the salad will still come out just fine. Chop all of the veggies roughly the same size.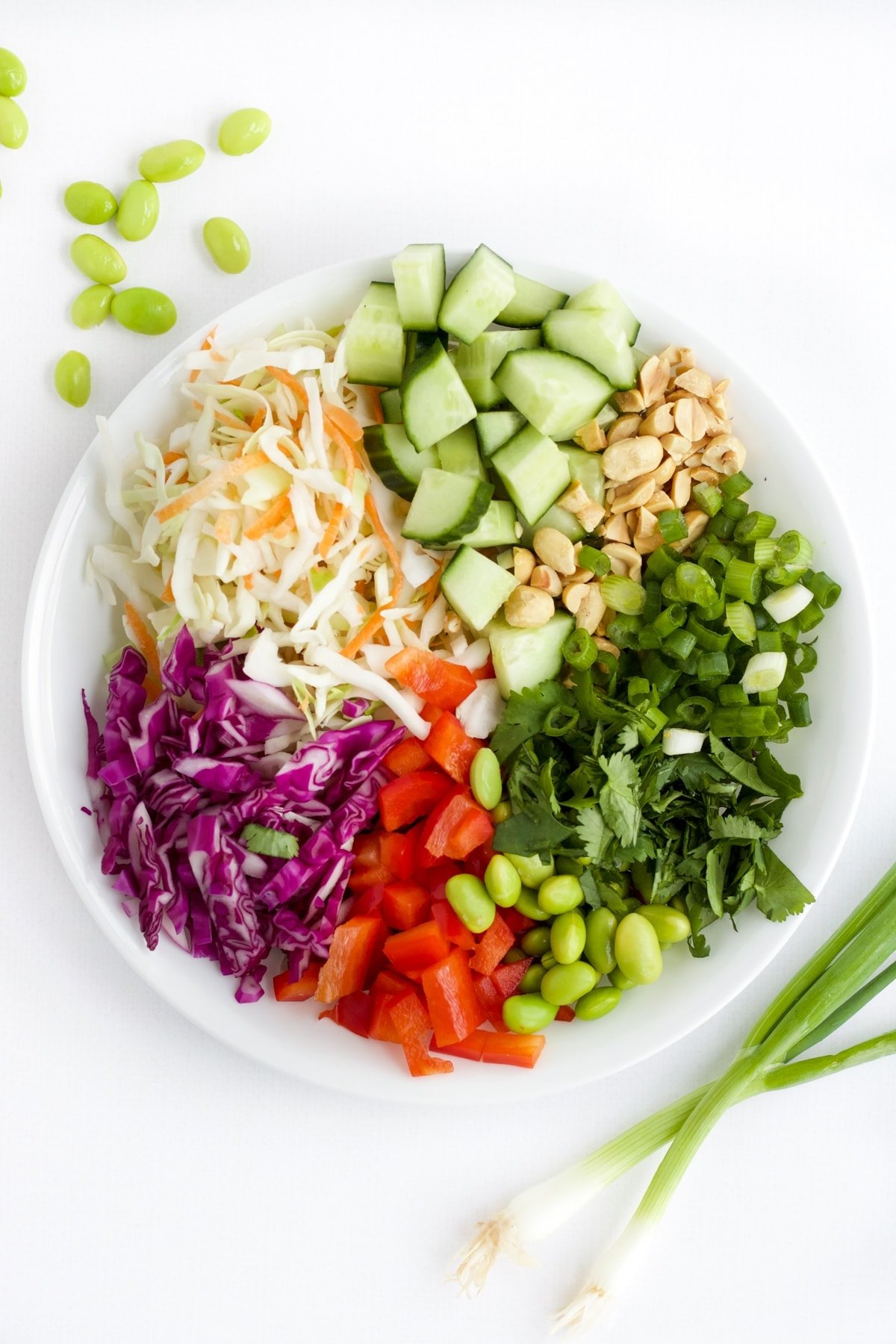 Next prepare the dressing by adding all the dressing ingredients into a food processor or blender. Again, don't hesitate to adjust ingredients to suit your preferences. You can adjust the red pepper flakes to control the spice and the honey to control the sweetness. Use more or less olive oil until you reach the desired consistency.  I do find each time I make this, it's a little different. Just give it a taste and adjust as necessary.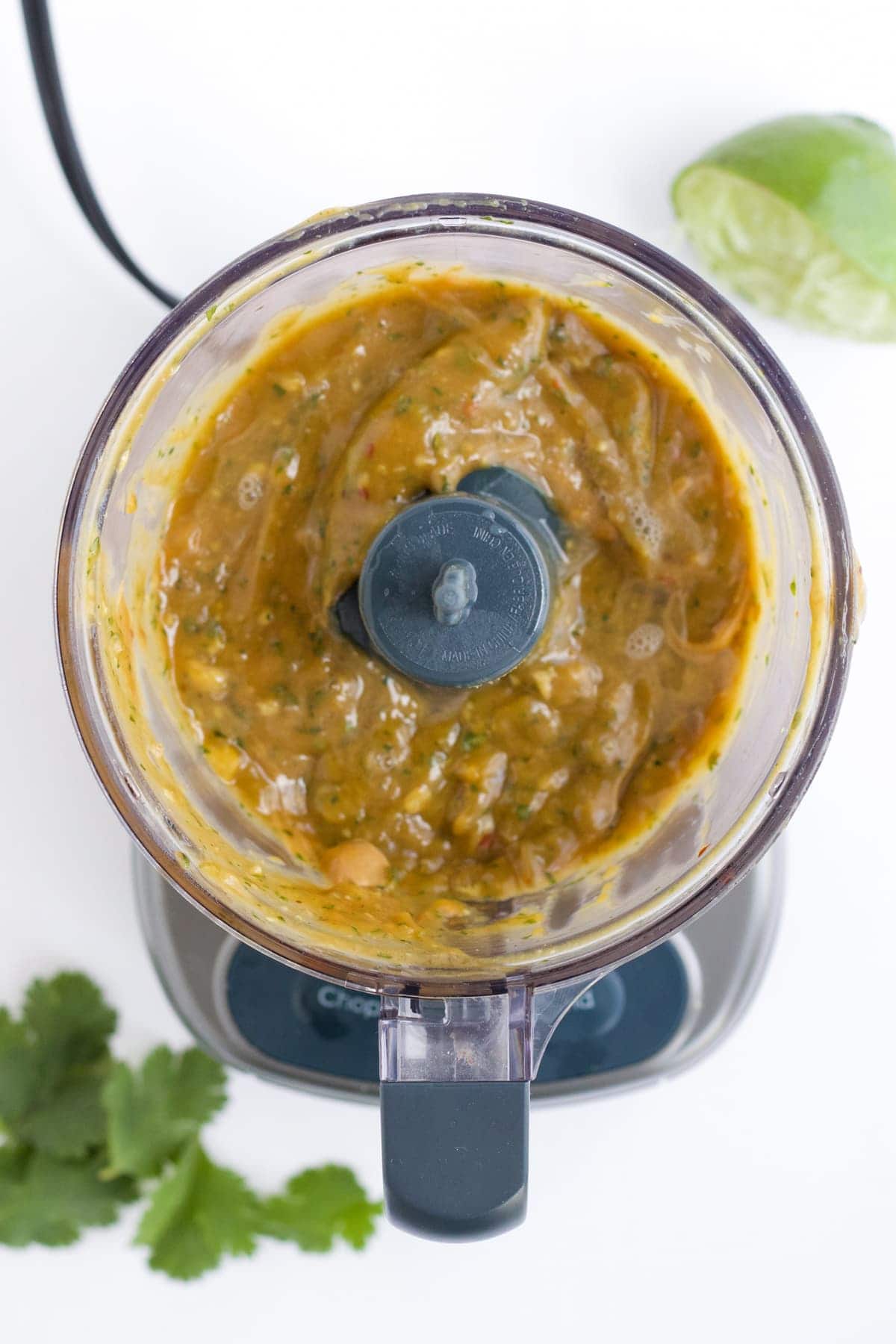 Drizzle the dressing over the salad and toss until well combined. I like to drizzle a little extra on top before serving.
Storage Suggestions
If you don't think you will be enjoying this thai salad in one sitting, I recommend serving the dressing on the side instead. While most of the ingredients are pretty sturdy, the salad will still get soggy if you store it with the dressing on it.
Store the dressing separately in an airtight container and give it a shake before adding it to the salad. It will keep for up to 2 weeks in the fridge.
If you are meal prepping, I would even suggest storing each salad ingredient separately, or at least separately in the bowl. That would really help keep things nice and fresh for you.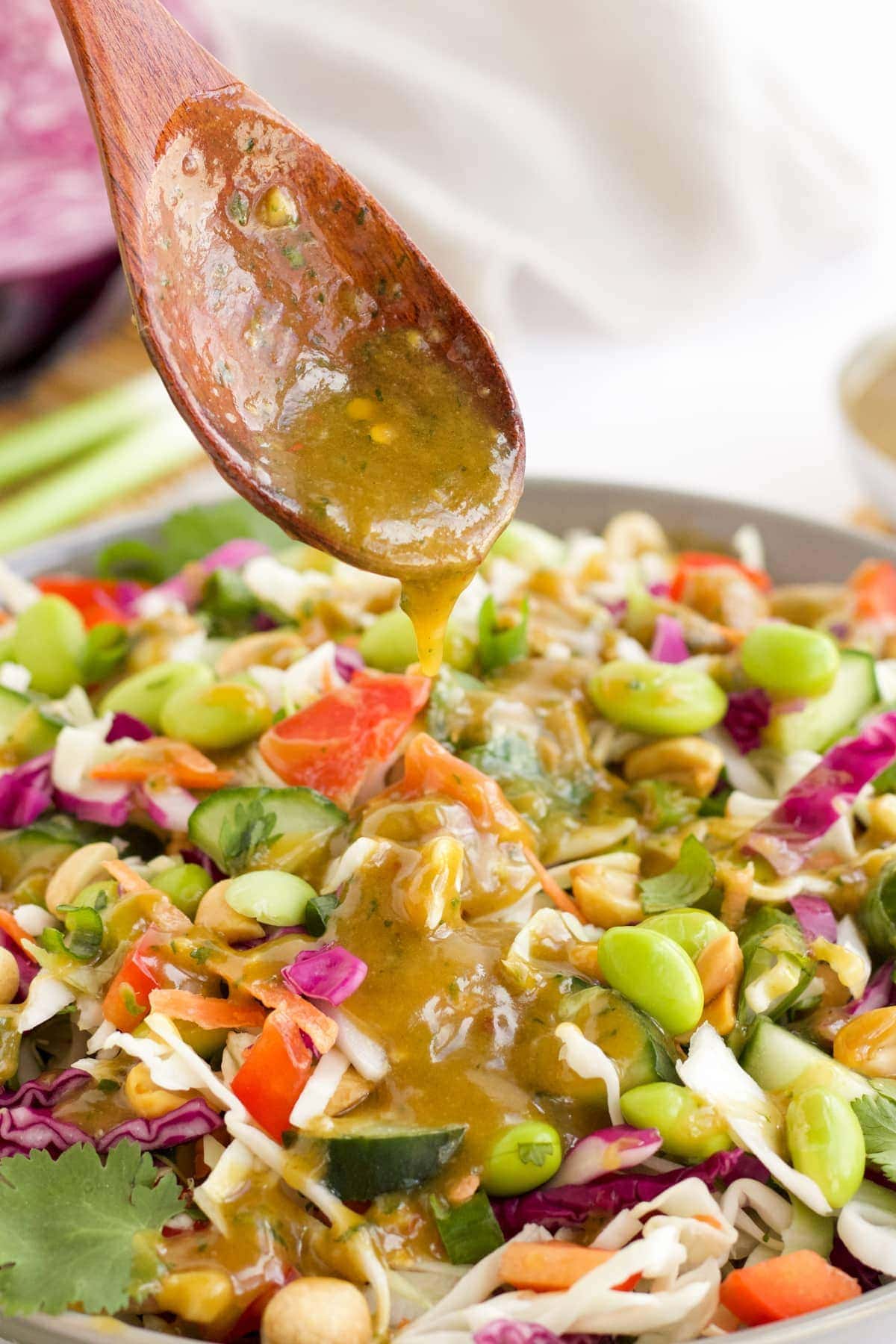 Serving Suggestions
This salad is complex and filling enough to serve on its own. If you're looking to serve as more of a side dish or starter, try some recipes with similar flavors. Asian Inspired Turkey Meatballs and Slow Cooker Chicken Drumsticks are excellent choices for a main course. Or try Fried Rice or Teriyaki Turkey Rice Bowl for something a little lighter.
You could also make this a meal side by adding some Poached Chicken or salmon.
More Salad Recipes
Recipe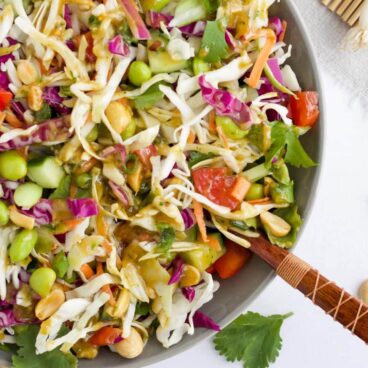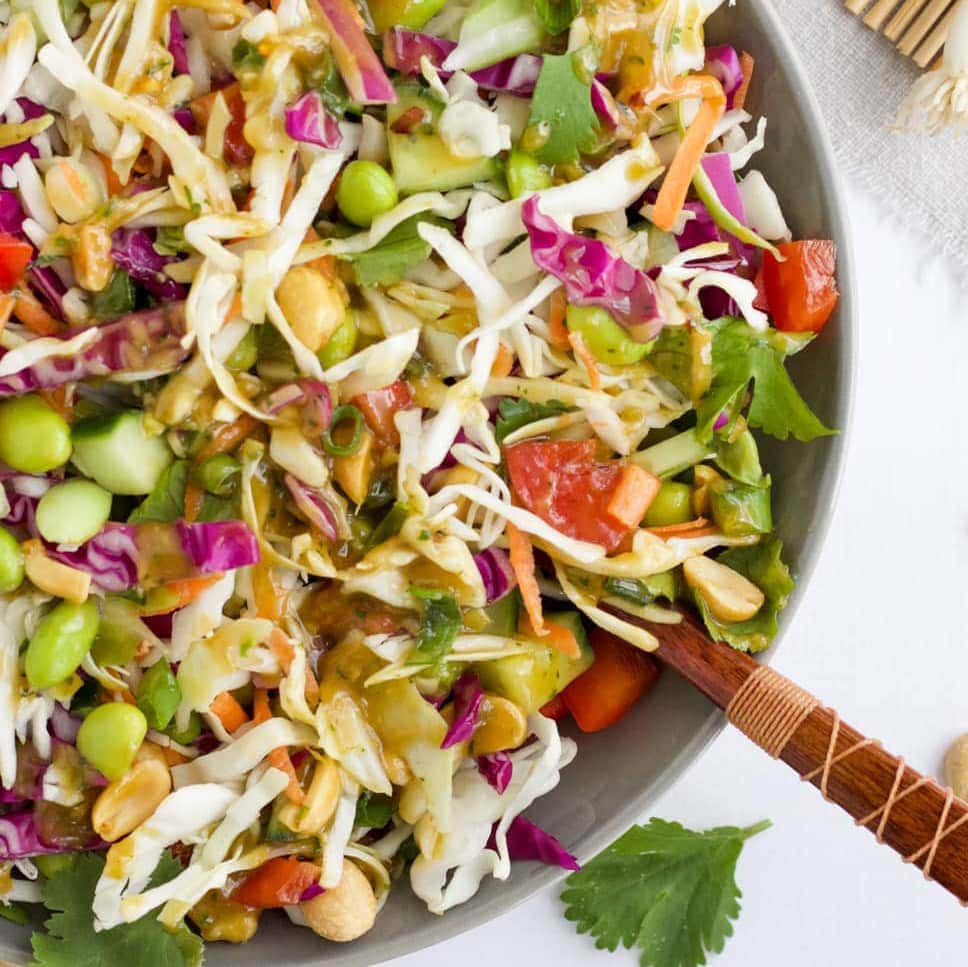 Thai Inspired Salad
A crisp and crunchy cabbage based salad with a creamy peanut dressing
Ingredients
Salad Ingredients
5

cups

shredded coleslaw mix

with carrots

1

cup

shredded purple cabbage

1

cup

red bell pepper

chopped

1

cup

cucumber

chopped

1

cup

edamame

shelled, cooked and cooled

1/2

cup

green onion

sliced

1/2

cup

cilantro

chopped

1/2

cup

peanuts

chopped
Dressing
1/4

cup

olive oil

3

Tablespoons

peanut butter

creamy

3

Tablespoons

rice vinegar

3

Tablespoons

honey

2

garlic cloves

crushed

1/4

teaspoon

red pepper flakes

1

Tablespoon

lime juice
Instructions
In a large bowl, combine all salad ingredients and set aside.

In a food processor or blender, combine the dressing ingredients and pulse until smooth.

Pour dressing over the salad and toss until well combined. Alternatively, you can serve the dressing on the side.
Notes
This salad is very forgiving. You can omit any ingredients you don't like and make adjustments as needed. 
Add more or less oil to the dressing until the desired consistency is reached.
If meal prepping, it is helpful to store salad ingredients separated and serve dressing on the side. 
Nutrition
Calories:
277
kcal
Carbohydrates:
18
g
Protein:
9
g
Fat:
21
g
Saturated Fat:
3
g
Trans Fat:
1
g
Sodium:
47
mg
Potassium:
382
mg
Fiber:
4
g
Sugar:
12
g
Vitamin A:
993
IU
Vitamin C:
37
mg
Calcium:
48
mg
Iron:
2
mg