Happy Saturday everyone! So glad you stopped by today for the final recipe in the Game Day Appetizer series! It's been so fun to have my friends over for the party. I wish I could have you all over on game day too!I'm thrilled to share Courtney with you today, from Sweet C's Designs.
Welcome Courtney!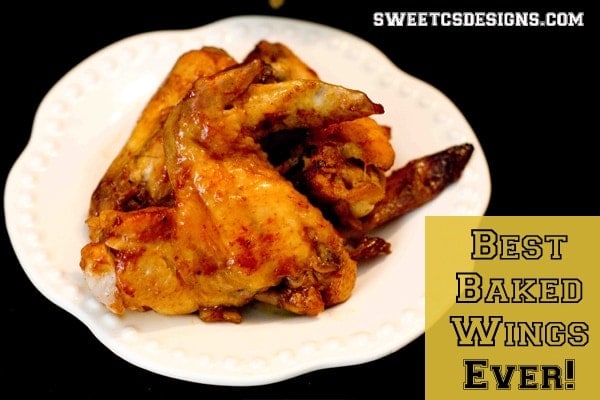 Hey guys ! I am so excited to be over here today. I love Kristin and her blog! In case we've never met, I am Courtney of Sweet C's Designs. When Kristin first asked me to add a recipe to this series, I was super excited. Giddy even. My Broncos seemed bound for the big game.
And then they broke my heart.
But don't feel too bad, I will still have a great time watching our favorite TV event of the year with a lot of great food to cheer me up. And the top food we will be serving? BAKED CHICKEN WINGS.
I love chicken wings. LOVE chicken wings. Is there anything better while watching a football game and drinking a cold beverage? Nope- for me, it's pretty much all about wings. So if you are looking for the perfect snack, (or meal) for the big game, look no further- I am sharing my not-so-secret recipe for the best wings ever.
What makes my wings the best? Well, it is all in the method and my little secret spices- and I don't fry them. Or add extra butter. Yup, I just season, slow braise, and then serve. They come out fall off the bone tender, with crispy skin, tons of flavor- and outside of pouring wings in a bag, shaking, and tossing in the oven- you really aren't doing much work.
I always get so many people asking my secret, I want to share it with you!
For these to-die-for wings, you'll need:
2 pound Chicken wings (I buy the big packages at my grocery store or Sams club with the whole wing still together)
1 bag French's mild Chicken wing spices
1 bag French's hot Chicken wing spices
2 tablespoons cayenne pepper, divided ** reduce to 1 teaspoon for medium, 1/2 teaspoon for mild
2 tablespoons red pepper flakes, divided
2 tablespoons paprika, divided
2 tablespoons of garlic powder, divided
Baking sheets, lined with foil if you prefer
Preheat your oven to 250 degrees while you toss 1/2 your chicken into one of the bags provided with your French's wing spices, as well as one tablespoon of each spice. Toss the remaining half in the other bag. Dump 1/2 mild and 1/2 hot spices in each bag with wings, close the bags, and shake. Place onto a baking sheet, and let the wings bake for one hour.
After one hour, flip the bags over onto the other side, and increase the temp to 350, cook for another 30 minutes.
Next, open the bags (carefully- this will be very, very hot), and pour the wings and juices onto your baking sheet. Turn the oven up to 450, and bake for another 30 minutes, or until all of the "juices" reduce- flipping every 10 minutes or so (just be careful you don't pull the skin and wing off the bone, as they do stick a bit to the baking sheet.
Slide your tongs under like a spatula before lifting to flip and you should be fine). When done, slowly drizzle any remaining liquid left in the baking sheet over the wings for even more flavor.
I like to serve these in a big pie plate with celery and blue cheese (or ranch) nearby. Don't forget to add a bowl next to them for guests to dump their spare wing bones!
***********************
Thanks Courtney, that's definitely a recipe I'm going to be trying out soon!
It's been fun to share all these appetizer recipes with, but even more I loved having my friends stop by to share their favorites as well!
To view each post in this little series, click
here
.