French Bread Pizza is a quick and easy dinner that's also perfect for snacking. With crispy edges and soft bread inside, this baked pizza bread is easy to customize with your favorite pizza toppings.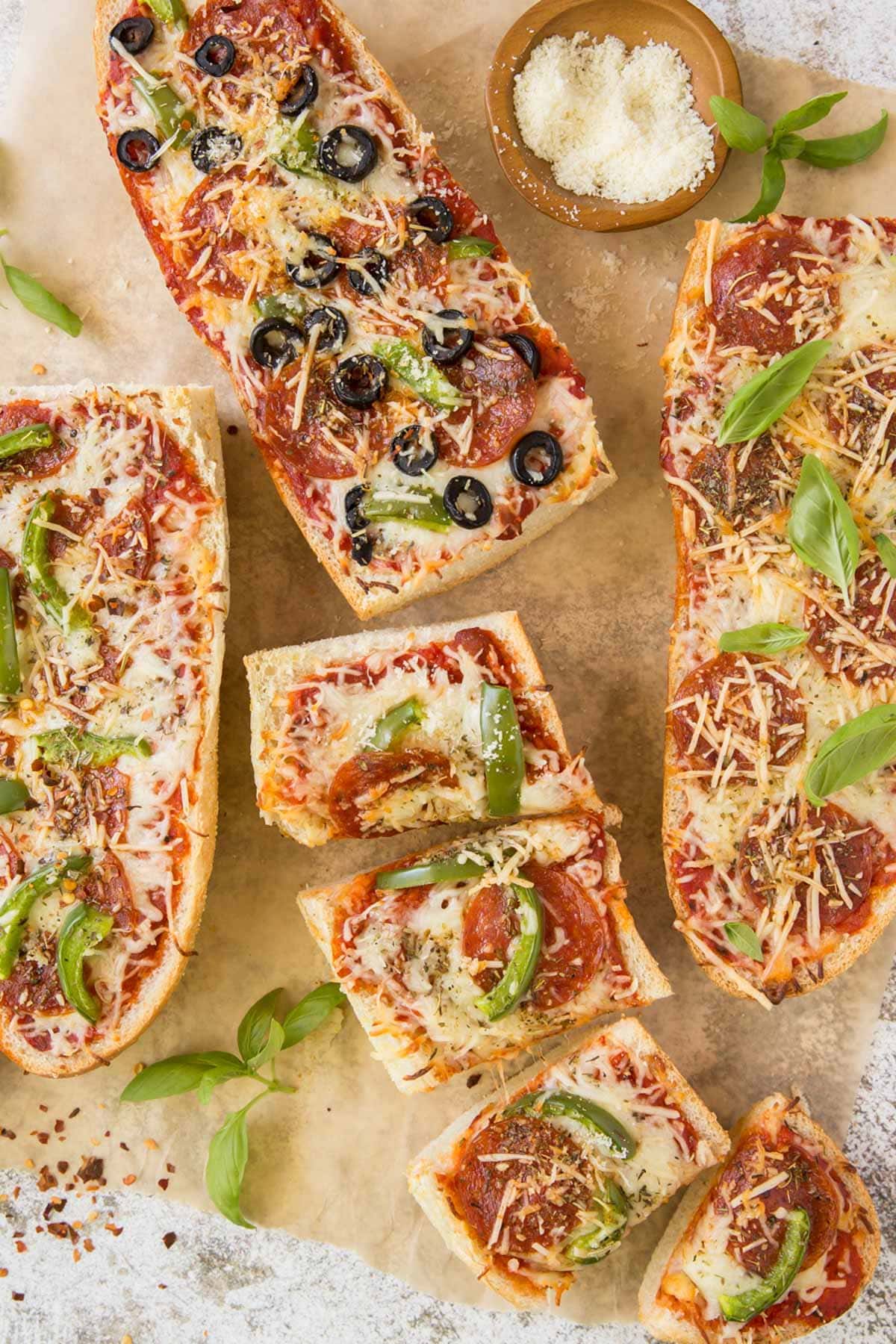 If you like to get dinner on the table quick, you'll love these other easy recipes that are ready in under 20 minutes: Oven Baked Tostadas, Ground Beef & Noodle Stir Fry, Pizza Bagels and Easy Meatball Sliders.
Quick and easy is the name of the game when it comes to feeding my kids. They don't need or want extravagant meals to keep them satisfied. But if I can manage to make one of their favorite take out foods a little healthier at home, and in under 20 minutes, that makes me happy!
What is French Bread Pizza?
French Bread Pizza uses bakery fresh french bread as the base of your pizza instead of starting with a dough that you have to knead and let rise. It's a total time saver!
A loaf of french bread is sliced in half lengthwise and split open to reveal the soft, chewy bread on the inside. Slather it with your favorite pizza sauce and whatever toppings you like. It's easy to customize for individuals, too.
How to make french bread pizza
Start by slicing a loaf of french bread in half lengthwise and smothering on some delicious pizza sauce, Homemade Marinara Sauce or spaghetti sauce. I like meat on my pizza, so I'll add some Italian sausage right into the sauce to keep it from falling off the pizza.
Top that sauce with lots and lots of freshly grated cheese. You can use the traditional mozzarella, some cheddar jack or even get fancy with some Gouda or Fontina. As long as it's a good melty cheese it will work fine.
Next you'll add the toppings – veggies, pepperoni, pineapple – so many possibilities! Just pick your favorites; or if you're making several slabs of french bread pizza you can customize them for everyone in your family.
To finish it off, sprinkle with some Parmesan Cheese and Italian Seasoning, then bake in a 350 degree oven for about ten minutes.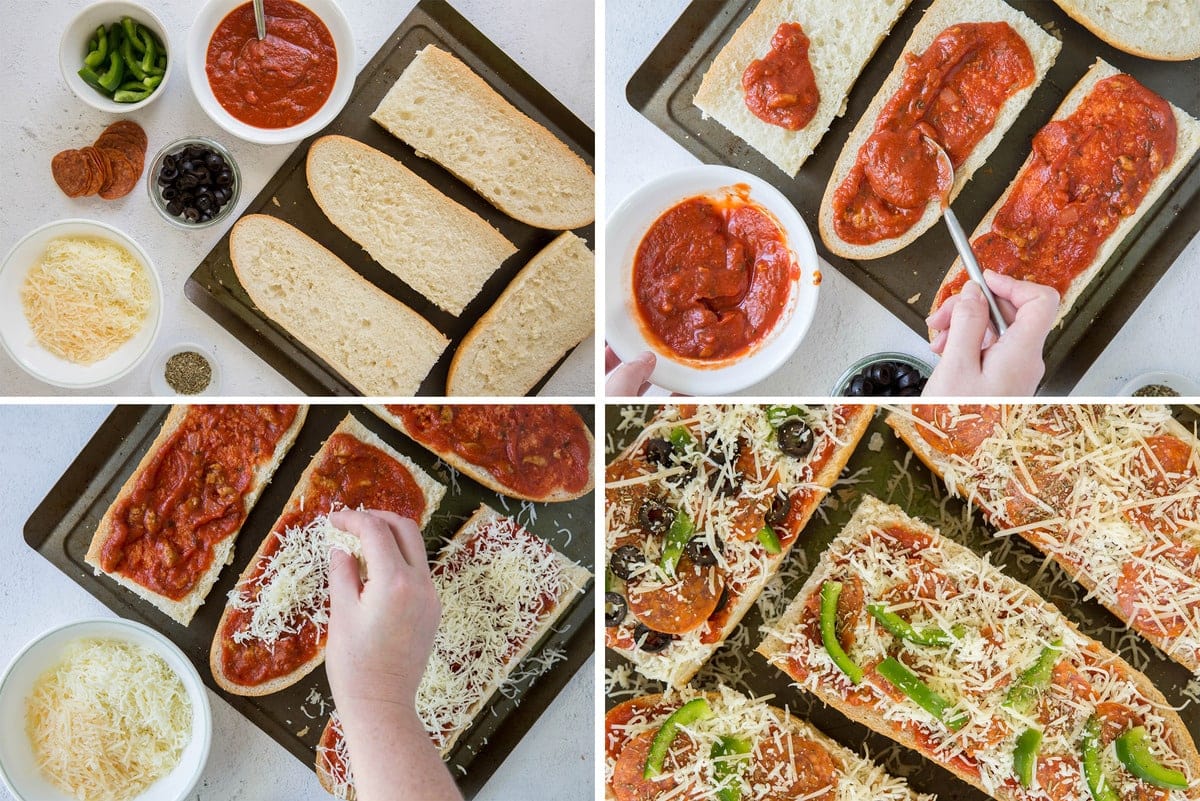 Serving Suggestions
Cut french bread pizza into even slices. You can cut them into a triangle shape or just straight across into rectangles using a handy pizza cutter. Serve with a copycat Olive Garden Salad and some extra pizza sauce or homemade ranch dressing for dipping. This is a great meal for game day movie night, too – skip the salad and get all your veggies in on the pizza!
Easy Pizza Bread Appetizer
If you need a fun and unique appetizer for your next party, mini french bread pizzas are a great idea! Slice a long, skinny baguette into ½ inch slices and lay them out flat on a baking sheet. Spread a little pizza sauce on each one then top with shredded cheese and your favorite toppings. You could even use bagels!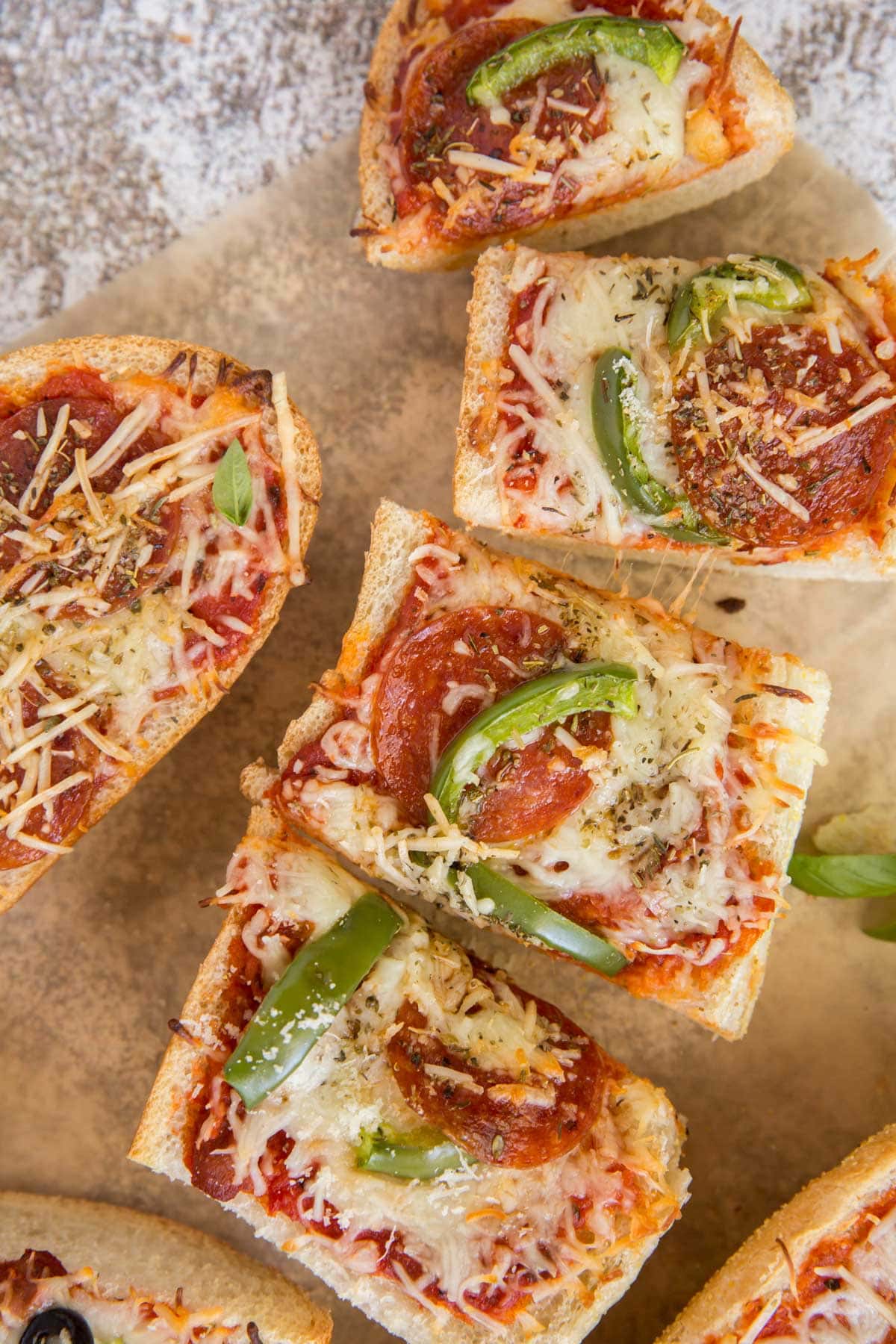 Air Fryer French Bread Pizza
If you want a single serving, or just don't want to turn on your big oven, cook your pizza bread in the air fryer. Preheat to 350 degrees and cook for about 5 minutes or until the cheeses are melted and the exterior is crispy.
Make Ahead, Storage and Freezing
Make ahead prep: You can prep these a few hours in advance, all the way to just before baking. Add all the topping, then cover loosely with foil until you're ready to bake. I don't recommend doing this much more than a few hours in advance to avoid the bread getting soggy from the sauce.
Storage and Reheating: Just like any leftover pizza, this recipe can be enjoyed cold if that's your thing. To crisp up the crust, reheat in the oven or air fryer at 350 for a few minutes or until warmed and melty.
Freezing – These french bread pizzas are perfect for freezing. Prep everything to just before baking. Add all of the toppings to the french bread, then arrange them on a baking sheet. Pop them in the freezer for 2 hours and once frozen, transfer them to a storage container. They can be frozen for up to 6 months, and placed directly in a 400 degree oven for about 15 minutes.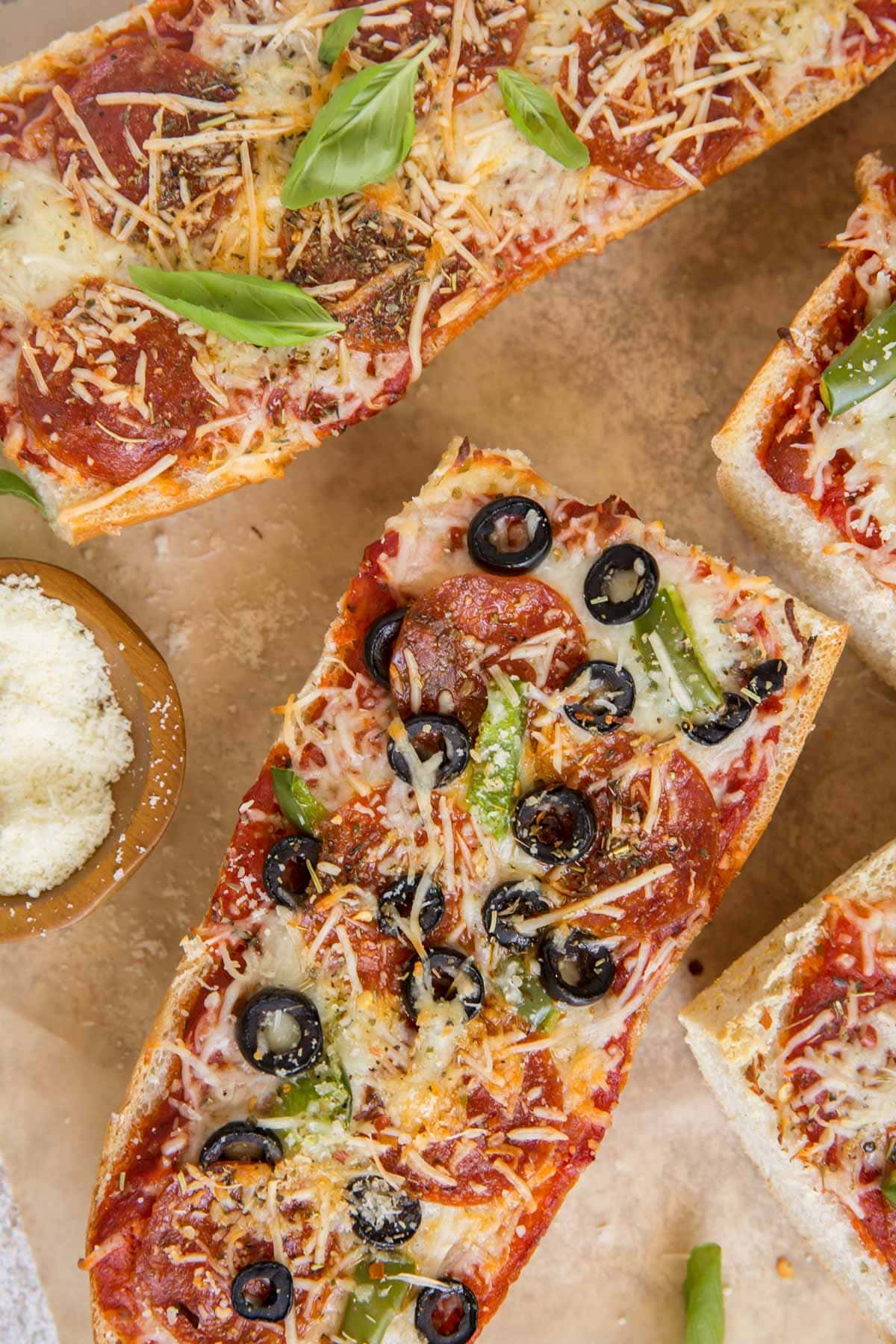 How do you keep french bread pizza from getting soggy?
The best way to avoid soggy pizza bread is to layer the toppings first, then the sauce, then cheese. This provides a barrier between the sauce and the bread and keeps it from soaking in.
I have found that this pro tip is especially useful if you like a very saucy pizza or if you plan to prepare them ahead of time. If you're like me and prefer to use a lighter hand with your sauce, you can layer however you like.
More pizza inspired recipes
Recipe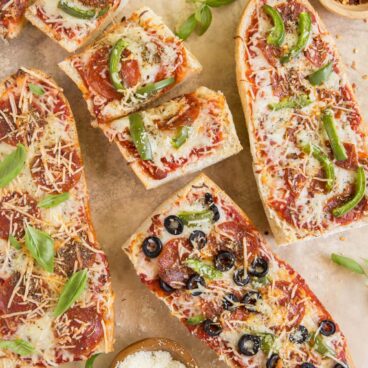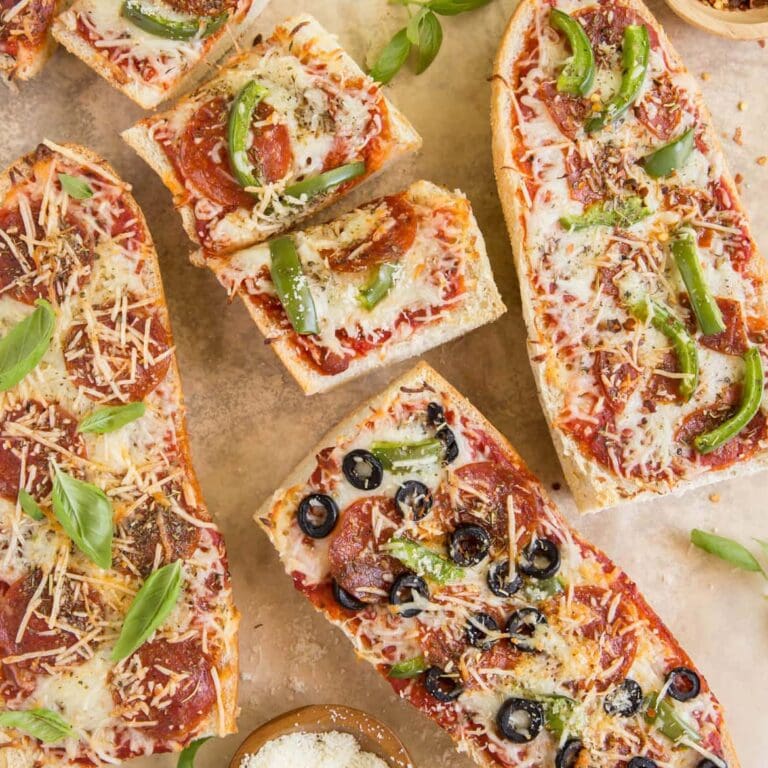 French Bread Pizza
French Bread Pizza is a quick and easy dinner that's also perfect for snacking. Crispy baked pizza bread with sauce, cheese and toppings!
Ingredients
1

loaf of french bread

2

cups

marinara sauce

2

cups

shredded mozzarella cheese

2

teaspoons

Italian Seasoning

1/2

cup

Shredded Parmesan cheese

Optional pizza toppings: pepperoni, Italian sausage, peppers, mushrooms, olives, etc.
Instructions
Preheat oven to 350 degrees F. Set aside a large baking sheet (optional – cover with foil or parchment paper).

Slice french bread loaf in half, lengthwise. Spread each half evenly with marinara sauce.

Top evenly with Mozzarella Cheese and pizza toppings. Sprinkle with Parmesan cheese and Italian seasoning, if desired.

Bake in the 350 degree oven for 15 minutes, or until cheese is bubbly and starting to brown.

Remove from the oven and let sit 5 minutes, then slice, serve and enjoy!
Notes
Depending on how you plan to serve, this recipe will make 4-6 servings. 
Nutritional information is approximate and does not include optional toppings. 
Nutrition
Calories:
538
kcal
Carbohydrates:
65
g
Protein:
30
g
Fat:
18
g
Saturated Fat:
10
g
Cholesterol:
53
mg
Sodium:
1707
mg
Potassium:
600
mg
Fiber:
5
g
Sugar:
8
g
Vitamin A:
1024
IU
Vitamin C:
9
mg
Calcium:
507
mg
Iron:
6
mg