Grilled Pizza will take your family pizza night to the next level! This simple method will yield some of the best pizza you'll ever eat, with a crispy, flavorful crust and all your favorite toppings.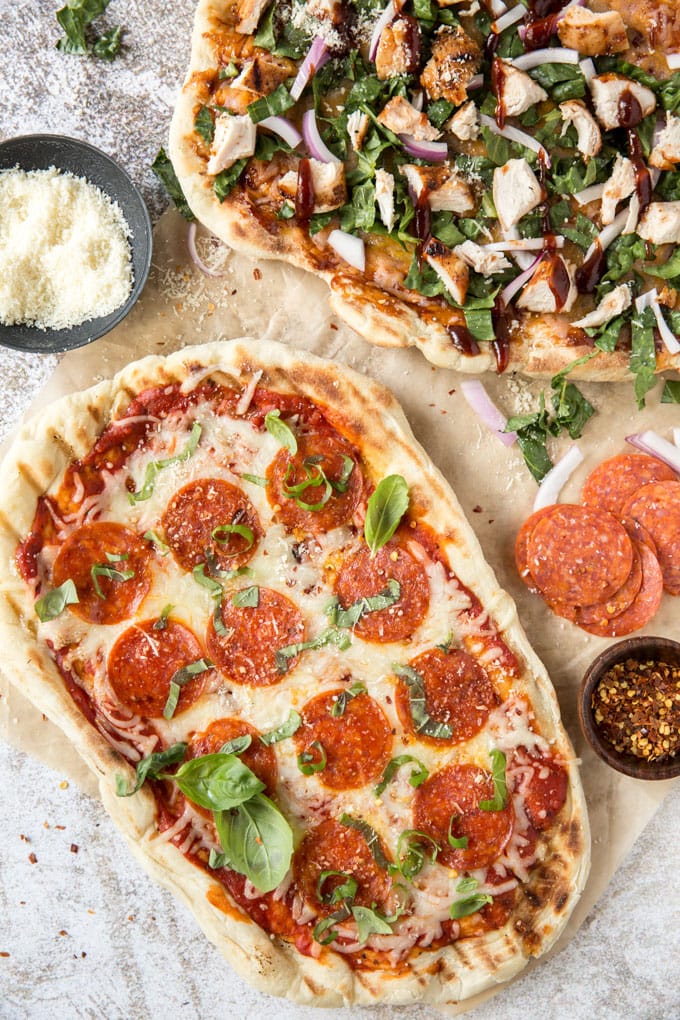 Get ready to crank up your grill for this incredible grilled pizza! While you're at it, throw on some Chicken Kabobs, Grilled Potatoes and Balsamic Grilled Vegetables, too!
The Best Grilled Pizza
What do you do when you really want homemade pizza but don't want to heat up your kitchen with a super hot oven? Cook pizza on the grill!
Making grilled pizza is super easy, but it can be intimidating for first-timers. A pizza properly cooked on the grill will result in a slightly-chewy crust just like the best ones from fancy brick ovens and the process is actually easier than you might think. Plus you can choose the toppings that you love and customize each pizza for the person who will be eating it.
The steps are pretty simple, but you will want to prep everything in advance. Once the pizza dough starts cooking, you'll need to move quickly to get all the toppings added. The cooking part only take about 8 minutes from start to finish.
How to Grill Pizza
You can make your own grilled pizza in five easy steps.
Preheat your grill. You want it as close to 500º as you can get it, or as high as 600 degrees. The high heat will cook the dough quickly with burning the crust.
Prep ingredients. Cut up all the veggies and meat topping, grate the cheese, and measure out the tomato sauce. Have all utensils, like BBQ tongs, ready to go. Stretch out the pizza dough into a circle (or close to it – I love a rustic look) and brush it will olive oil.
Use direct heat. Place the dough directly over the heat source to cook. Give it a few minutes to get some nice grill marks then flip it over.
Quickly add toppings. Once you've flipped the dough over it's time to move fast. Brush on olive oil, then a thin layer of pizza sauce and all the other toppings.
Cook the pizza. Close the lid and let the grill do its job. You may need to turn down the heat or move the pizza to indirect heat to allow your cheese to melt and toppings to roast without burning your crust. Continuously monitor the dough until it is the desired doneness. Slide the grilled pizza onto a flat surface like a cutting board and let it rest for several minutes before slicing.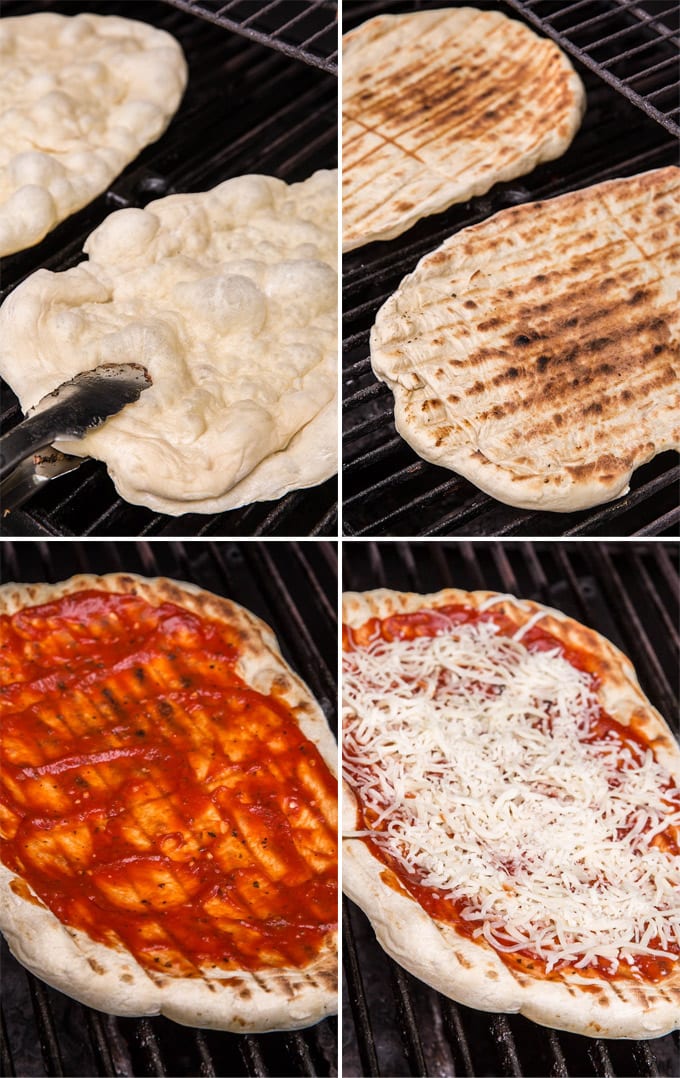 Grilled Pizza Toppings
This method can be done using your favorite pizza dough and toppings. Here are some grilled pizza topping ideas to get your creative juices flowing:
Sauces: pesto, bbq sauce, alfredo sauce.
Herbs and aromatics: roasted garlic, basil, oregano.
Meats: bacon, pepperoni, sausage, diced baked chicken.
Veggies: artichoke hearts, tomato slices, bell peppers, onions, mushrooms, pineapple.
Assorted cheeses: Mozzarella, Parmesan, Feta.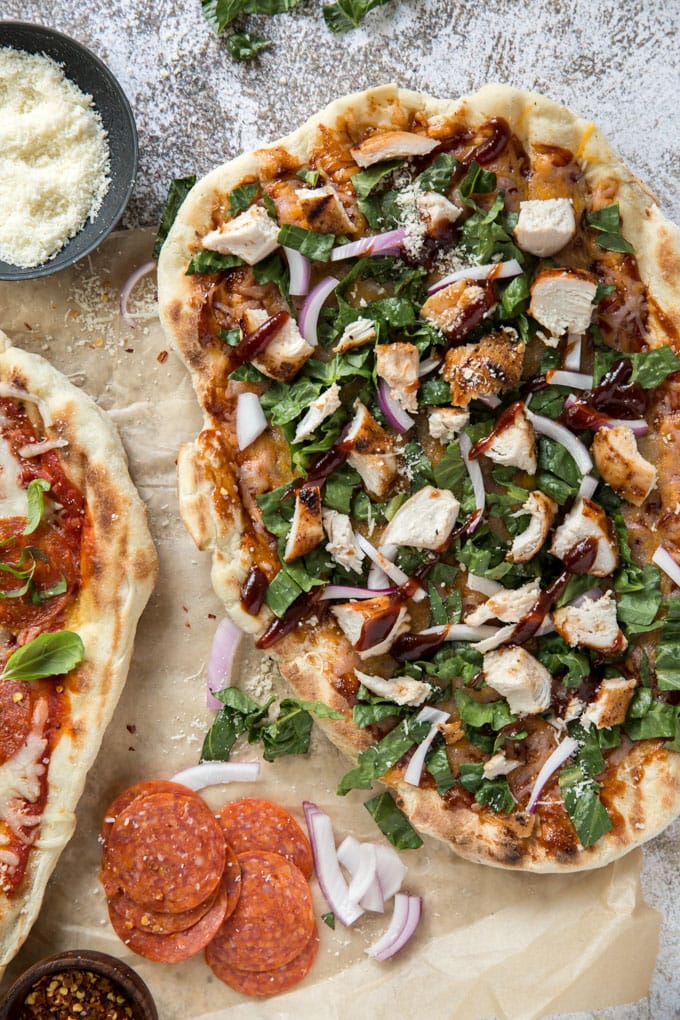 Top Tips
It is very important to have everything ready to go when you put the dough on the grill. Take all of your ingredients with you to the grill and have them set out nearby. A small card table set up would be ideal.
Limit toppings to a few favorites and don't overload the pizza.
Use fresh grated cheese. Pre-shredded cheese has a preservative coating that keeps it from melting nicely. It's fine for a late night microwave quesadilla, but for your beautiful grilled pizza, fresh is best!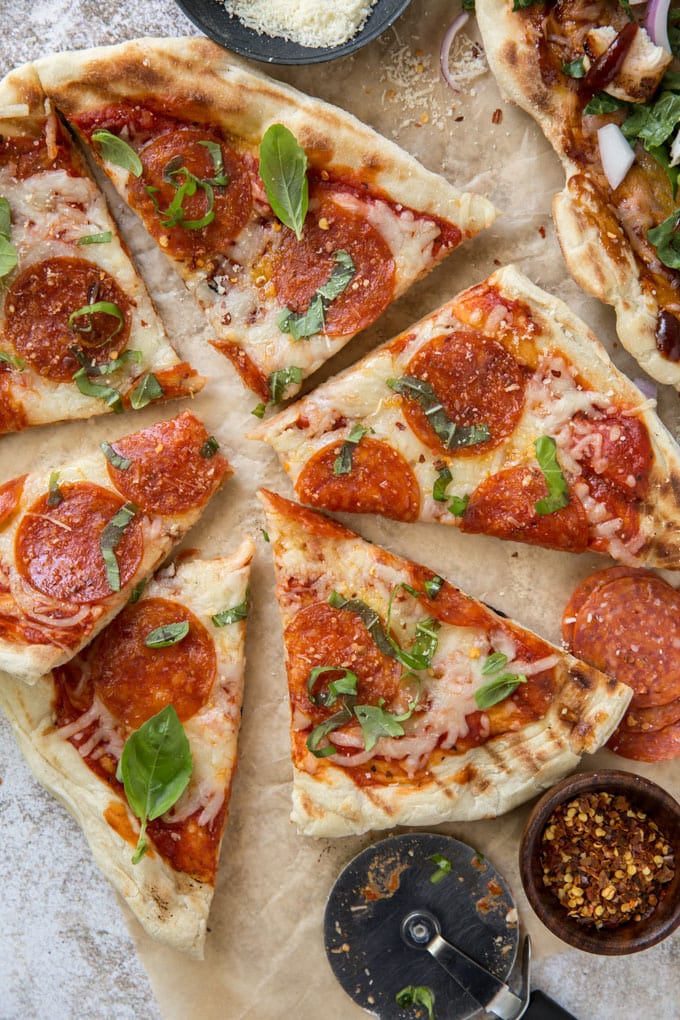 Get Your Grill On!
Grilling is one of my favorite outdoor activities. It feels so rustic and it's fun! While Grilled Pizza is one of our latest grilling obsessions, here are some more of our favorite things to cook on the grill:
Recipe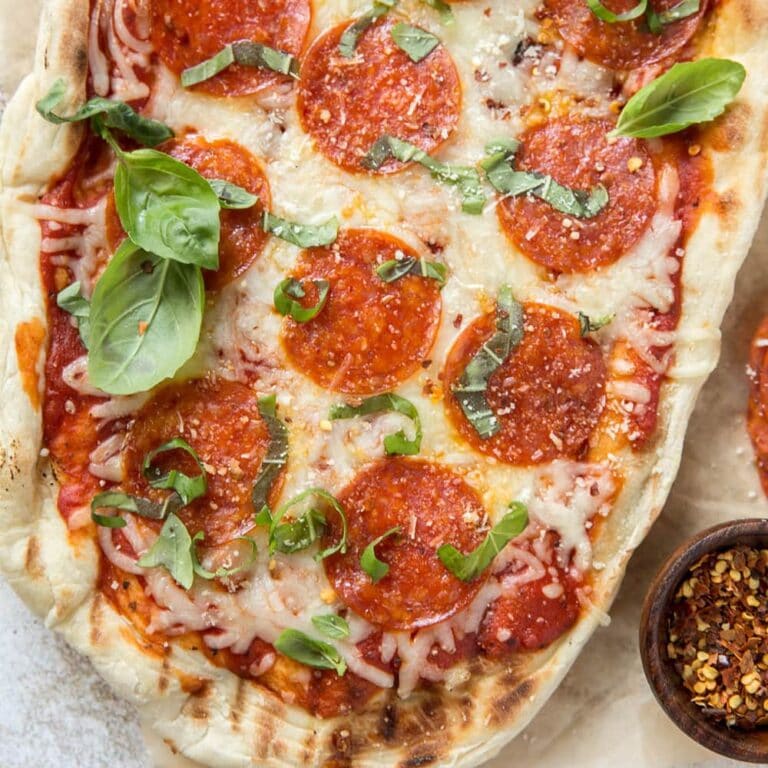 Grilled Pizza
Try this simple method for some of the best grilled pizza you'll ever eat, with a crispy, flavorful crust , melty cheese and all your favorite toppings.
Ingredients
1

pound

pizza dough

store bought or homemade

1/2

cup

tomato sauce or marinara

store bought or homemade

1 1/2

cups

Cheese: freshly shredded or torn Mozzarella, Grated Parmesan

more or less to taste

Other optional toppings such as pepperoni or sausage, thinly sliced vegetables, herbs, etc.
Instructions
Prep
Preheat an outdoor gas grill to medium-high heat (500-600 degrees F). Prep all of your ingredients and have them easily accessible near the grill. Also have a pair of grill tongs handy. Stretch out the dough into a thin, rustic circle. The shape isn't important, just aim for circle-ish. Brush one side with olive oil.
Grilling
Place the pizza dough directly over the heat on the grill, oiled side down. Brush the top of the dough with a thin layer layer of olive oil. Let the dough cook for 2-3 minutes, checking the bottom to see that it doesn't burn. You want it to have grill marks but not be crispy.

Working quickly, flip the dough over to toast the other side and arrange your ingredients on top of your pizza. Spread on a thin layer of sauce, then add cheese and other toppings. Use toppings sparingly; if the pizza is too heavily loaded it won't cook through.

Close the grill and let your pizza cook for 3-5 minutes. If it starts to scorch or burn, turn the heat down and move the pizza to indirect heat. You'll know it's done when the cheese is melted and the crust is nice and toasty.

Use tongs or a spatula to slide the pizza off the grill and let rest 5 minutes before slicing.
Notes
Every grill is different and temperatures will vary. Watch closely as your pizza cooks in order to estimate the time it will take. 
Time will also vary depending on personal preference. This method yields a crispy crust but you can shorten the time a little bit if you prefer it softer. Just be sure that the dough is cooked all the way through.
Nutritional information is approximate and only include the dough, sauce and cheese as listed in the recipe instructions.
Nutrition
Calories:
412
kcal
Carbohydrates:
57
g
Protein:
18
g
Fat:
13
g
Saturated Fat:
6
g
Cholesterol:
33
mg
Sodium:
1244
mg
Potassium:
133
mg
Fiber:
2
g
Sugar:
9
g
Vitamin A:
417
IU
Vitamin C:
2
mg
Calcium:
216
mg
Iron:
4
mg