With tons of tart cranberries, cinnamon and a sweet glaze, this Cranberry Coffee Cake recipe is the perfect holiday treat.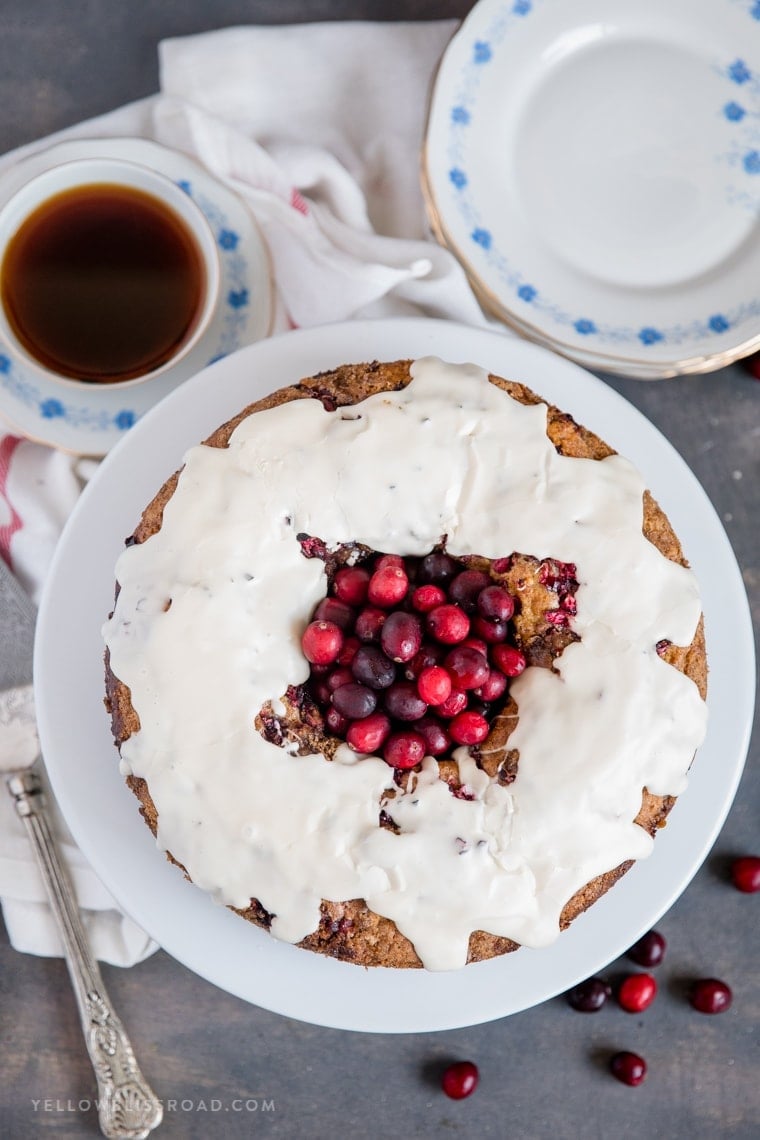 You guys, I have been wanting to make this Cranberry Coffee Cake recipe for MONTHS!! I'm quite sure that the produce guy at the grocery store was thrilled when the cranberries came in because I could finally stop hounding him every week. Coffee cake on it's own excites me – not to sweet, with a delicious glaze and lots of cinnamon – it takes me back to my childhood when I'd spend time at my grandma's house quite often. Being the good European lady that she was, she had coffee nearly every afternoon, and with it always a small, sweet treat. Oh how she would have loved this Cranberry Coffee Cake! I might be a little biased, but I think it's the best coffee cake recipe I've ever made.
This Cranberry Coffee Cake has those delicious holiday flavors that I crave this time of year. A simple coffee cake is filled with fresh, tart cranberries along with the brown sugar and cinnamon swirled throughout. While I wouldn't call it a sour cream coffee cake, it does have sour cream and that makes it incredibly moist and tender. This is a delicious accompaniment to your afternoon coffee or tea.
How to make Cranberry Coffee Cake
The instructions for this coffee cake are pretty straightforward. You definitely want to use a tube pan (affiliate link), not a bundt pan, because you want to the cranberries to end up on top of the cake for that gorgeous finish.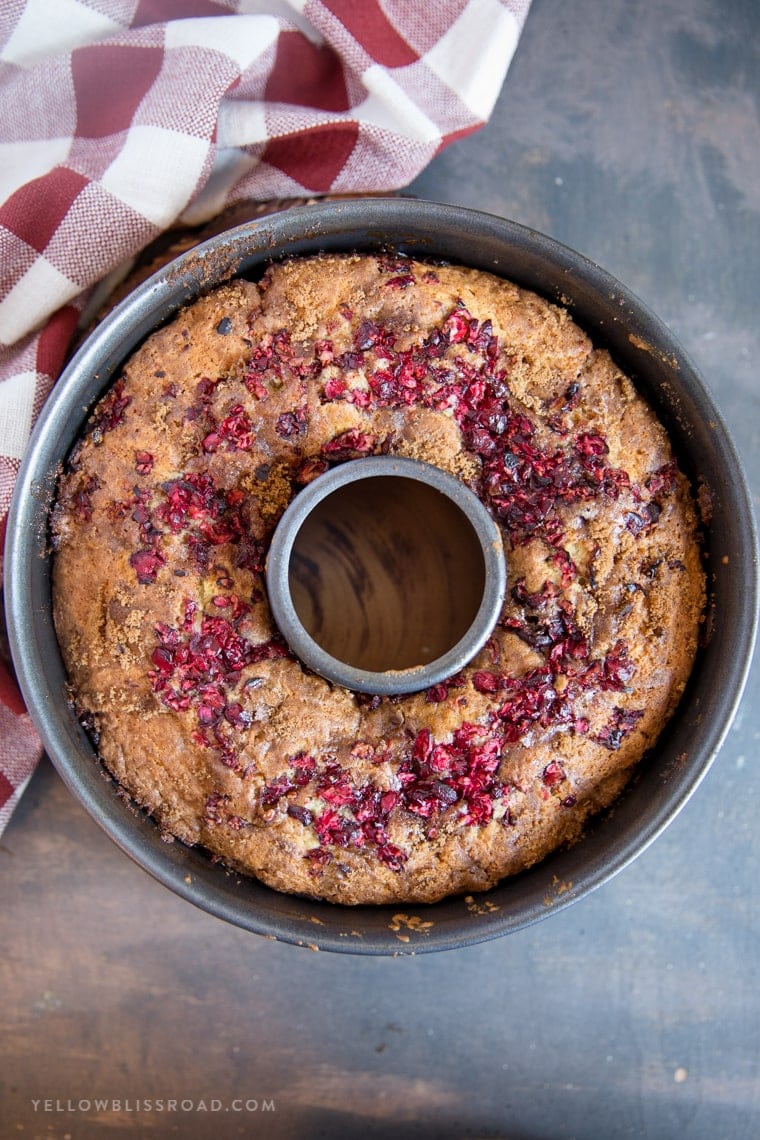 The pan is the biggest tip to follow, but you could also use an 11-inch rectangular baking dish. You might need to adjust the cooking time but it should work just fine.
Mix up butter, sugar, eggs and vanilla with an electric mixer. It's best to have all of the ingredients at room temperature but not a major factor in the success of this coffee cake recipe. To that add the flour, baking soda and salt and finally stir in some lusciously smooth sour sour cream.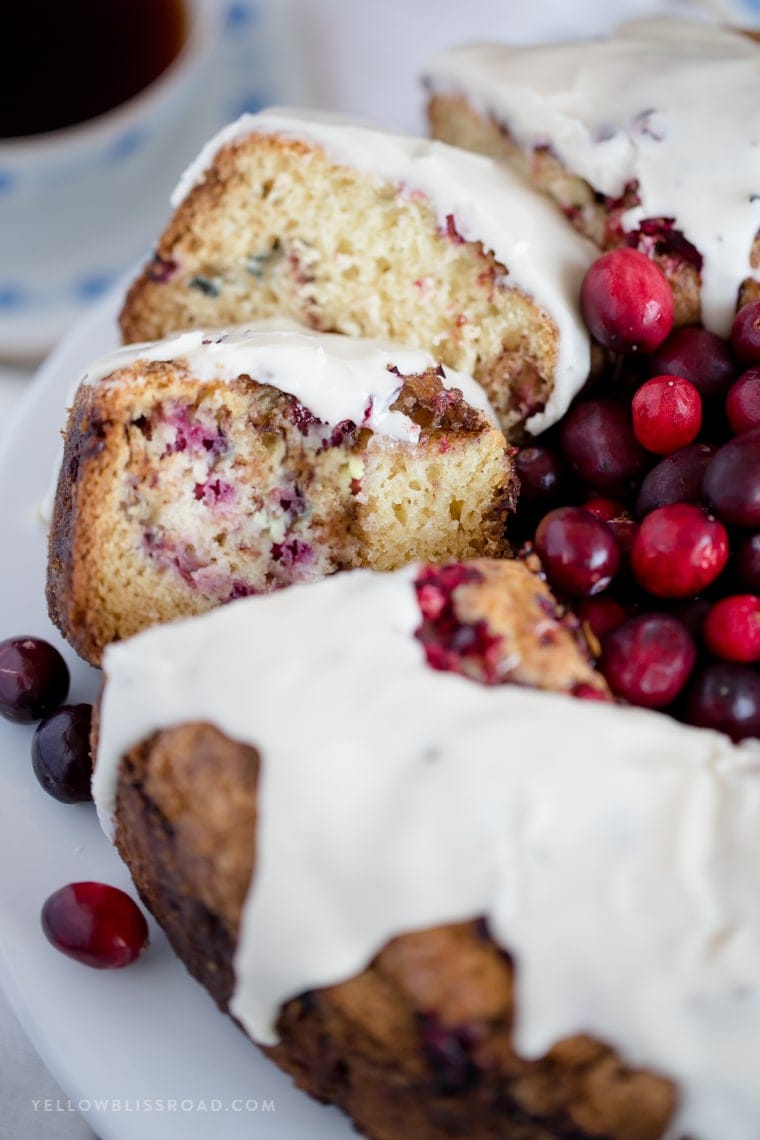 Pour half of the mixture into the tube pan, then top that with some cinnamon and brown sugar and fresh cranberries. Repeat for a second layer so you have that yummy cinnamon sugar and tart cranberries running all through the cake. Bake it for about 40-45 minutes. Once cooled you're going to invert it twice. Once onto a wire rack, plate or something light that will hold the width of the cake, then again onto the serving platter you plan to use. Now come the fun part – whip up that sweet vanilla glaze and pour it on. We went thick on this one, because more is better, right? But if you prefer a thinner glaze just add a little more milk until you get the consistency you like.
Then slice it up and dig in! Don't forget the coffee!!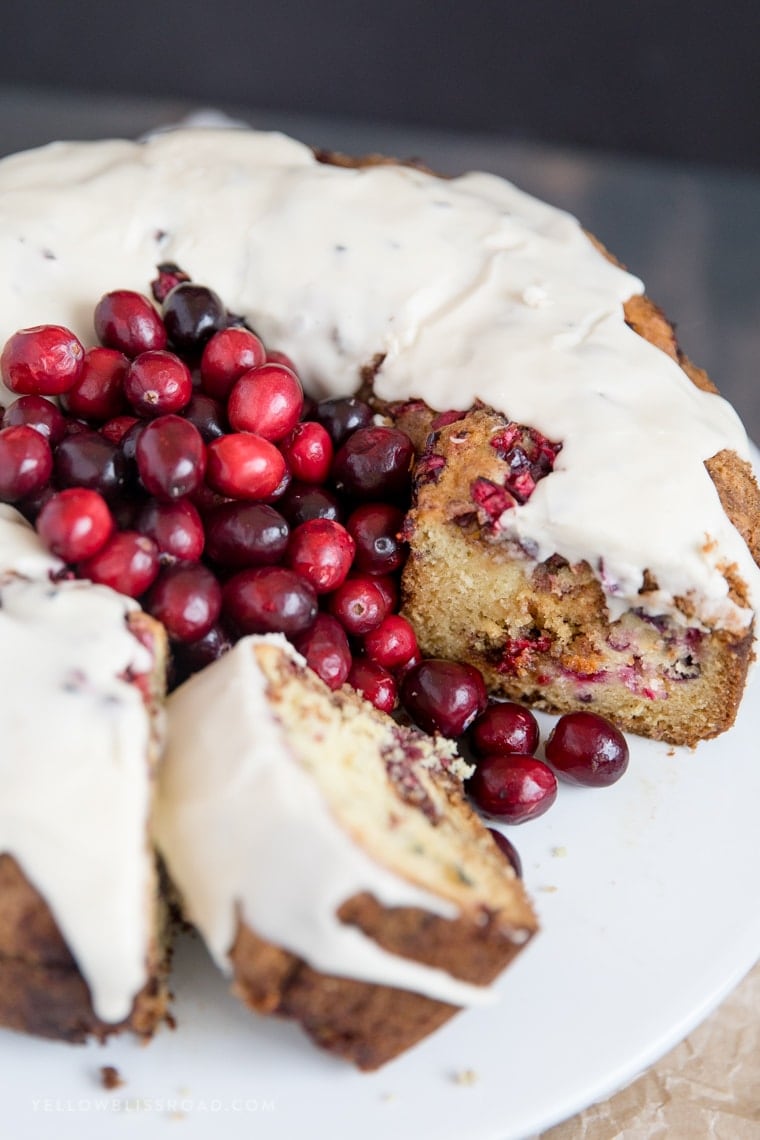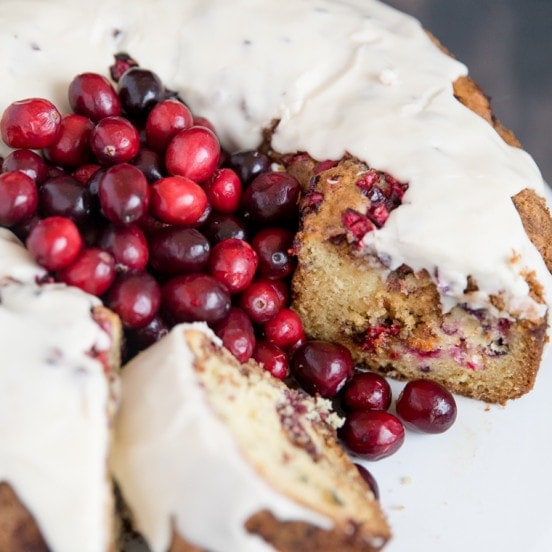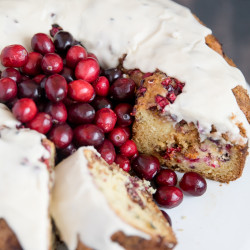 Cranberry Coffee Cake
Ingredients
¾ cups butter softened
1 cup granulated sugar
1 teaspoon pure vanilla extract
3 large eggs
2 1/2 cups all-purpose flour
1 1/2 teaspoons baking powder
1 1/2 teaspoons baking soda
1/2 teaspoon salt
1 cup sour cream
1 cup fresh cranberries
Filling:
1 cup packed brown sugar
2 teaspoons ground cinnamon
Glaze (optional):
2 cups powdered sugar
2 tablespoons milk or more for a thinner glaze
1 teaspoon vanilla
Instructions
Preheat oven to 350 degrees F. Generously grease and flour a 10-inch tube pan (not bundt pan) or a 13x9-inch baking dish with nonstick cooking spray.

In a large bowl with an electric mixer, beat butter and granulated sugar. Add vanilla and beat in eggs one at a time.

In a medium-sized bowl, sift together flour, baking soda, baking powder and salt.

Stir the flour mixture into the wet mixture in batches just until combined.

Stir in sour cream just until combined.

In a small bowl, combine filling ingredients.

Pour half of the batter into the greased and floured tube pan. Sprinkle with half of the filling mixture, then half of the cranberries.

Cover with remaining batter. Sprinkle with brown sugar/cinnamon mixture and top with remaining cranberries.

Bake in the preheated oven for about 45 minutes or until a toothpick comes out clean and the sides begin to pull away from the pan.

Cool cake completely on a wire rack before removing from the pan. Invert onto the wire rack, then invert again onto a serving platter.

Optional glaze: Whisk together powdered sugar, milk and vanilla until smooth. Top cake with the vanilla glaze before serving.
Here's another delicious sweet cranberry recipe to enjoy with your coffee:
Cranberry Chocolate Chip Quick Bread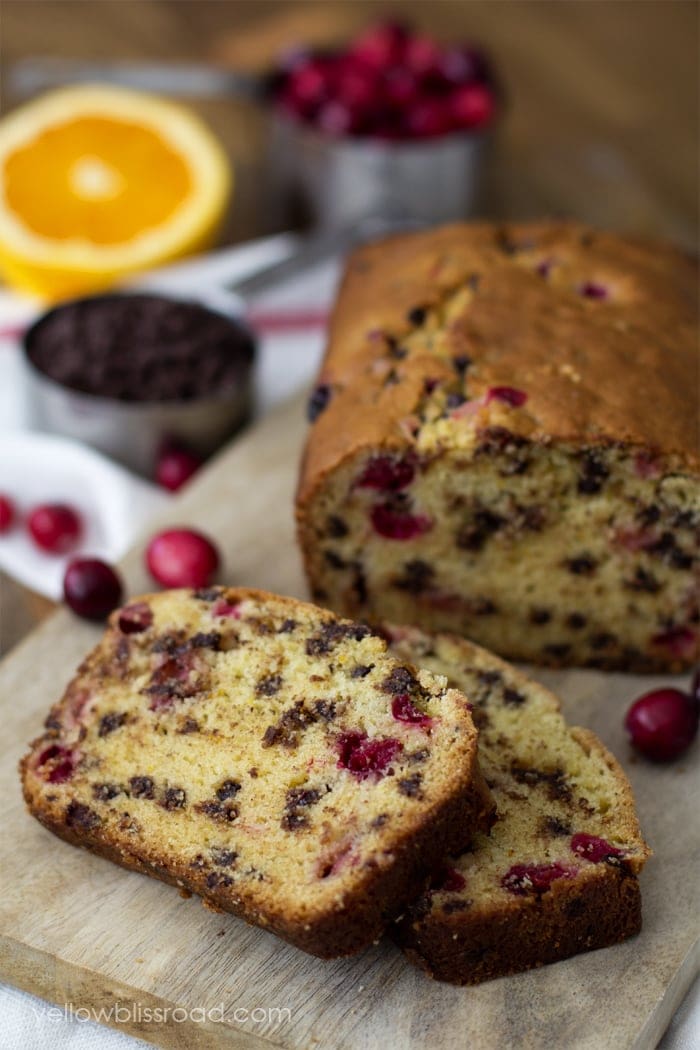 And for more cranberry recipes, try these: