This easy Chicken Alfredo Lasagna is made with rotisserie chicken, alfredo sauce, and mozzarella cheese. It's an easy and delicious chicken lasagna recipe that your family and friends will love!
Looking for more recipes with alfredo sauce? Try some of our other favorites, like Cajun Chicken Alfredo or Shrimp Alfredo.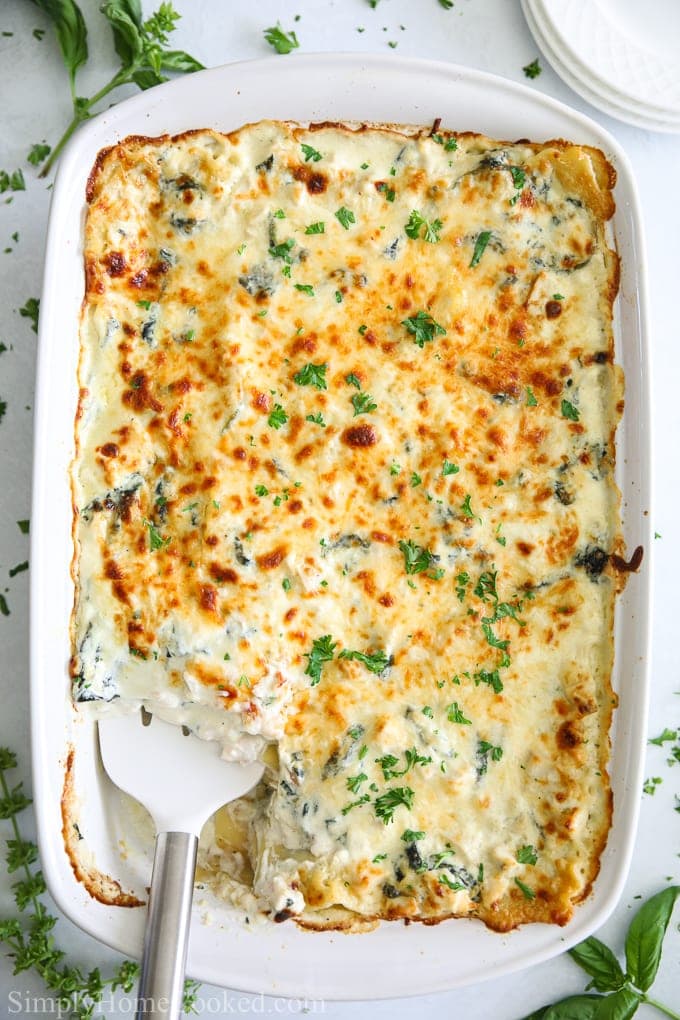 Chicken Alfredo Lasagna
This delicious twist to a classic lasagna recipe will have your family and friends asking for more! It's made with white alfredo sauce, chicken, and Barilla lasagna noodles. Layer it all together and bake for a creamy, cheesy and delicious dinner.
Lasagna Ingredients
The Pasta: This recipe has only been tested with uncooked lasagna noodles that are boiled before adding to the lasagna. You can use the oven-ready type if you want, but you may want to add more liquid to the sauce because they will absorb more of the liquid.
The Alfredo Sauce: I use heavy cream, parmesan, ricotta cheese, and a simple seasoning of salt and pepper.
The Filling: This is made up of shredded chicken, spinach, garlic, onion, and shredded mozzarella.
How to make Chicken Alfredo Lasagna
Make the sauce – In this Chicken Lasagna, the sauce is one with the filling. There's no need to layer them between each other, so it's easier and faster! Once you've got the garlic, onion, and spinach sauteed, add in the parmesan, heavy cream, ricotta, and seasoning. When it's at a simmer, set it aside.
Cook the noodles – Next, you want to cook the pasta. Start by boiling it in a stockpot filled with water and add salt. Cook until the pasta is al dente. I also like to drizzle some olive oil into the pasta so it helps prevent them from sticking to each other.
Assemble the lasagna- Usually, a lasagna has at least 3 layers and goes in the following order: Sauce, lasagna noodles, sauce, filling, and then cheese, you want to continue this pattern starting from the lasagna noodles again. For our chicken lasagna, you'll layer a little of the sauce/filling on the bottom, then noodles, sauce/filling, cheese, noodles, sauce/filling, cheese, until you've used up all the noodles. End with the cheese. You can bake at this point, or cover tightly and refrigerate or freeze for later.
Lasagna bake time- Depending on if your lasagna is fresh or frozen, your bake time differs. Make sure to cover with aluminum foil until the last few minutes of baking to prevent the cheese from burning. For fresh lasagna– Bake in the oven at 350 degrees Fahrenheit for 30-35 minutes. For frozen– Bake at 375 degrees Fahrenheit for about 50 minutes.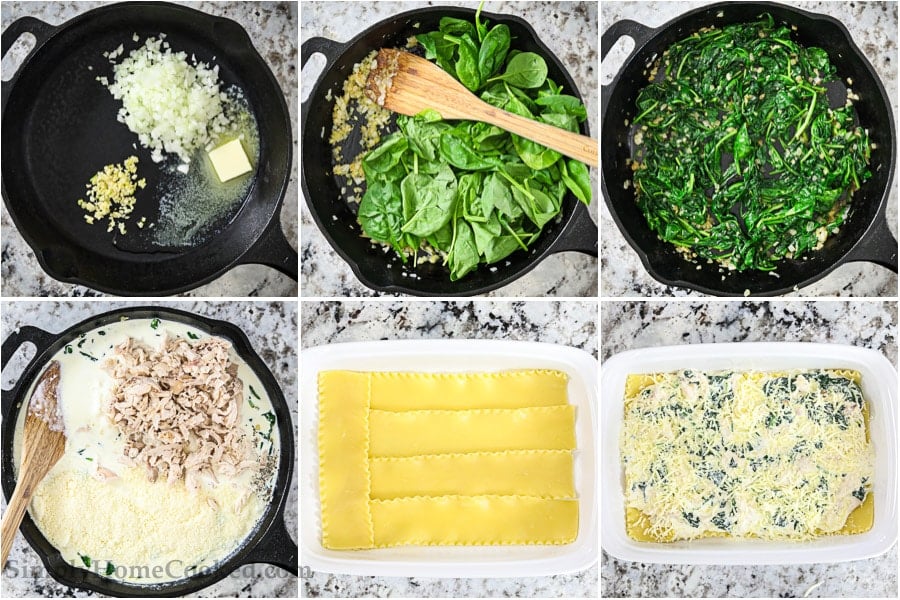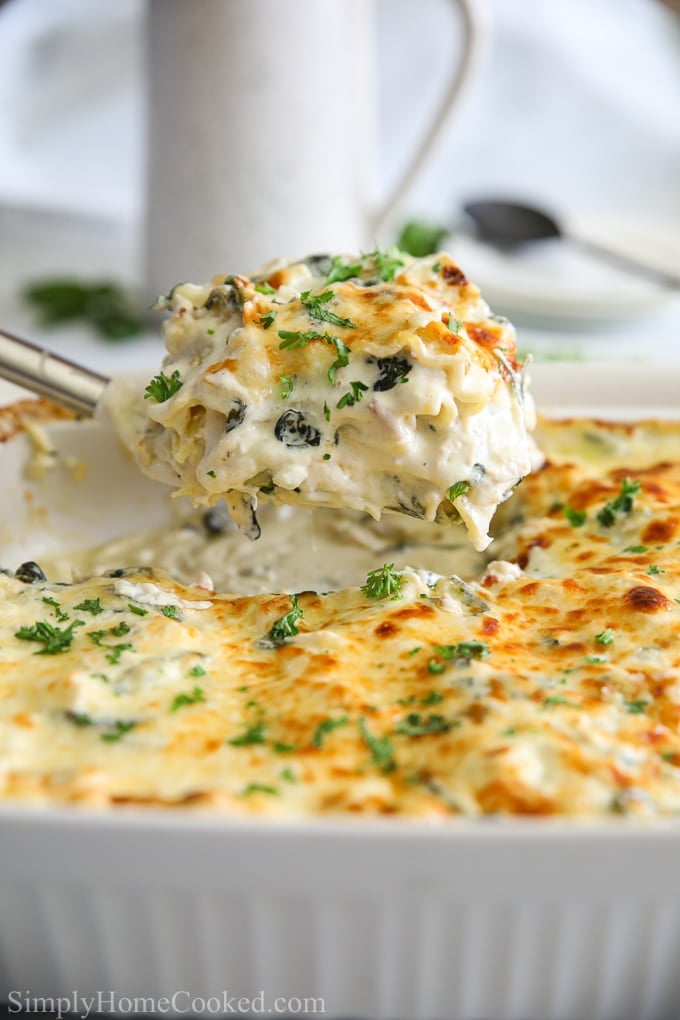 Serving Suggestions
A pan of chicken alfredo lasagna can be a meal in itself. However, if you want to spread it a little further, add a big copycat Olive Garden Salad and some garlic bread.
What to do with leftovers
You can freeze chicken lasagna both baked and unbaked. Make sure to assemble the lasagna in a disposable aluminum baking dish prior to freezing. Ceramic dishes that are cold then rapidly heated may crack. Cover the pan tightly with foil and freeze for up to 4 months.
For unbaked lasagnas, thaw in the fridge, then bake according to the recipe instructions. You may need to add time covered since you are starting at a lower temperature. For already baked then frozen lasagna, thaw in the fridge then reheat in the oven until warmed through.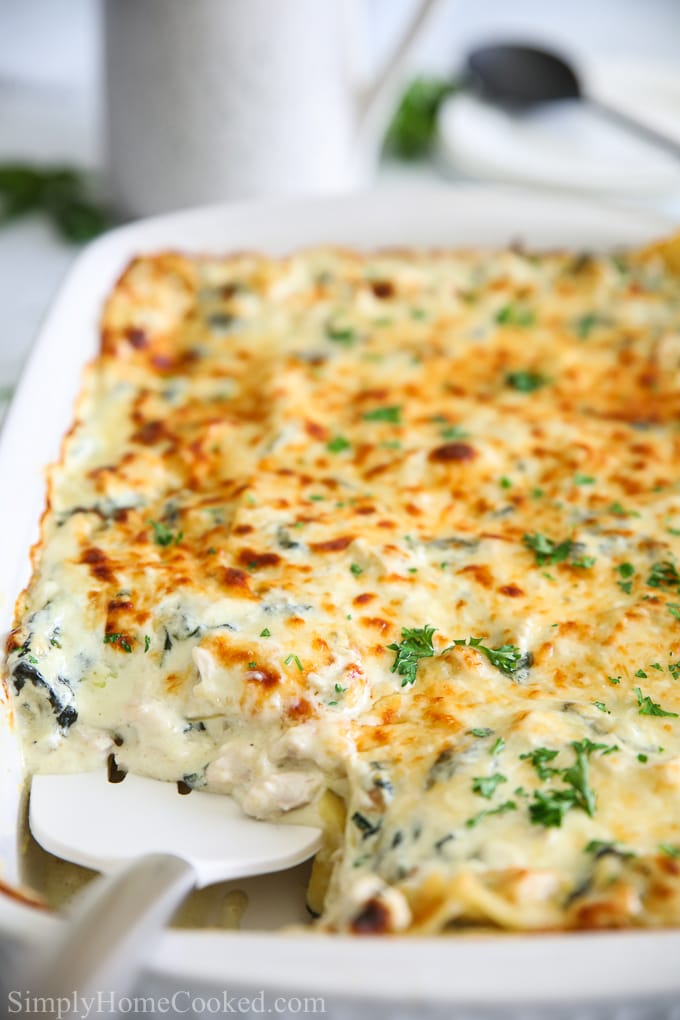 Looking for more pasta? Try these delicious recipes:
Recipe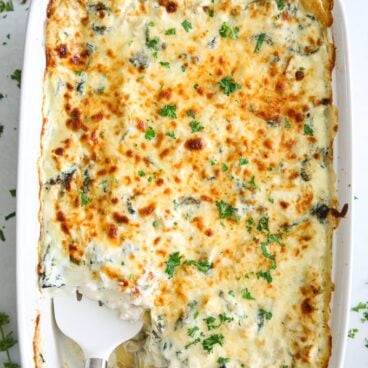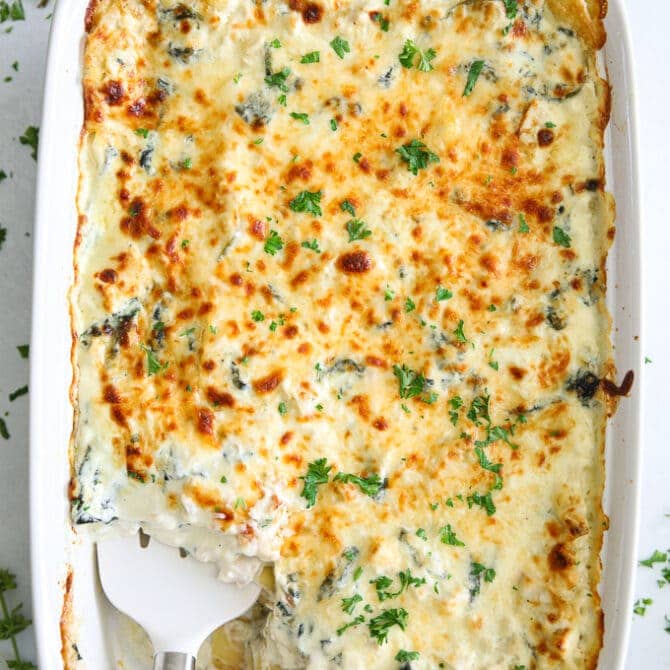 Chicken Alfredo Lasagna
This easy Chicken Alfredo Lasagna is made with rotisserie chicken, alfredo sauce, and mozzarella cheese. This recipe will please any of your family or friends.
Ingredients
2

tablespoons

unsalted butter

2

garlic cloves

minced

1

cup

onion

chopped

10

ounces

fresh baby spinach

4

cups

heavy cream

1.5

cups

grated parmesan cheese

15

ounces

ricotta cheese

1/4

teaspoons

black pepper

1 1/2

teaspoons

salt

3

cups

shredded rotisserie chicken

15

cooked lasagna noodles

3

cups

shredded mozzarella cheese
Instructions
Heat a large skillet to medium-high and add 2 tablespoons of butter along with 2 minced garlic cloves and 1 cup of chopped onion. Cook the onion until it becomes translucent.

Now add 10 ounces of fresh spinach and stir until the spinach wilts.

Then add in 4 cups of heavy cream, 1 ½ cup of grated Parmesan, 15 ounces ricotta cheese, ¼ teaspoons black pepper, 1 ½ teaspoons salt, and 3 cups of shredded rotisserie chicken.

Once the heavy cream comes to a slight simmer, remove it from the heat.

In a 9 x 13 inch deep baking dish add a large spoonful of the chicken Alfredo mixture to coat the bottom of the pan then begin adding in your cooked lasagna noodles. I was able to squeeze in about 5 noodles.

Now add a generous amount of your chicken Alfredo mixture on top of the lasagna noodles and sprinkle on one-third of the shredded mozzarella cheese.

Repeat layering the lasagna noodles, chicken Alfredo, and shredded mozzarella until all 15 of your lasagna noodles are assembled. Now cover the lasagna with foil and bake at 350 degrees Fahrenheit for 35-35 minutes. Then broil uncovered for 2-3 minutes to brown the cheese.
Nutrition
Calories:
672
kcal
Carbohydrates:
30
g
Protein:
30
g
Fat:
49
g
Saturated Fat:
29
g
Cholesterol:
192
mg
Sodium:
836
mg
Potassium:
400
mg
Fiber:
2
g
Sugar:
2
g
Vitamin A:
3906
IU
Vitamin C:
8
mg
Calcium:
442
mg
Iron:
2
mg