This easy Quick Sourdough Bread recipe lets you have the authentic sourdough taste without the time and effort of maintaining a sourdough starter. The dutch oven method is easy and requires no kneading!
Sourdough bread makes delicious French Toast, Homemade Croutons, and Tuna Melt Sandwiches. It's also great for serving as toast with your morning eggs and bacon!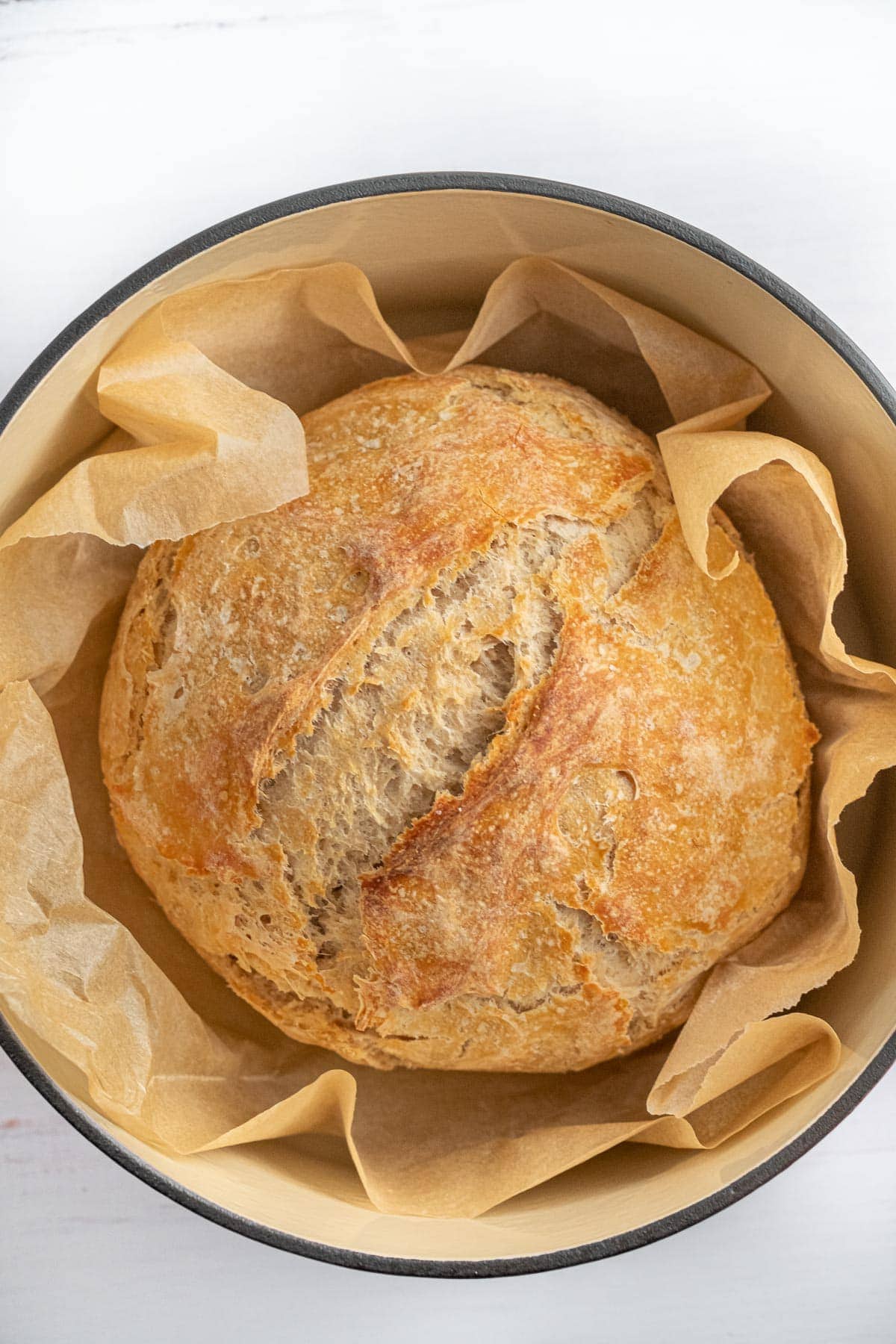 Pin this recipe for later!
The Best Homemade Sourdough
My son makes the best turkey sandwiches and he'll let you know it. He uses crisp lettuce, juicy slices of tomato, a thin spread of mayo, and an obscene amount of sliced turkey. But the best part is the lightly toasted slices of sourdough bread that hold everything together. Perfectly toasted – not too dark, not too light. And if you're lucky he'll include a fancy toothpick and a pickle, too.
If you've been one of the lucky recipients of his fantastic creation, you know that the bread really does make a difference. Homemade sourdough is the number choice among chefs and kid sandwich makers, so this recipe has become a favorite.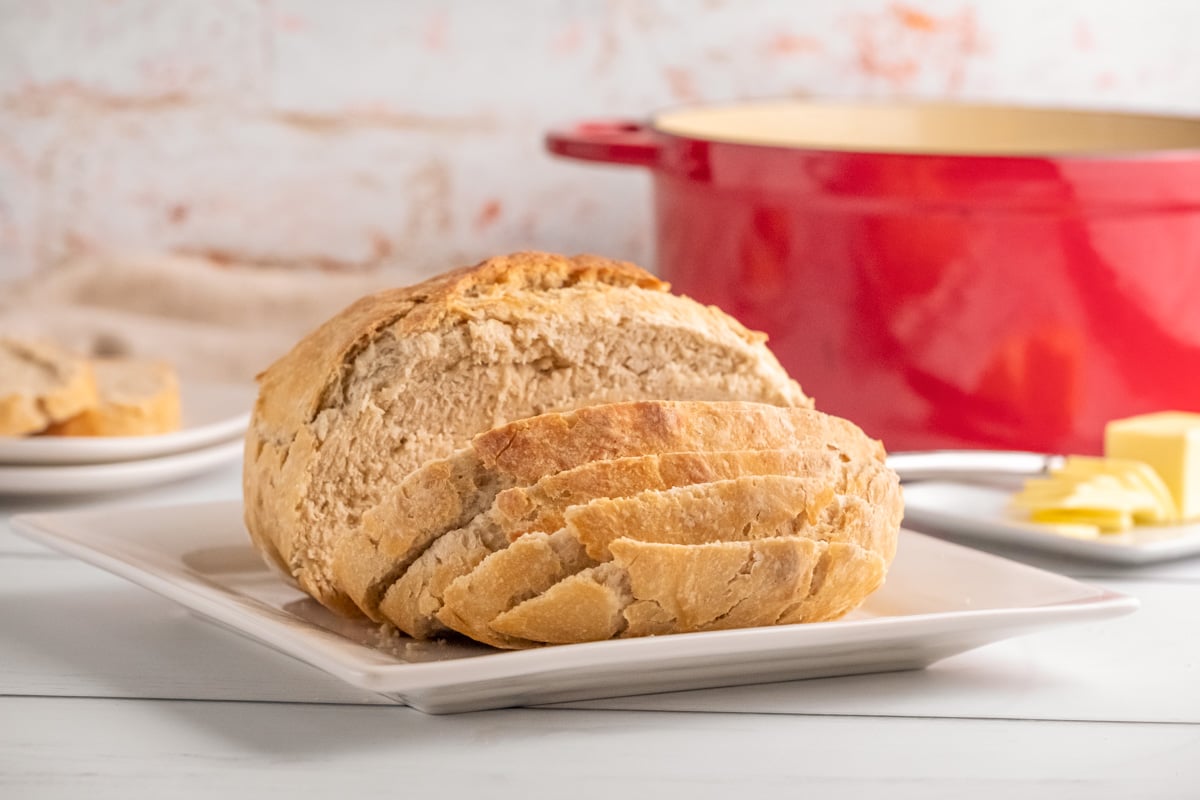 How do you make Sourdough Bread from Scratch?
Traditional sourdough bread requires some patience. First you have to make a starter (a culture of flour and water) which can take anywhere from 1-5 days. You "feed" it until it's ready to use. The starter can be finicky, and doesn't always produce something useable, which is why this recipe is so great!
This quick method uses a special Instant Sourdough Yeast by Red Star. No starter needed, just 4 ingredients, and a few simple steps. You can also prep the dough the day before and bake in the morning.
How to Make Sourdough Bread with Instant Yeast
Get a detailed list of ingredients & instructions in the recipe card below.
This easy dutch oven method results in a tender sourdough bread with a crunchy crust. You can even prep the dough the night before – it doesn't get any easier! Don't have a dutch oven? See the recipe for how to make it using a sheet pan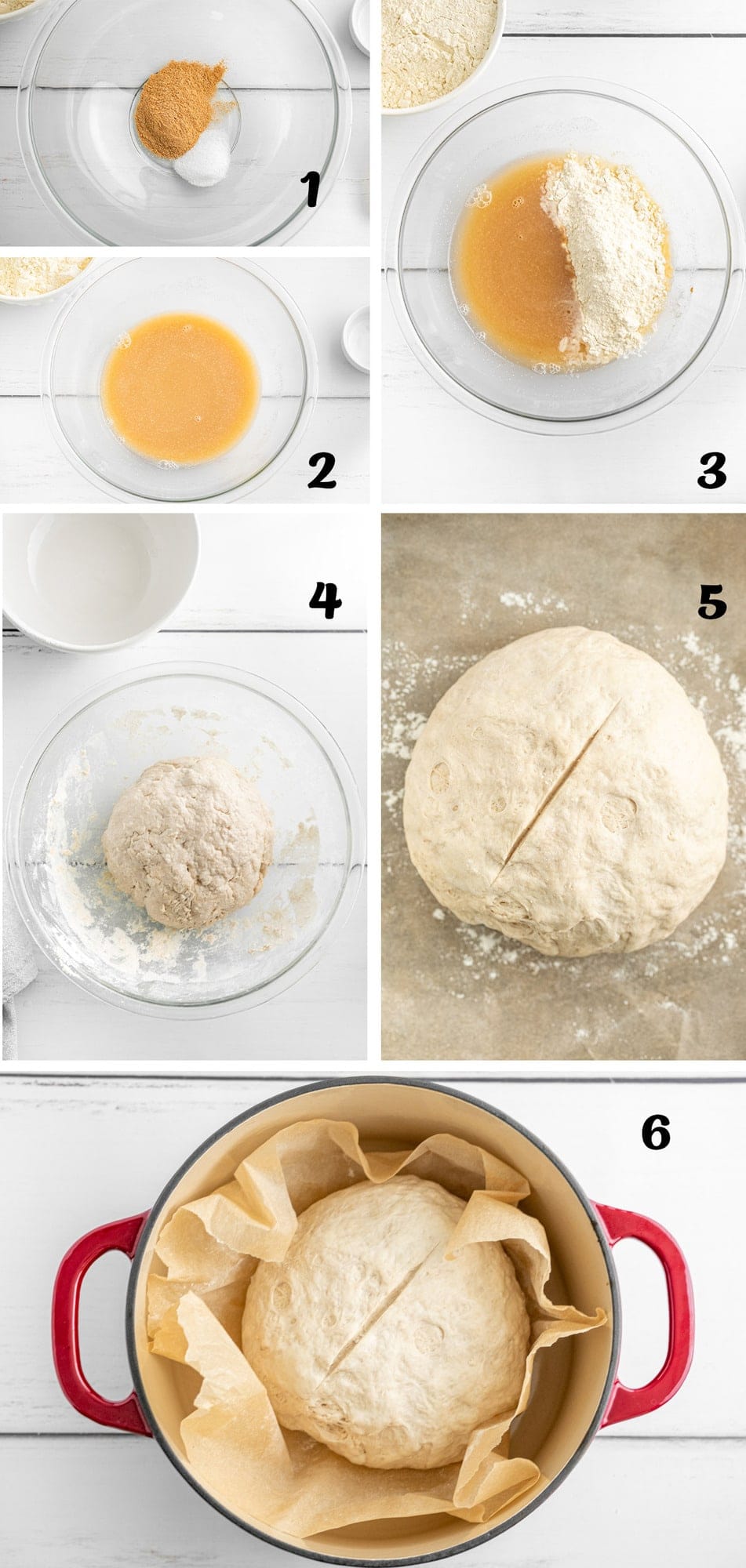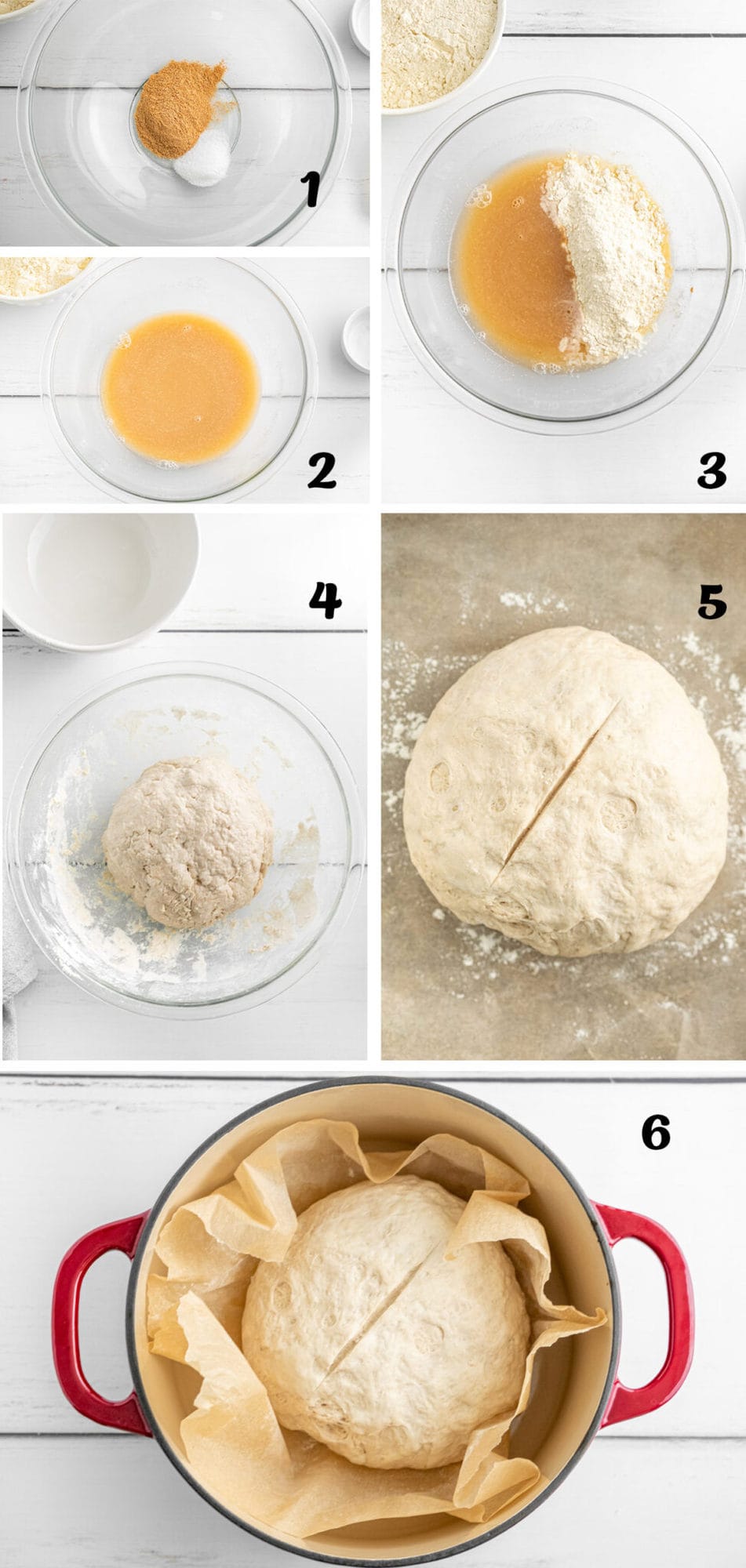 Mix together salt and instant sourdough yeast.
Add warm water. Use an instant read thermometer to measure the water temperature. You want it to be between 105-110 degrees F. Let it bubble (bloom) for a few minutes
Mix Dough: Mix together the bread flour, yeast, and salt then add the warm water and stir to form a dough. If needed, add additional flour or water.
Allow Dough to Rise: First, let the dough rise in a bowl in a warm spot for 2 hours.
2nd Rise. After it has risen, fold into a domed shape on a floured surface and allow it to rise again (even overnight if you pop it in the fridge).
Preheat Dutch Oven and Bake Sourdough Bread: Line a dutch oven with parchment paper and place in the cold oven with the lid on. Preheat the oven with the dutch oven inside. Getting the dutch oven hot is key to that great bread crust. Very carefully remove the hot dutch oven from the oven and place the dough inside (I like to sprinkle a little flour on the parchment first). Reduce the oven heat and bake the bread with the lid on for 30 minutes before removing the lid and baking for another 10-15 minutes. Allow the sourdough bread to cool on a wire rack before enjoying.

FAQs
Is sourdough bread good for you?
Sourdough bread is considered a healthier choice compared to regular white bread. There are several benefits of sourdough bread such as the lower phytate levels that make it more digestible and the probiotics are great for your gut bacteria and are better for blood sugar levels.
Can I use regular instant yeast instead of the instant sourdough yeast?
Although you won't get that classic sourdough taste, you can use regular instant yeast as a substitute. The recipe remains the same and you will still be left with an amazing loaf of bread.
How To Serve
Sourdough bread is amazing as is served warm with some butter. It's great with soups and stews like this Pork Stew or Vegetable Soup.
You can also turn slices into an amazing grilled cheese or panini, or lightly toasted for a delicious Egg Salad or Chicken Salad Sandwich. Make the best ever sourdough garlic bread or dip chunks in this easy Garlic & Herb Olive Oil Bread Dip.
Finally, if the loaf doesn't magically get eaten quickly, you can even make Panzanella Salad.
Storage, Freezing, and Reheating Tips
Leftovers/Storage: Leftover sourdough bread can be stored at room temperature (wrapped or in an airtight container) for about 4 days.
Freezer: You can also freeze the leftover sourdough bread as a whole loaf or cut into slices. Wrap tightly in plastic wrap to prevent freezer burn and freeze for up to 2 months. Then thaw the loaf at room temperature or you can toast the slices from frozen.
Reheating: Sourdough bread is great at room temperature but you can also reheat slices in the toaster or the entire loaf in the oven (350°F for 5-10 minutes).
Recipe Notes/Tips
Make sure to preheat the dutch oven! Using a hot dutch oven helps get that amazing crunchy crust.
If you don't have a dutch oven, you can still make this bread! Just place the dough on a parchment lined baking sheet that is sprinkled with flour and cover with foil. Make sure you tightly seal the foil. Like the dutch oven method, bake covered for 30 minutes before removing the foil and baking for 10-15 minutes more.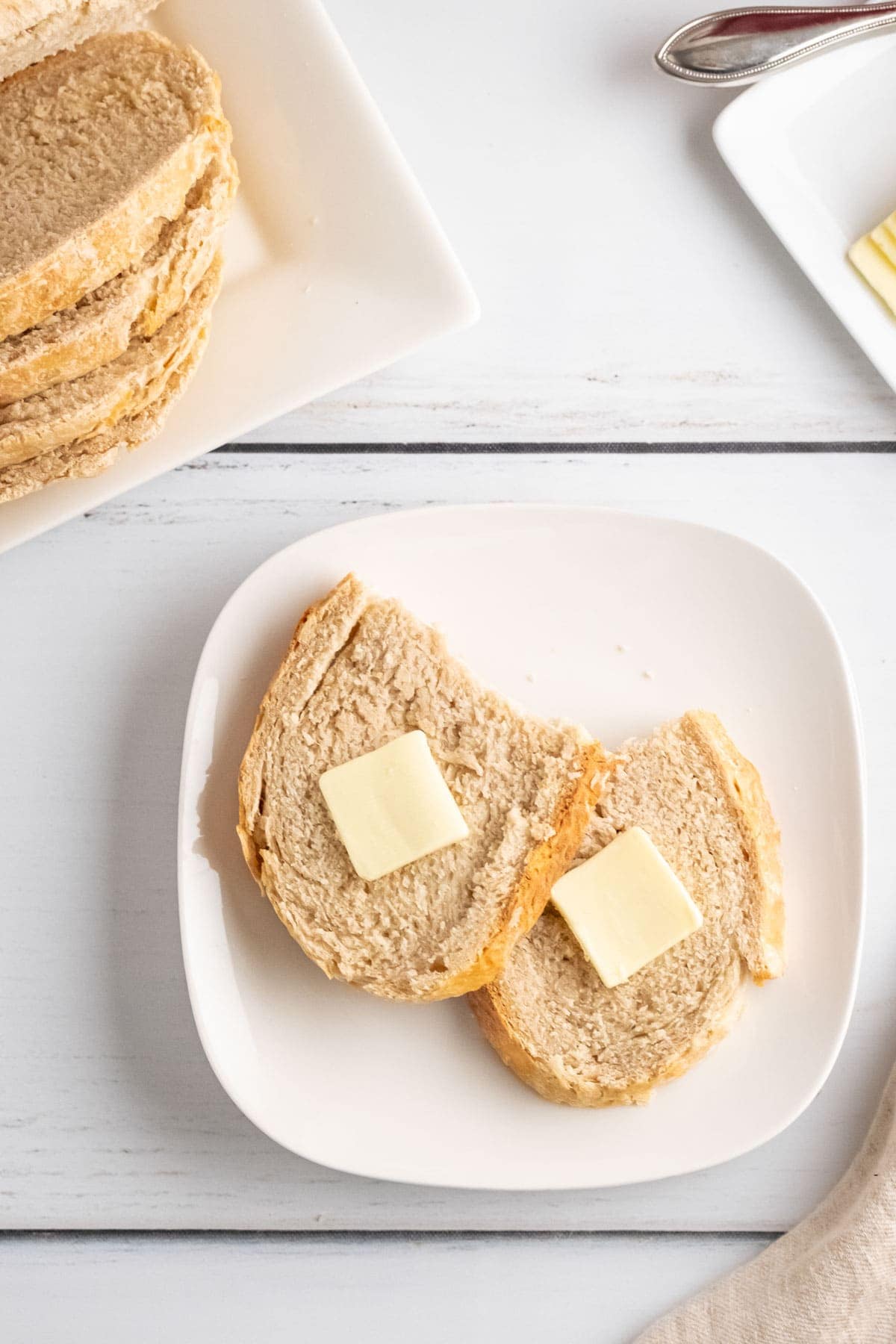 More Bread Recipes
Recipe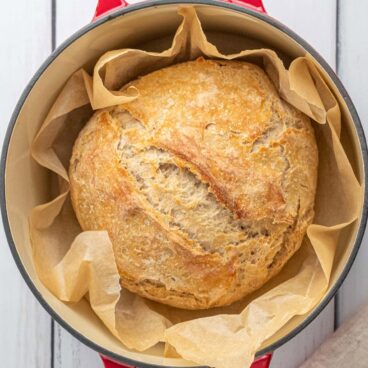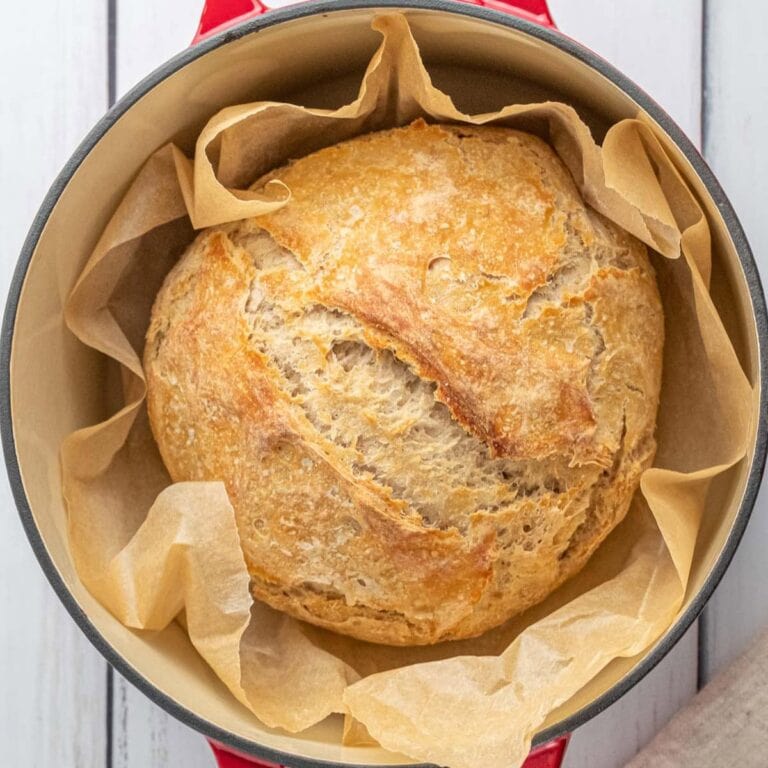 Sourdough Bread Recipe
This easy to make sourdough bread recipe is amazingly good with that authentic sourdough taste.
Ingredients
4.5

cups

bread flour

1

Package Red Star Platinum Instant Sourdough Yeast

1

tablespoon

salt

1 ¾

cups

warm water

105-110 degrees F
Instructions
In a large mixing bowl mix instant sourdough yeast and salt. Slowly add the warm water (105-110 degrees F) and stir well. Let sit to "bloom" for a couple od minutes, then stir in the flour until a dough forms. If you need to add some water for dry spots or leftover flour add a tablespoon at a time.

Cover with a moist towel or plastic wrap for 2 hours in a warm place. If using plastic wrap poke a few tiny holes in it for gasses to escape.

Sprinkle some flour onto a flat surface and place the dough onto it. Stretch and fold over the sides to create a round domed shape with the edges tucked (folded) into the bottom.

Cover again and let dough rise for 1 additional hour in a warm dry place, or cover and refrigerate if baking the next day (see notes).

While the dough is rising (and around the 30 minutes mark) preheat oven to 500 degrees F. Line an enameled Dutch Oven with parchment paper and cover with the lid. Place in the oven while it's preheating.

Carefully remove the pot from the oven and remove the lid. Sprinkle some flour on the parchment paper and place the dough inside. Use a sharp knife to make a few slits across the top of the bread to help with expansion.

Replace the lid and place the pot in the oven. Reduce heat to 425 degrees F and bake for 30 minutes, covered.

Remove the lid to the Dutch oven and bake for another 10-15 minutes. The internal temperature at the center of bread should be around 205 degrees F.

Carefully remove the bread from the dutch oven and let cool on a wire rack.
Notes
To make ahead, you can refrigerate the dough after step 3.

If refrigerated, let dough warm up for 1 hour at room temperature before baking in step 5.
Sheet pan method:
Place parchment paper on a rimmed baking sheet and sprinkle with flour. Place dough on the parchment paper, score across the top, then cover with foil, making a tight seal around the sheet pan. Preheat to 500 degrees F, then reduce heat to 425 and bake for 30 minutes. Remove foil for an additional 10-15 minutes until center reads 205 degrees F.
Please not that nutritional content is provided for informational purposes only. Actual serving size and nutritional value will vary.
Nutrition
Calories:
2034
kcal
Carbohydrates:
408
g
Protein:
68
g
Fat:
9
g
Saturated Fat:
1
g
Sodium:
7009
mg
Potassium:
573
mg
Fiber:
14
g
Sugar:
2
g
Vitamin A:
11
IU
Calcium:
101
mg
Iron:
5
mg