These Egg & Cheese Hash Brown Waffles are just the life hack you need to simplify your breakfast routine! Just a few ingredients is all you need and you're well on your way to breakfast euphoria. These hash browns are your new favorite way to make breakfast!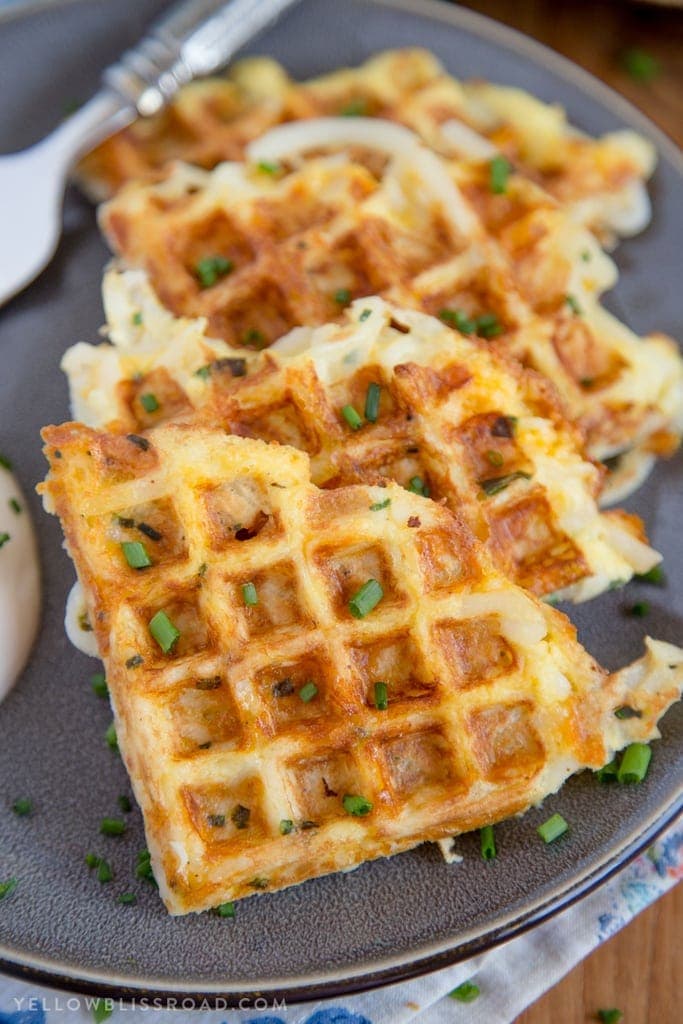 HASH BROWN WAFFLES
When it comes to breakfast time in my house, easy is the name of the game. Even on the weekends I don't like to do big, complicated breakfasts. I mean, someone's got to do those dishes, right?
That's why I love this genius breakfast hack – Egg & Cheese Hash Brown Waffles!! By making hash browns in a waffle iron, they get super crispy on the outside, and tender in the middle, plus there's no flipping required. Add in the eggs, cheese and chives, and it's a whole breakfast in itself that's finished in half the time!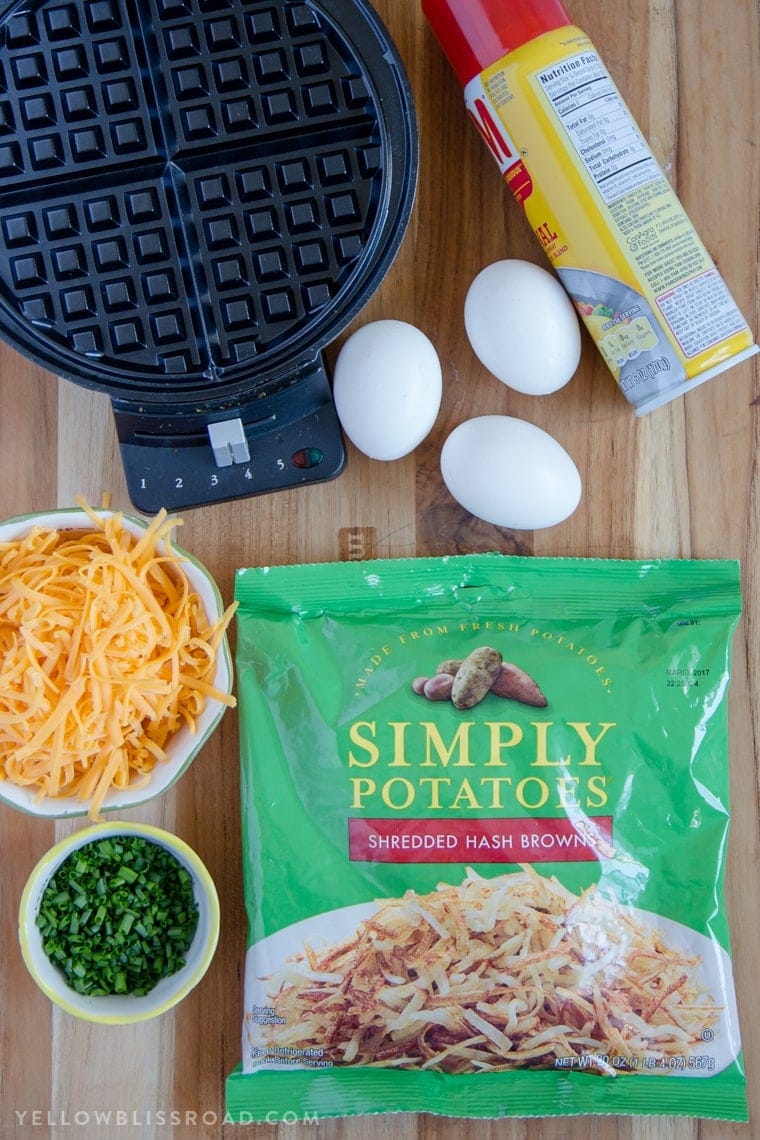 HOW TO MAKE HASH BROWNS IN A WAFFLE MAKER
Because this is a breakfast hack, we're starting with pre-shredded (gotta love that time-saver) Simply Potatoes Shredded Hash Browns. They are ready to go straight out of the bag – totally fresh and never frozen (because who wants soggy frozen potatoes??).
Start by whisking up a few eggs and some milk, then stir them into the potatoes with some shredded cheddar, chives and salt & pepper.
The next step, and this is really, really important. SPRAY THE WAFFLE IRON WITH NONSTICK COOKING SPRAY. Do not skip this step or you could have stuck-on potatoes for days. Just use your favorite non-stick cooking spray and use it generously. If you prefer you could melt some butter and brush that on. But we're going for hackability here and the spray takes up the least of my time.
Spread the hash browns mixture directly onto the bottom half of the greased waffle iron. Chances are you don't have the same waffle maker as me, so it's difficult to give exact measurements here…but I got about 1 cup of the mixture per waffle and finished with about 3 ¾ waffles. Depending on the size of your iron, you might need a little more or a little less of the potato mixture per waffle. Use your best judgement here. You want to fill in most of the waffle surface, leaving about a half inch around the edges to allow the potatoes to spread.
The time can vary as well, so you'll want to watch your waffle closely once you close it. I had mine on a medium-high heat setting and it took about 4-5 minutes to cook to get nice, golden brown hash brown waffles.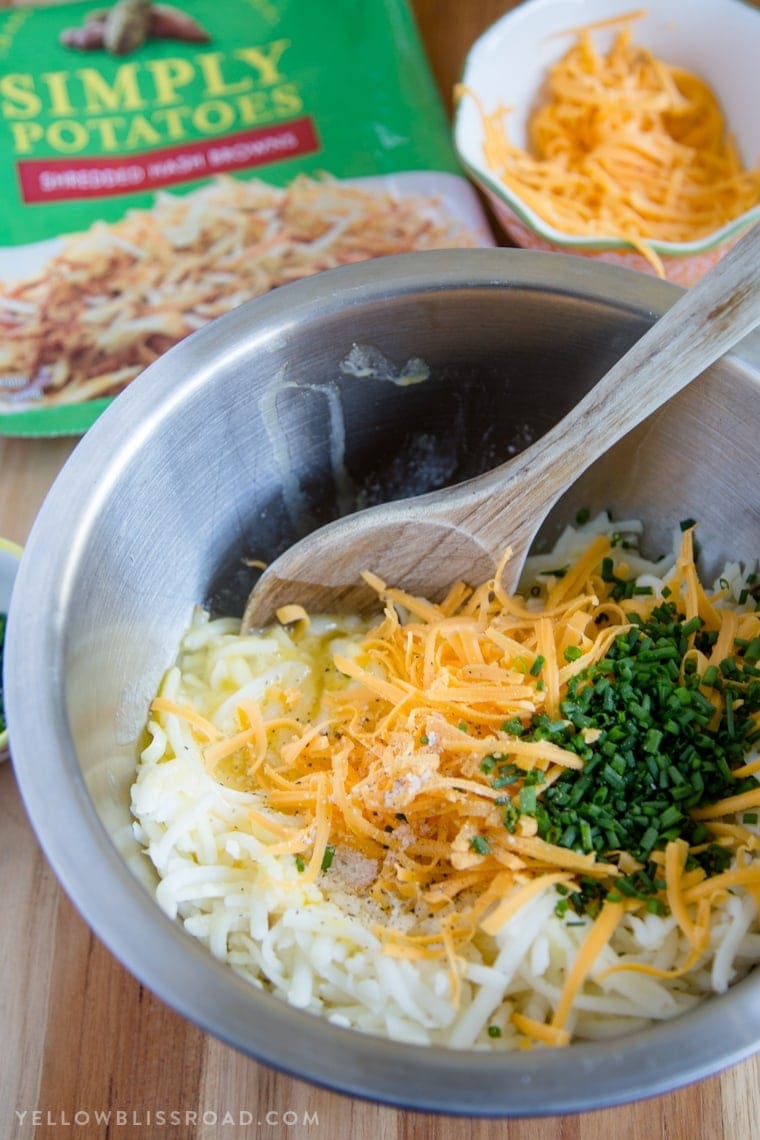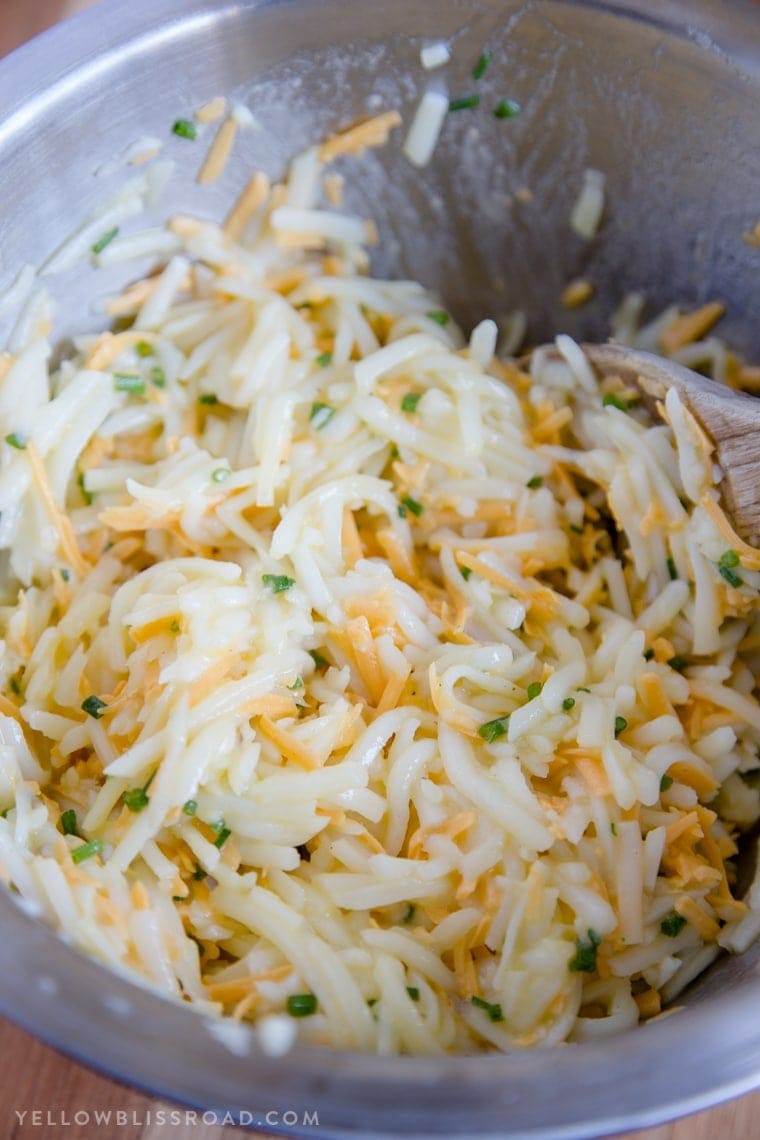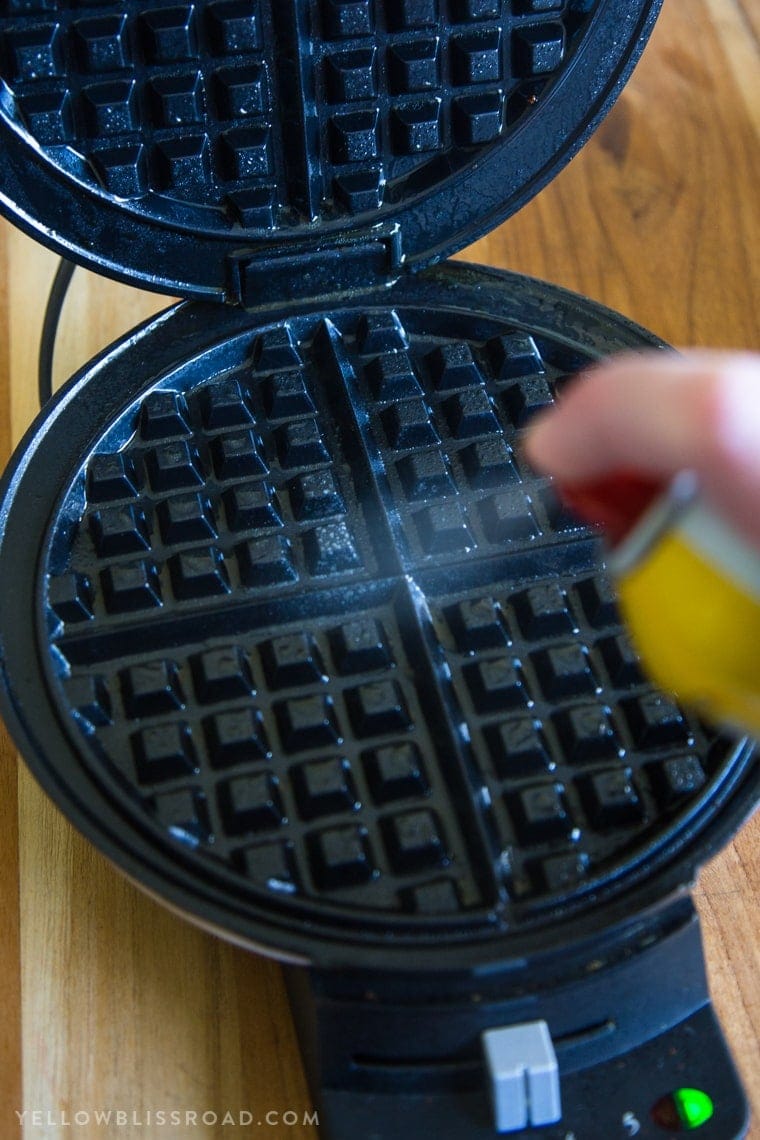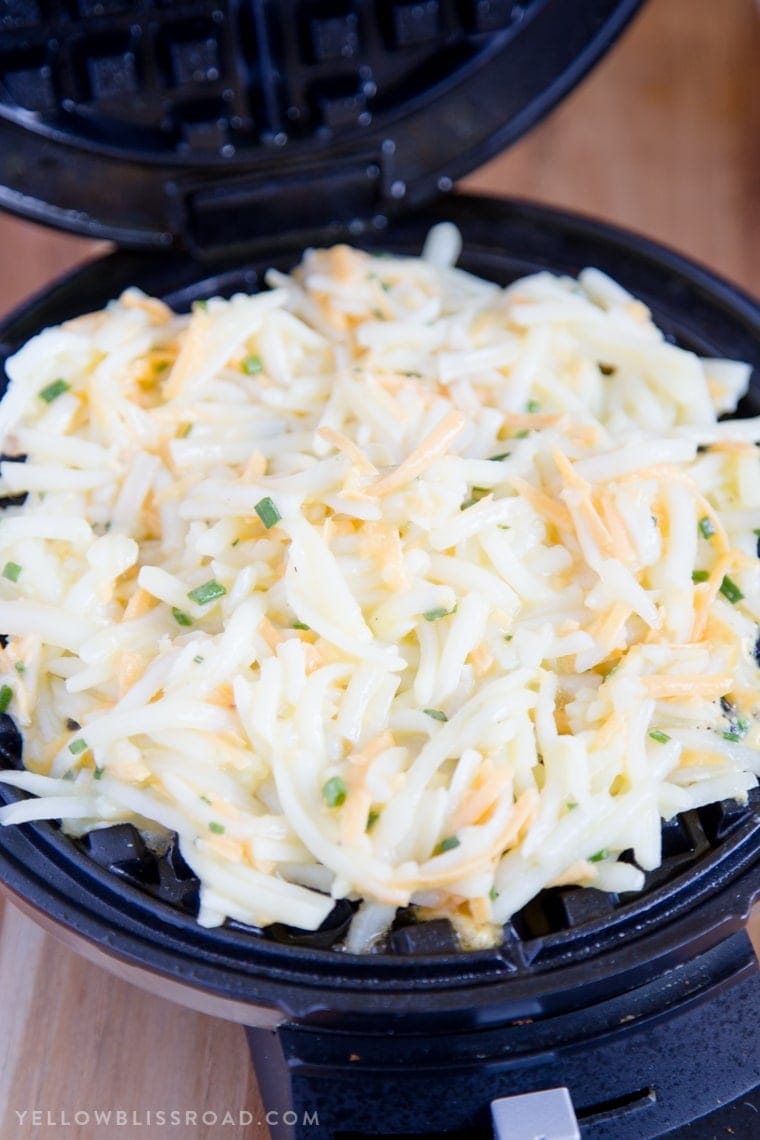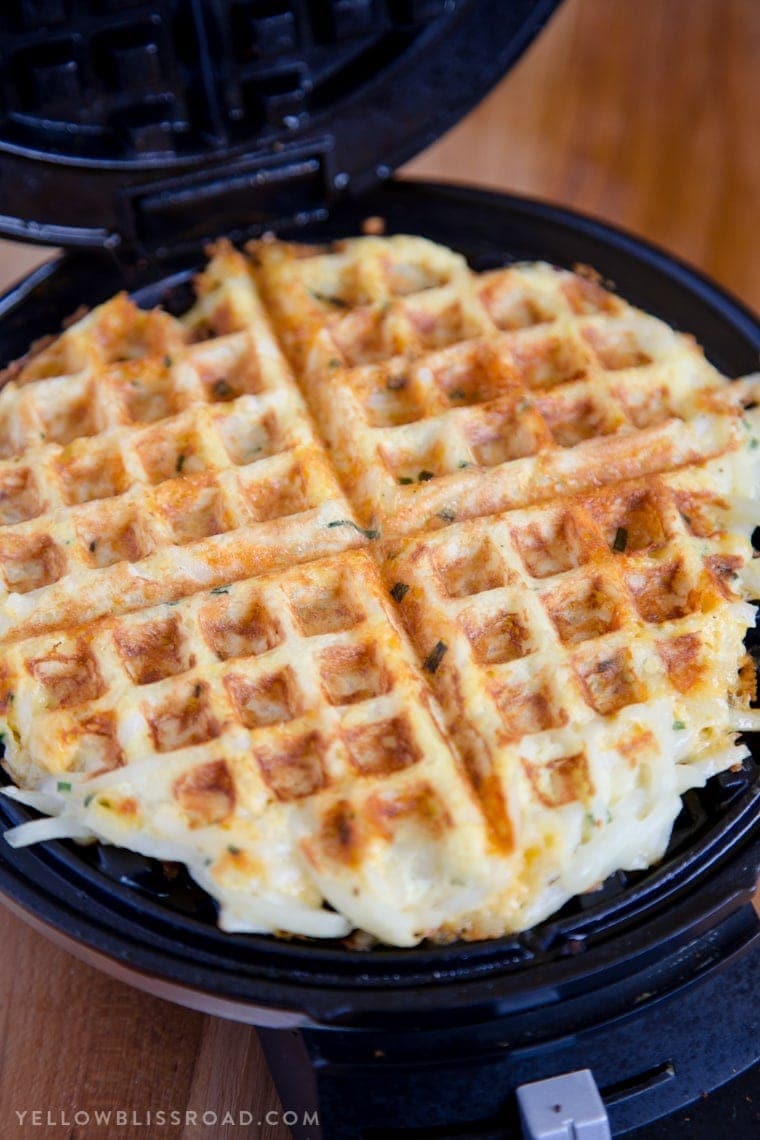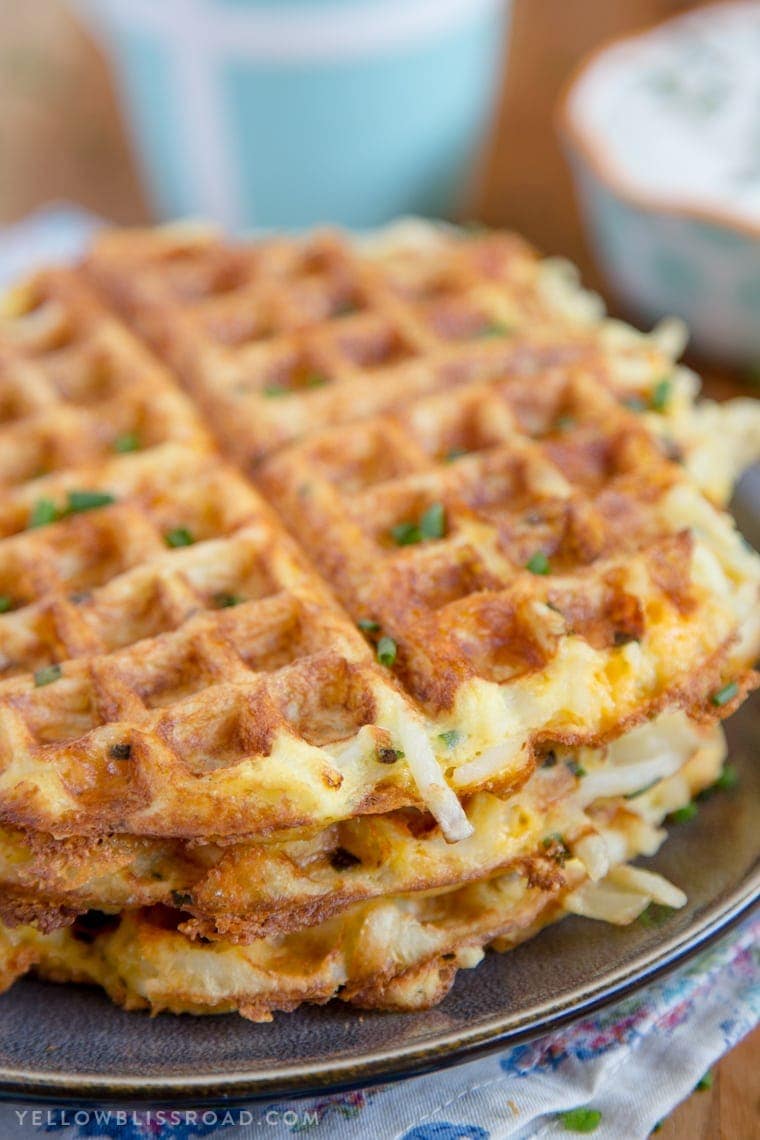 HOW TO SERVE HASH BROWN WAFFLES
Don't you love how nice and crispy these Cheesy Hash Brown Waffles get? You get nice fried bits of cheese around the edges, too. To keep your hash browns warm and crispy, just set your oven to the "warm" function, or the lowest temperature it will go, and place each waffle on a baking sheet in the oven to keep warm while you continue cooking the rest.
I like to serve these with a dollop of sour cream and some more fresh chives. The recipe will feed at least four people one waffle each, but can easily be double or even tripled, depending on how many you're feeding nad how hungry they are.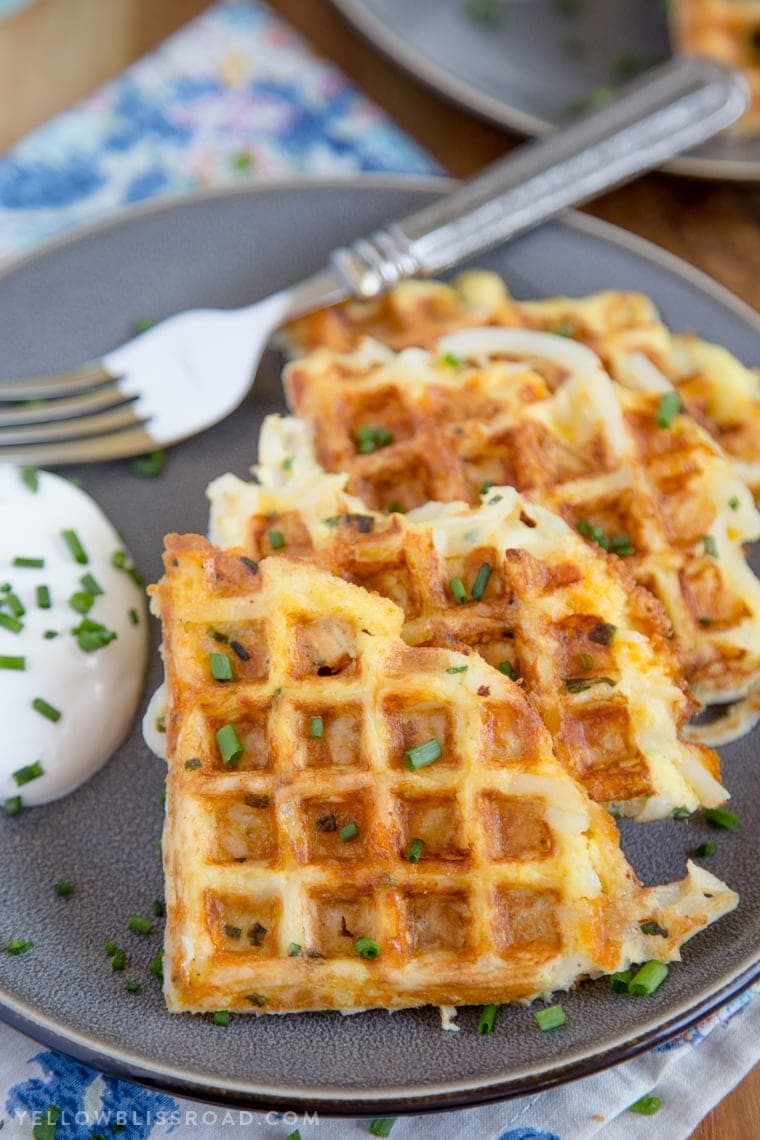 HOW TO KEEP HASH BROWNS TENDER AND MOIST (NOT DRY)
Brush your waffle iron generously with melted butter AND use the nonstick cooking spray. This will help keep the outside from drying out.
Add an extra egg or two. This won't mess up your waffles, but will help to make them a little more moist.
Brush on some butter as they come out of the waffle iron. Brush melted butter on the top side, then flip it out onto a plate (or baking sheet if you're warming them in the oven) and brush the other side with butter. Serve with sour cream on the side.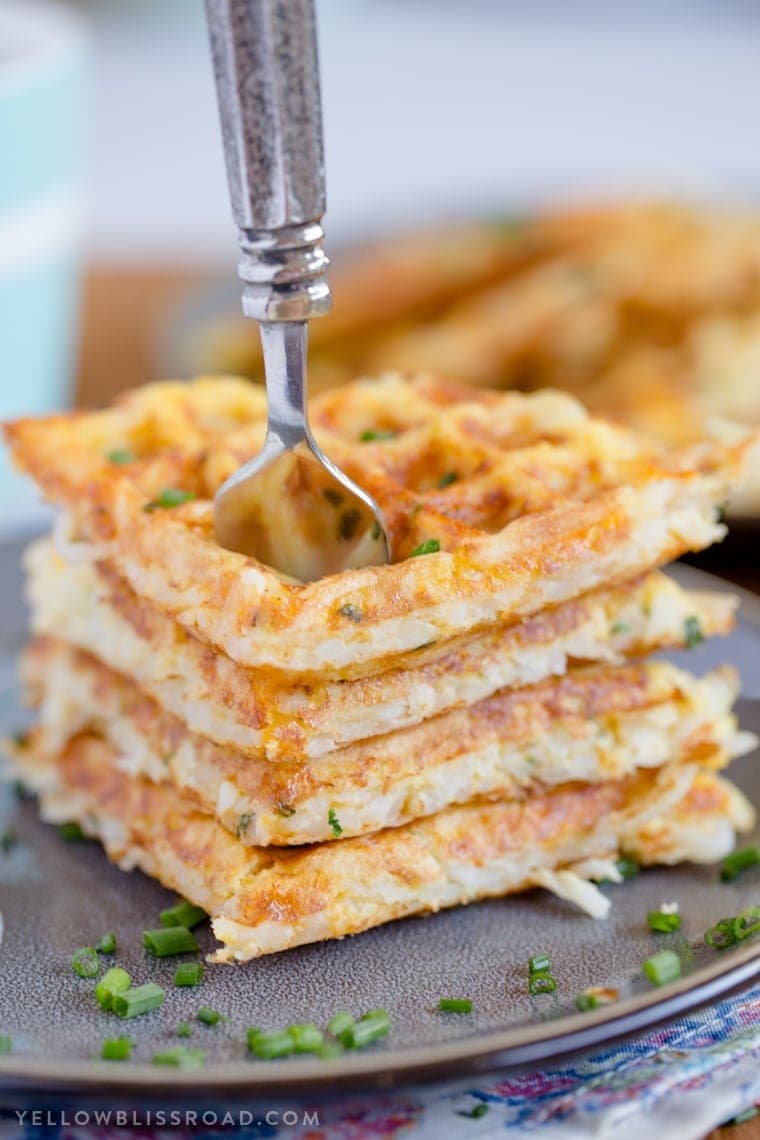 Here are some more favorite hash browns recipes:
And for even more easy breakfast recipes, try these:
Recipe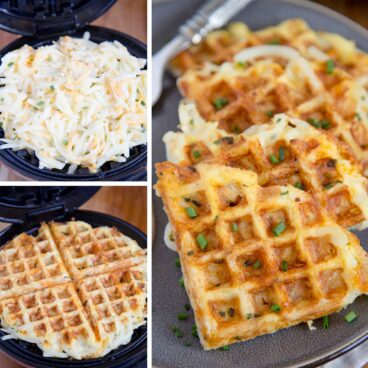 Egg & Cheese Hash Browns Waffles
Easy and delicious and perfect for a weekend brunch or make ahead breakfast, these Hash Brown Waffles are filled with eggs, cheese and potatoes and cooked in your waffle maker!
Ingredients
1

20-ounce

package Simply Potatoes Shredded Hash Browns

3

eggs

1/4

cup

milk

1

cup

shredded sharp Cheddar Cheese

1/4

cup

fresh chopped chives

plus some for garnishing

Salt & pepper

Sour cream

for serving, if desired
Instructions
Heat waffle iron on the medium-high setting. Spray each side generously with non-stick cooking spray or brush with melted butter.

In a medium-sized mixing bowl, whisk together eggs and milk. Stir in potatoes, cheese, chives and season with ½ teaspoon salt and ¼ teaspoon pepper.

Depending on the size of your waffle iron, scoop a layer of the potato mixture onto the surface (for the round waffle maker, I used about 1 cup of the mixture). Spread to about ½ inch from the edges and close the waffle iron. Cook for about 5 minutes, checking every few minutes to avoid burning. When the entire waffle is golden brown in color, carefully remove from the waffle iron with a fork or tongs.
Notes
*Tip: Turn your oven to the "warm" function and place finished waffles on a baking sheet in the oven to keep warm which the rest are cooking.
Nutrition
Calories:
173
kcal
Carbohydrates:
2
g
Protein:
11
g
Fat:
13
g
Saturated Fat:
7
g
Polyunsaturated Fat:
1
g
Monounsaturated Fat:
3
g
Trans Fat:
1
g
Cholesterol:
153
mg
Sodium:
238
mg
Potassium:
98
mg
Fiber:
1
g
Sugar:
1
g
Vitamin A:
595
IU
Vitamin C:
1
mg
Calcium:
239
mg
Iron:
1
mg