Learn how to make chicken broth at home and ditch the store-bought boxes! Instead, add flavor and richness to your recipes with this homemade chicken broth.
Use this homemade broth to make Caldo de Pollo, Homemade Chicken Soup, and Chicken Tortilla Soup.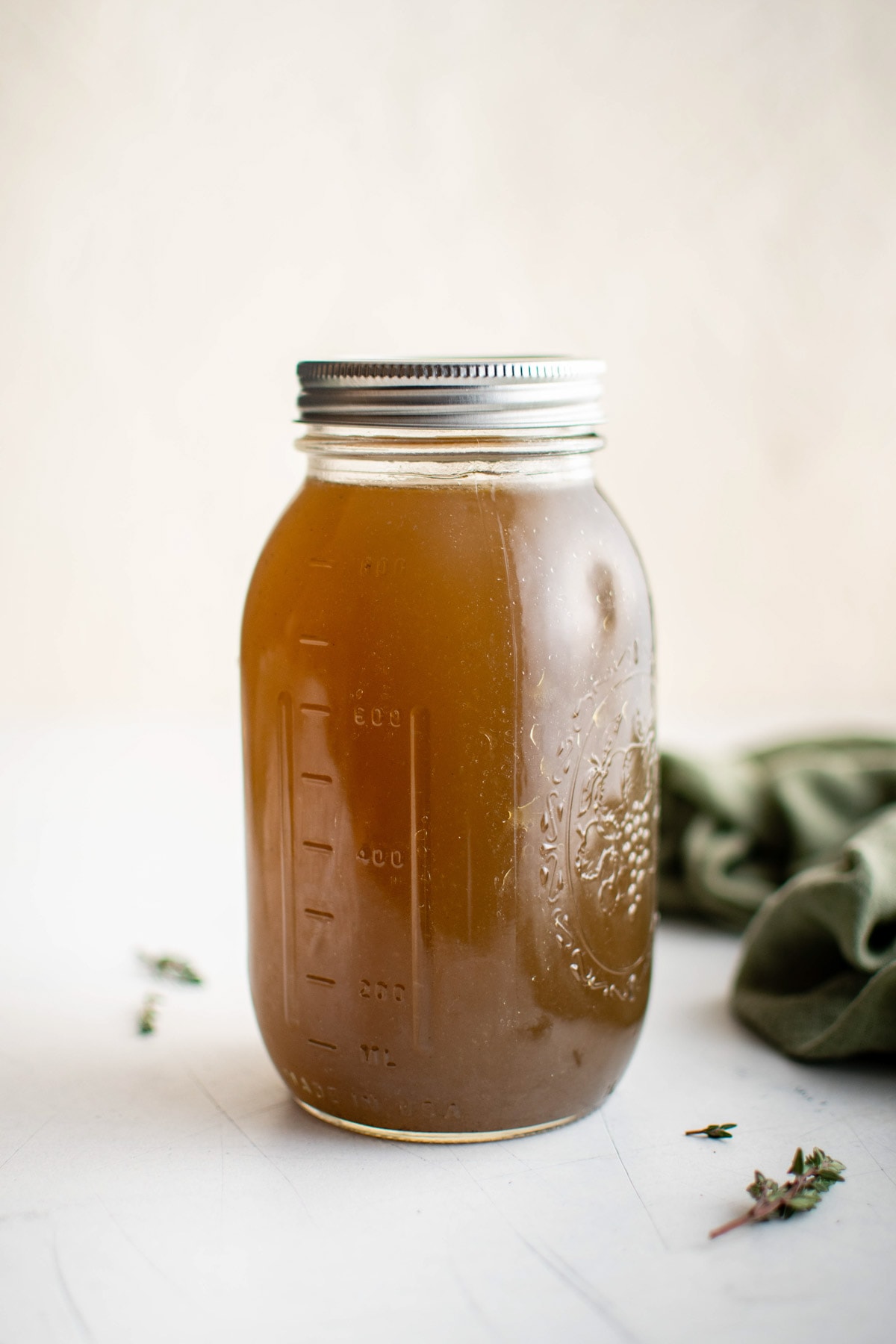 Pin this recipe for later!
Why We Love This Recipe
This quick and easy homemade chicken broth uses fresh chicken, fresh veggies, and a handful of delicious spices to give you a savory broth that looks and tastes better than store-bought.
At the end of the day, you'll be left with plenty of delicious broth and a heaping pile of tender, seasoned meat that you can throw in your favorite dishes, like Buffalo Chicken Mac and Cheese or Mexican Chicken Casserole.
Homemade chicken broth is:
A Better Alternative – Homemade broth uses fresh ingredients and the flavor will be so much richer.
Budget Friendly – store-bought broth or stock can be very expensive. Making it yourself will save you money.
Easy to Store – You can store your broth in the freezer for up to 3 months. You'll never run out ever again!
Great for Everything – You can use this easy-to-make chicken broth in so many different dishes. From casseroles to soup, you are sure to get your use out of this broth from the moment it finishes cooking.
How To Make Chicken Broth
See recipe card below for ingredient quantities and full instructions.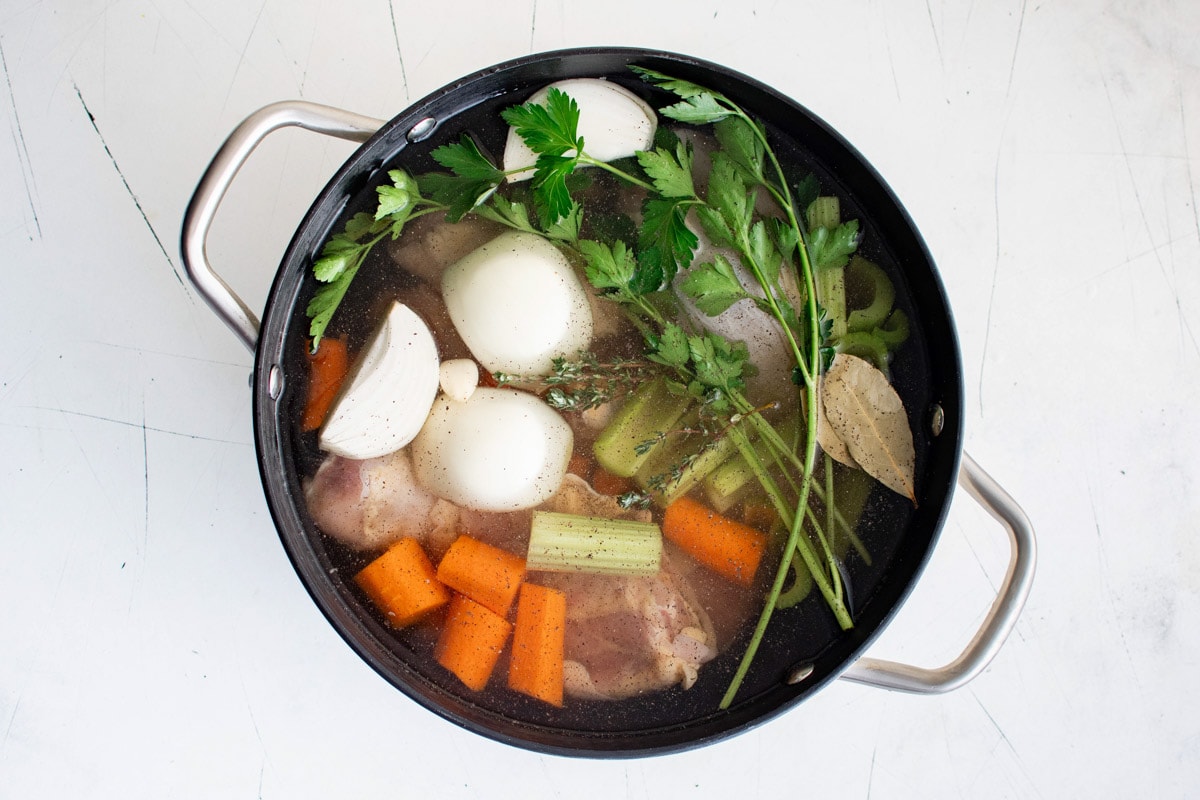 Combine your chicken, veggies, bay leaves, fresh thyme, fresh parsley, salt, and pepper in a large pot or Dutch oven. Add water – the chicken and veggies should be fully submerged.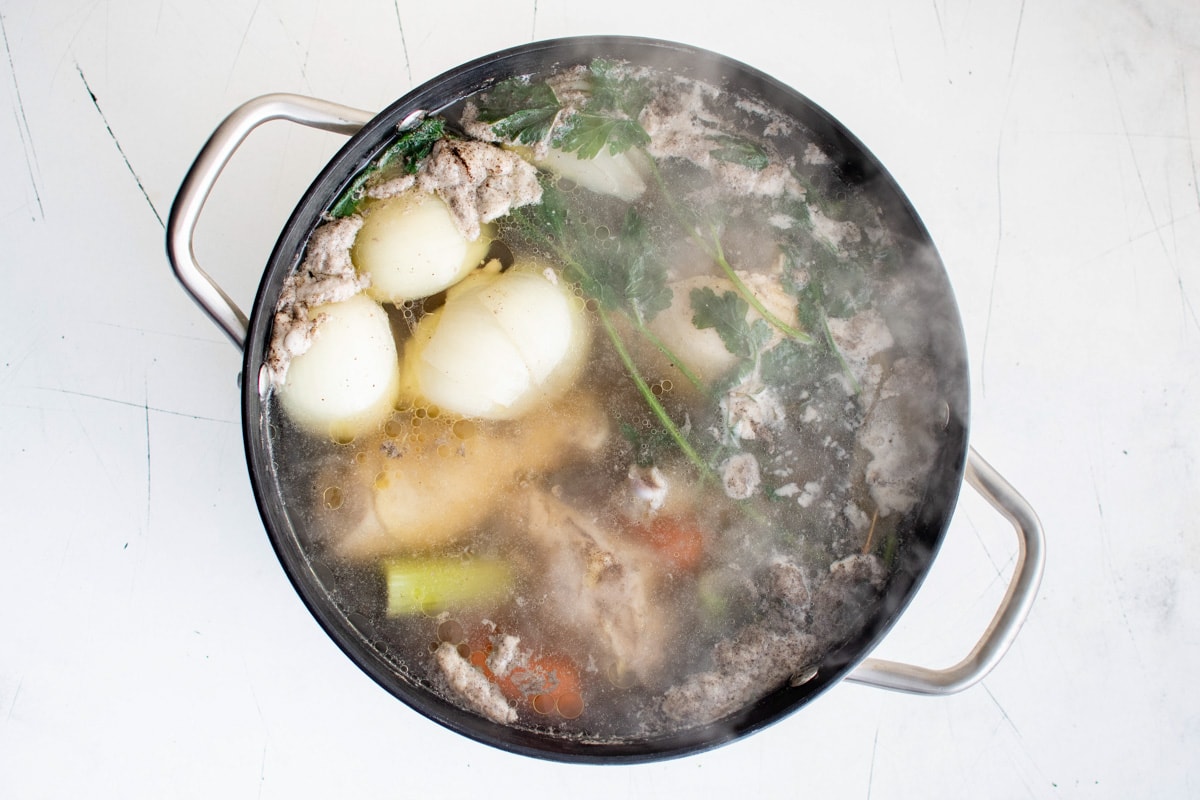 Bring to a boil, then lower the heat and gently simmer the broth (Small bubbles should just barely break at the surface) for at least an hour or for up to 5 hours.
The longer you simmer, the richer the broth, but the chicken should be removed after 1 hour to keep it from drying out.
As the broth simmers, foam will form on top, which is just the proteins expanding as they absorb the water. You just want to skim that off every once in a while.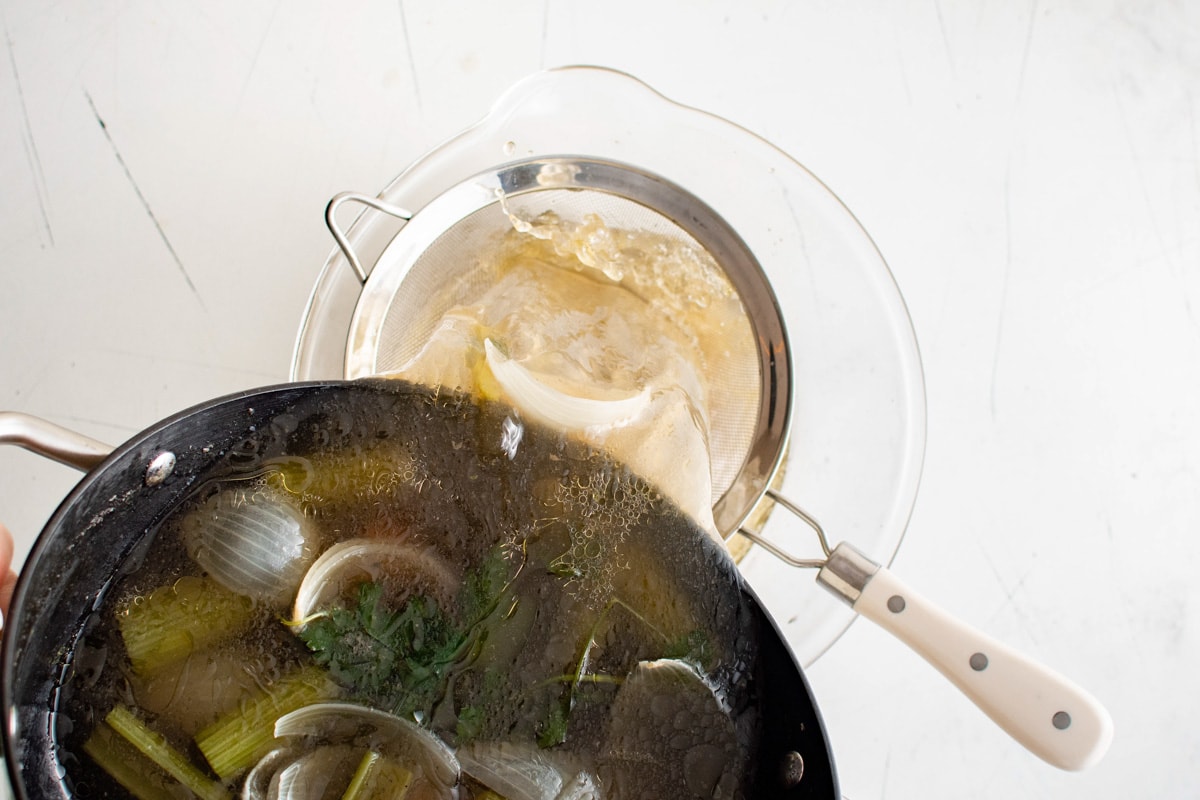 Remove the chicken and set it aside to cool, then use a large mesh sieve to strain the broth into a large container and store until ready to use.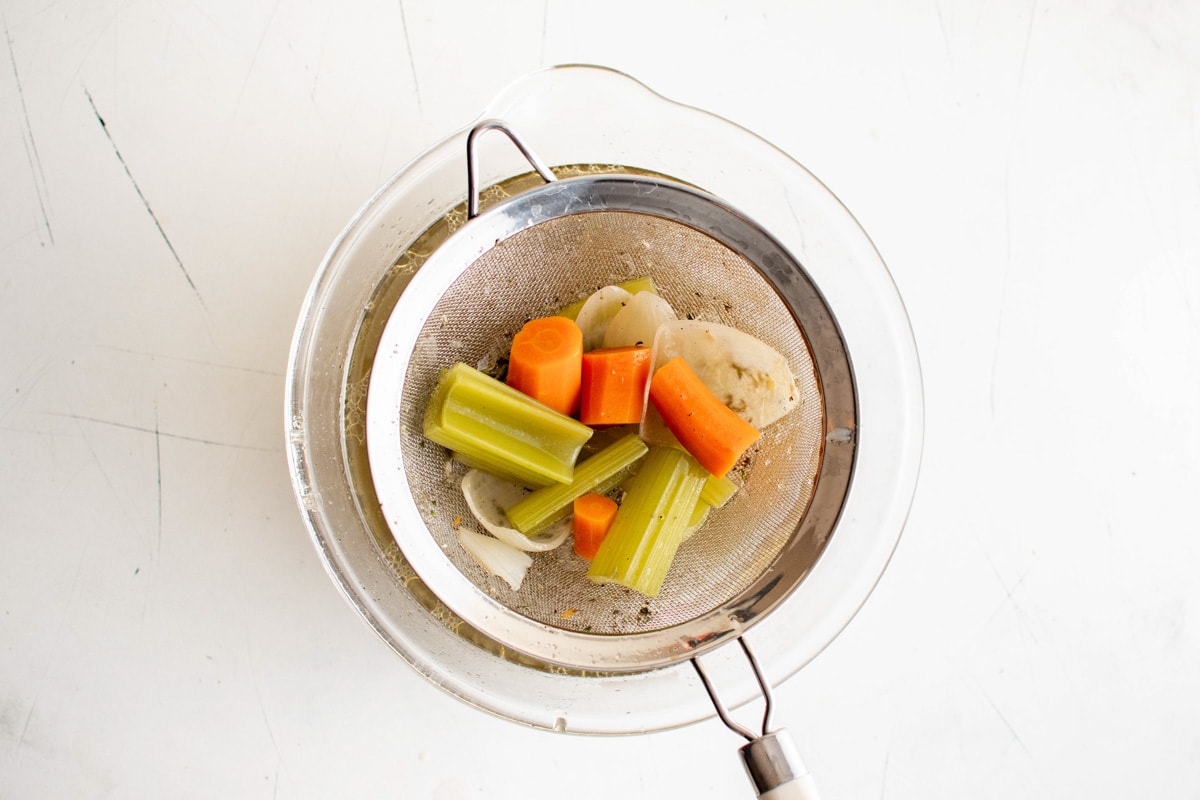 Hot Tip – Save the veggies and puree them with some broth into a smooth and yummy soup.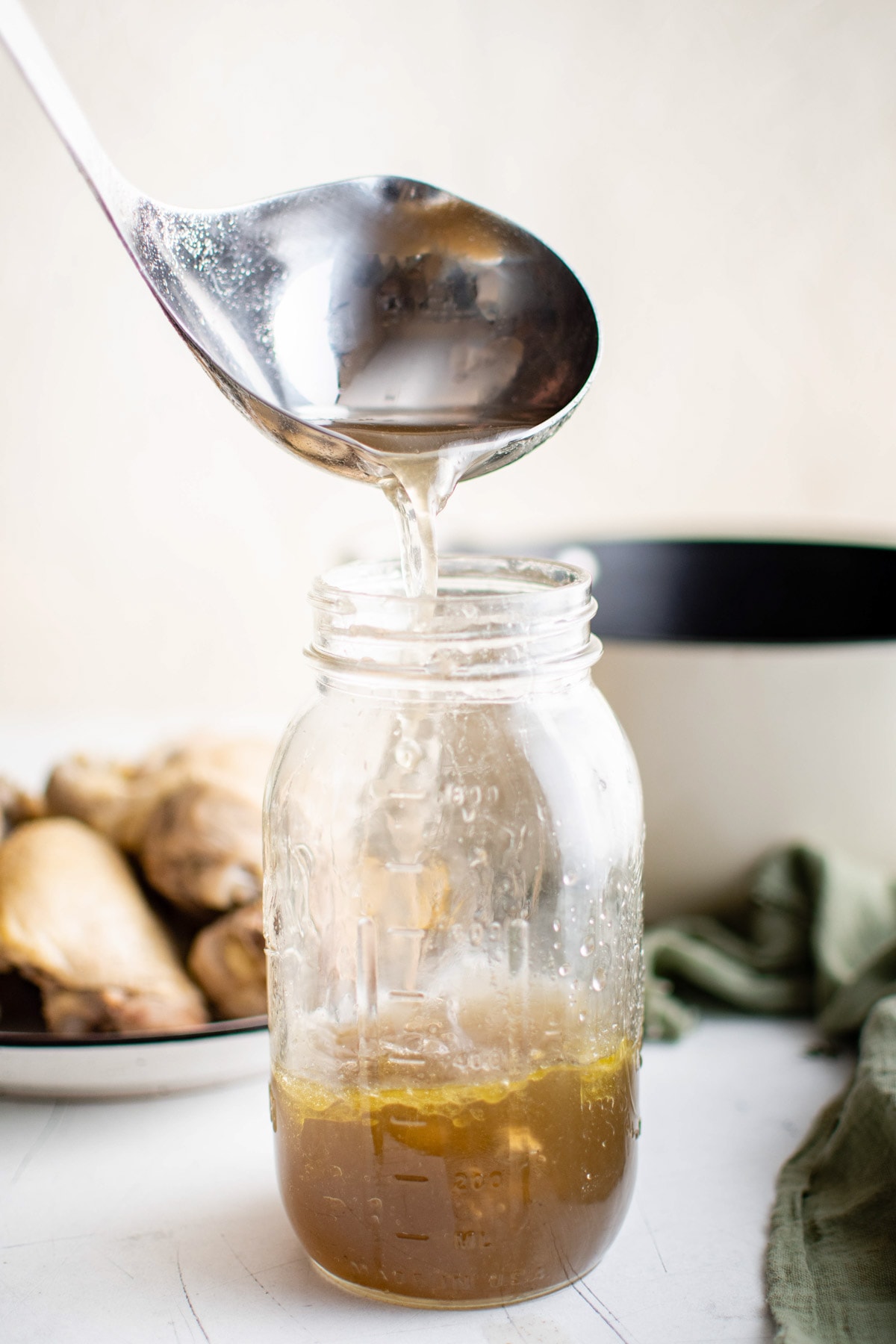 In the end, you're left with a few quarts of broth that you can use for Greek Lemon Chicken Soup or in smaller amounts for things like Skillet Chicken and Rice.
Recipe FAQs
What is the difference between chicken broth and chicken stock?
Chicken broth and chicken stock are often confused for one another. However, they have one notable difference. Broth is usually made using meat and vegetables while stock usually only uses meat bones. Additionally, broths tend to be much thinner than stocks.
Can you drink chicken broth?
Yes, you can definitely drink chicken broth on its own. Sip on it like you would tea!
How do I know when my broth is ready?
Determining when your broth is done is ultimately up to you. We recommend letting your broth simmer for at least one hour. The longer you let your liquid simmer, the more the flavors will blend together and the more flavorful your broth will be.
Helpful Tips
Yield – This recipe will give you about 8 cups of chicken broth and 4 cups of tender, seasoned chicken that you can use in other recipes
Storage – This broth can be stored in the fridge for 4-5 days in the fridge or 2-3 months in the freezer. When freezing, remember to leave ½ inch of headspace in the jar.
Storage Containers – Keep your chicken broth in an airtight mason jar to maximize its longevity and freshness. You can also use resealable plastic freezer bags, but it may not last as long.
Herbs – While we recommend using fresh herbs to add the most flavor to your broth, dried spices will work as well. You will need about ¼ teaspoon of dried herb for every teaspoon of fresh herb.
Chicken – Always use raw chicken; if you want to add a chicken carcass, you can certainly do that, just remove all of the cooked chicken first.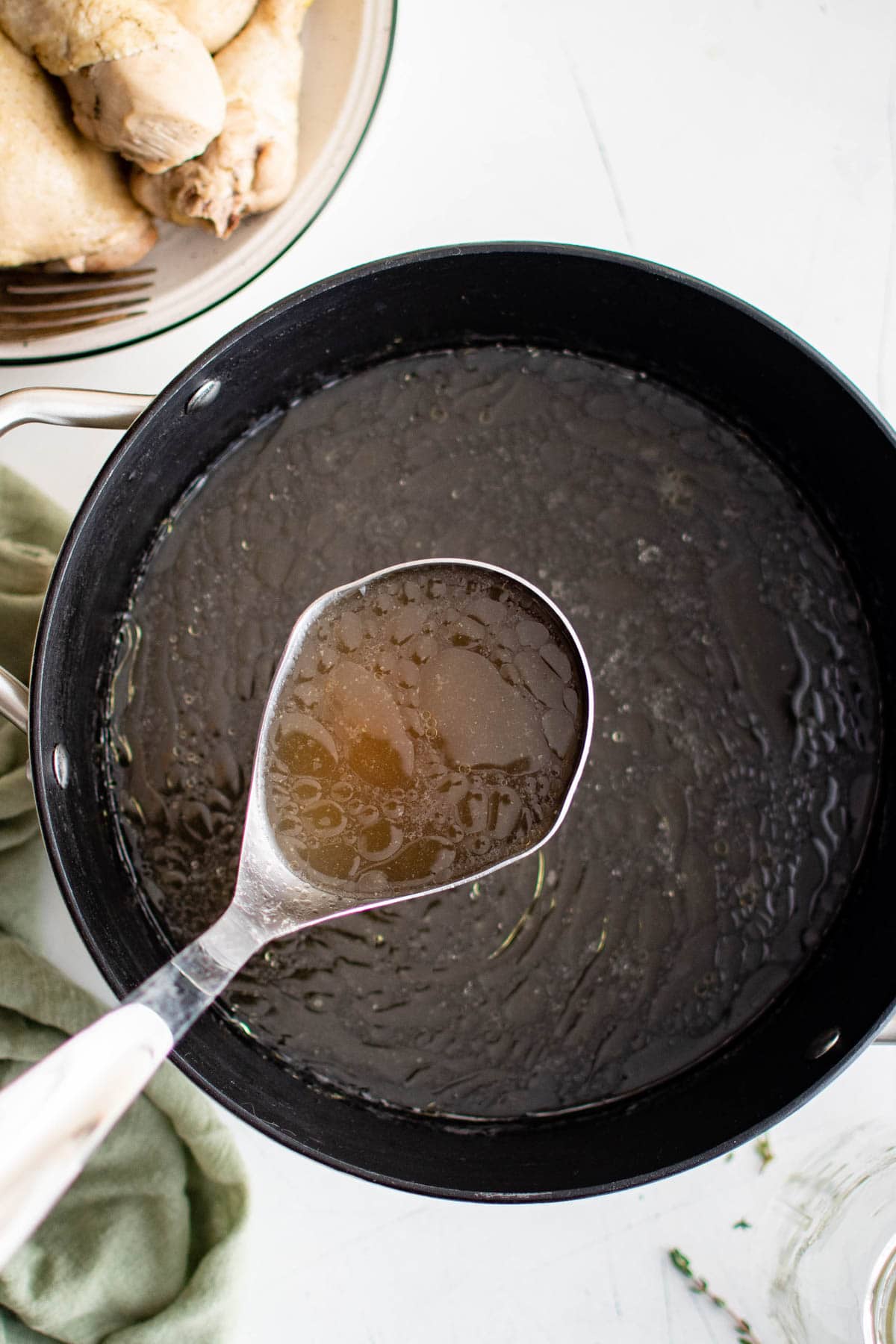 How To Use Chicken Broth
Homemade broth can elevate the flavor and add body and richness to soups and other dishes. Here are some of our favorites:
Recipe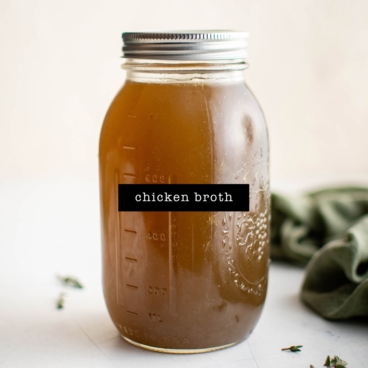 Chicken Broth
Learn how to make chicken broth at home – ditch the store-bought boxes! Add flavor and richness to recipes with this homemade chicken broth.
Ingredients
3-4

pounds

bone-in chicken thighs and legs

wings, backbone, and neck can also be used

1

medium onion

quartered

3

medium carrots

cut into chunks

3

medium celery stalks

cut into chunks

3

garlic cloves

peeled

5

sprigs parsley

2

sprigs fresh thyme

or ½ teaspoon dried thyme

2

bay leaves

1

teaspoon

black pepper

2

teaspoons

salt

10

cups

cold water

more as needed to cover
Instructions
Place the chicken pieces, vegetables, garlic, herbs, salt and pepper in a large stock pot or dutch oven. Pour in enough water to cover and bring to a boil over medium-high heat.

Immediately reduce heat to low; skim off and discard any foam.

Simmer uncovered, for 1-4 hours, skimming off foam as needed. The longer it simmers, the more flavor it will develop.

Remove the chicken and set aside until cool enough to handle.

Strain the broth through a large mesh strainer to remove the vegetables, herbs and any leftover bits or bones.

Store the cooled broth in airtight containers in the refrigerator for up to 4-5 days or in the freezer for 2-3 months.