Homemade Chicken Dumpling Soup is a classic dish made with tender chicken, onions, celery, carrots and an easy homemade biscuit dough.
Rich and hearty, and perfect for cold weather or Sunday night supper, Chicken and Dumplings are a comfort food classic that never disappoints.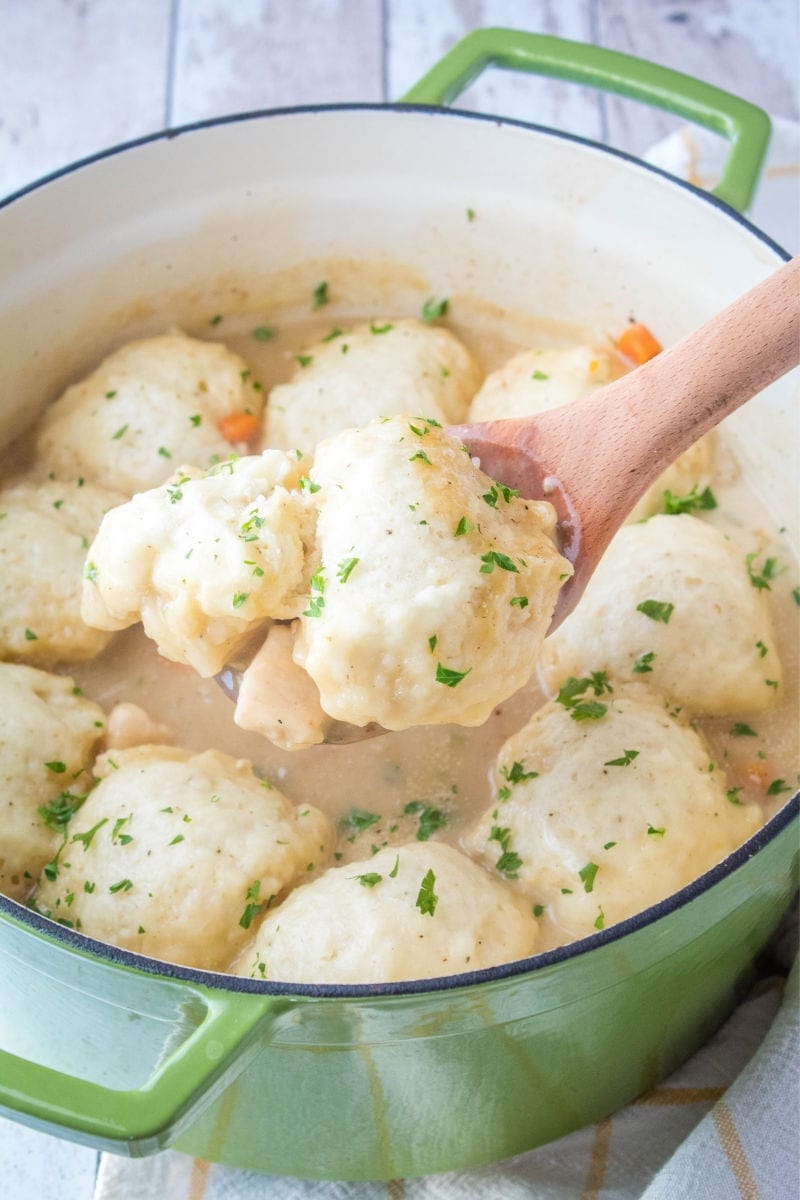 Pin this recipe for later!
Why I Love This Recipe
It's a Classic – And everybody love a classic like this Chicken Dumpling Soup. I stuck true to classic recipes with the creamy broth and the tender drop biscuits.
Fresh, Simple Ingredients – Yes that's an extensive list, but I promise there's nothing you can't pronounce and you can find everything at your local grocery store.
Time Saving Tip – Instead of cooking the chicken in the broth, save yourself 10 minutes and shred the meat from a rotisserie chicken and add it to the soup near the end of the cooking time.
Soup Ingredients
All-purpose flour, salt and pepper – The seasoning and the thickener for the soup. These 3 ingredients are used to coat the chicken before cooking it, and it will also help to thicken the soup when the broth is added.
Chicken – I have listed boneless skinless chicken breasts in the recipe, but really any cut of chicken will work. I just cut the meat into chunks, coat in flour then toss it in the pot to cook.
Veggies – Yellow onion, celery, carrots and garlic are all peeled, diced and sauted together after the chicken.
Flour – for thickening the soup to more of a gravy consistency.
Chicken Broth – Choose a low-sodium variety to keep the salt level manageable.
Heavy Cream – Added after the soup has simmered and just before the dumplings. Makes the soup nice and creamy.
How to Make Chicken Dumpling Soup
There are 3 basic parts to this recipe – the chicken, the soup, and the dumplings. The best part is that you have options to simplify the process and cut down on some of the prep too.
Grab a large dutch oven or soup pot. Cook the chicken, or use pre-cooked, and set it aside.
Cook the veggies in a little bit of oil until they are nice and soft, then add some flour. The flour acts as a thickener for the soup.
Stir in some broth and add the chicken back to the pot. Bring the soup to a boil and let it simmer, covered to keep the steam in, for about 15 minutes. Be sure to stir it a few times to keep the bottom from scorching.
Meanwhile, make the dough for the dumplings. Mix together a simple dough of flour, baking powder, salt and pepper mixed with butter and milk. The dough will be sticky and thick.
Add heavy cream to the soup and add the dough for the dumplings.

Cook the dumplings in the soup for 15 minutes. Always cook dumplings at a simmer because they could fall apart at a rolling bo

il.
Serve immediately, garnish with fresh minced parsley.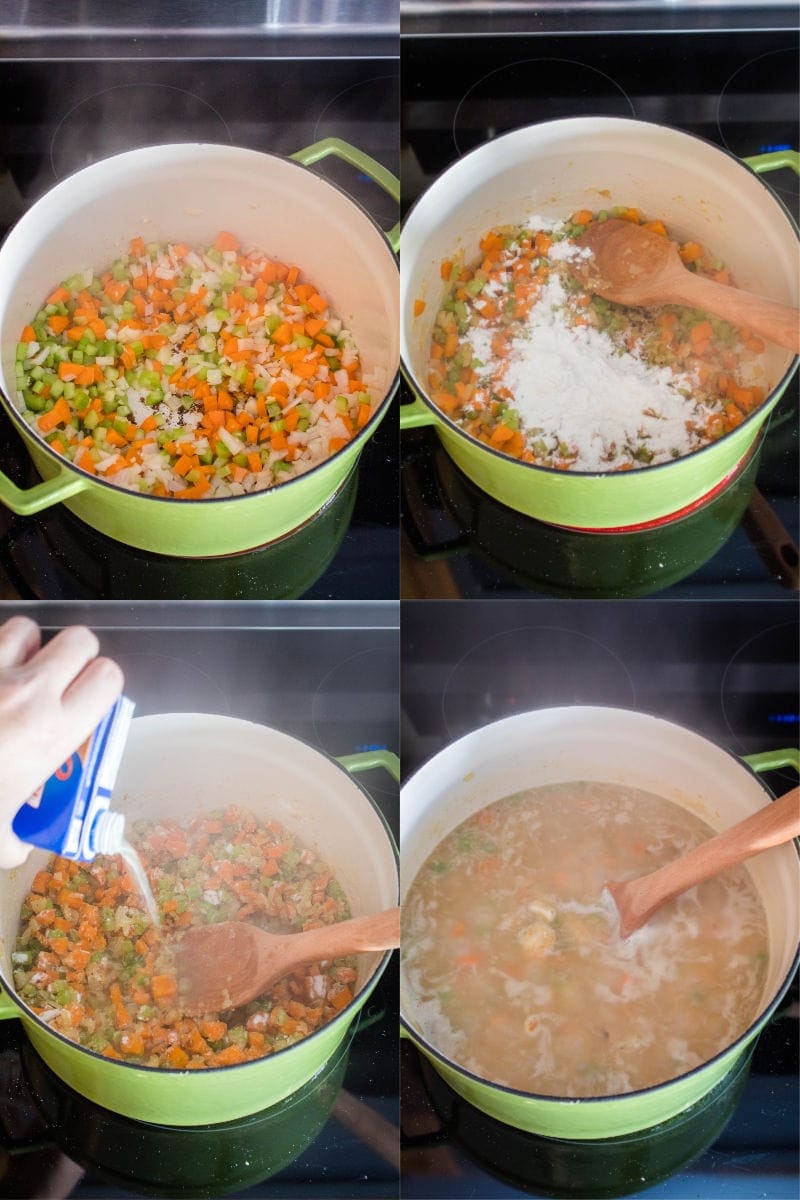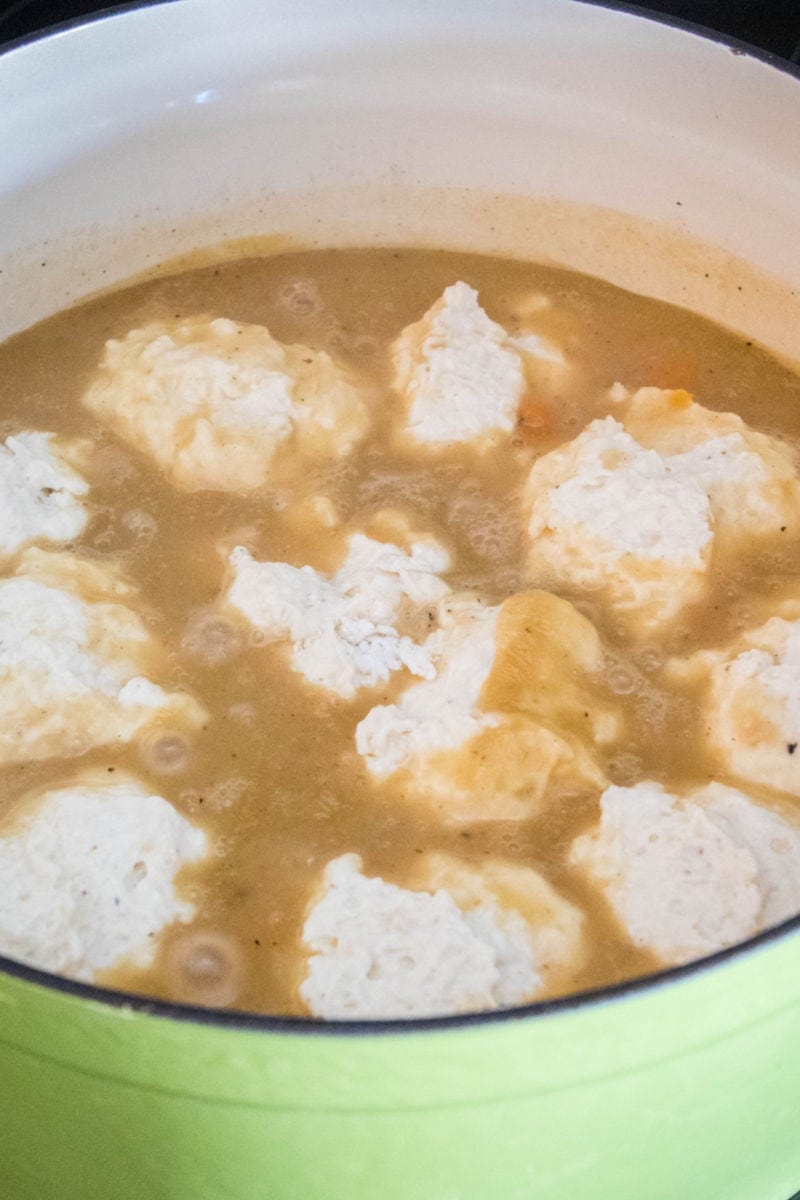 FAQS
What kind of dumplings are used for chicken and dumplings?
As with a lot of recipes that have been around for a while, there is some debate as to which type of dumpling is best.

Some people like the big fluffy ones that float on top of your bowl of soup, and some people prefer flat "noodle" style dumplings that are more reminiscent of chicken noodle soup. I've had both and they're both tasty.

But I definitely on the side of the big fluffy dumpling plopped right into my bowl covered in thick soup for the win.
What kind of flour is best for dumplings?
Regular all-purpose flour is fine dumplings.
Should chicken and dumplings be thick?
The consistency is that of a creamy soup, similar to a pot pie, and can be eaten with a spoon or fork. For a thicker soup, gently simmer the dumplings for a little longer.
How can I make my soup thicker?
Simmering the dumplings helps to thicken the soup as they are flour based. You could add a cornstarch slurry to thicken the broth, or just continue simmering until your desired consistency is reached.
What Goes Good with Chicken and Dumplings?
Since this recipe is kind of an all-in-one dish, you don't really need a side dish to go with it. That being said, salads are a great option to round out your meal.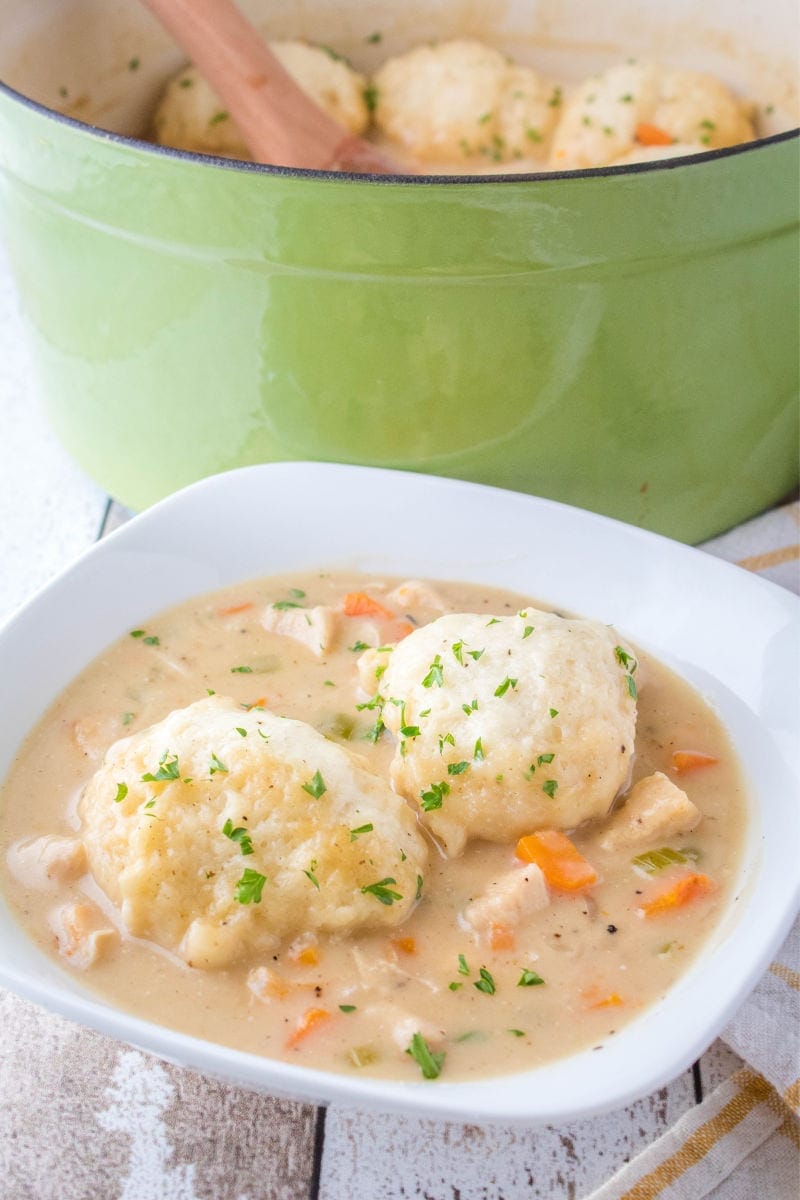 More Comfort Food Dinners
Recipe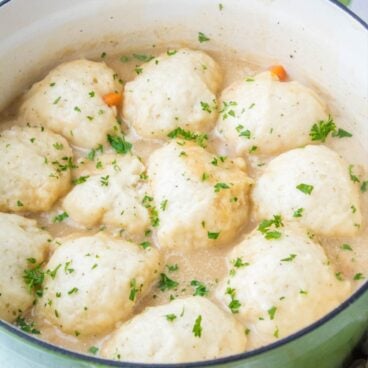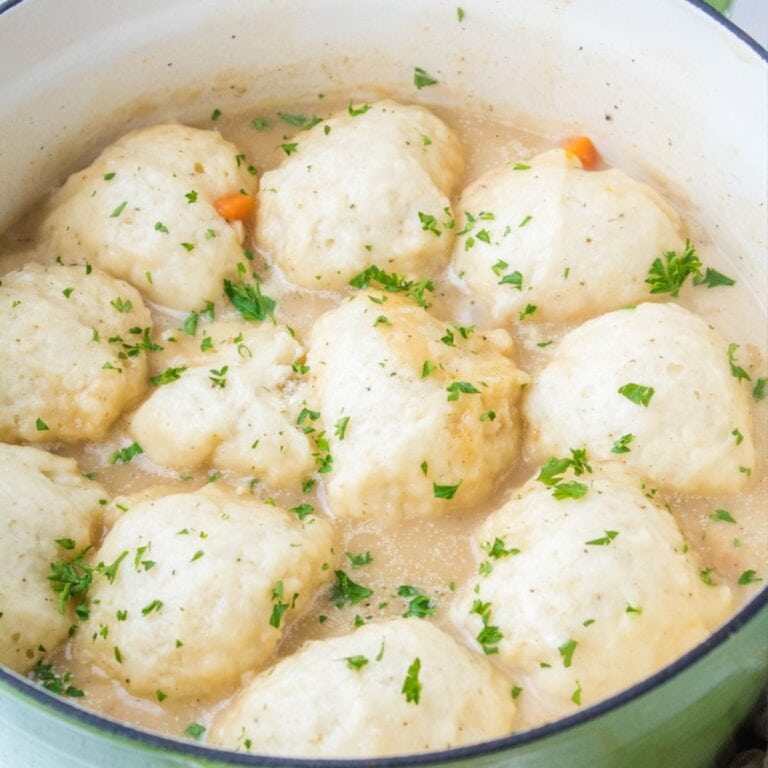 Chicken and Dumplings
Homemade Chicken Dumpling Soup is a classic dish made with tender chicken, onions, celery, carrots and an easy homemade dumpling dough.
Ingredients
Soup
1/3

cup

all-purpose flour

1/2

teaspoon

salt

1/4

teaspoon

pepper

2

boneless skinless chicken breasts

cubed

3

tablespoons

vegetable oil

divided

1

yellow onion

diced

3

celery stalks

diced

2

carrots

diced

3

cloves

garlic

minced

1/4

cup

all-purpose flour

4

cups

chicken broth

1/2

cup

heavy cream
Dumplings
1 2/3

cups

all-purpose flour

2

teaspoons

baking powder

3/4

teaspoon

salt

1/8

teaspoon

pepper

1

tablespoons

butter

melted

3/4

cup

milk

1

tablespoon

fresh parsley

finely chopped (for garnish)
Instructions
Soup
Place ⅓ cup flour, salt, and pepper in a gallon ziploc bag. Seal bag and shake to mix. Open bag and add chicken. Seal bag and shake again to coat all of the chicken pieces.

Add 2 tablespoons oil to a hot 6-quart dutch oven. Add chicken and cook for 5 to 7 minutes, or until chicken is browned and cooked. Remove chicken to a bowl and set aside.

Add 1 tablespoon oil to the dutch oven along. Once oil is hot, add onion, celery, carrots, and garlic. Cook for 5 minutes, stirring often until veggies have softened.

Add ¼ cup flour to the pot and stir to coat the veggies. Add chicken back to pot and pour in chicken broth. Stir everything together.

Bring soup to a boil. Once boiling, reduce heat to low, cover the pot, and simmer for 12 to 15 minutes. Stir occasionally to prevent chicken or veggies from sticking to the bottom of the pot.
Dumplings
While to soup cooks, mix up your dumpling dough. In a medium mixing bowl whisk together flour, baking powder, salt, and pepper.

Pour in butter and whisk. Pour in milk and whisk until a thick, sticky dough forms.

Uncover the soup and stir in the heavy cream.

Use a large spoon or medium-sized cookie scoop to portion the dumpling dough. Place the dumplings right on top of the soup. (Don't worry they'll float.) Space them around the pot as they will puff up while cooking. Cover the pot and cook for 15 minutes without removing the lid.

Uncover the pot and remove from heat. Sprinkle with parsley. Portion soup into bowls and top with 2 dumplings. Serve warm.
Notes
Check to see if your dumplings are done after 15 minutes. Remove one from the pot and cut open to make sure they are not still raw inside. If they are, recover the pot and cook for another 5 minutes.
Nutrition
Calories:
397
kcal
Carbohydrates:
43
g
Protein:
16
g
Fat:
18
g
Saturated Fat:
12
g
Cholesterol:
57
mg
Sodium:
1158
mg
Potassium:
604
mg
Fiber:
2
g
Sugar:
4
g
Vitamin A:
3886
IU
Vitamin C:
15
mg
Calcium:
138
mg
Iron:
3
mg