A free Christmas printable with scripture from Luke 2:8. It makes a lovely addition to your holiday decor, and perfect for making Christmas cards and gift tags.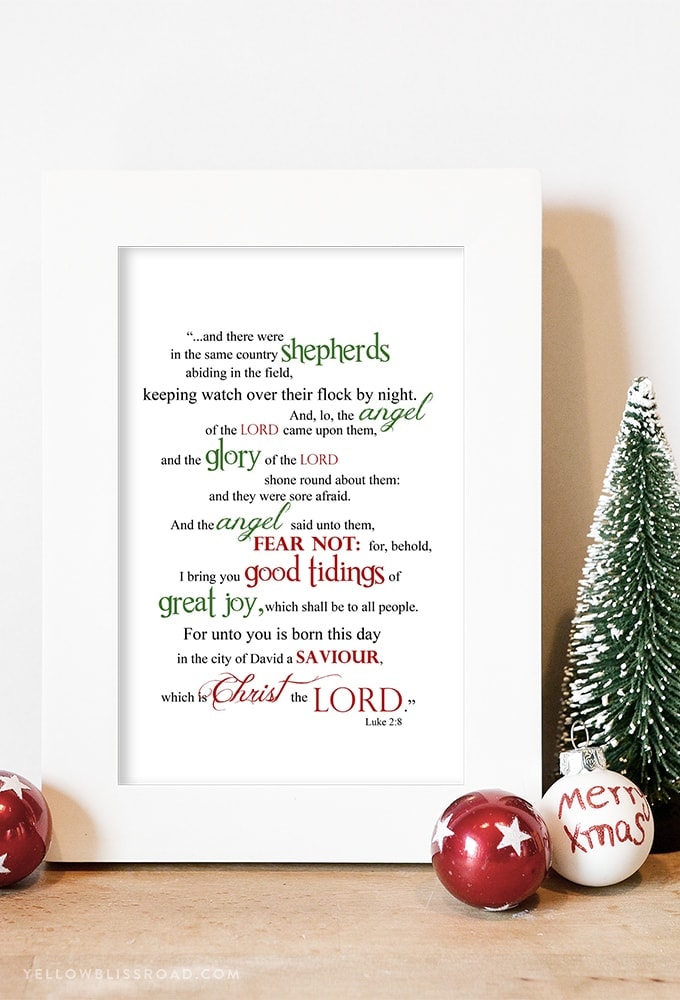 Scripture Word Art: Luke 2:8
I've been known to get too caught up in the hustle and bustle of the season, but since having kids, I've realized just how important it is for me to make sure that I somehow bridge the gap between the secular celebrations and the true meaning of Christmas.
So whenever my kids mention Santa, I acknowledge him (we do play "Santa," just not to the extreme), but at the same time try to find a way to bring Jesus into the conversation. After all, that's what Christmas is all about, Charlie Brown.
So here's today's printable; from Luke 2:8, it's the prequal to my Christmas Tree Scripture Word Art. Now you can place them side by side, and imagine Linus' voice speaking the text. Download the free print using the yellow graphic link below.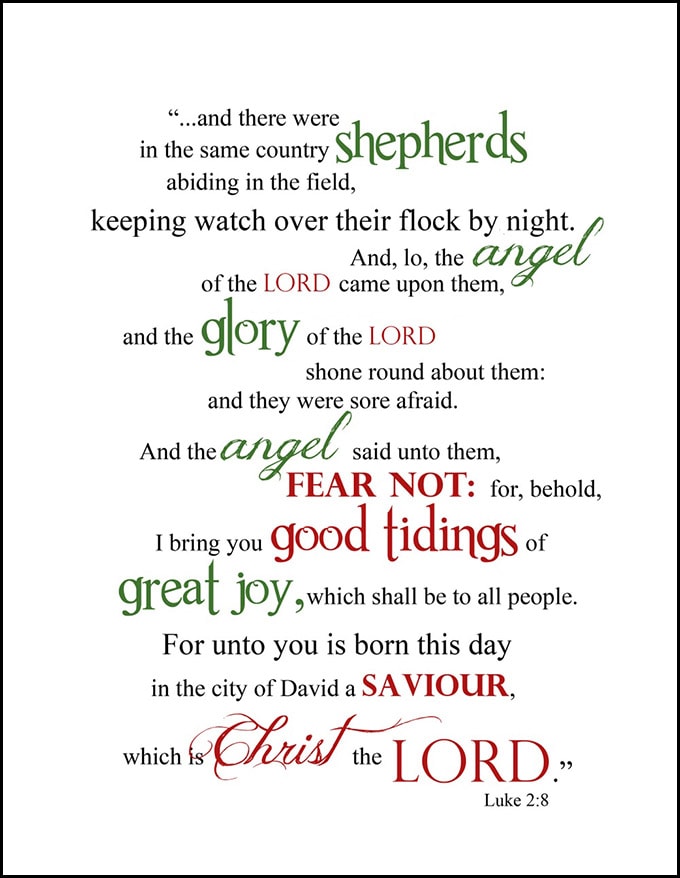 HOW TO USE MY FREE CHRISTMAS PRINTABLES:
Print them out on 8 ½ x 11-inch cardstock. Trim to fit an 8×10-inch frame and hang on your wall or stand up on table for display.
Reduce size to fit on half a page, print on cardstock and fold in half to create DIY Christmas cards.
Print several to a page, cut out to use as Christmas tags. Just punch a hole at the top and loop a ribbon through to attach to gifts.
Tools needed for this project:
You may need one or more of these tools to help in printing and creating the projects described above:
Color printer – This device offers beautiful color printer on a variety of paper sizes, mobile printing (from your mobile device), scanning and copying and much more!
Cardstock – A heavier paper is my first choice when printing anything for display, gift tags and cards or tags.
Sharp scissors – needed for cutting cardstock, especially when cutting into shapes for cards and tags.
Paper Trimmer – Helpful when trimming to size, especially from 8 ½ x 11-inch paper.
More free Christmas printables:
If you are looking to get more organized this holiday season, be sure to pick up our 2018 Christmas Planner, full of tons of pages for organizing and planning!
FREE PRINTABLE USAGE COPYRIGHT:
As with all of my downloads, I strive to bring free quality content- but I need your help. Please share these by sending people to this post and asking them to download here. If you'd like to feature these on your blog, please use the image at the top of this post in full or request a watermarked image from me of the individual print you'd like. This helps me keep the great free stuff coming!
{This is day two in a 12 part series of Christmas printables. Click here for the complete list. All printables are gifts of love from the designers for PERSONAL USE ONLY, and are not to be claimed as your own or sold for profit. Thank you.}