A tangy marinade of balsamic vinegar, orange juice and honey make this chicken incredibly juicy and flavorful. Diced and wrapped in crunchy lettuce leaves and topped with strawberries, toasted pecans and creamy Feta Cheese, these Balsamic Chicken Lettuce Wraps are a perfect summer lunch or light but filling dinner. 
Summer is salad season, and believe it or not, my kids LOVE salads and lettuce wraps! We stuff crunchy lettuce leaves with things like taco meat and cheese, chicken strips, and this Balsamic Chicken with strawberries and Feta.
I've always loved the flavors of balsamic vinegar, and on chicken it's so delicious. The marinade for this grilled chicken is super easy – balsamic vinegar, orange juice, olive or vegetable oil, honey and basil. It's important to season the chicken breasts first with salt and pepper before placing in the marinade, and to let the chicken soak up those flavor for at least 30 minutes for the best flavor.
You can then grill on the stovetop or on your barbecue grill outside. I don't have an outdoor grill at the moment, but I love the char marks so I use my cast iron stove top grill and I love it! Aren't those grill marks gorgeous?
Lettuce wraps are a perfect way to eat healthy and add a little texture to your favorite foods during the summer. These couldn't be easier to put together – all you need is the grilled chicken, sliced strawberries, pecans and some deliciously salty Feta Cheese. One of my favorite flavor combinations is balsamic, strawberry and feta – so delicious!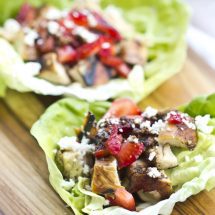 Ingredients
Grilled Balsamic Chicken
4 chicken breasts
1/2 cup balsamic vinegar
1/2 cup orange juice
1/2 cup olive or vegetable oil
4 tablespoons honey
1 tablespoon dried basil
Salt and pepper to taste
Lettuce Wrap
8-12 Whole Lettuce Leaves Butter, Iceberg or Romaine
1 pint strawberries sliced
1/2 cup pecans
1/2 cup Feta Cheese
Instructions
Mix marinade ingredients, except chicken, in a medium bowl.

Rinse chicken and pat dry. For even cooking, pound chicken to a uniform thickness, about a half inch or so. Season uncooked chicken breasts with salt and pepper and place in a large ziploc bag. Pour marinade over chicken, press out air much air as possible, seal and place in the fridge for at least 30 minutes.

Remove chicken from the bag and discard the remaining marinade. Cook chicken on a preheated grill over medium heat until no longer pink; about 3-4 minutes per side, depending on thickness. Set aside and cover loosely with foil to rest for a few minutes.

While the chicken is cooking, prepare the balsamic glaze. Pour about 1/2 cup balsamic vinegar into a small saucepan and cook over medium low heat until reduced by half. Sauce should be thick enough to lightly coat the back of a metal spoon. Set aside.

To prepare the lettuce wraps, gently peel leaves, wash and pat dry. Chop chicken and layer in the lettuce leaves, followed by sliced strawberries, pecans and Feta Cheese. Top with balsamic glaze.

Serve immediately.
 For more delicious Lettuce Wrap ideas, try these: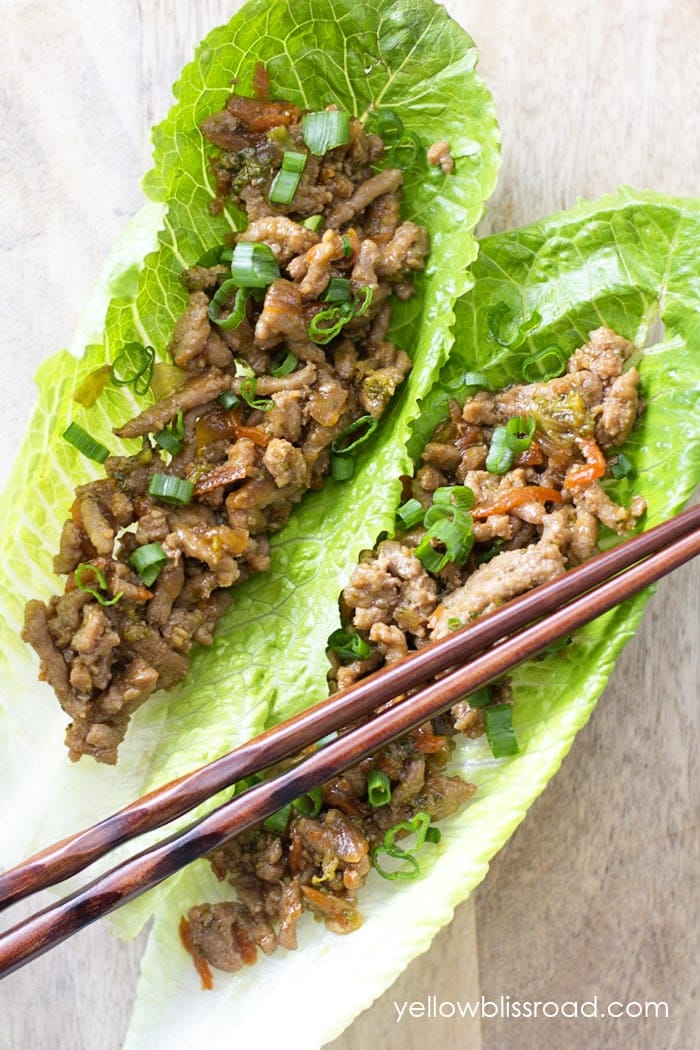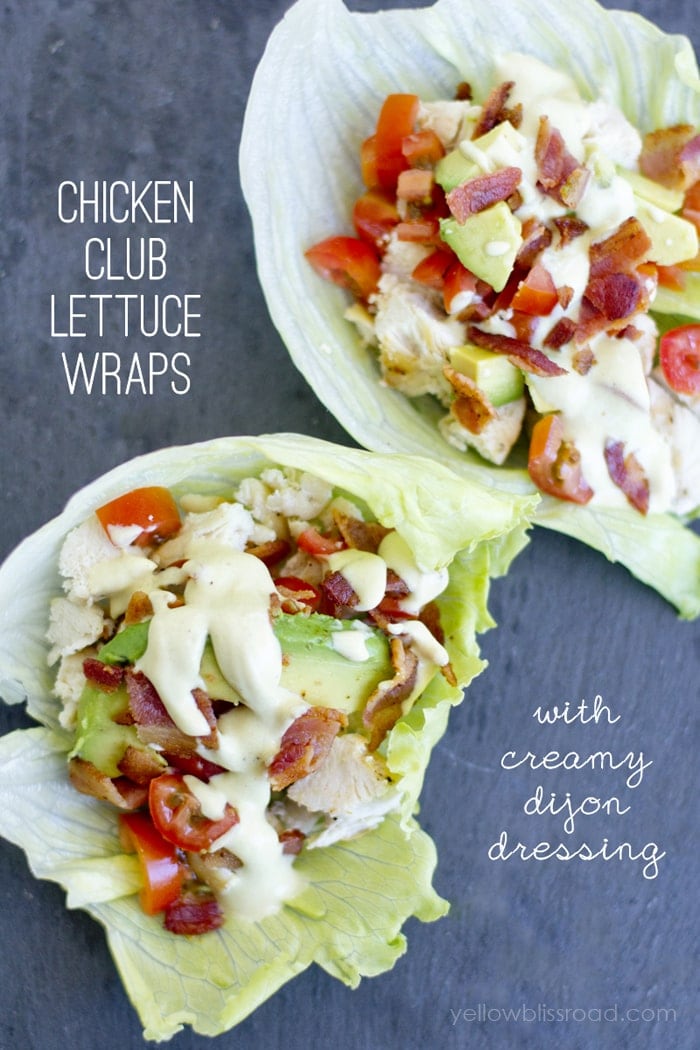 and for some healthy summer salads, try these: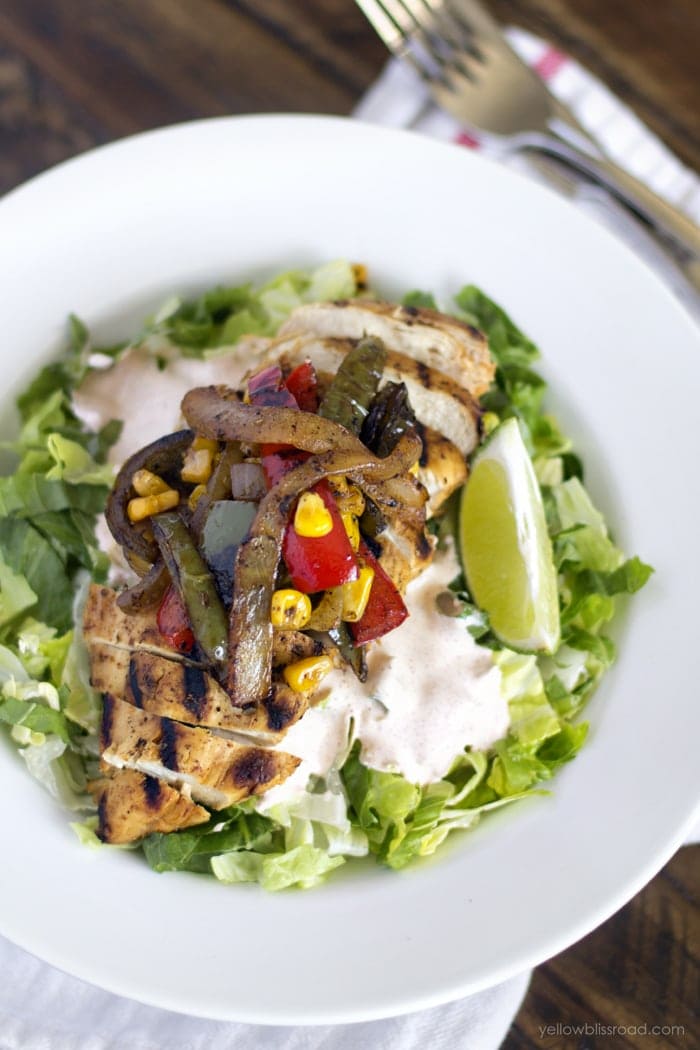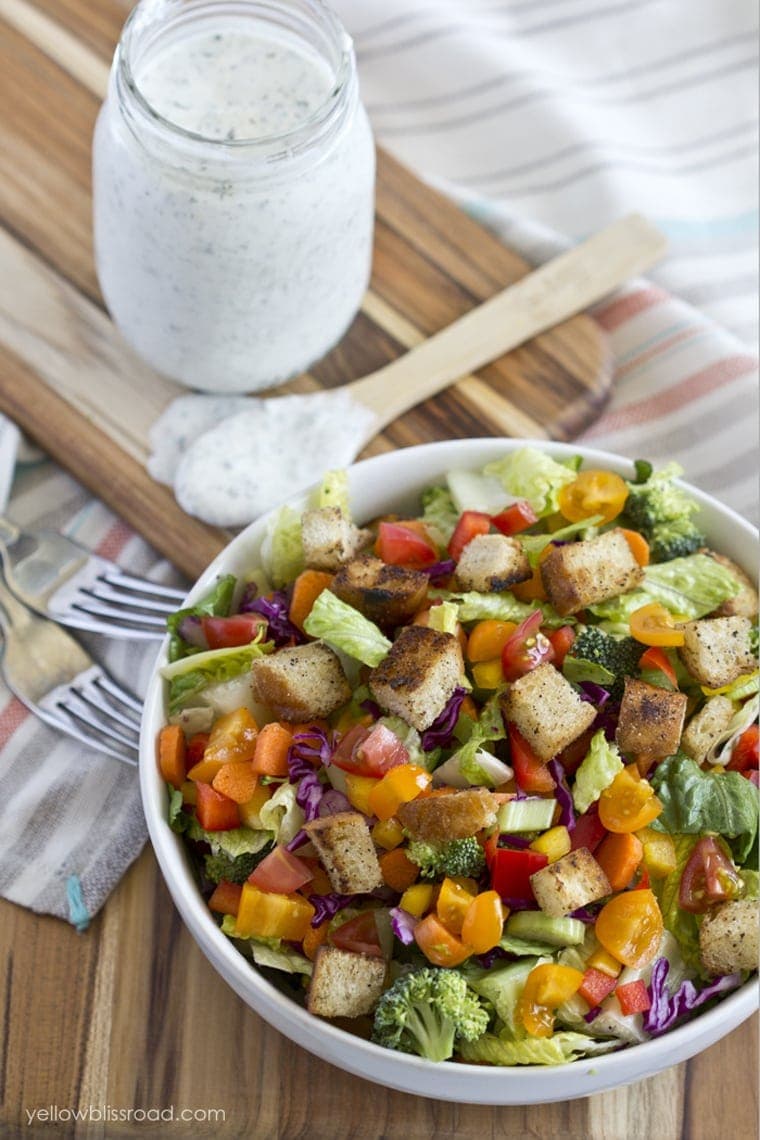 For all recipes, go HERE.
Hi! I'm Kristin, the creative mind behind Yellow Bliss Road where you will be inspired by tons of easy to follow recipes, lots of free printables, and a little sprinkling of life thrown in for good measure.