Ranch burgers are as easy to make as regular hamburgers but have added flavor from the ranch seasoning mix, chopped bacon, and fried onions. Top with a smoky ranch sauce for the perfect addition to your next cookout.
Burgers are a summer staple in our house so we love making different variations. In addition to these Ranch Burgers, we also love Stovetop Burgers, Turkey Burgers, and Juicy Grilled Hamburgers.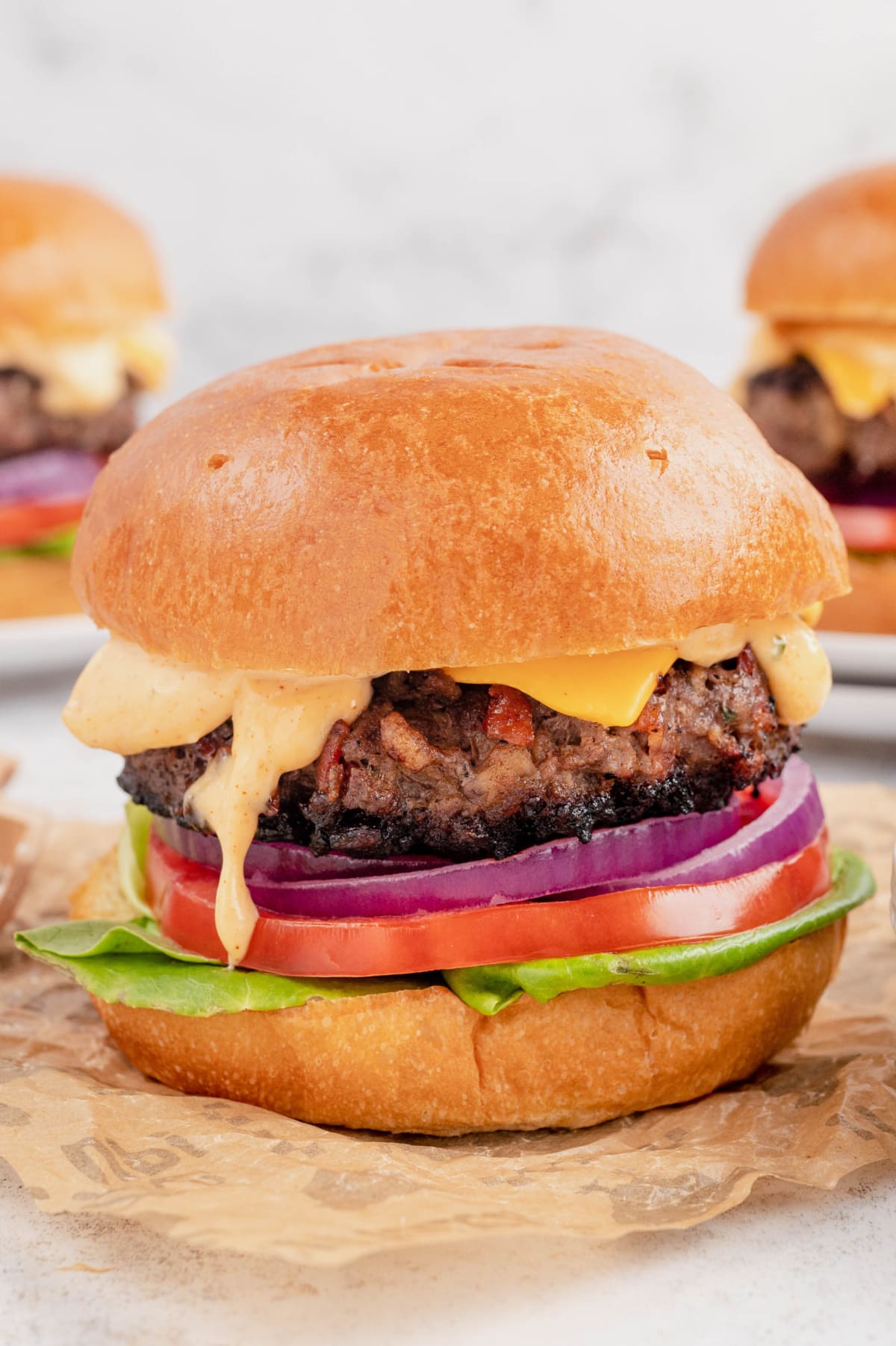 Pin this recipe for later!
Why We Love This Recipe
Ranch Flavor – Adding ranch seasoning to both the burger patties and the sauce is game changing!
Easy to Make – The patties are easy to mix together and form.
Juicy Burgers – I've got a trick that will help you get the juiciest burgers every time!
Summer Favorite – Everyone loves burger night and this ranch burger recipe adds a fun twist!
Key Ingredients
You can find ranch dressing mix at most large grocery stores and it adds great flavors to both the burger patties and the mayo-based sauce.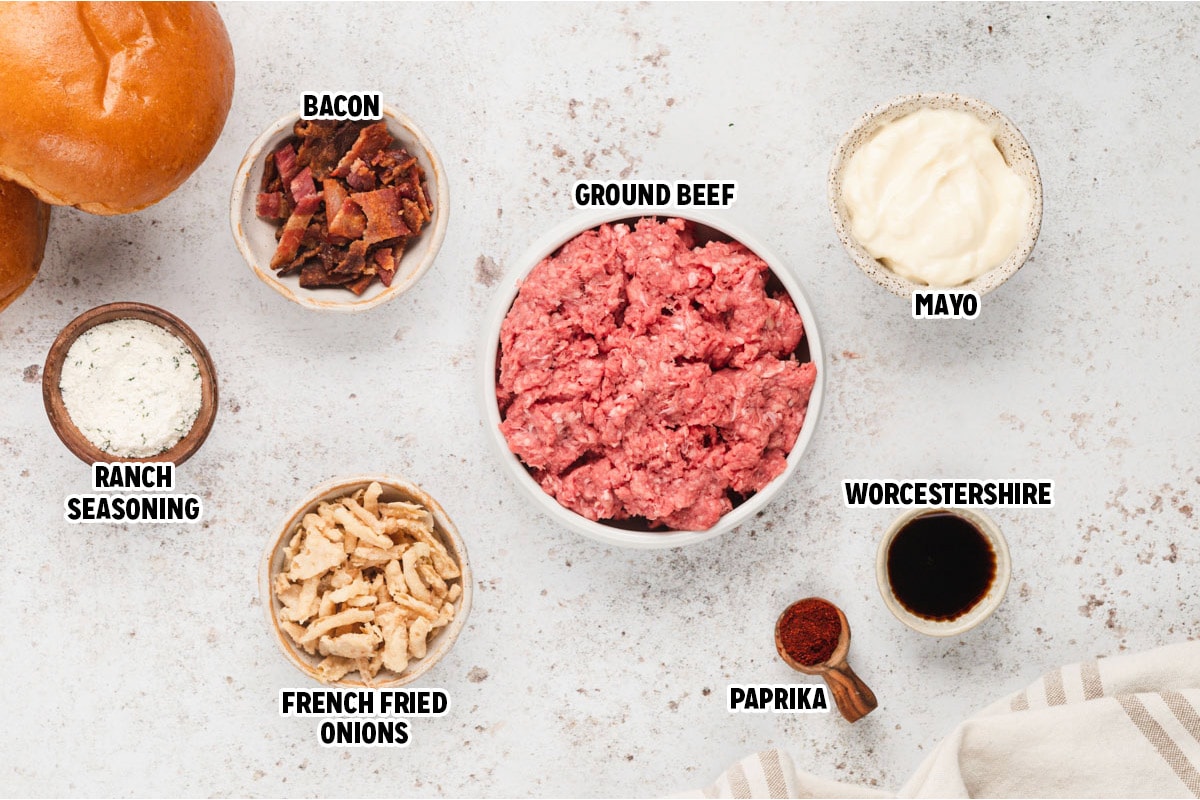 Ground Beef – I like to use 80/20 beef.
Ranch Dressing Mix – From a packet, or make your own.
Bacon – Cooked and chopped. For simplicity and ease, I like to buy the pre-cooked bacon at Costco.
French Fried Onions – Can also be substituted by caramelizing or sauteing fresh sliced onions.
Sliced Cheese – You can use any cheese you like, but cheddar, American, pepper jack, and provolone work really well with these flavors.
Hamburger Buns – I love a good Brioche bun because they are soft but hold up well to these burgers.
Sauce (optional) – Mayonnaise, Ranch Dressing Mix, Smoked Paprika, Worcestershire Sauce.
How To Make Ranch Burgers
Get a detailed list of ingredients & instructions in the recipe card below.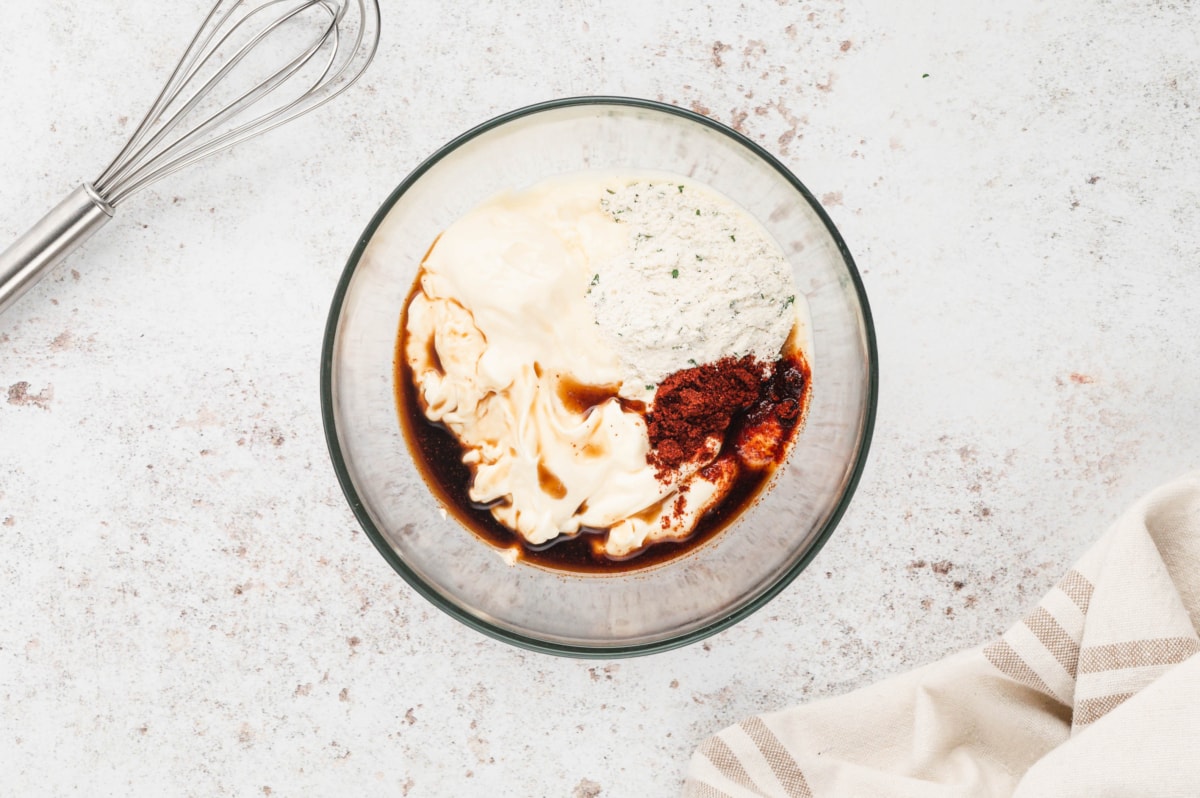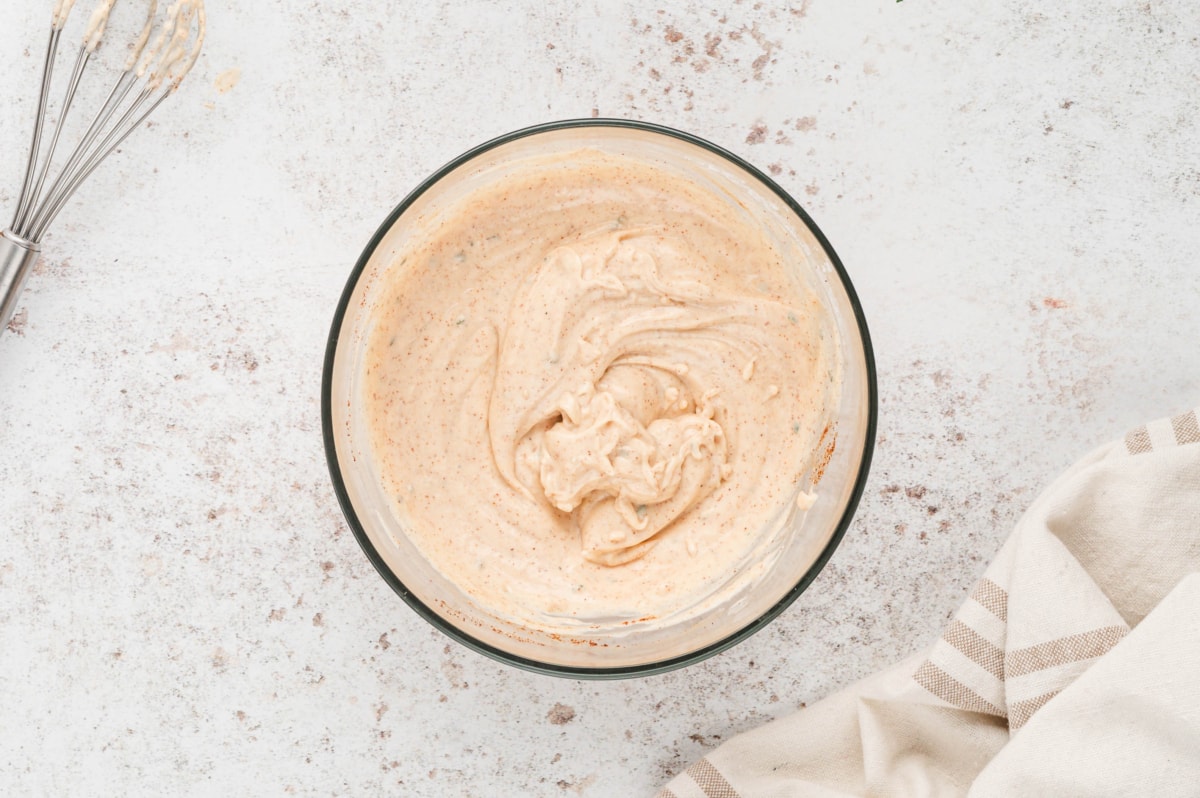 Mix Sauce – Mix together the sauce ingredients in a small bowl. You can make the sauce up to a couple of days in advance and store in a sealed container in the fridge.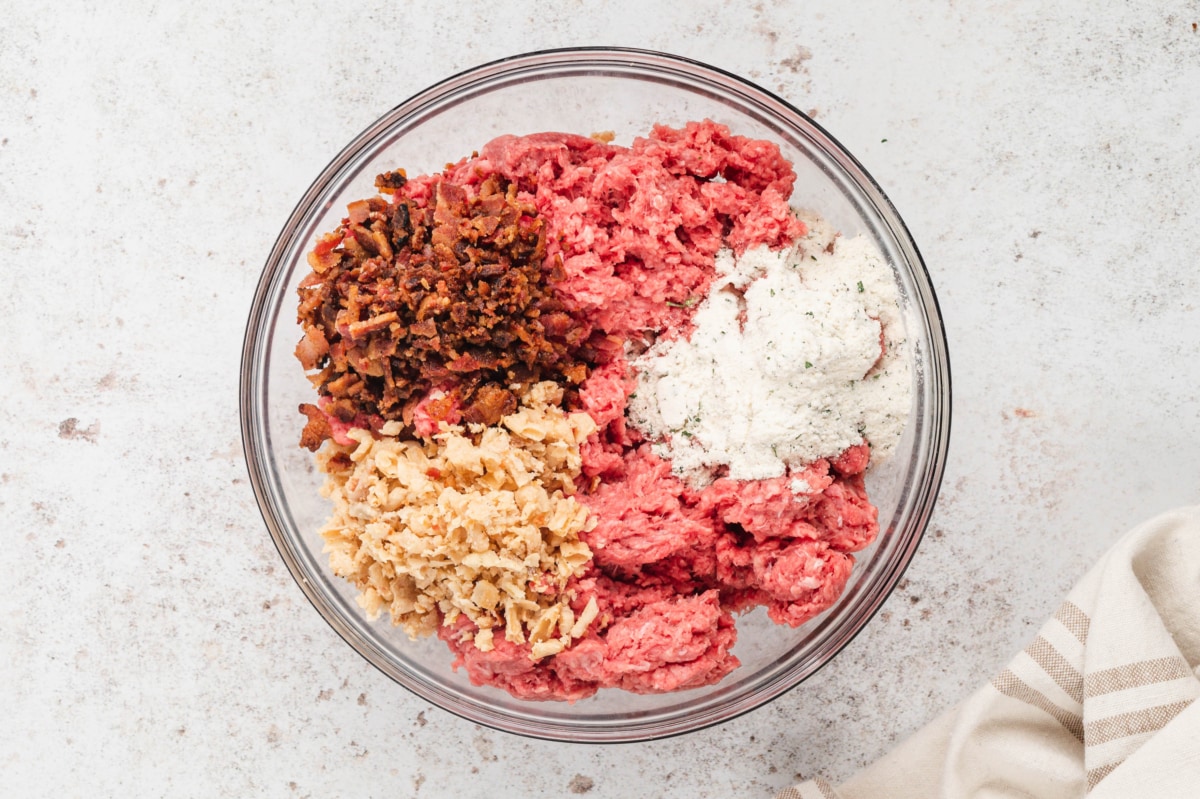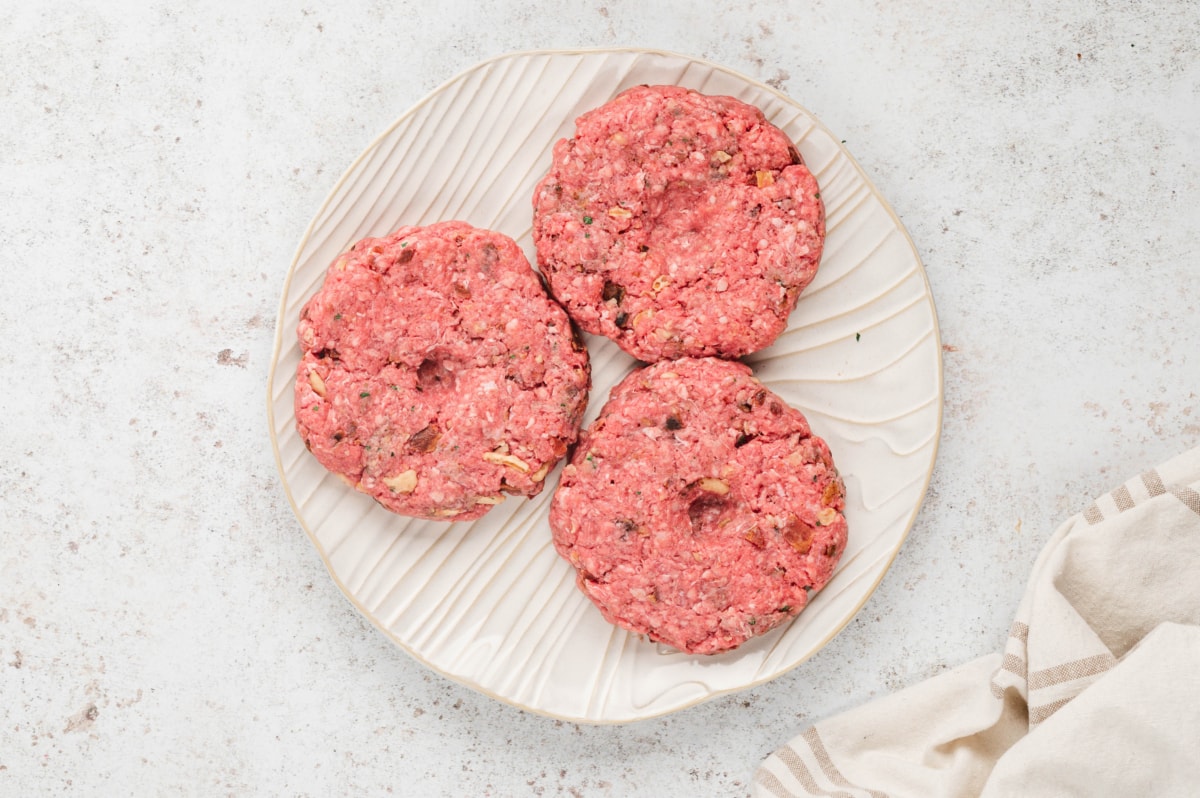 Make Burger Patties – Gently mix together the ground beef and patty ingredients until just combined. Divide into four portions and shape into four patties. Use your thumb to make an indent in the center – this helps the juices pool in the center instead of dripping off the burger, causing it to shrink.
Cook Burgers – Cook the burgers on the grill or in a cast iron pan over medium heat until the desired doneness is reached. Top with cheese slices, remove from heat, and tent with foil to melt the cheese. I like to toast the buns during this time.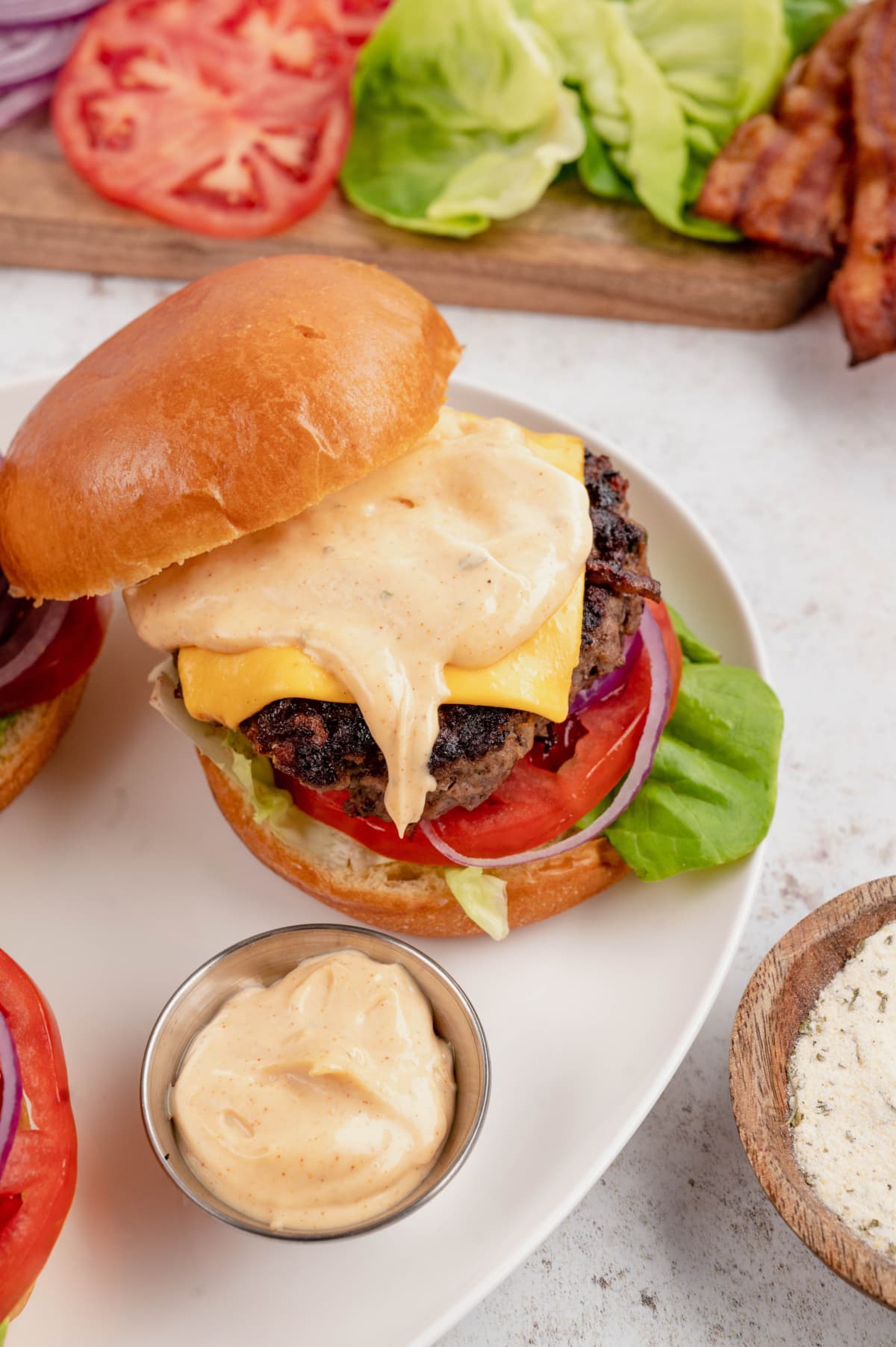 Serve – Top the buns with the burger patties and the ranch sauce. Serve with a variety of burger toppings and enjoy!
Recipe FAQs
How do you keep burgers from falling apart?
After combining the ingredients for your burgers, refrigerate the mixture for about 30 minutes to an hour. Chilling the mixture allows it to firm up and makes it easier to handle and shape into patties.

When shaping the burger patties, be gentle and avoid overworking the mixture. Use your hands to gently shape the patties into uniform rounds, pressing them together just enough to hold their shape.
Do you add egg to burger meat?
You do not need to add egg to burger meat. While some ground beef recipes, like meatloaf, call for adding eggs, hamburgers do not need them.
Can hamburgers be pink in the center?
Yes, a hamburger can be a little pink in the middle. The best way to tell if the burger is cooked is by taking the internal temperature with a meat thermometer. Medium – 145℉, medium well – 155℉ or well done – 160℉.

It's important to note that the FDA recommends hamburgers be cooked to a safe minimum internal temperature of 160℉ to destroy any harmful bacteria.
Can I freeze uncooked burger patties?
Yes, you can freeze uncooked burger patties. To freeze them, separate the patties with wax or parchment paper, stack them, and place them in an airtight container or freezer bag. Frozen uncooked patties can typically be stored for up to 3 months. Thaw them in the refrigerator before cooking.
How do I make a burger juicy?
To make a juicy burger, choose ground beef with a higher fat content, such as an 80/20 or 85/15 lean-to-fat ratio. The fat helps keep the burger moist during cooking. Avoid overcooking the burger, as it can dry it out. Letting the cooked burger rest for a few minutes before serving also helps retain moisture.

If you prefer to use a leaner ground beef, a trick I use is to add a little bit of olive oil to the meat mixture. This healthy fat is better for you than animal fat, and still produces a super juicy burger.
Serving Suggestions
Some of our favorite side dishes for burgers:
Storage
Leftover burgers can be stored in the fridge for up to 4 days in an airtight container. You can also freeze burgers by tightly wrapping in plastic wrap, placing in a freezer bag, and storing in the freezer for up to 3 months.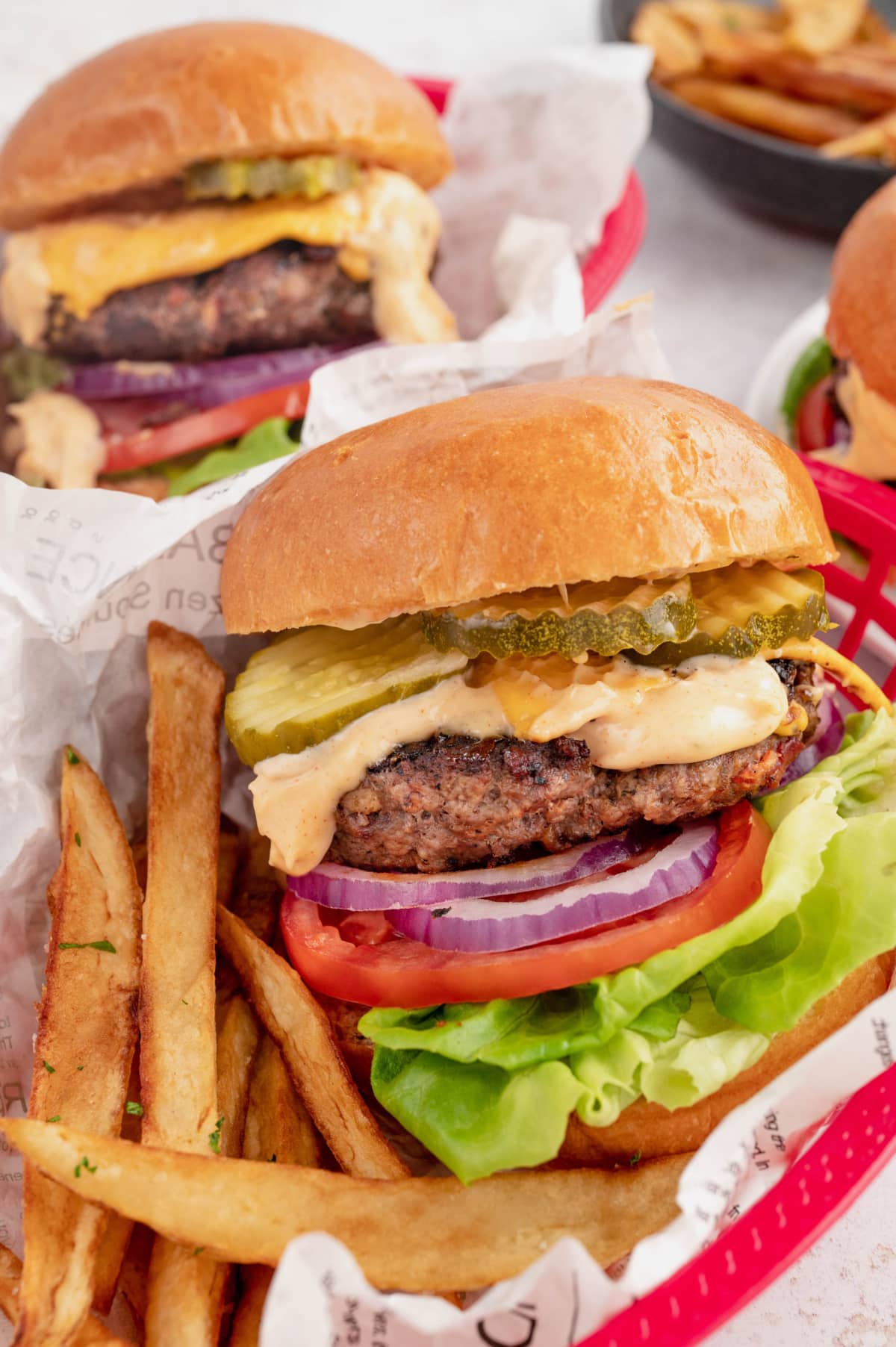 Helpful Tips
Make Ahead – Uncooked ranch burger patties can be made ahead and stored tightly wrapped in plastic, in the fridge for up to 2 days, or in the freezer for up to 3 months. Cooked burgers can be stored in the fridge for up to 5 days.
Ground Beef Fat % – A fattier burger works better here, as it helps to keep the burger juicy, you can sub in a leaner beef or ground turkey, but the outcome may be drier.
Burger Size – Make your burger patties slightly larger than your buns. Use your finger to leave a depression in the center of the patty. This will help to keep your patties flat when cooked, instead of becoming thick and rising in the middle.
Uniform Size – The best and easiest way to get evenly sized burgers is to use a kitchen scale. This recipe will make 4 third-pound burgers, or 6 quarter-pound.
Topping Ideas – Lettuce, tomato, avocado, fried or caramelized onions, sliced jalapeno, or extra bacon, all make great toppings for these ranch burgers.
More Burger Recipes
Recipe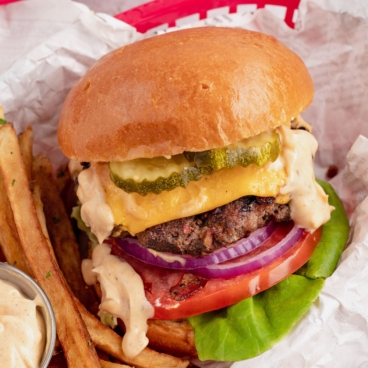 Ranch Burgers
Ranch burgers are as super simple, made with ranch seasoning, bacon and fried onions! It's the perfect burger recipe for your next cookout!
Ingredients
1.5

pound

80/20 ground beef

ground chuck

1

packet

ranch dressing mix

3 tablespoons, divided

1/4

cup

bacon

cooked and chopped

1/3

cup

chopped french fried onions

4

hamburger buns
For the sauce
1

cup

mayonnaise

1

tablespoon

ranch dressing mix

1

teaspoon

smoked paprika

1

teaspoon

worcestershire sauce
For assembly
Cheese and burger toppings of choice
Instructions
In a small bowl mix together the mayo, a tablespoon of ranch dressing mix, smoked paprika and worcestershire sauce. Cover and refrigerate until ready to use.

In a medium bowl gently mix together the ground beef, 2 tablespoons of the dressing mix, bacon and fried onions until just combined. Don't over mix or the burgers will become tough.

Divide into 4 equal portions and shape the burgers into patties.

Cook on the grill or in a cast iron pan over medium high heat until desired temperature is reached, about 4-5 minutes per side. Medium – 145℉, medium well – 155℉ or well done – 160℉.

If desired, add cheese slices to the patties during the last minute or two of cooking, then remove from heat and let rest tented with foil for 3-4 minutes.

Toast the buns lightly in the hot pan or grill while the burgers are resting if desired.

Place the burger on the bottom bun and top with the smokey ranch sauce and your favorite burger toppings.
Notes
This recipe will make 4-⅓ lb burgers, or 6-¼ lb burgers.
Nutritional information is approximate and does not include the optional sauce or any cheese or burger toppings you might add.
To get perfect, evenly-sized burgers, use a kitchen scale.
You can leave out the bacon or fried onions. Fried onions can also be substituted by caramelizing or sauteing some fresh onion and adding that in place of the fried onions. You could also swap in up to ½ cup shredded cheese.
Nutrition
Calories:
634
kcal
Carbohydrates:
27
g
Protein:
36
g
Fat:
40
g
Saturated Fat:
15
g
Polyunsaturated Fat:
2
g
Monounsaturated Fat:
16
g
Trans Fat:
2
g
Cholesterol:
128
mg
Sodium:
1009
mg
Potassium:
547
mg
Fiber:
1
g
Sugar:
3
g
Vitamin A:
3
IU
Vitamin C:
1
mg
Calcium:
93
mg
Iron:
5
mg