Tortellini Soup with Italian Sausage & Spinach
This Tortellini Soup recipe has sweet Italian sausage, fresh cheese tortellini, and leafy green spinach in a rich tomato broth. Finished off with a crispy, cheesy crostini, this is definitely not your run-of-the-mill tomato soup!
Tortellini soup is a delicious meal on its own, but you can pair it with some garlic bread and a big green salad and add a few more guests to dinner.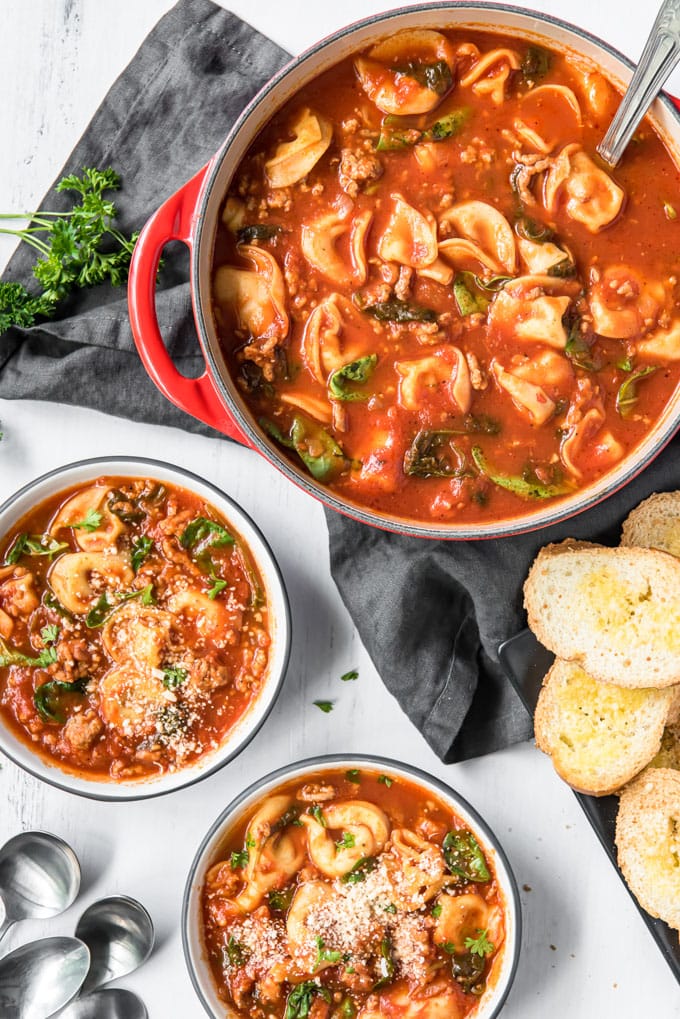 The Best Tortellini Soup Recipe
I have always been a fan of tomato soup. I love the creaminess, rich tomato flavor, and brightness of the tomatoes. This creamy Tortellini soup highlights that tomato-y goodness while incorporating the savory sausage and tender, cheesy pasta.
A lot of people like to serve soup as part of a meal, typically the first course. But here we savor soup as our main course. It's got everything you need – meat, veggies, and this one even has yummy, cheesy pasta. It cooks quickly and in just a few steps. Of course, the longer you let it simmer, the better the flavor. Just make sure not to add the tortellini and spinach until just before you're ready to eat, so they don't overcook.
I love to sprinkle a little fresh grated Parmesan cheese on top for even more flavor. I love this soup as is, but if you love a creamier soup, stir a cup of heavy cream when you add the tortellini.
Everyone Loves My Tortellini Soup
It's super simple to make in just a few steps and it's ready in about 40 minutes.
It's like your favorite pasta and sauce in a delicious creamy soup.
The spinach, tomatoes, sausage, and pasta together make this soup a complete meal!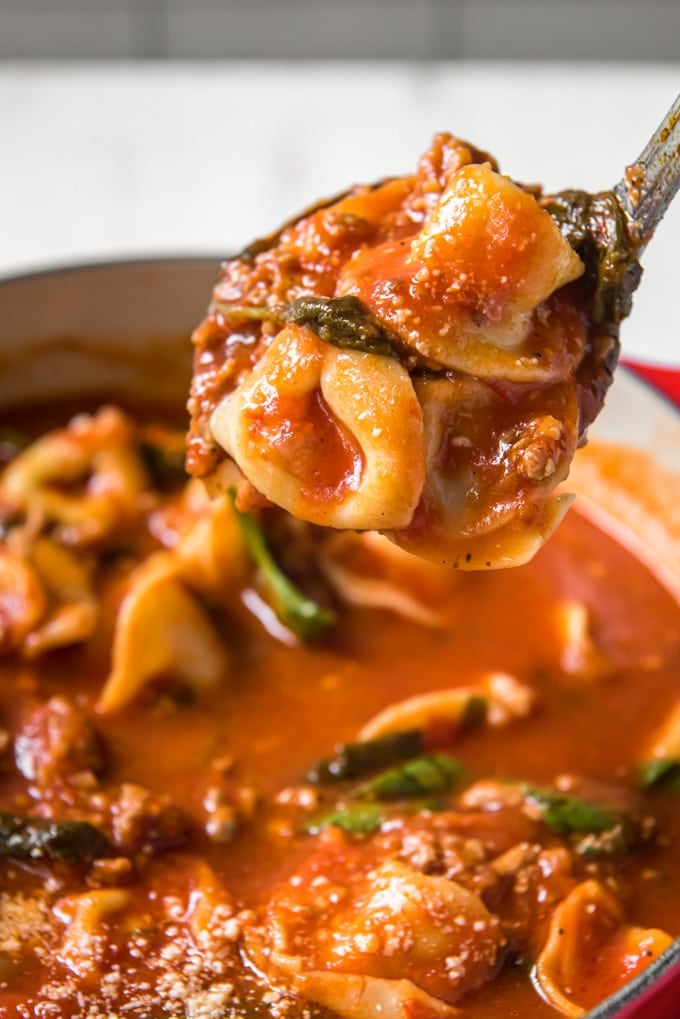 What's in Tortellini Soup?
Italian Sausage – You need a pound of ground sausage, which you can buy in a package like other ground meat, or as links and just remove from the casing. I like using a mild Italian sausage.
Onion – Chopped white onion adds a nice bite when cooked with the sausage.
Garlic – I like lots of garlic with my Italian dishes so I used a whole tablespoon of minced garlic, which is about 3-4 cloves garlic. Feel free to cut it back a little.
Crushed Tomatoes – San Marzano are the best tomatoes when it comes to canned varieties.
Vegetable Broth – Low sodium Chicken broth or beef broth works too, but will alter the flavor a little bit.
Basil – a handful of fresh basil adds a lovely flavor and aroma.
Salt and Pepper – to taste.
Cheese Tortellini – One small package of refrigerated tortellini. It's usually found where the lunch meat and cheeses are found. Frozen or dried pasta will also work, you just may need to add cooking time.
Fresh Spinach – I used two cups, but you can use as much as you like. Kale is a great substitution.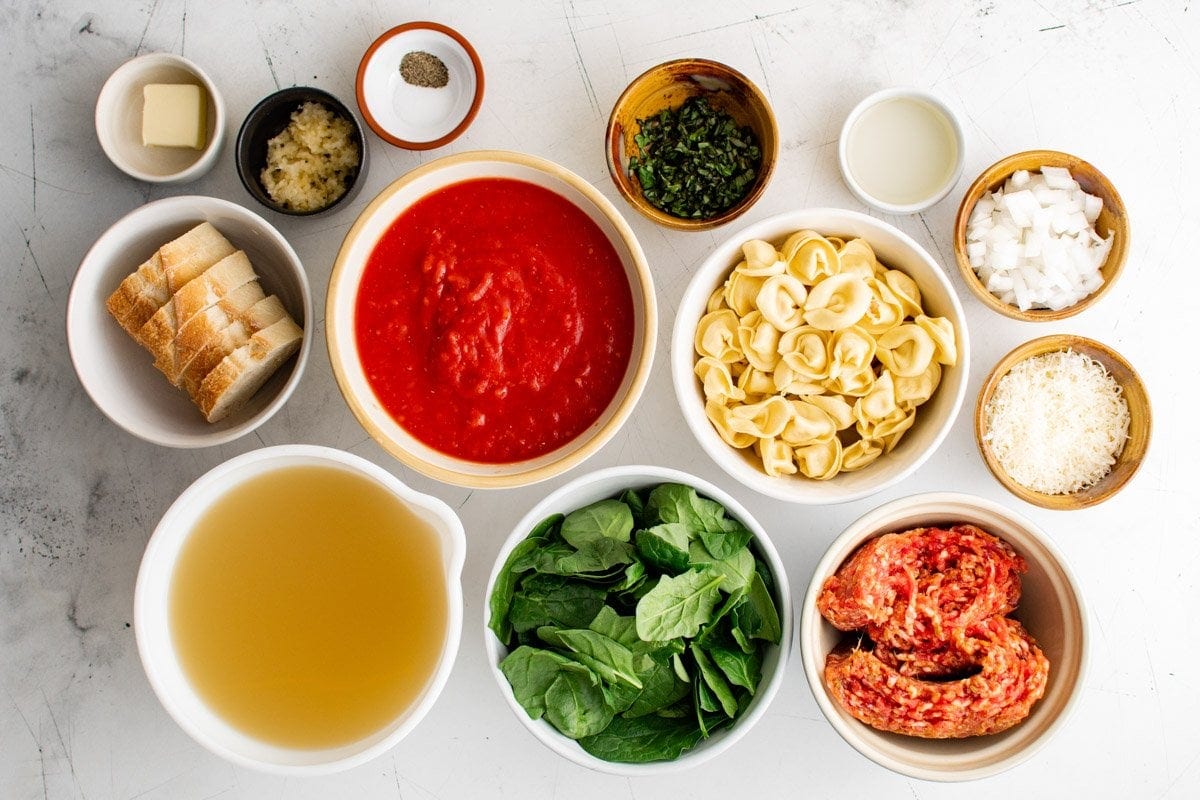 How to Make Tortellini Soup
Get a detailed list of ingredients & instructions in the recipe card below.
I love when I can whip up a super hearty and delicious soup that requires very minimal effort and is ready in less than an hour. Makes me feel good about feeding my family something delicious and comforting, and that has some veggies too.
Cook the Italian sausage. In a large stock pot or dutch oven heat some a small amount of olive oil. Saute some chopped onions and add them to the pot. Saute for a few minutes then add a pound of Italian Sausage and some minced garlic. I use mild but you could use spicy if your family likes that. Cook until the sausage is no longer pink. Sometime I'll add some Italian seasoning or a bay leaf for more flavor.
Make the soup base. Add a large can of crushed tomatoes, vegetable or chicken stock, fresh basil and a bit of salt. I like to add a pinch of sugar to combat the acidic tomatoes as well, but that's a personal choice. Bring the soup to a boil, then cover and reduce the heat to low. Simmer for about 20-30 minutes.
Cook the tortellini. Add tortellini to the pot and cook for a few of minutes before adding the spinach. The pasta will cook fairly quickly, as will the spinach so don't overcook and become mushy.
Add spinach. Add the spinach, cover and turn off the heat. The spinach wilts rather quickly and then you can serve the soup.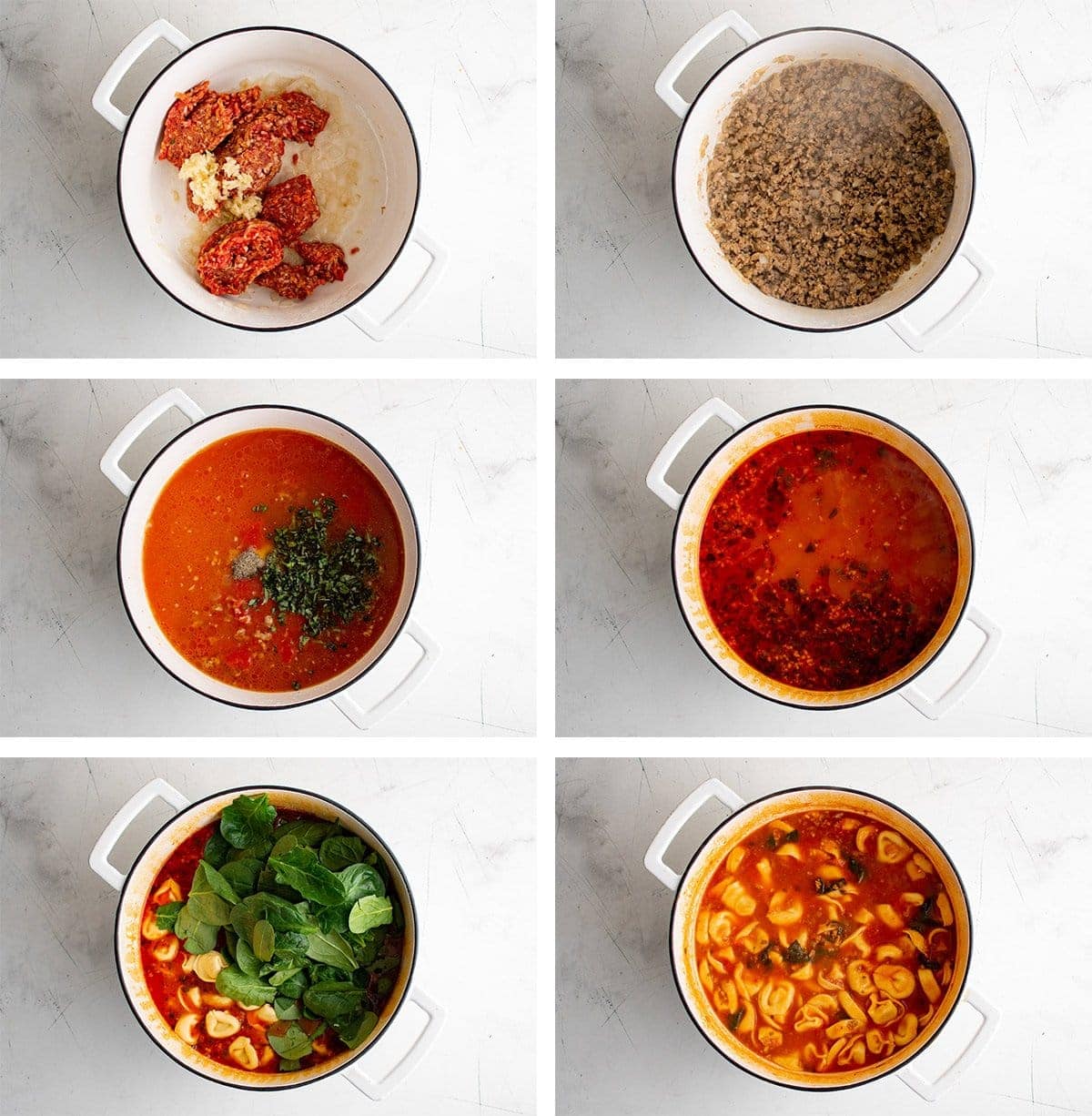 Serving Suggestion: Top your soup with a cheesy crispy crouton!
Slice up a french baguette, butter it and grill in a hot skillet.
Top with parmesan cheese and as the bottom side cooks, the cheese will melt.
Transfer to a plate and add a piece to each bowl when serving, so it can soak up all the tomato goodness.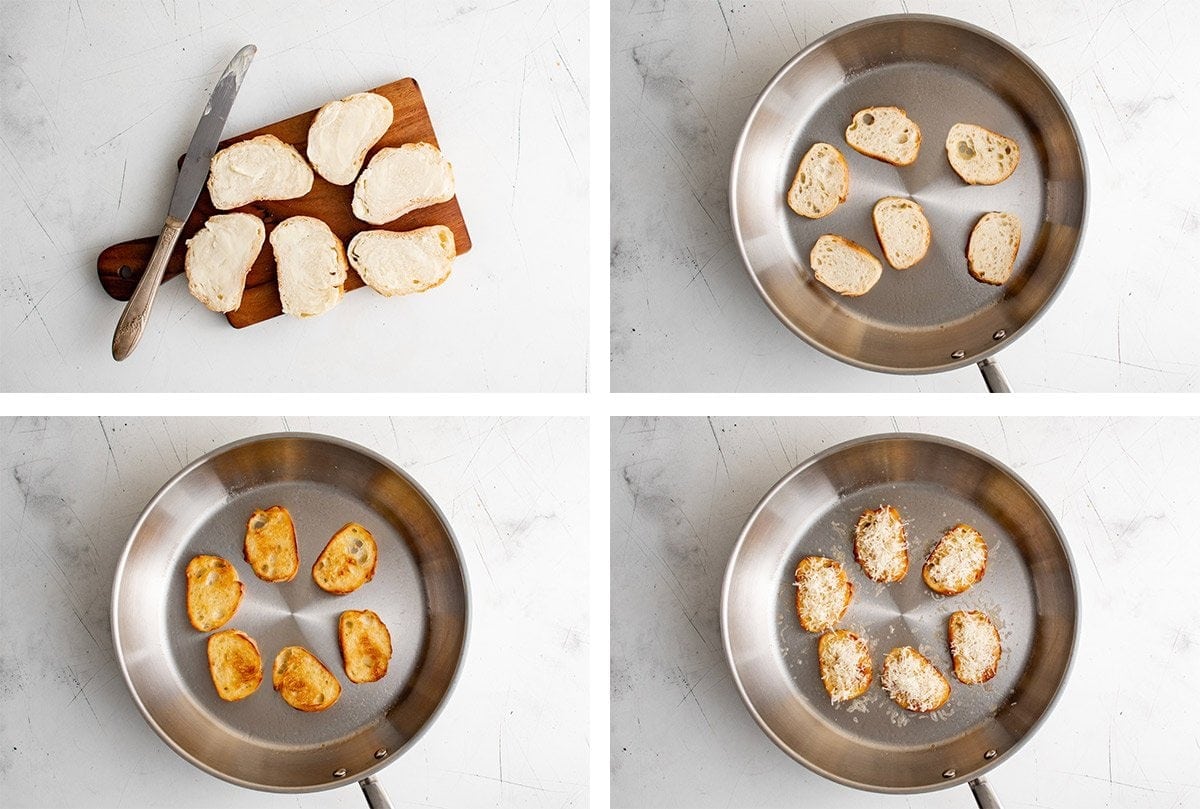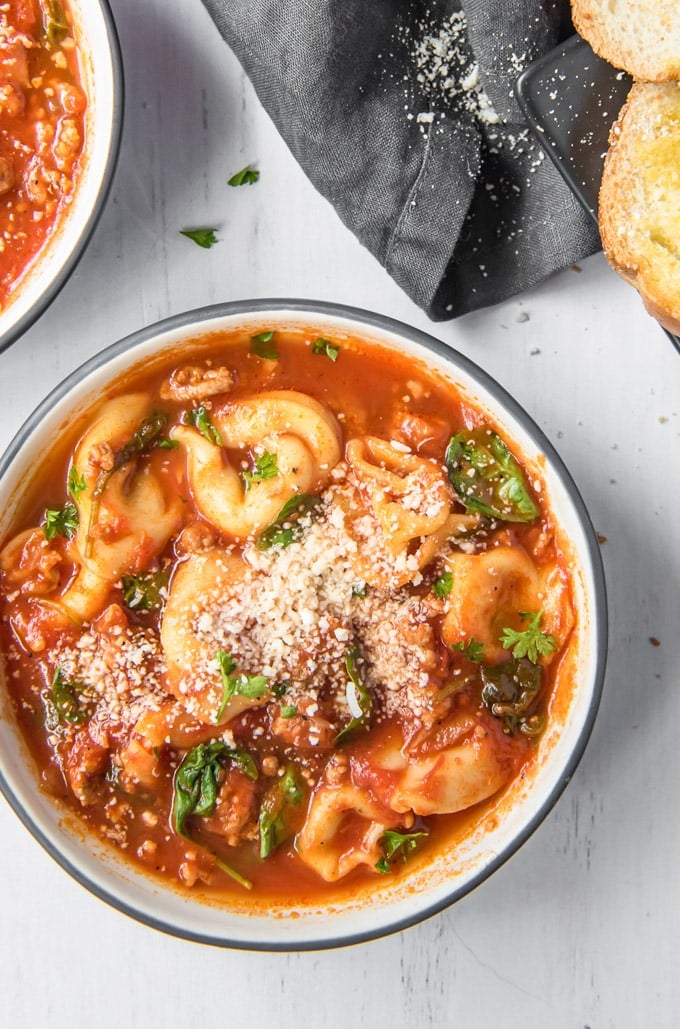 FAQs
Can I use frozen tortellini?
 I get asked this question a lot. The answer is yes you can, but you will need to adjust the cooking time based on the package instructions.

Can you freeze this soup?
Yes, you can freeze this soup before adding the tortellini. Soups in general freeze really well but those with pasta in them do not. The pasta tends to get very mushy as it thaws so I do not recommend freezing it.
Can you double the recipe?
Sure! You'll want to make sure you have a 7-quart pot so it's big enough to hold the soup.
Tortellini Soup Tips and Tricks
We don't like Italian Sausage.

That's totally fine! You can use ground beef, ground chicken, or no meat at all.

We don't like spinach. Leave it out! You do not need to add the spinach to the soup if your family doesn't like it. Likewise, if you love spinach, you could add as much as you like. Some will pour in a whole big bag from the produce department! You could also use kale.
Add some heat:

For a spicier soup, use spicy Italian sausage and add half a teaspoon of red pepper flakes

.
Add more veggies: When you saute the onions, add some carrots and celery too.
How to Store Leftovers
Storage: Store leftover soup in an airtight container in the fridge for up to 3-4 days. Reheat on the stovetop over low heat. Keep in mind that the tortellini may continue to absorb the liquid and become slightly mushy when reheated.
If you plan to have a lot of leftovers I recommend cooking the tortellini separately and just adding a little to each bowl. Store it in a separate container and reheat in the soup.
Freezing: Freeze the tomato soup with the sausage in a freezer bag or other freezer container for up to 3 months, then add fresh tortellini when you cook it. Thaw in the fridge overnight and reheat in a pot on the stove.
Reheating: For best results, reheat in a saucepan on the stove. You can also reheat in the microwave.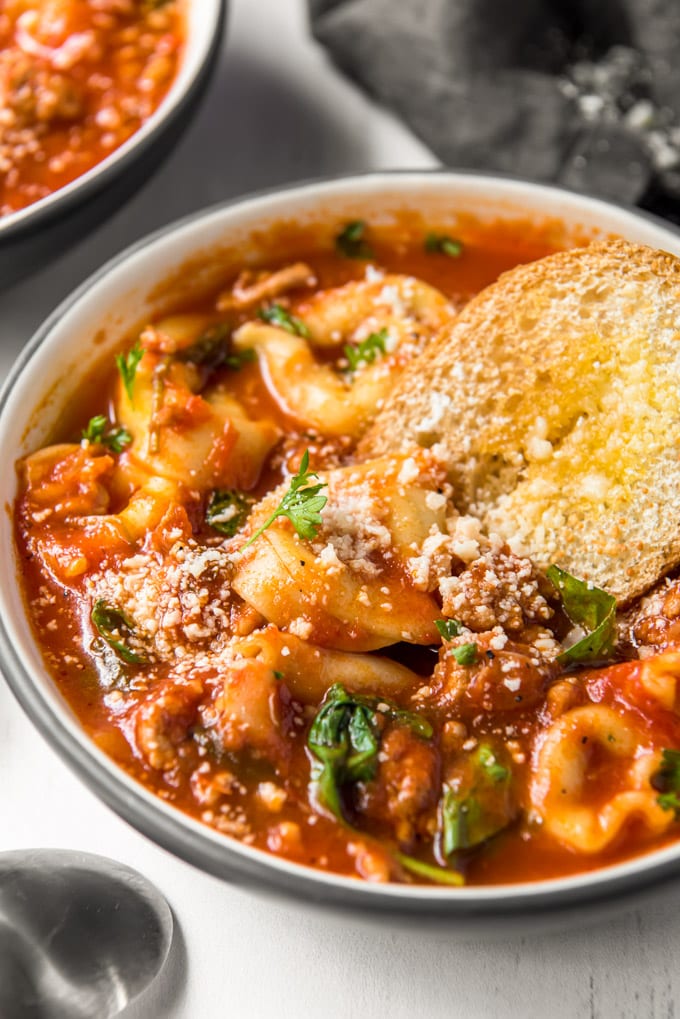 More Delicious Soup Recipes to Try
If you've made this recipe, please come back and leave us a star rating or a comment below. Or, tag us on social media @yellowblissroad or #yellowblissroad for a chance to be featured.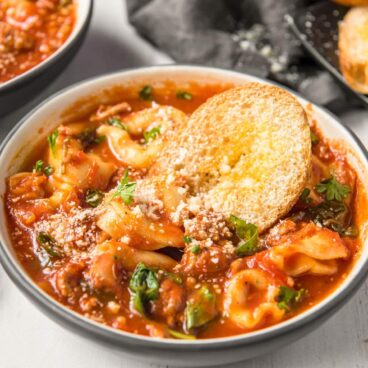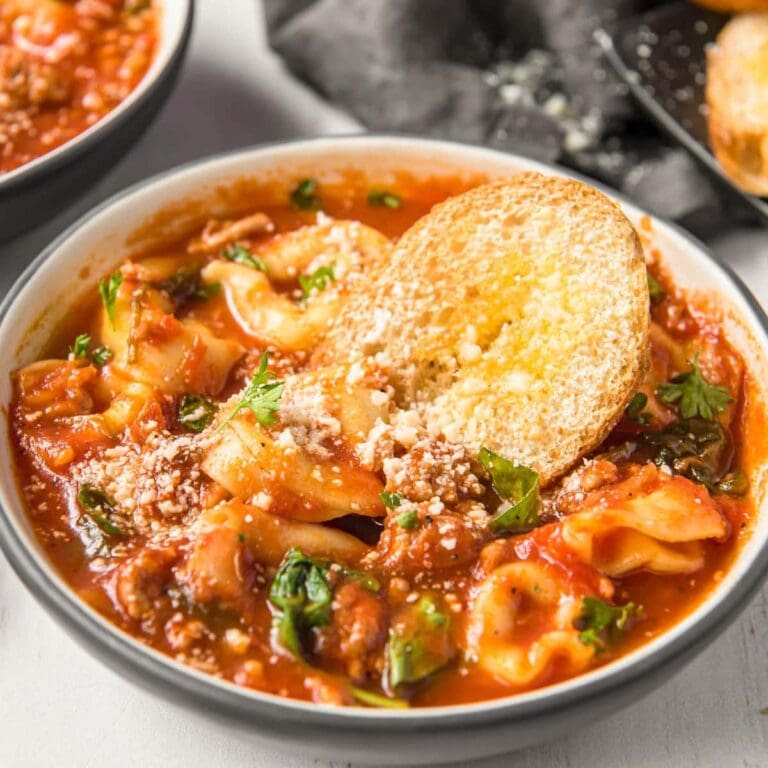 Tortellini Soup with Italian Sausage & Spinach
Tortellini Soup recipe has Italian sausage, cheese tortellini and leafy green spinach in a tomato broth. It's a perfect cozy weeknight soup.
Ingredients
Soup
1

tablespoon

vegetable oil

1

pound

ground Italian Sausage

1/2

cup

diced onion

about ½ medium sized onion

1

tablespoon

minced garlic

28

ounces

canned crushed tomatoes

32

ounces

vegetable broth

chicken works too

2

tablespoons

fresh chopped basil

salt and pepper

to taste

9

ounces

refrigerated tortellini

2

cups

packed fresh spinach
Crostini
6

Baguette slices

(about ⅓ of a baguette)

1

tablespoon

Butter

2

tablespoons

Freshly shredded Parmesan Cheese
Instructions
Soup
Heat a large, heavy bottomed pan over medium-high heat. Heat vegetable oil and add diced onion. Saute until onions are beginning to softed; 3-4 minutes

Crumble Italian Sausage and garlic with the onion. Cook until sausage is no longer pink; about 4-5 minutes. Drain any excess grease.

Stir in crushed tomatoes, vegetable (or chicken) broth, basil, salt and pepper. Bring to a boil, cover and reduce heat to low. Simmer for about 20 minutes.

Add tortellini and spinach and simmer for about 5-10 minutes, or until pasta is tender.

Garnish with shredded Parmesan and serve with a cheesy crostini crouton.
Crostini
Slice baguette into ½ inch thick slices. Butter one side and place butter side down in a hot skillet until golden brown. Flip bread slices over and sprinkle with Parmesan while the other side gets golden brown. Transfer to a plate and immediately cover loosely with foil if cheese has not completely melted.
Notes
For a creamier soup, add a half cup of Greek yogurt or sour cream.
Nutrition
Calories:
534
kcal
Carbohydrates:
40
g
Protein:
22
g
Fat:
33
g
Saturated Fat:
13
g
Cholesterol:
80
mg
Sodium:
1654
mg
Potassium:
669
mg
Fiber:
5
g
Sugar:
9
g
Vitamin A:
1651
IU
Vitamin C:
18
mg
Calcium:
165
mg
Iron:
4
mg