23 Best Casserole Recipes
A good casserole recipe can be a lifesaver on a busy night when the last thing you want to do is cook. From dinner to breakfast, these meals are are simple, delicious and easy to make ahead or freeze for later.
I have a long list of recipes that I make on a regular basis, like my crowd favorite Mexican Chicken Casserole. They are all super easy and real crowd pleasers, which is important in my picky family! Busy families need easy recipes, so I've got a delicious list of simple classics and new favorites that your whole family will enjoy.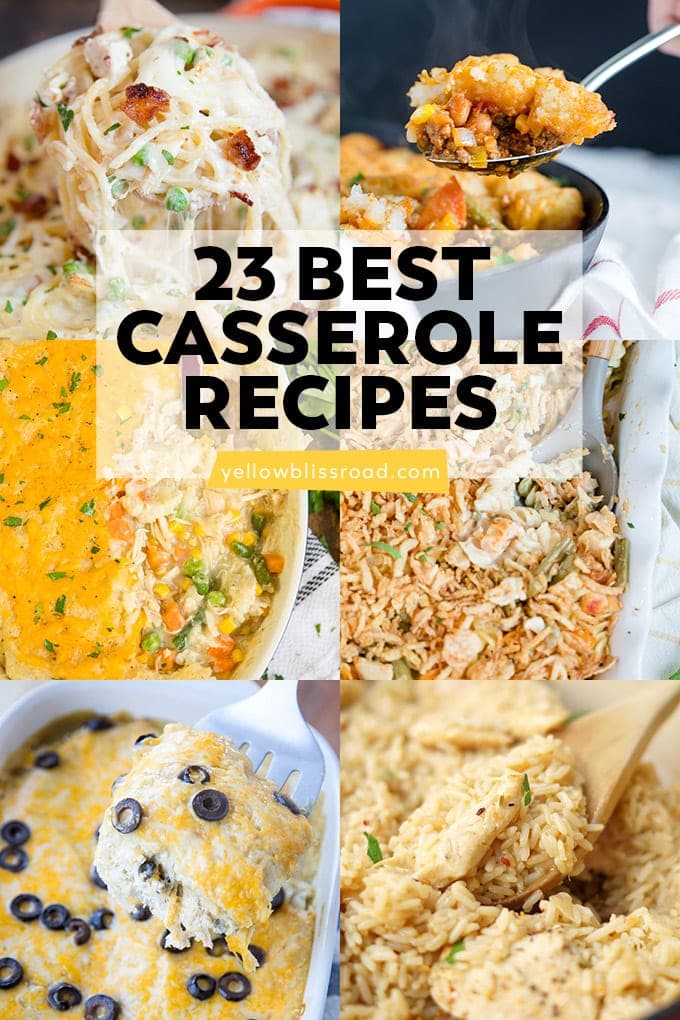 THE BEST CASSEROLE RECIPES
WHAT ARE THE THREE MAIN PARTS OF A CASSEROLE?
Protein. This is the main ingredient in the dish, and provides the base for the recipe. It can be meat like chicken, turkey, ground beef, fish or pork, or cheese in shredded or cubed form.
The second component helps to thicken and dish and make it a little more substantial; usually a starch like potatoes, rice or pasta.
Finally a casserole needs a binder, or something to hold it together. Often this is a thickened sauce or gravy, eggs or a cream soup.
DO YOU HAVE TO COOK A CASSEROLE BEFORE FREEZING IT?
One of the brilliant things about these baked meals is that you can make it and freeze it to cook at a later date. This is why people love to make them for friends in need you can prep it and drop it off and they can cook it when they are ready. But do you need to to cook that casserole before freezing it?
Casseroles with a lot of liquid, or creamy sauces will be best baked and then frozen.
If the casserole starts out fairly dry, then overcooking by baking, freezing, then baking again can make the dish less than desirable.
It's important to remember that meats used in a casserole recipe should be cooked first.
HOW TO FREEZE A CASSEROLE
The best way to freeze a casserole is to bake it first, let it cool completely, then stick it in the freezer. There are a few ways you can do this:
Freeze the casserole in the same pan you cooked it in. For this method I recommend using a disposable foil pan since you may not want to put your favorite casserole dish in the freezer for a month. This is also handy for delivering to friends.
If you don't want to leave the casserole in the pan in the freezer, flash freeze for easy storing. Let the casserole cool after baking, then stick it in the freezer. Once it's completely frozen, pop it out of the dish and wrap it in foil and plastic wrap, then in foil again to prevent freezer burn. If it will fit, slide the frozen meal into a freezer bag. Don't forget to label everything!
To reheat, unwrap and place it back into the dish you cooked it in, let it thaw in the fridge overnight, then bake again until warm and bubbly.