Delicious, hot, fresh pizza is ready in a flash with the help of your air fryer. Customized with all your favorite toppings, this Air Fryer Pizza is prepared in just 20 minutes.
Serve air fryer pizza as an after-school snack, make individual pizzas for pizza night or whip one up quick as a midnight snack. To make it a super simple meal, add a Caesar Salad or Veggie Tray on the side.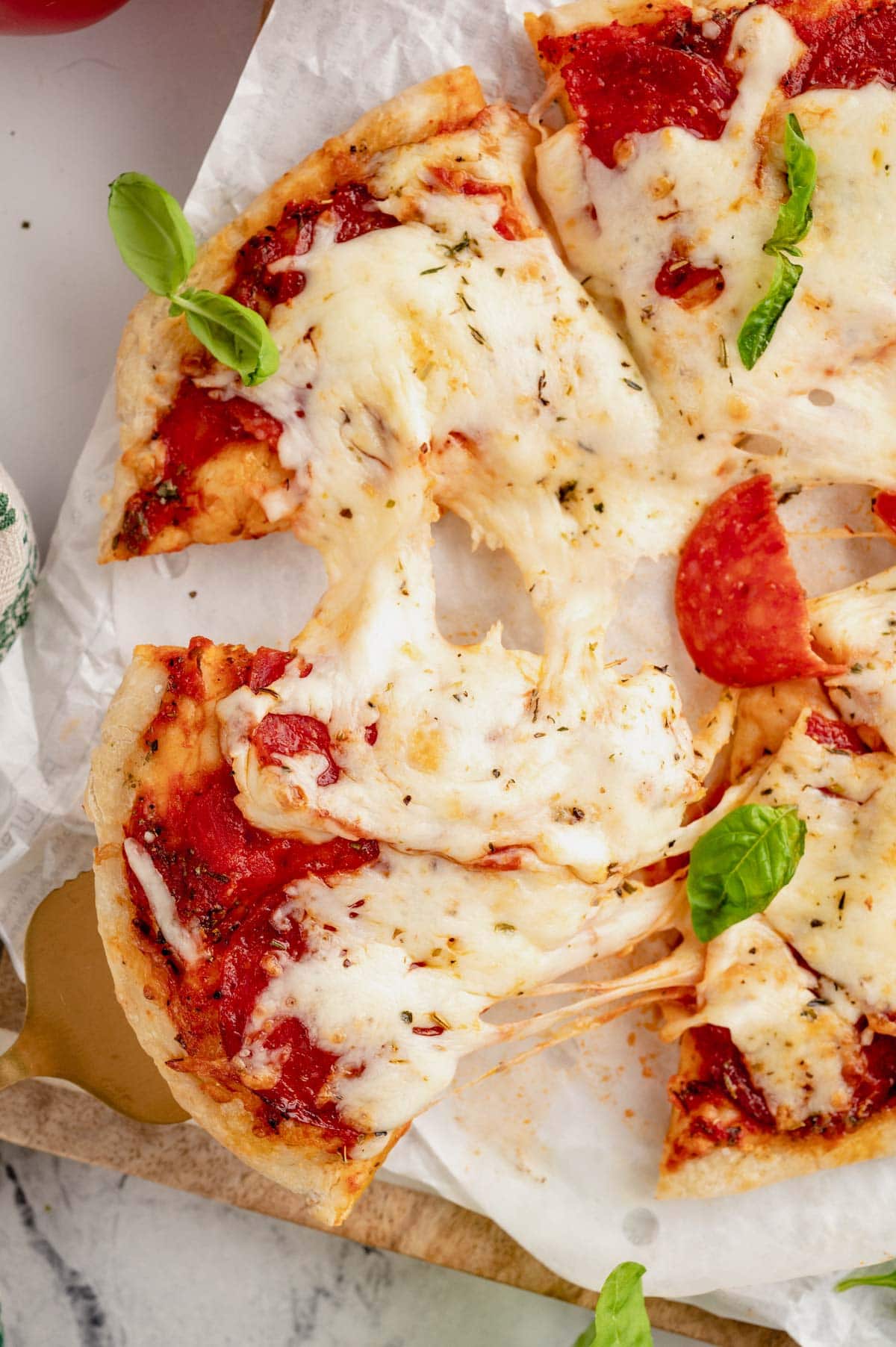 Pin this recipe for later!
Why I Love This Recipe
Who wouldn't love having their own personally customized pizza?
No phoning the local pizza place or messing with online ordering.
The crust is chewy and crispy while the sauce and toppings are just right… because you picked them yourself!
No need to heat up your kitchen by turning on the oven!
Ingredients For Air Fryer Pizza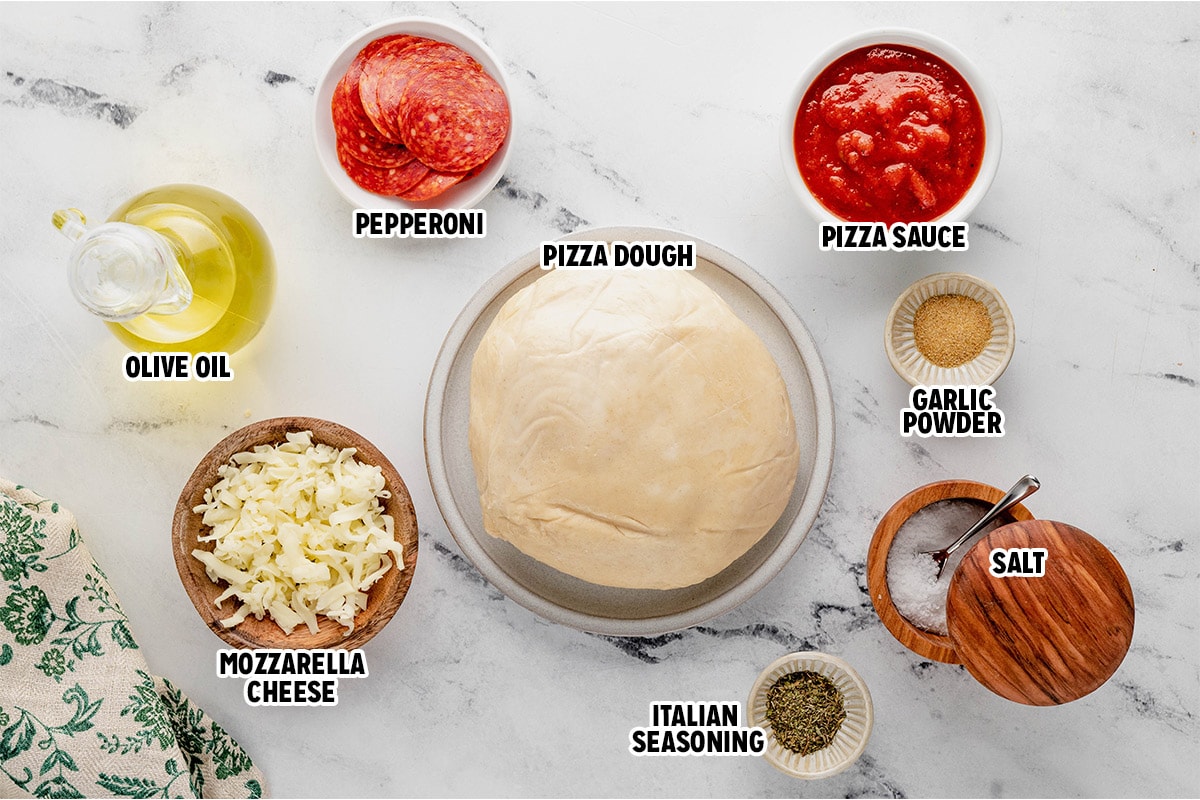 Pizza Dough – You need one 16-ounce ball of prepared refrigerated or frozen (and thawed) dough. Or if you want to make it from scratch, you can do that too.
Canola or Olive Oil – for brushing on the dough; helps to give it a golden, crisp exterior. You can also spray your dough with non stick cooking spray before cooking instead of brushing with oil.
Pizza Sauce – Easy to find in the same aisle as the spaghetti sauce. You could also use spaghetti sauce or marinara sauce.
Mozzarella Cheese – Freshly grated will melt the best. Pre-grated cheese has a coating that helps keep it from sticking in the bag but also prevents proper melting.
Toppings – I used pepperoni for my example here, but you can add any toppings you like.
Seasonings – Garlic powder, Italian seasoning and salt. All optional and easily customizable.
How To Cook Pizza in the Air Fryer
See recipe card below for ingredient quantities and full instructions.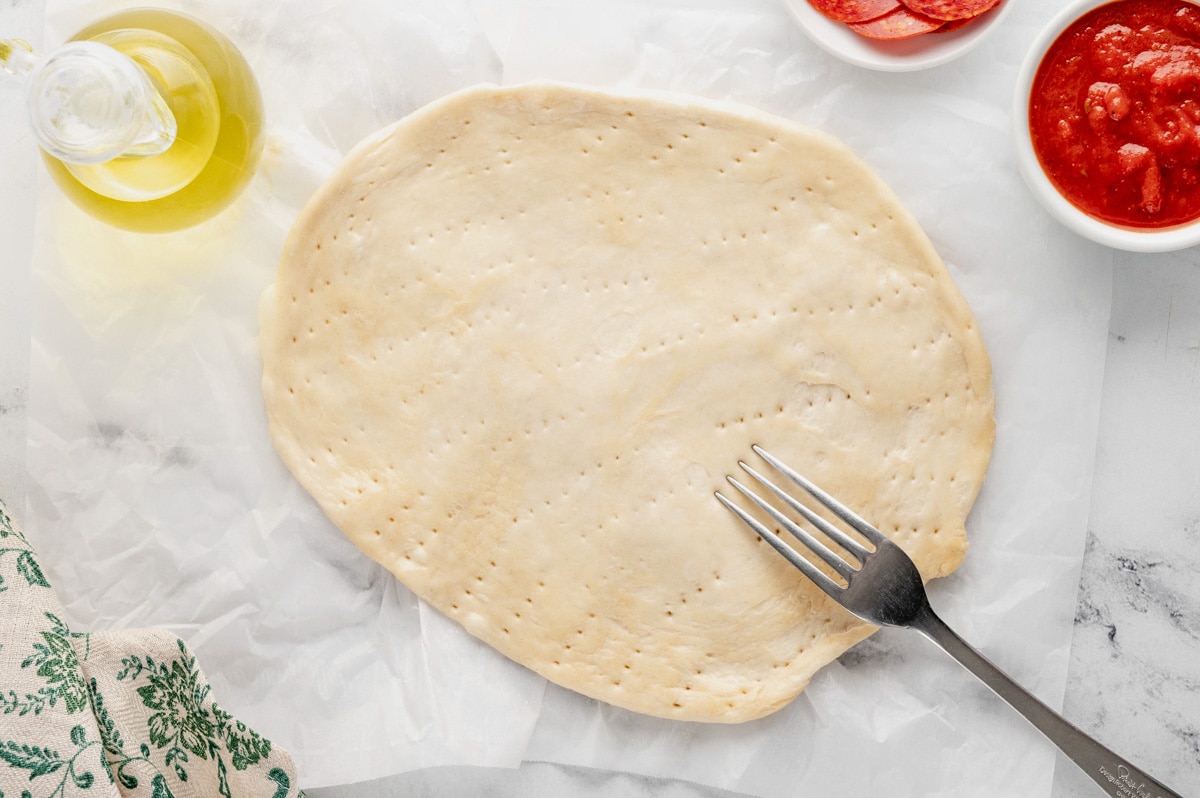 Form the dough. Divide the dough into 2-3 portions and stretch each piece of dough to a 1/4″ thick crust that will fit into your air fryer basket. "Dock" the pizza dough with a fork (prick holes into the dough).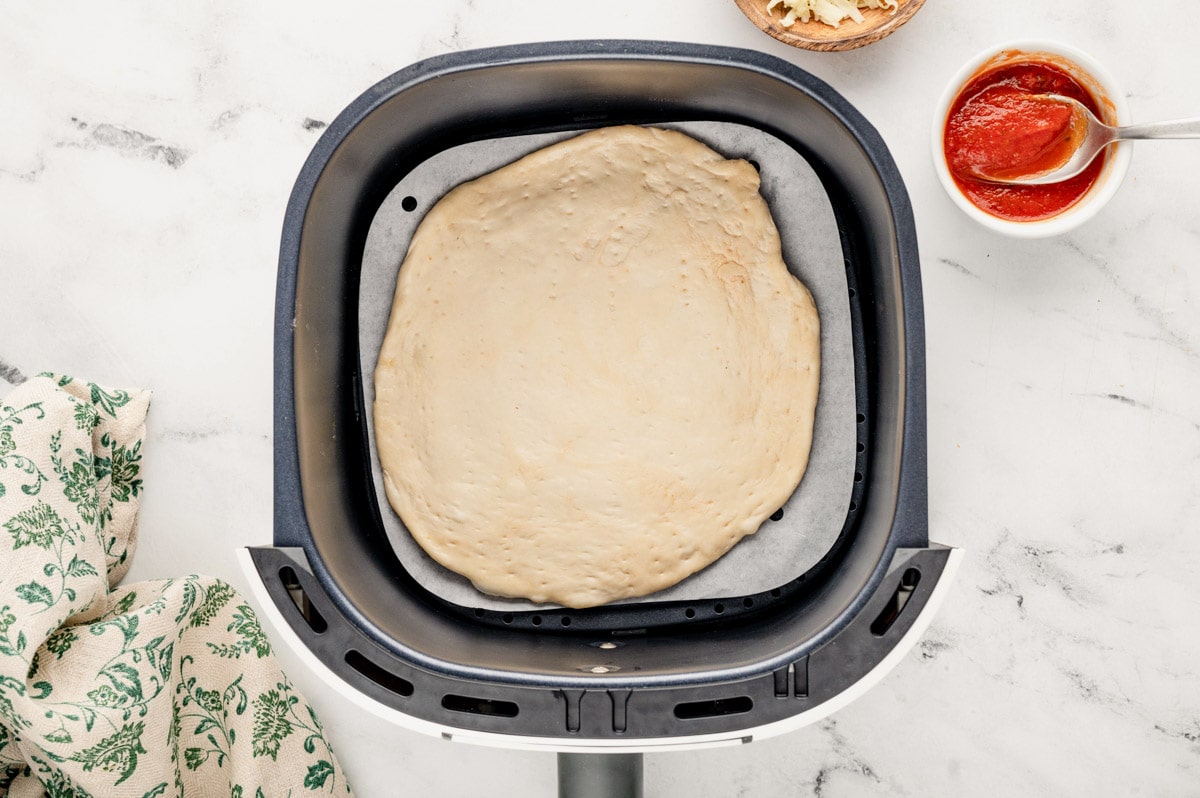 Air Fry the Crust: Similar to a par-bake, you will need to par-bake the crust before adding toppings. Brush the dough with oil and place it in the basket. Air Fry for 7-8 minutes, flipping once.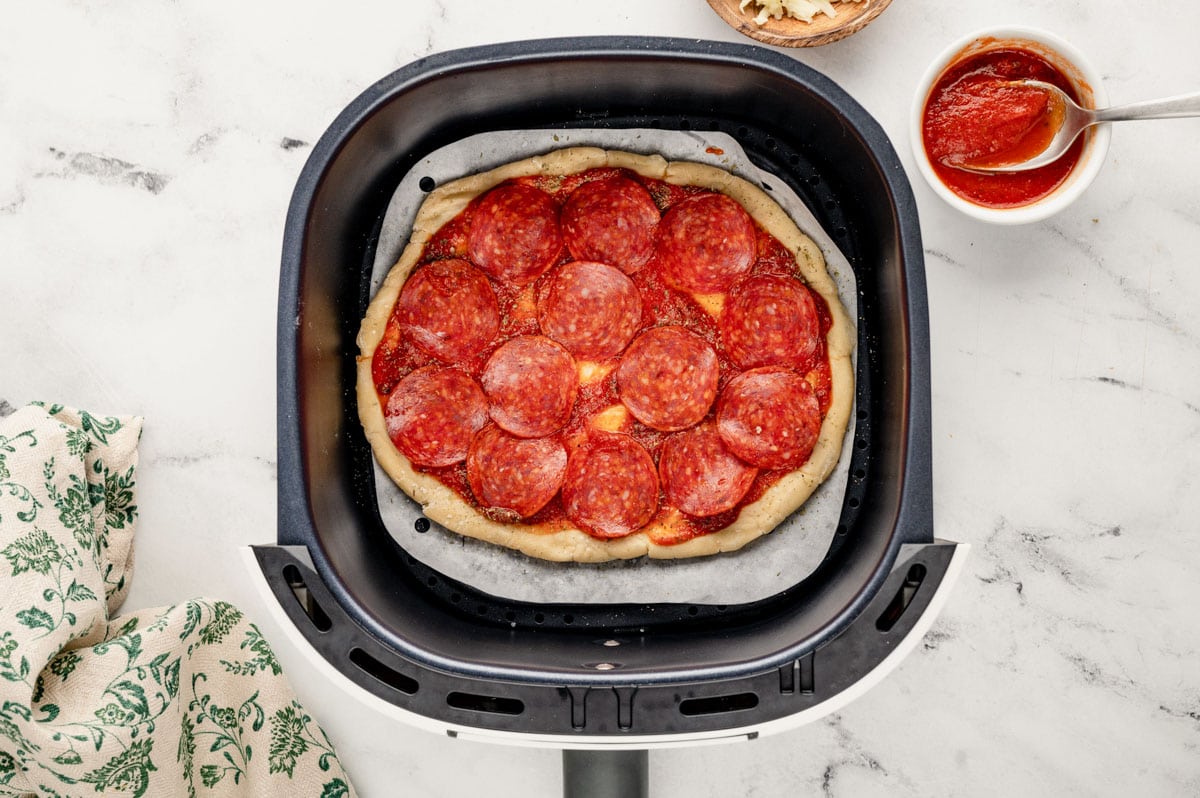 Add Toppings: Spread pizza sauce onto the crust, then top with pepperoni or other toppings of your choice.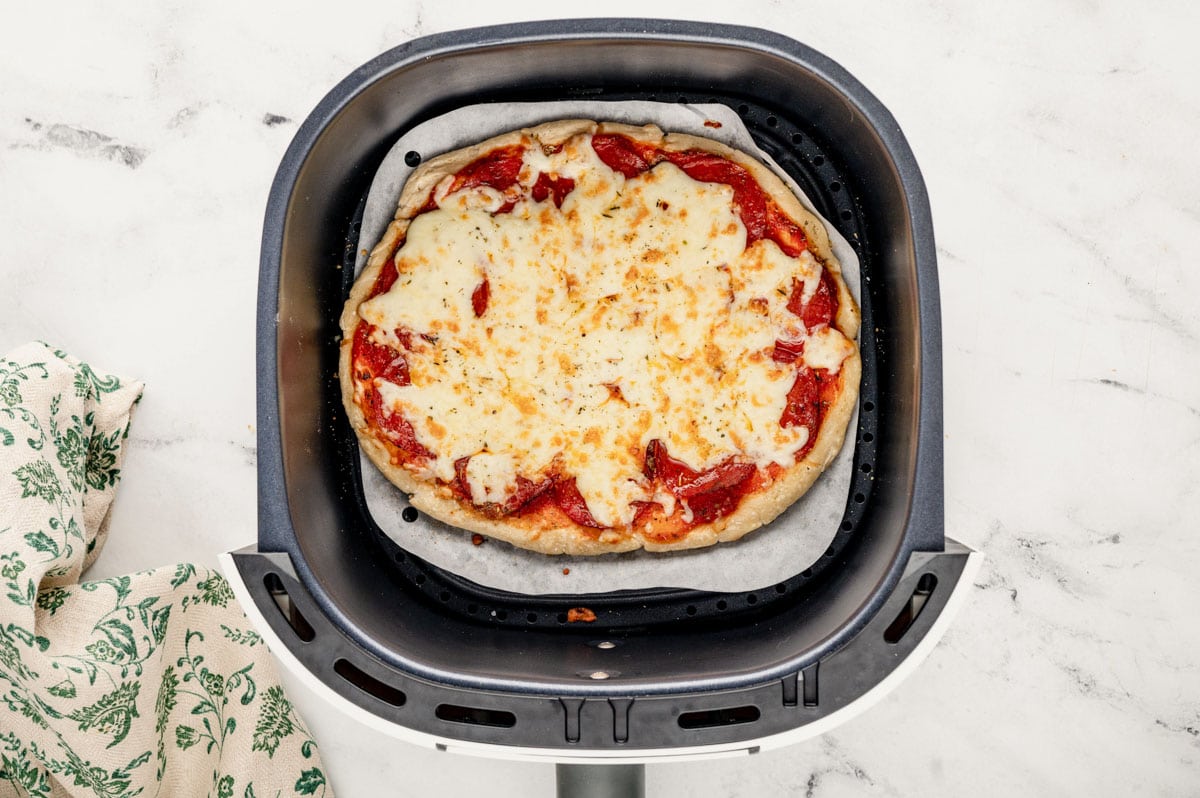 Add Cheese and Melt: Sprinkle cheese on top and air fry again for a few minutes, or until the cheese is melted and starting to turn golden brown.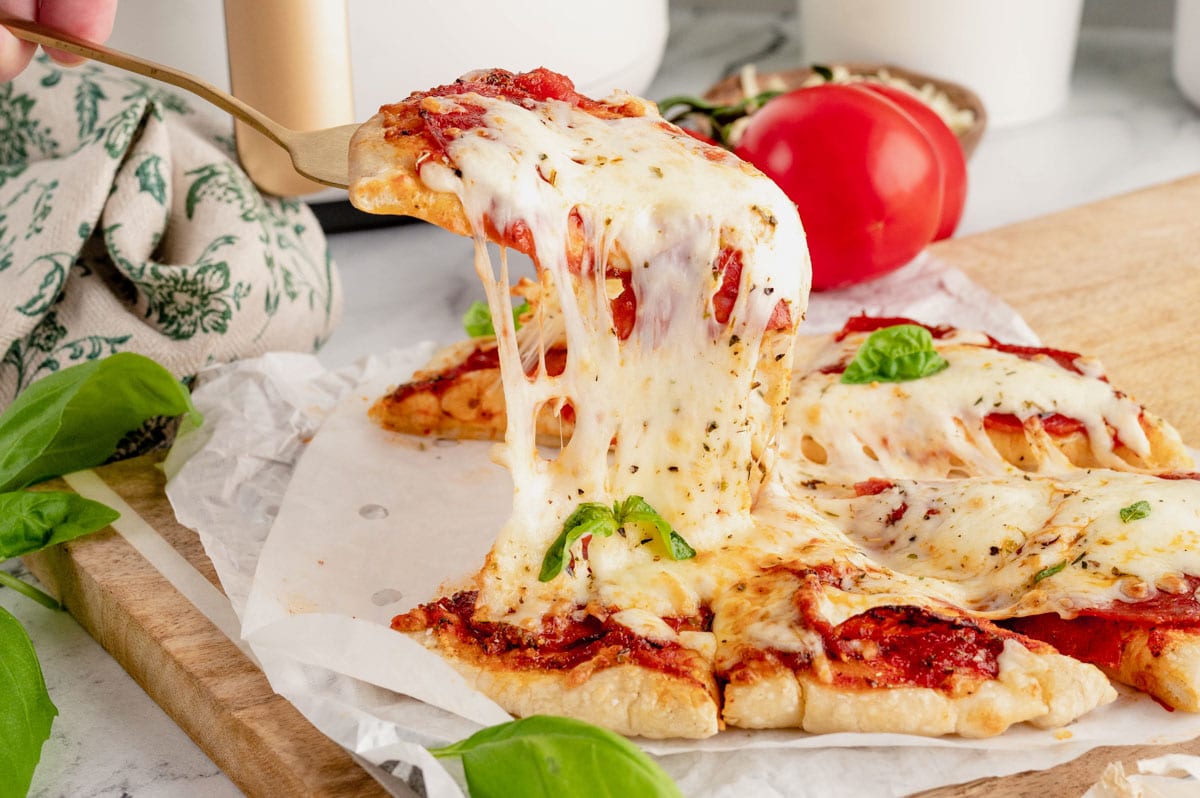 Cool and Serve. Let cool for a few minutes, then slice and serve. Top with fresh basil if desired.
Toppings Tip
It's important to place light ingredients like pepperoni UNDER the cheese. The force of the air inside the air fryer will blow around these toppings. Top your pizza with any toppings that you like.
Recipe FAQs
Can I use homemade dough?
Absolutely! If you have a recipe you love, feel free to use that. Or use the easy recipe from my Sheet Pan Pizza.
Where do you get fresh pizza dough?
Most grocery stores sell frozen balls of pizza dough, and some sell refrigerated fresh yeast dough as well. You can also get fresh dough from your local pizza shop and keep it in your freezer.
How long does it take to cook pizza in an air fryer?
The cook time can vary depending on a variety of factors, like the make and model of your unit, or the thickness of your dough. In general it takes about 12-14 minutes for one personal size pizza.
Does pizza get crispy in the air fryer?
One of the best things about air frying pizza is the crispy crust! Whether you are cooking from scratch or reheating a slice, the bottom of your pizza will get nice and crispy as it cooks.
Storage
Store any leftover pizza in a resealable plastic bag or airtight container. Reheat in the air fryer, microwave, or enjoy it cold!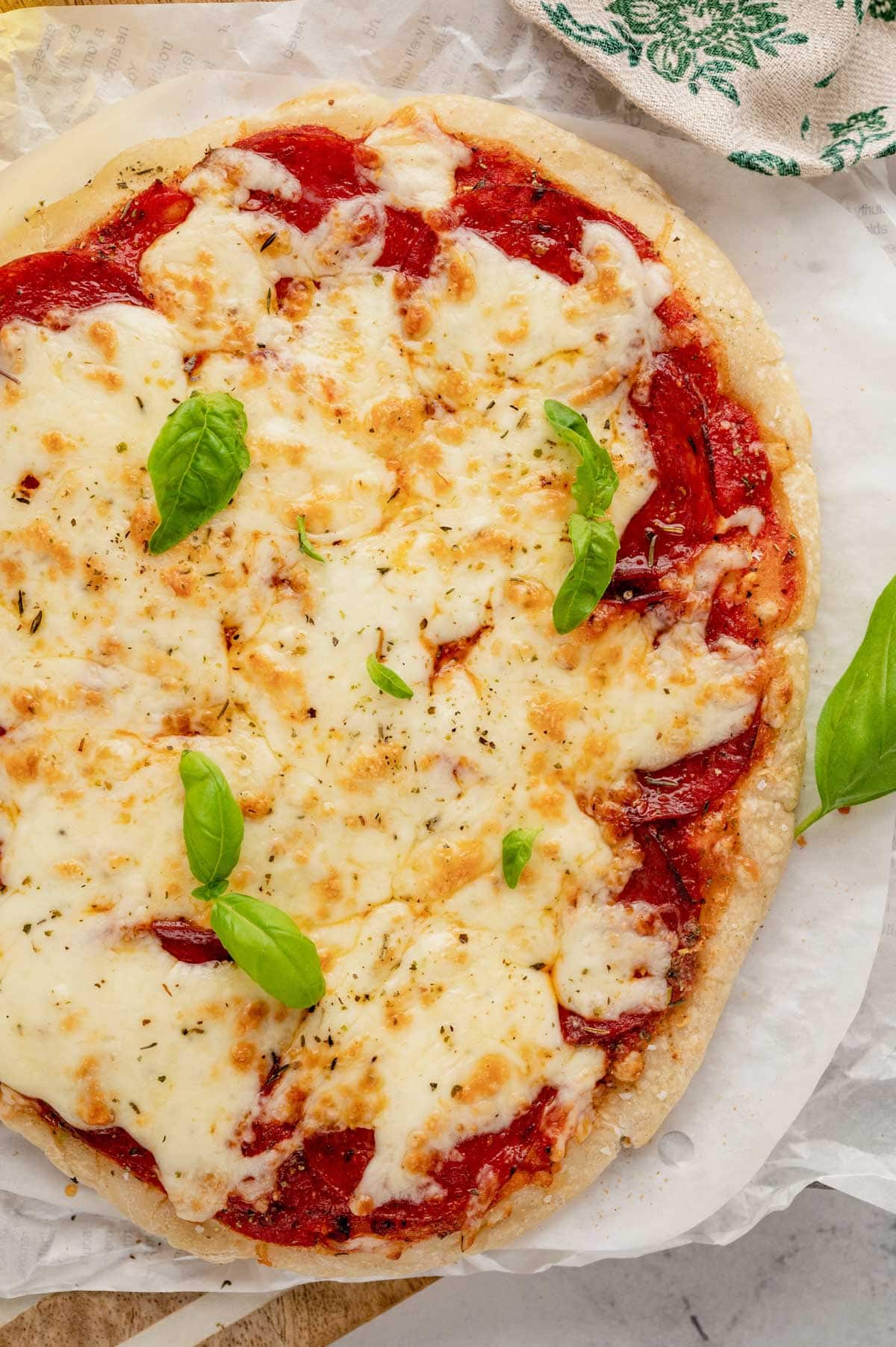 Helpful Tips
Frozen pizza dough takes about 4-6 hours to thaw in a warm kitchen, or overnight in the refrigerator, so be sure to add thawing time.
To help keep your air fryer clean, line it with parchment paper. Special parchment paper for air fryers can be purchased on Amazon, where they come in all shapes and sizes for various models, and help keep your air fryer clean.
Countertop oven style air fryers may need a higher baking temperature and longer cooking time to achieve a fully baked crust, and browned cheese.
Do not skip pre-baking the crust, your toppings will burn before the crust is cooked through.
All air fryers will cook differently, it's important to watch your pizzas carefully.
More Air Fryer Recipes
Recipe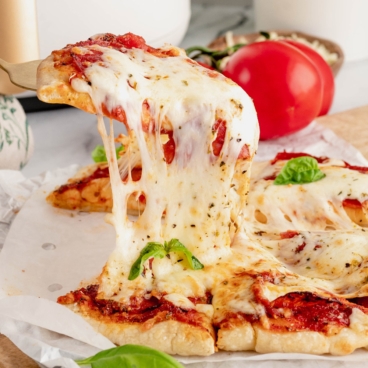 Air Fryer Personal Pizza
Pizza is ready in a flash with the help of your air fryer. Customized with your favorite toppings, Air Fryer Pizza is ready in 20 minutes.
Ingredients
16

ounce

ball frozen or fresh pizza dough

thawed

Canola or olive oil

1

jar

pizza sauce

Grated mozzarella cheese

Thinly sliced pepperoni

Salt

1

teaspoon

garlic powder

1

teaspoon

Italian seasoning
Instructions
Preheat air fryer to 370℉ for 3 minutes.

Divide dough into 2 or 3 equal portions. A 16 ounce dough ball will make about 3 personal sized pizzas.

Use your hands to gently stretch the dough until it's less than ¼" thick and roughly the size of your air fryer basket, using a heavy rolling pin to assist if needed.

Brush both sides of dough with oil, poke all over with a fork and season with salt. Place in the air fryer basket. (Line first with air fryer parchment paper, if using.)

Air fry for 7-8 minutes, flipping the crust over after 4 minutes, or until crust is blonde and cooked through. Check the dough a few times to prevent over browning.

Keeping the dough in the air fryer basket, spread 2-3 tablespoons of sauce on the dough and sprinkle with a pinch of Italian seasoning and garlic powder. Top with pepperoni or toppings first, then a handful of cheese (about 1 cup). Air fry for 4-6 minutes more, or until cheese is melted and beginning to brown. It's ok to open the air fryer to check on the pizza.

Carefully remove from air fryer. Let cool for a couple of minutes before serving.
Notes
It's important to place toppings UNDER the cheese so they don't blow around the air fryer.
Frozen pizza dough can take up to 4-6 hours to thaw, so be sure to add that into your prep time.