Homemade cookies are definitely a favorite around our house, and the quicker, the better! These Carrot Cake cookies only took about fifteen minutes, from start to finish – and that includes baking time!
Carrot Cake Cookies are the perfect Easter treat, because everyone knows that the Easter bunny loves carrot cake, almost as much as he loves Layered Peeps Treats!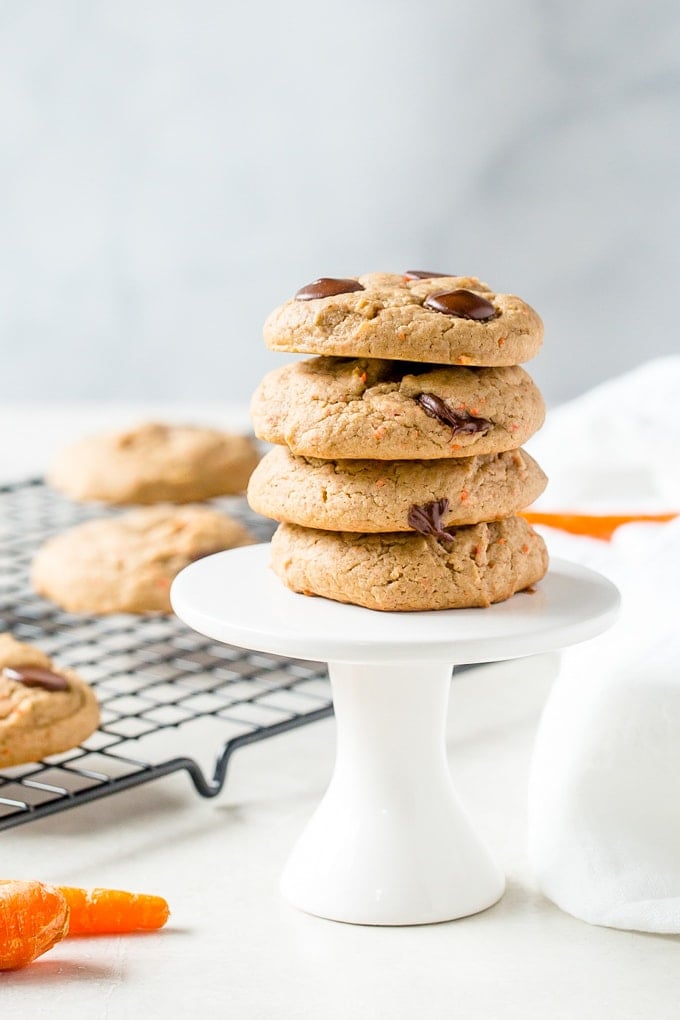 When these cookies were fresh out of the oven, my kids came running into the kitchen after their baths, exclaiming "I smell cinnamon!" and were pretty excited that they got to have cookies for snack. They are the best taste tasters after all.
Cake Mix Carrot Cake Cookies
The Carrot Cake cookies are soft and chewy in the center and just slightly crunchy on top. So delicious – I may never bake cookies from scratch again!
How To Make Carrot Cake Cookies from a Cake Mix
Preheat your oven so the cookies will bake evenly and at the same temperature the entire time.
Pour the cake mix into the bowl of a stand mixer and add a couple of eggs and half a cup of vegetable oil. Mix at low speed to blend slightly, then at medium speed for about a minute. You don't want to beat the mix, just stir it together enough to incorporate all of the dry ingredients.
Using a silicone spatula or wooden spoon, fold in any mix-ins, like raisins or chocolate chips.
Drop the dough by rounded tablespoons onto the baking sheet and bake for 11 minutes, or until cookies are golden on top. Add a few chocolate chips to the tops as they come out of the oven – they will melt into the cookies – so yummy!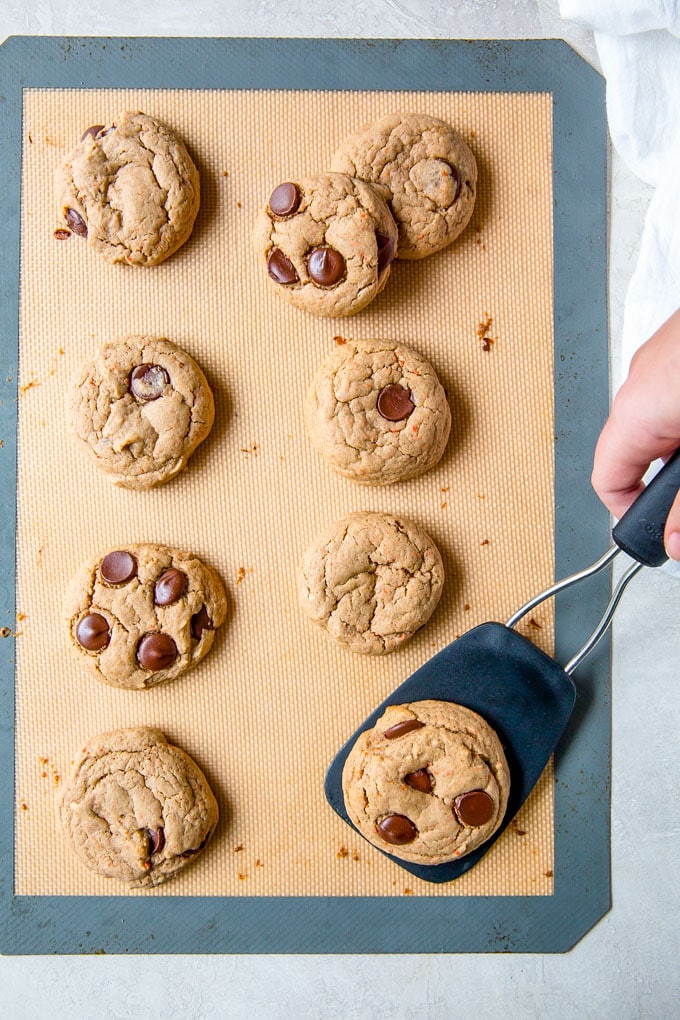 How To Store Cake Mix Cookies
Store cooled cookies in an airtight container for up to a week. You do not have to keep them in the refrigerator, but they may stay fresh a little longer if you do. Just let them sit out for 15 minutes before serving them.
They kept really well. I put them in a Tupperware container and they were still soft after six days.
Can you freeze Cake Mix cookies?
Absolutely! You can freeze just about any cookie, and cake mix cookies are no exception. Place cooled cookies in an airtight container or freezer bag. Store in the freezer for up to 6 months. You could probably keep them for up to a year, but they wouldn't be as fresh tasting.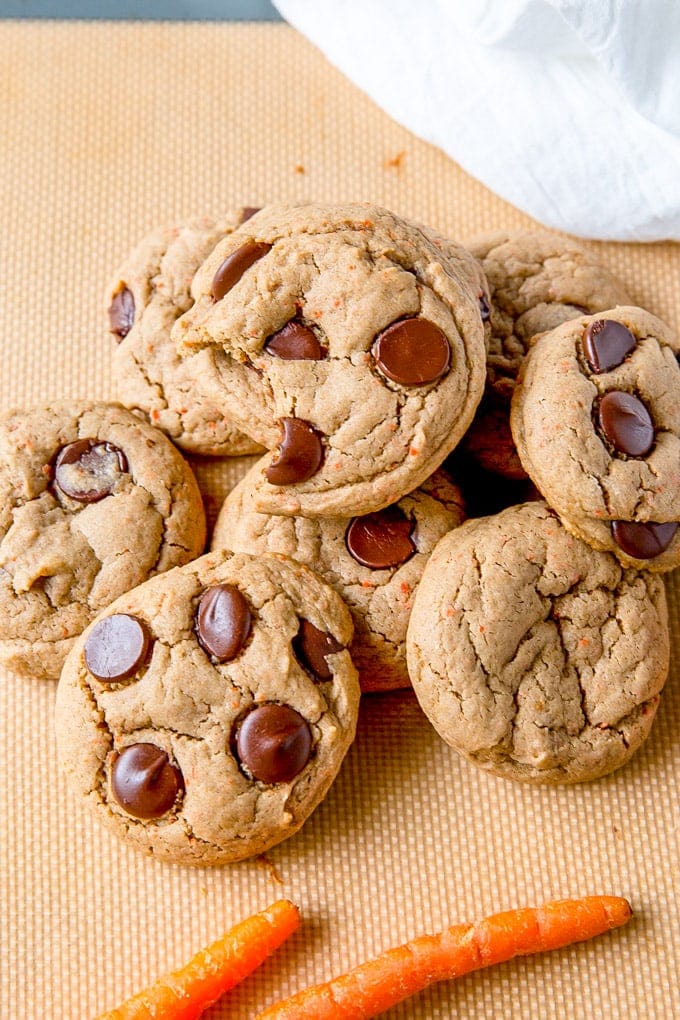 For more springtime treats, try these:
More cookies to try: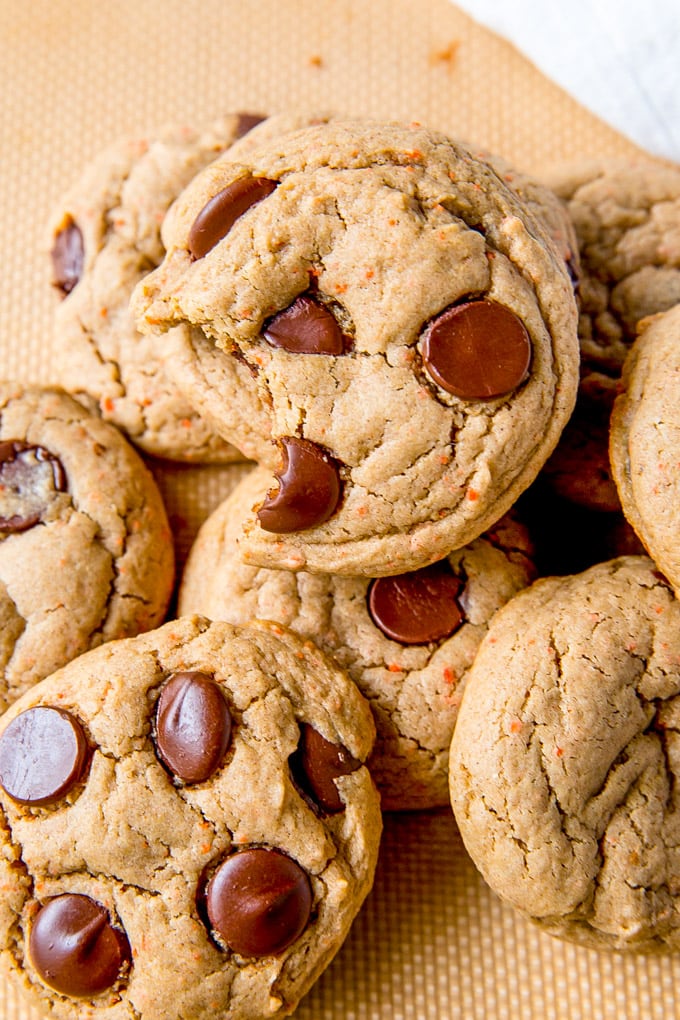 Recipe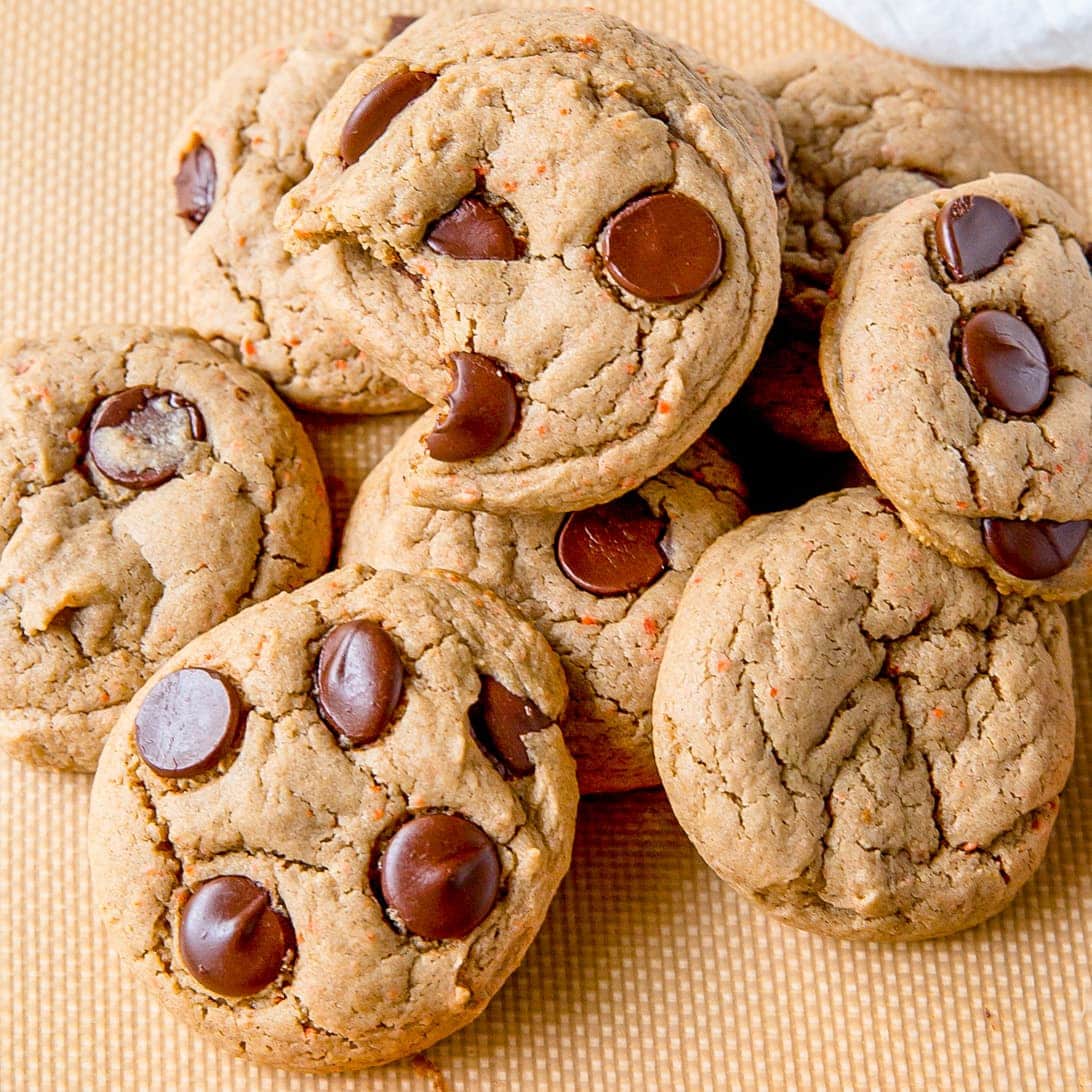 Easy Carrot Cake Mix Cookies
Carrot Cake cookies are moist and tender, and only take about 15 minutes to make! Fill them with chocolate chips for the perfect Easter Cookie!
Ingredients
1

box

Carrot Cake Mix

15.25-ounce

2

eggs

1/2

cup

oil

1

cup

of mix-ins

chocolate chips, raisins, nuts - optional
Instructions
Preheat oven to 350 degrees F. Line 2 large baking sheets with parchment paper and set aside.

Using an electric mixer, mix ingredients on low speed for 30 seconds, then on medium speed for a minute. The batter will be thick; just make sure that all of the cake mix has been incorporated.

Drop by rounded tablespoons onto a baking sheet. Press down slightly with your fingers to flatten.

Bake in the preheated oven for 11-12 minutes. Allow to cool for a couple of minutes before transferring to a cooling rack.
Notes
I added half a cup of raisins and half a cup of chocolate chips - because everything's better with chocolate!

Once cooled, store in a tightly sealed container for up to 6 days.
Nutrition
Calories:
151
kcal
Carbohydrates:
21
g
Protein:
1
g
Fat:
7
g
Saturated Fat:
2
g
Polyunsaturated Fat:
1
g
Monounsaturated Fat:
3
g
Trans Fat:
1
g
Cholesterol:
15
mg
Sodium:
156
mg
Potassium:
18
mg
Fiber:
1
g
Sugar:
12
g
Vitamin A:
20
IU
Calcium:
49
mg
Iron:
1
mg