Zesty Italian Pasta Salad is super easy to throw together when you don't have a lot of time, but packs a powerful flavor punch worthy of any summer barbecue or potluck. This dish is endlessly customizable to your specific tastes and needs, and you can make it a meal by tossing in your favorite meat. Chicken? Great. Pepperoni. Even better. You decide!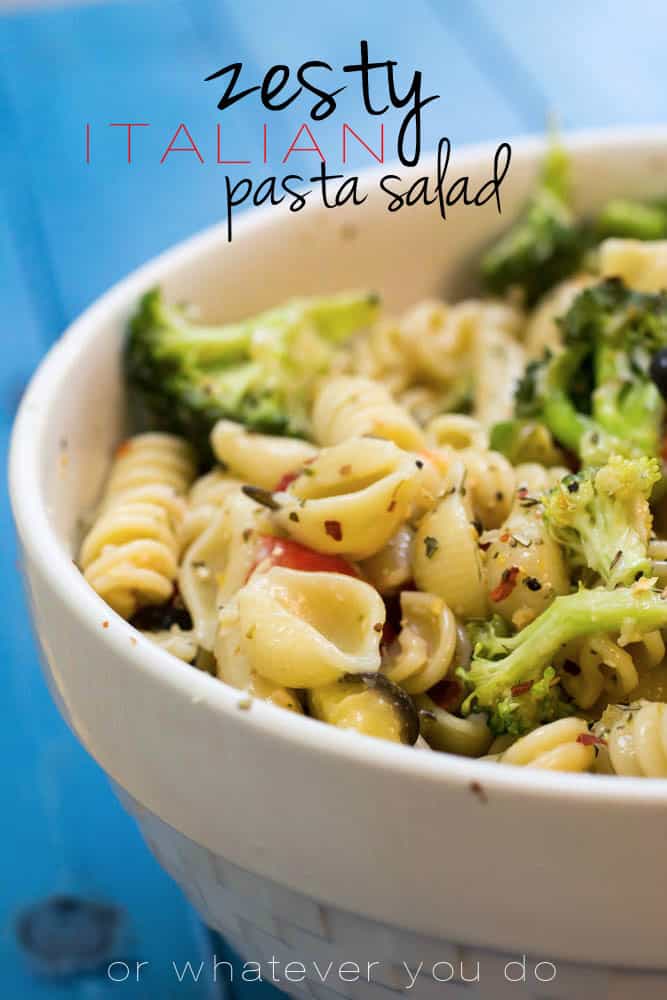 Hi there! I'm Nicole from
Or Whatever You Do
, and I'm so happy to be here guest posting for Kristin! I've been blogging for five years now, I work in the Customer Success department at CoSchedule.com, and love ALL things blogging. I've got a houseful of kids running around, and love to cook from scratch. That doesn't always happen though, due to the houseful of kids – so my blog focuses on comfort-style family foods and varies from the totally homemade, to the more convenience-type meals.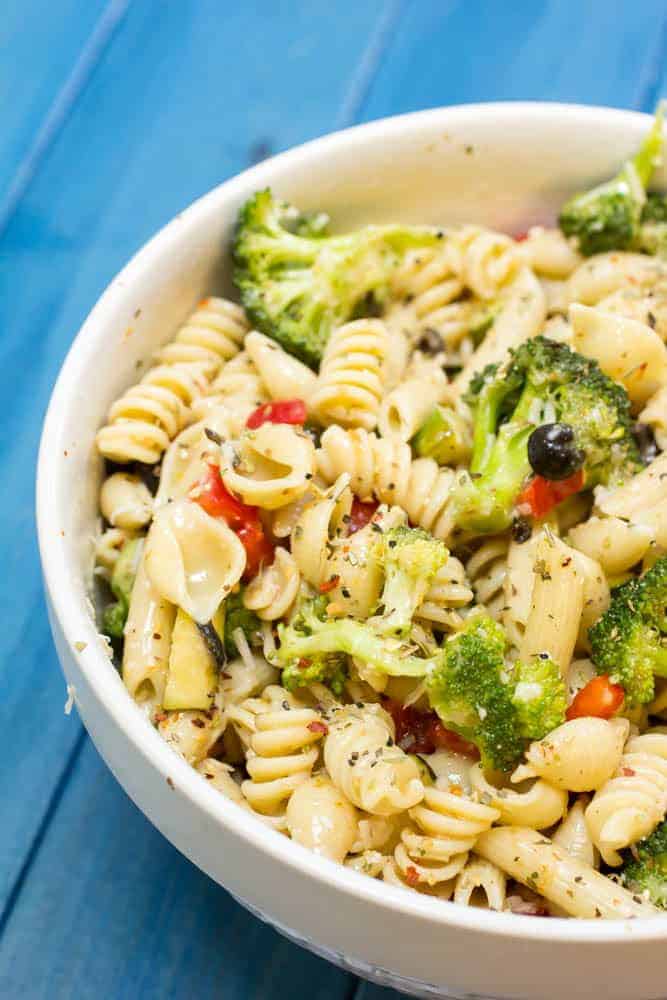 I am so excited for summer to FINALLY be here. My kids just got out of school last week, and its already been a great start to the year. They spent the week playing outside, playing video games, and enjoying the chance to sleep in and relax a bit – totally unscheduled.
I'm off to a conference today in Chicago, and currently super thankful for in-flight WIFI! Three hours of uninterrupted work is pretty rare to get in these days, and I'll take it anyway I can get it.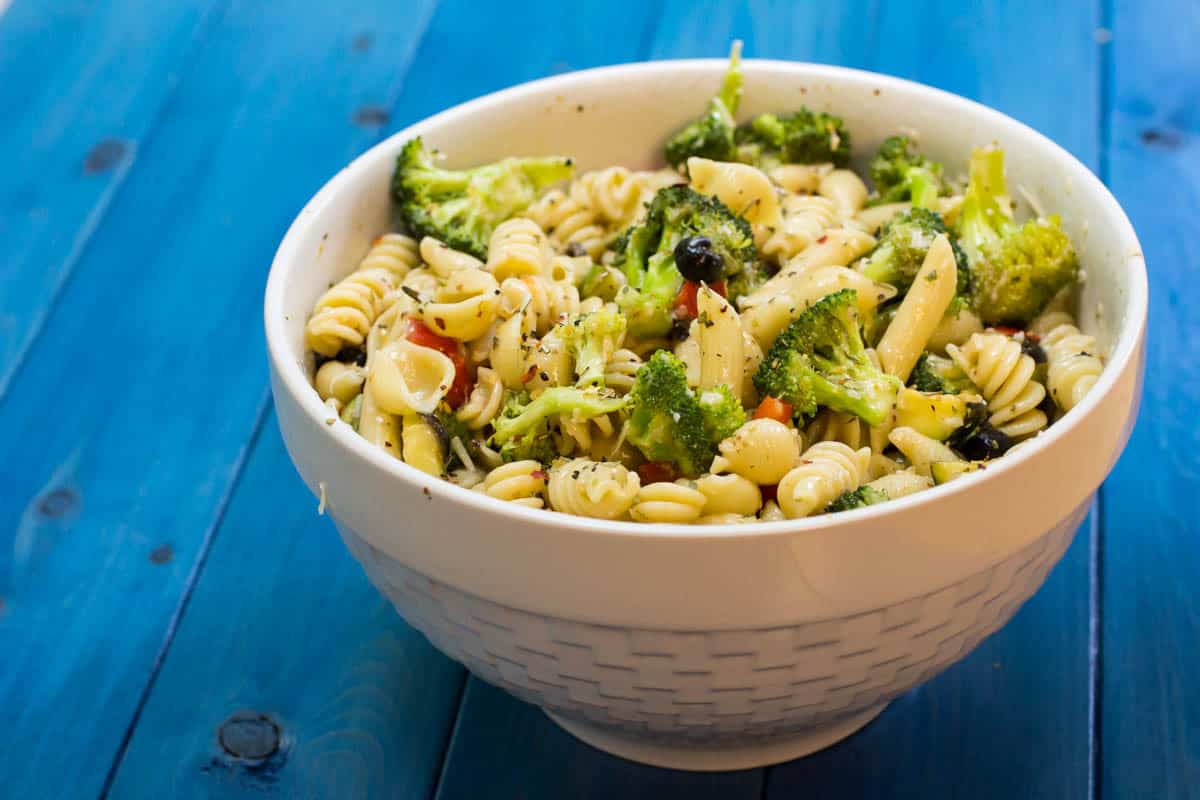 I'm looking forward to the 4th of July next weekend, and you can guarantee that this will be on the menu.
I hope you enjoy this Zesty Pasta Salad as much as we did! Stop by Or Whatever You Do sometime and say hello!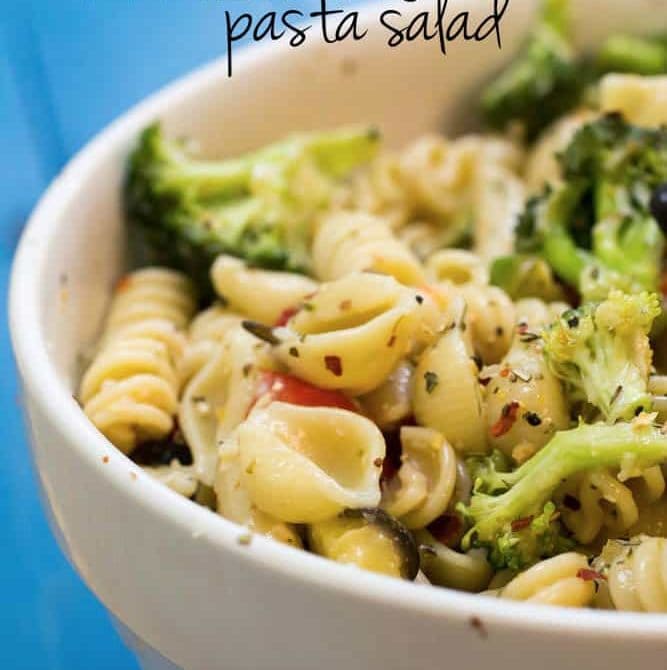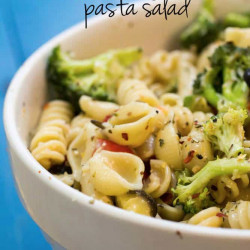 Zesty Italian Pasta Salad
Ingredients
1 pound pasta your choice
2-3 cups vegetables like broccoli bell peppers, and tomatoes - chopped
1/2 - 1 cup sliced olives I used black olives, but sliced kalamatas are good in this too!
1/2 bottle Zesty Italian dressing
1-2 tablespoons dry Zesty Italian dressing seasoning mix
Instructions
Boil the pasta according to package directions. Rinse in cold water when cooked.

Add the vegetables to the salad. For extra flavor, marinate the veggies in the dressing for 3-4 hours prior to putting the salad together. This is totally optional though!

Mix in half of the Zesty Italian Dressing. Reserve the other half and the dry seasoning mix for immediately before serving the salad, and then mix in.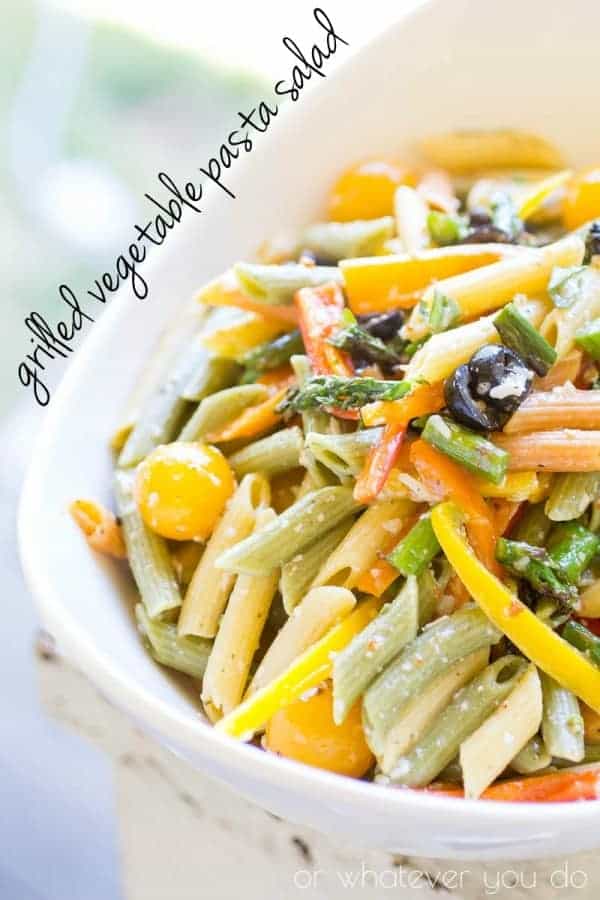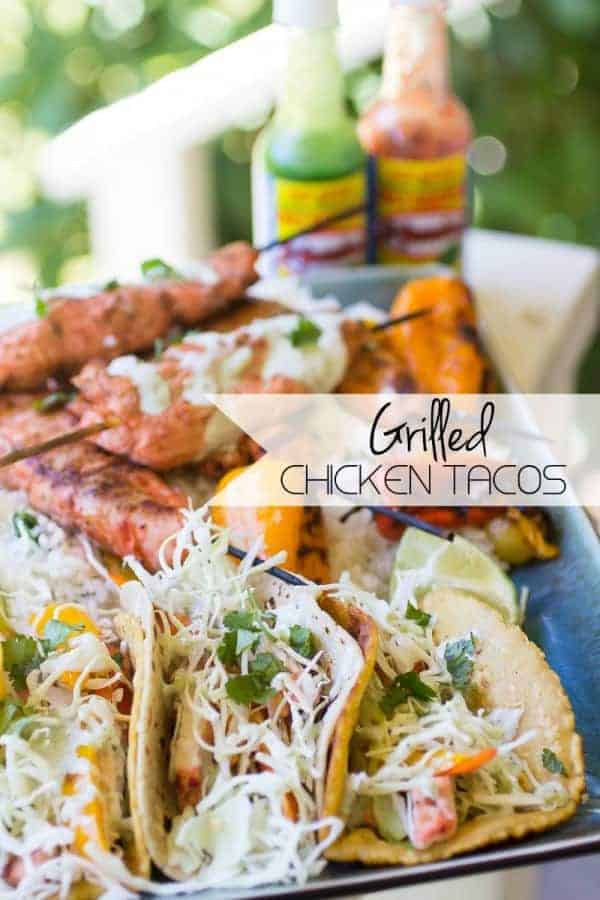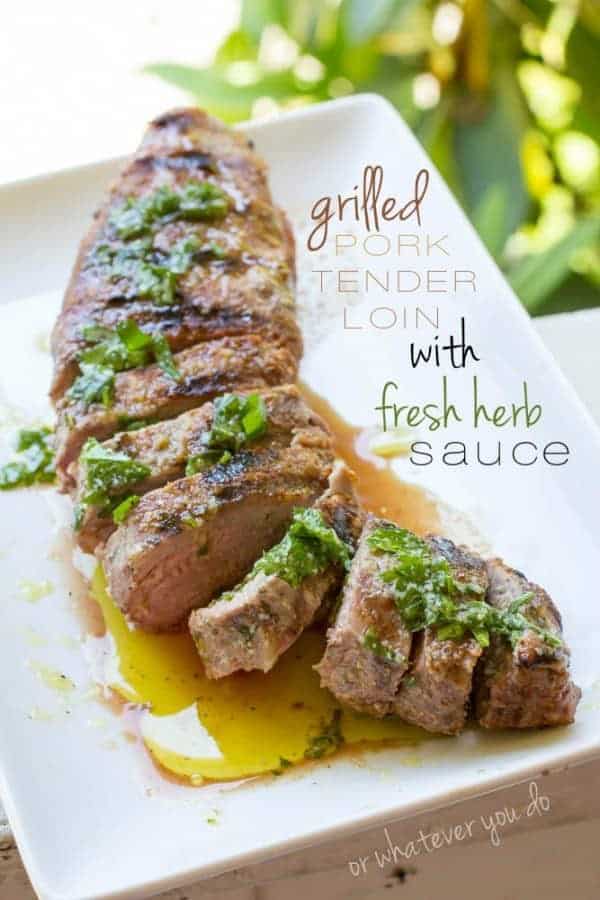 For more delicious summer salads, try these: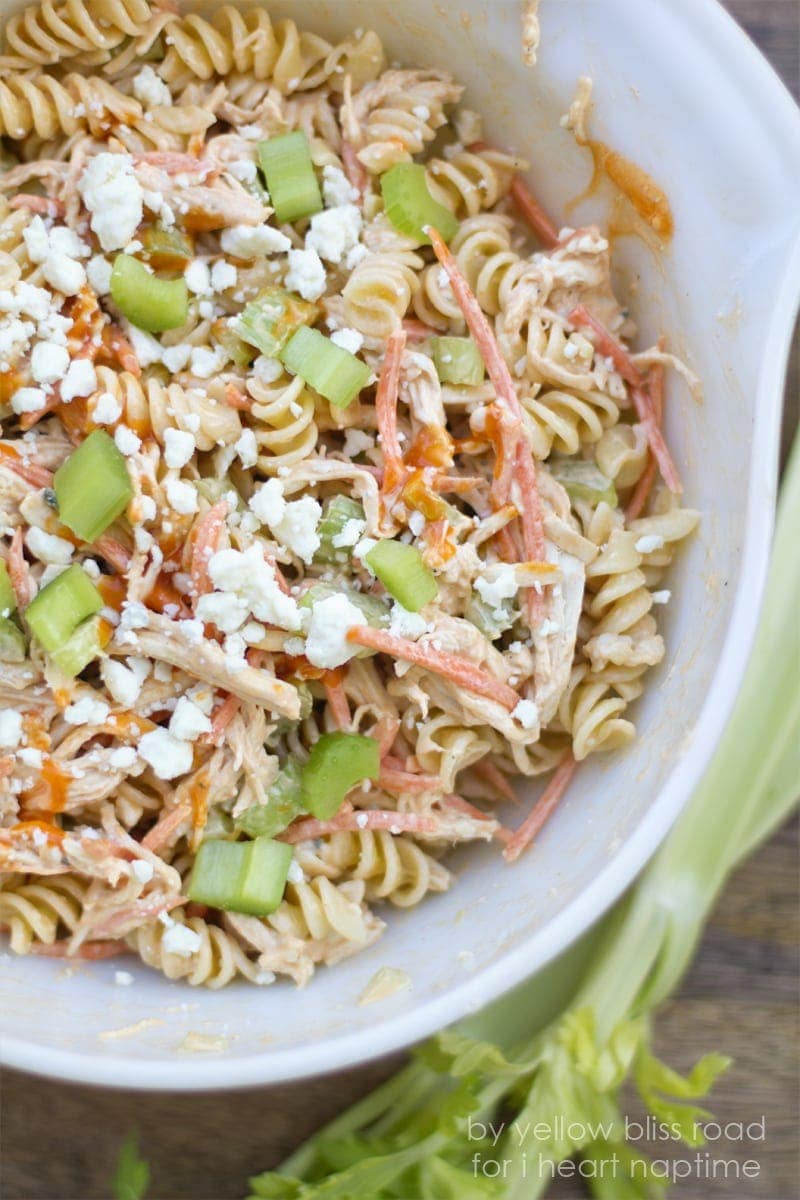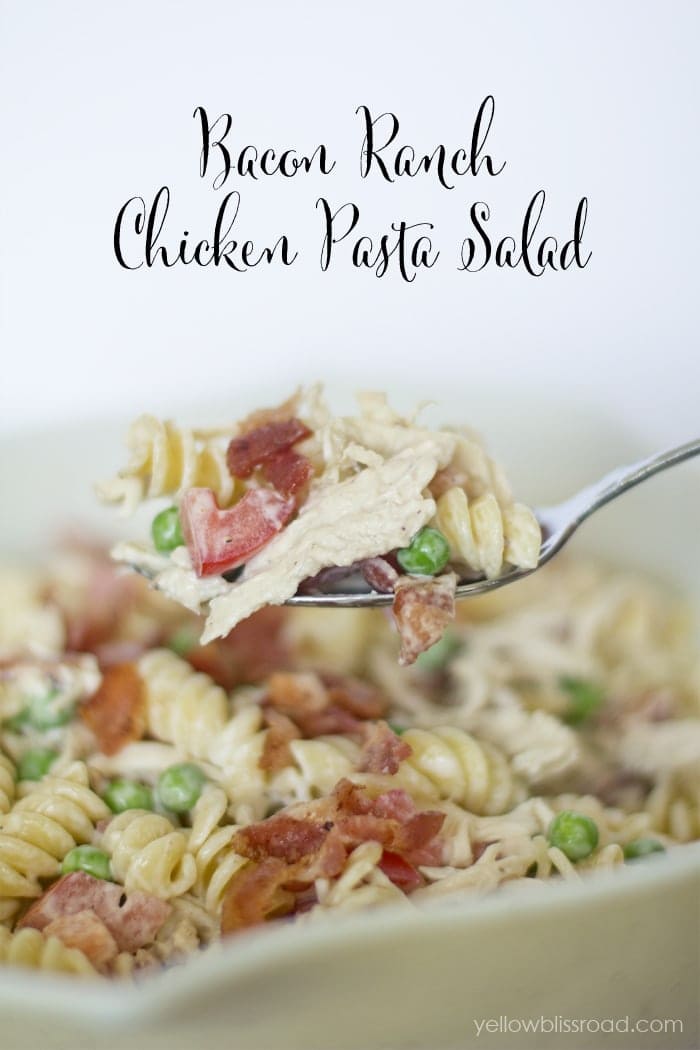 Bacon Chicken Ranch Pasta Salad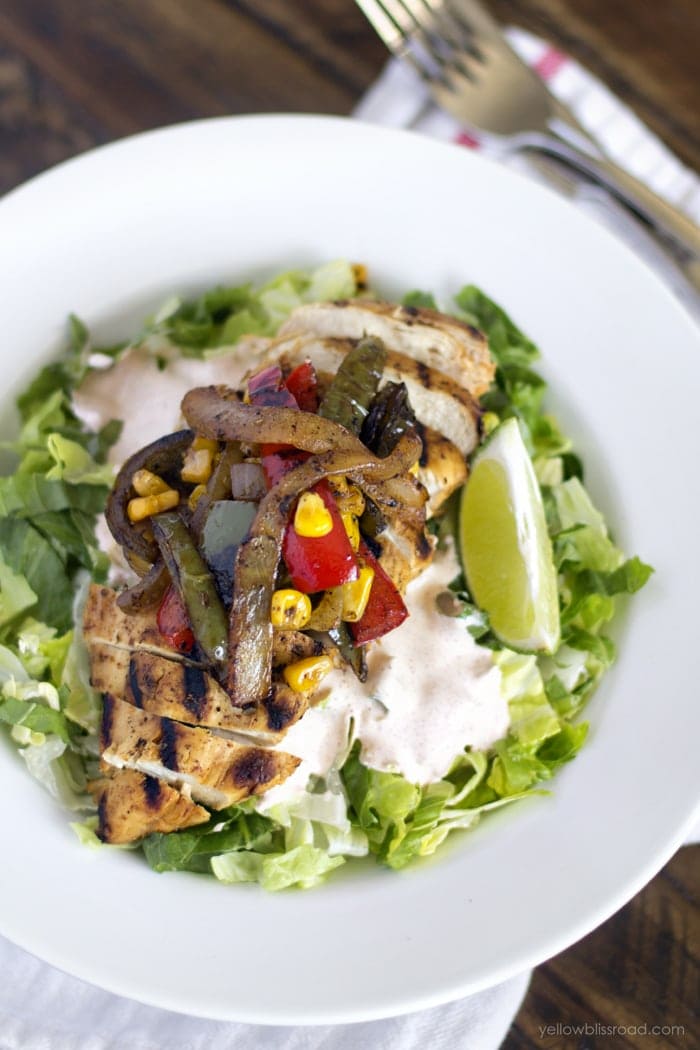 For all salad recipes, go HERE and for all recipes go HERE.
Chicken Fajita Salad