Chocolate Chip Banana Bread is moist and tender with a burst of intense chocolate flavor. This easy quick bread is perfect with your morning coffee or as a midnight snack. So basically you can enjoy it any time of the day!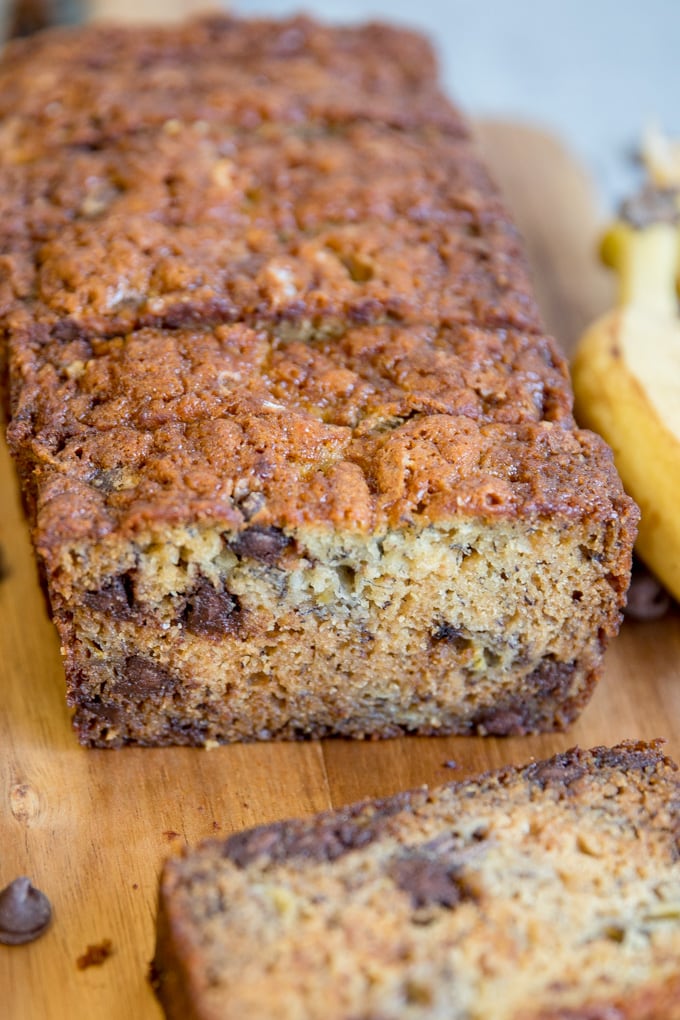 CHOCOLATE CHIP BANANA BREAD RECIPE
If you've ever walked into your kitchen and smacked yourself in the forehead for forgetting that you had bananas that have now turned brown, you're not alone. It happens all the time in our house! I think it's just an excuse for me to have to make some Chocolate Chip Banana Bread which I am totally on board with.
Banana bread is our favorite quick bread to make. It's obviously the best way to use up leftover bananas but it's also incredibly delicious and makes you feel like you're kind of eating something healthy. We love changing up our banana bread and including things like cherries, peanut butter, or oatmeal.
You could slather on a little peanut butter, some regular butter or even jam to amp up the flavor even more. But honestly this banana bread totally doesn't need it because it's so moist just on it's own.
How do you keep chocolate chips from sinking in banana bread?
After mixing together the fry ingredients, place the chocolate chips in a bowl. Scoop about a tablespoon of the flour mixture and sprinkle it over the chocolate chips and gently toss or stir to coat them. This will keep them from sinking in the batter and will also help them to hold their shape!
How ripe do the bananas need to be?
The best bananas for banana bread aren't bright yellow. Rather they are beginning to turn brown or even black. The darker the better; there's no such thing as an too-ripe banana when you're making chocolate chip banana bread!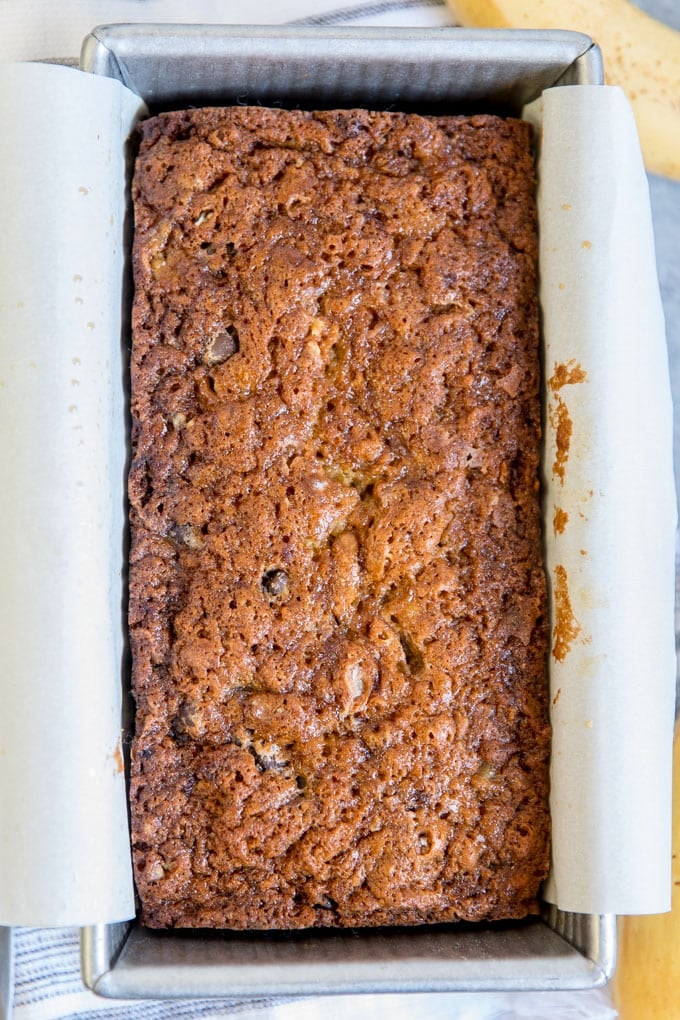 How to make Chocolate Chip Banana Bread
Start by preheating your oven to 325 degrees. Prepare a 9-inch loaf pan that's lined with parchment paper. Just before adding the batter, you'll want to also spray that with nonstick cooking spray.
Cream together the butter and sugar until it's light and fluffy. I always use my stand mixer for this, or at least a hand mixer. Unless you want those big arm muscles, I recommend investing in at least a hand mixer if you don't already have one.
Stir in the eggs one at a time just until they are incorporated into the butter mixture and then add the mashed bananas.
Combine the dry ingredients in a separate bowl so that they are evenly dispersed, then mix the dry with the wet, just until the flour has been incorporated. It's important to not over-mix because it can make your bread dense and chewy instead of fluffy and tender. Very gently fold in the chocolate chips just until they are combined.
Pour the batter into the prepared loaf pan and bake the bread for about an hour. Actual time can vary based on the temperature of your oven, but the top should be golden brown and when you insert a toothpick into the center it should come out clean with a few moist crumbs.
How to store banana bread
Allow your bread to cool completely before wrapping it up. Wrap tightly in plastic wrap and then in an airtight container or plastic bag. You can store your bread on the counter for 2-3 days, or in the fridge for up to a week. Slice when you're ready to serve, rather than slicing the whole loaf at once to keep it from drying out.
Banana Bread does really well in the freezer! To freeze your cooled chocolate chip banana bread, wrap it tightly with plastic wrap and then foil and place in a freezer bag. It will keep for about 6 months. Thaw on the counter overnight and you'll have yummy bread with your morning coffee!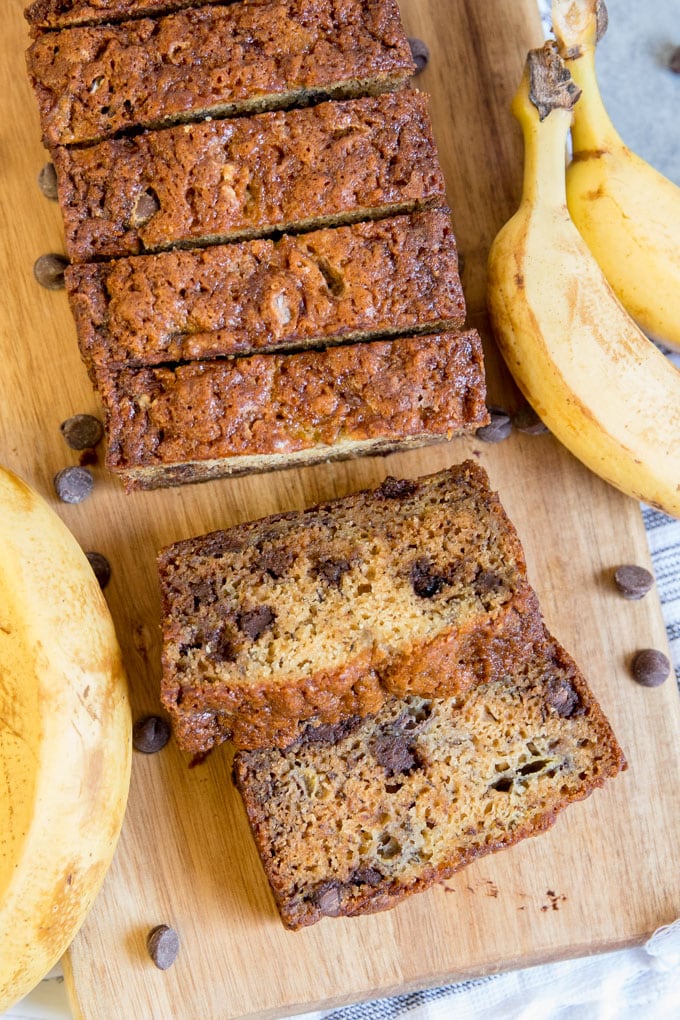 Want more Quick Bread recipes?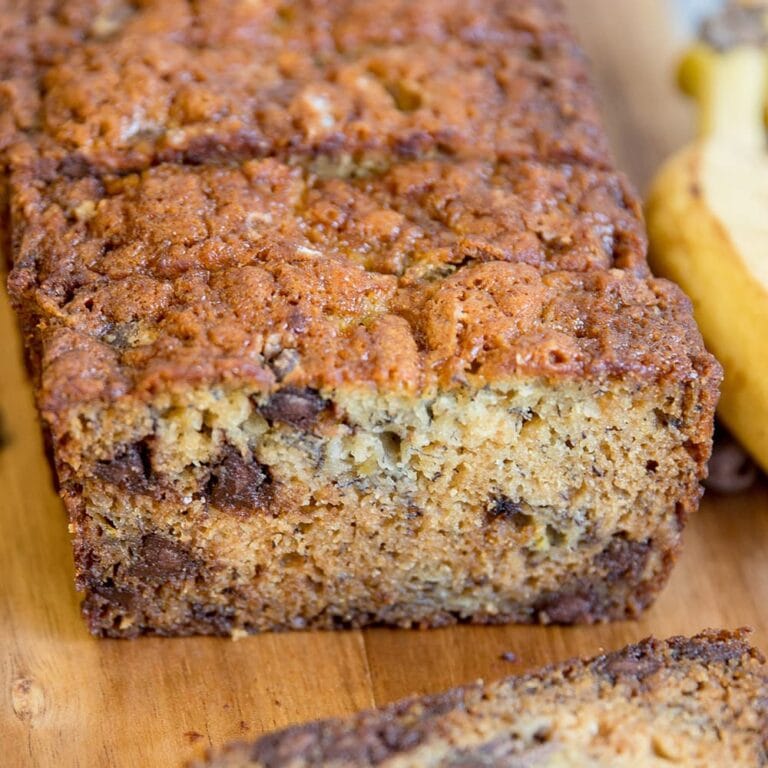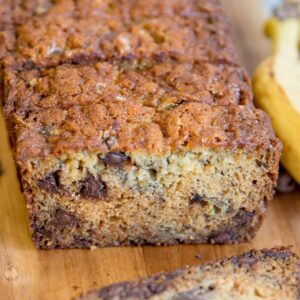 Chocolate Chip Banana Bread
Chocolate Chip Banana Bread is moist and tender with a burst of chocolate. This easy quick bread is perfect with your morning coffee or as a midnight snack.
Ingredients
1 cup granulated sugar
1/2 cup butter (1 stick) at room temperature
2 large eggs
3 ripe bananas
1 tablespoon milk
2 cups all-purpose flour
1 teaspoon baking soda
1 teaspoon baking powder
1 teaspoon salt
1 cup chocolate chips
Instructions
Preheat oven to 325 degrees F and spray a 9" loaf pan generously with cooking spray or line with parchment paper.

Cream together the butter and sugar until light and fluffy. Stir in eggs one at a time until well combined.

In a separate bowl, mash the bananas with a fork. Stir in milk. Add the banana mixture to the butter mixture and stir until combined.

In another bowl, sift together the flour, baking soda, baking powder and salt. Pour chocolate chips into a bowl and sprinkle with about 1 tablespoon of the flour mixture. Stir to coat and set aside.

Add the remaining dry mixture to the wet mixture and stir just until combined - do not overmix. As soon as the dry ingredients are blended in you're done mixing.

Gently fold in chocolate chips.

Pour batter into the prepared loaf pan. Bake for 1 hour or until golden brown and a toothpick inserted into the center comes out clean.

Cool in the pan on a wire rack, then gently lift out using the parchment paper as handles. Slice and serve.
Nutrition
Calories: 385kcalCarbohydrates: 60gProtein: 5gFat: 15gSaturated Fat: 9gCholesterol: 60mgSodium: 450mgPotassium: 206mgFiber: 2gSugar: 36gVitamin A: 394IUVitamin C: 3mgCalcium: 53mgIron: 2mg