Chicken Supreme is creamy, crunchy, and totally family friendly. With a flavorful yogurt topping and crunchy panko breadcrumbs, this baked chicken recipe is comfort food that's actually easy on your waistline.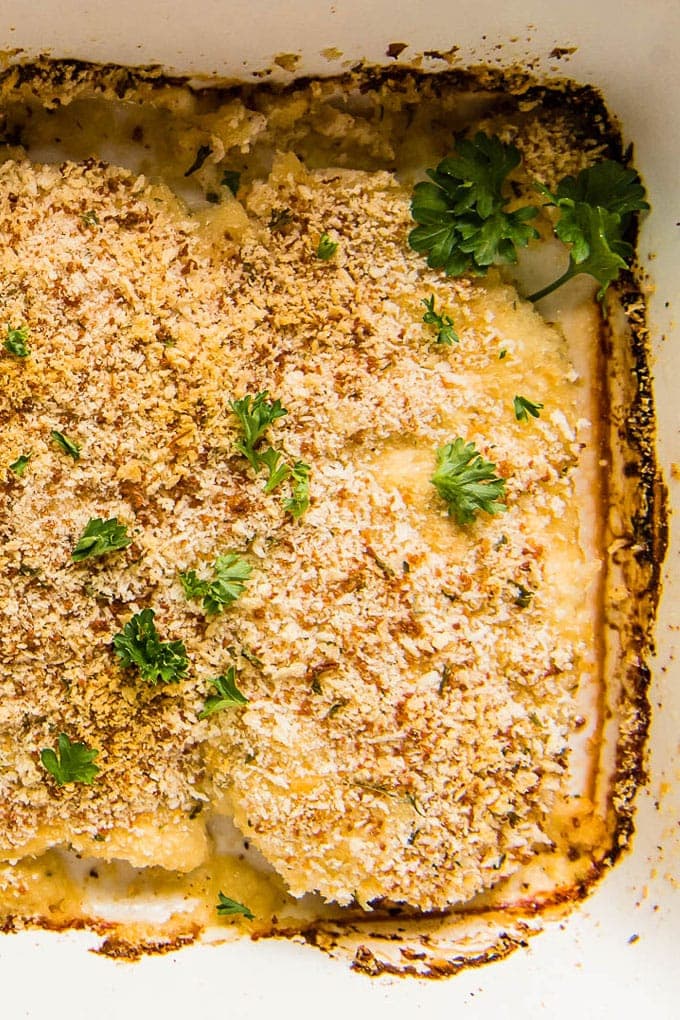 CHICKEN SUPREME RECIPE
My mother has tons of cookbooks. Some are handwritten, some are from church collections, some are just old familiar favorites like Betty Crocker or Better Homes and Gardens. It's the handwritten ones that I especially love to look through, and that's where I found this recipe for Chicken Supreme.
I could remember eating this as a child. The crunchy topping from breadcrumbs or crackers was always my favorite. Don't you just love food that evokes those familiar memories and feelings?
Chicken breasts are my go-to for family dinners. I love to make them "supreme" style by adding a simple spread of plain yogurt with lemon juice and Worcestershire and seasonings that keep the chicken super moist and juicy. The breadcrumb topping gets crispy as it bakes and the variety of textures in this dish are simple but amazing.
WHAT IS CHICKEN SUPREME?
Aside from being a classic baby boomer dish I loved as a kid, the term "supreme" actually refers to the best part of the food. On a chicken, that's definitely the boneless, skinless chicken breast.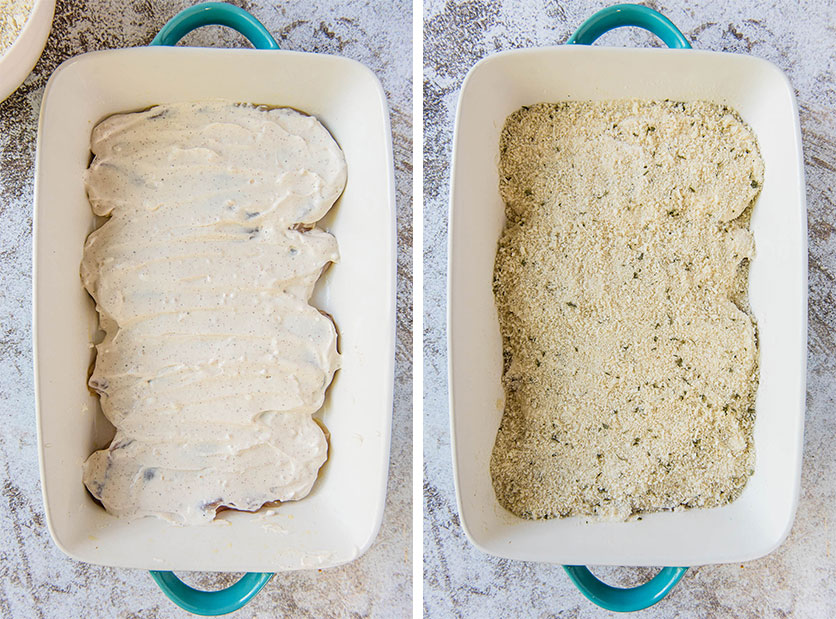 HOW TO MAKE CHICKEN SUPREME
Chicken Prep. Chicken breasts can be pretty large and thick, depending on the brand. You can either pound them down or cut them in half to make them thinner. You'll need 4 large breasts (2 pounds) to make this recipe but they will feed 6 people. Do not wash your chicken; simply pat them dry with paper towels.
Topping. Chicken Supreme includes 2 different toppings – a yogurt spread and breadcrumbs. Plain yogurt is mixed with lemon juice, Worcestershire sauce, celery salt and paprika then spread evenly on the chicken. Panko breadcrumbs, combined with grated Parmesan and dried Parsley, are sprinkled on top for a crunchy finish.
Bake in a 13×9-inch baking dish for about 30-45 minutes. That's a big span of time, but really it depends on the size of your chicken breasts. If they are very thick, they will take longer to cook. The thinner they are, the less time you'll need. It's best to invest in a good instant-read digital meat thermometer. All chicken, regardless of the cut, should register 165 degrees F.
RECIPE TIPS AND TRICKS
Celery salt isn't as widely used now as it was back when this recipe was originally written. If you need a substitute, try dried dill. You'll want to add a pinch of salt, too.
If your store carries them, buy chicken cutlets for this recipe. Six cutlets will be about 2 pounds, then each person gets a whole piece. Thicker breasts should be pounded down or cut in half to make them thinner.
I prefer to use Panko breadcrumbs in any recipe that calls for them. They are not cut as fine as regular breadcrumbs and produce a crispier result. The choice is yours though; you could even use cracker crumbs like butter crackers or Saltines if you don't have breadcrumbs in your pantry.
Easily adjust this recipe to feed your party of two or crowd of 8 by either cutting or multiplying the ingredients.
Make this chicken supreme recipe ahead of time! Assemble, then cover tightly with foil and either refrigerate for up to 24 hours or freeze for up to 3 months. If frozen, thaw in the fridge overnight. Bake as directed; you may need to add a few minutes to account for the chill.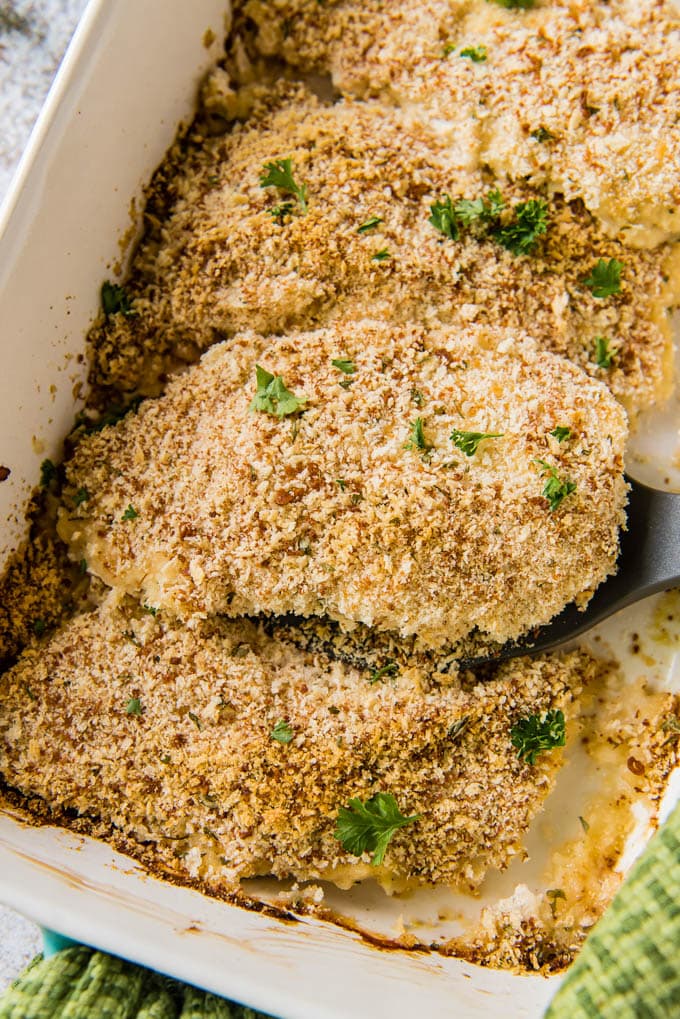 SERVING SUGGESTIONS
Because Chicken Supreme is pretty hearty on it's own, I stay pretty basic with my side dish choices. The sauce left in the dish makes an excellent gravy spooned over white rice or buttered noodles so those are two of my go-tos. Some other easy sides include:
WHAT TO DO WITH LEFTOVERS
Leftover chicken supreme should be stored in an airtight container in the fridge and eaten within 3 days. This recipe is best when fresh; leftovers won't be crispy, even when reheated in the oven or under the broiler.
OUR BEST CHICKEN RECIPES
Recipe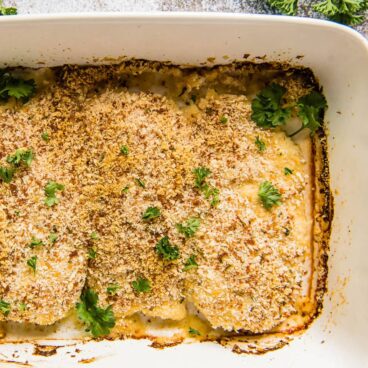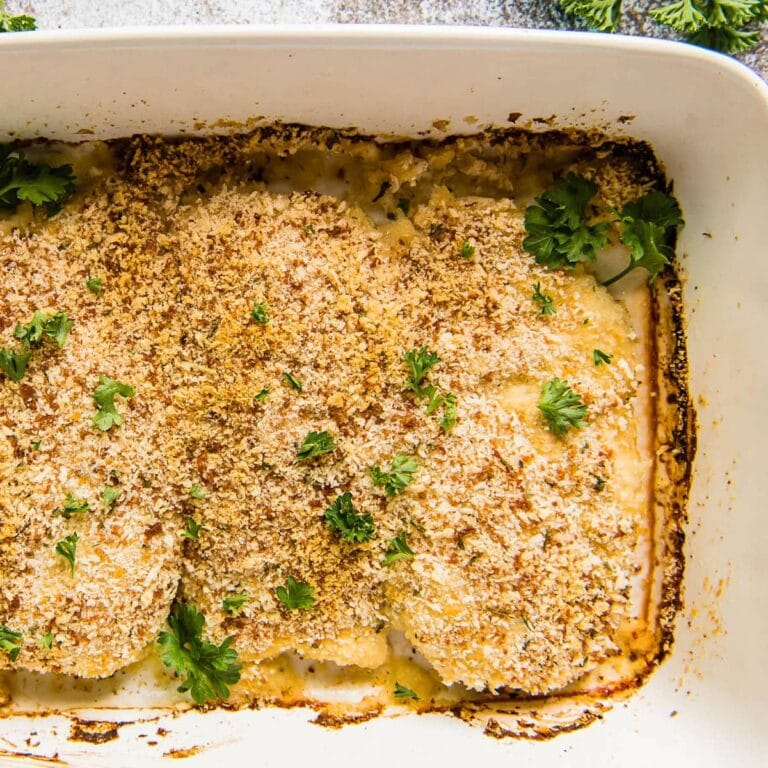 Chicken Supreme
Chicken Supreme is a delicious family friendly dinner. With a flavorful yogurt topping and crunchy breadcrumbs, this baked chicken is total comfort food.
Ingredients
¾

cup

plain yogurt or sour cream

2

tablespoons

lemon juice

¼

teaspoon

Worcestershire sauce

¼

teaspoon

celery salt

¼

teaspoon

sweet paprika

1

garlic clove

minced

¼

teaspoon

black pepper

2

pounds

boneless skinless chicken breasts

about 4

Topping:

¾

cup

Panko bread crumbs

¼

cup

grated Parmesan cheese

1

teaspoon

dried parsley
Instructions
Spray a 13"x9" baking dish with cooking spray and set aside. Preheat oven to 375 degrees F.

In a large bowl, combine plain yogurt, lemon juice, Worcestershire sauce, celery salt, paprika, garlic and pepper.

Lightly pound chicken breasts down to even thickness and place side by side (but not overlapping) into the prepared baking dish.

Pat chicken dry and spread the yogurt mixture over the chicken breasts, evenly onto each piece.

In a small bowl, combine breadcrumbs, Parmesan cheese and dried parsley. Sprinkle over the chicken and lightly press to into the yogurt mixture to adhere.

Bake, uncovered, for 45 minutes or until juices run clear and breadcrumbs are golden.
Nutrition
Calories:
241
kcal
Carbohydrates:
8
g
Protein:
36
g
Fat:
7
g
Saturated Fat:
2
g
Cholesterol:
104
mg
Sodium:
408
mg
Potassium:
622
mg
Fiber:
1
g
Sugar:
2
g
Vitamin A:
153
IU
Vitamin C:
4
mg
Calcium:
105
mg
Iron:
1
mg