The next time you fire up the grill, you've got to try these grilled avocados! Velvety smooth avocados are charred and filled with salsa, then topped with melted cheese to make the perfect summer appetizer or side dish. Or, add them to your favorite guacamole recipe for a smoky dip!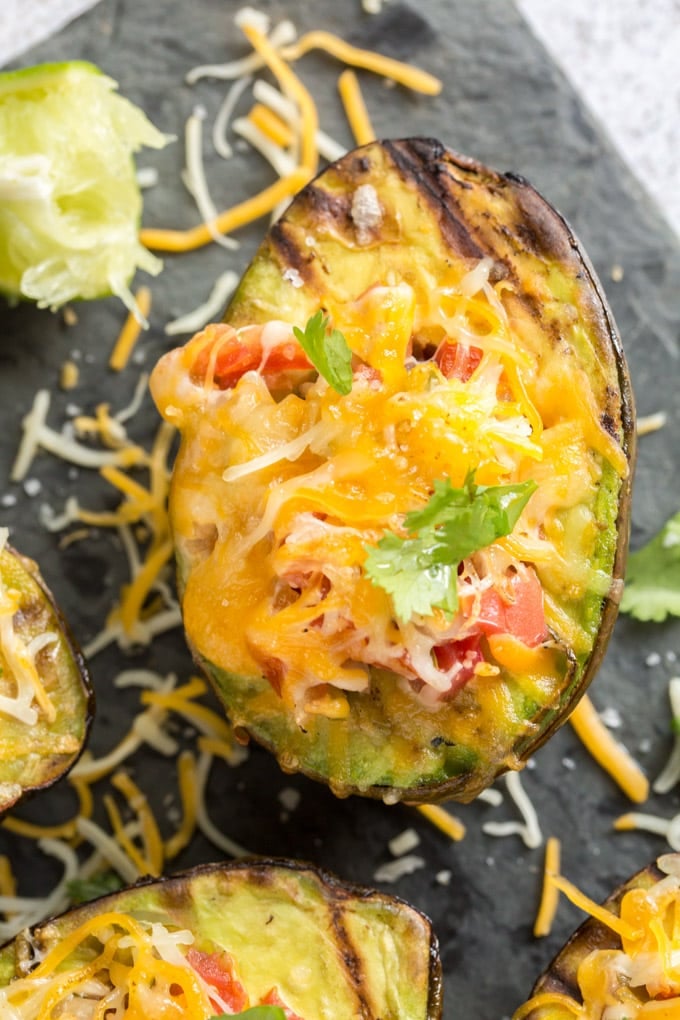 Grilling season is here and have I got an amazing trick for you! Grilled avocados are the thing you didn't know you needed in your life, but one you try them you'll never want to give them up! You can eat them right out of the skin with a spoon, or mash them up and add that smoky flavor to your favorite guacamole or Shrimp.
I often have avocados on hand so it's easy to throw them on the grill when I'm making Grilled Chicken Kabobs or Carne Asada. The smoky flavor and creamy texture is perfect on it's own but really adds a new depth of flavor to tacos and burritos. Grilling the fruit can actually help to speed up the ripening, making those near ripe avocados soft and creamy.
In this recipe, we fill the avocados with Pico de Gallo or salsa and top them with cheese for a creamy, full of flavor and healthy side dish.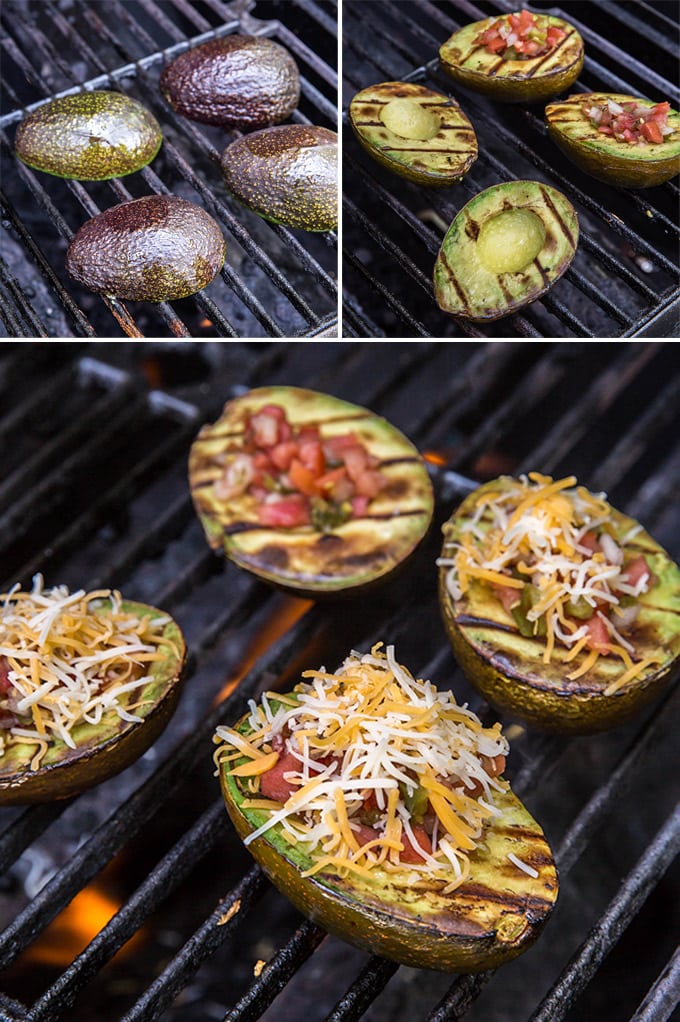 How to Make Grilled Avocados
This is such a super simple recipe that only requires a few ingredients – avocados, lime, oil and salt! We love these grilled avocados filled with salsa and topped with melty cheese for a unique side dish for Ground Beef Tacos, Slow Cooker Carnitas and Steak Fajitas.
Before you even think about slicing into an avocado – preheat your grill! You want a medium heat, about 350-400 degrees.
Cut your avocados in half, remove the pit, and carefully scoop out the flesh with a spoon, keeping it in one piece. You can also keep them in the skin if you choose, depending on how you plan to serve them. I keep this handy avocado slicer on hand and it's by far my favorite little kitchen tool.
Brush them all over with a combination of olive oil and lime juice. Be sure to brush the bottoms and sides, too, then sprinkle with salt.
Time to grill! Place the avocados cut side down and leave them alone for about 5 minutes. You want them to have plenty of time to get those pretty grill marks.
Flip the avocados over using long grilling tongs. You can add the salsa and cheese to the center if you choose. Then close the lid again and let them grill just long enough for the cheese to melt. It will take about 5 more minutes.
Carefully transfer grilled avocados to a plate and enjoy!
Serving Suggestions
These grilled avocados can be used in a variety of dishes, or served as a garnish or side dish. The smokiness will take any dish to the next level.
Use them to garnish Mexican Pizza, Oven Baked Tostadas, Chicken Tacos and Ground Beef Enchiladas. Or, use them in place of regular avocados in favorites like Shrimp Ceviche, Avocado Egg Salad and Avocado Chicken Salad.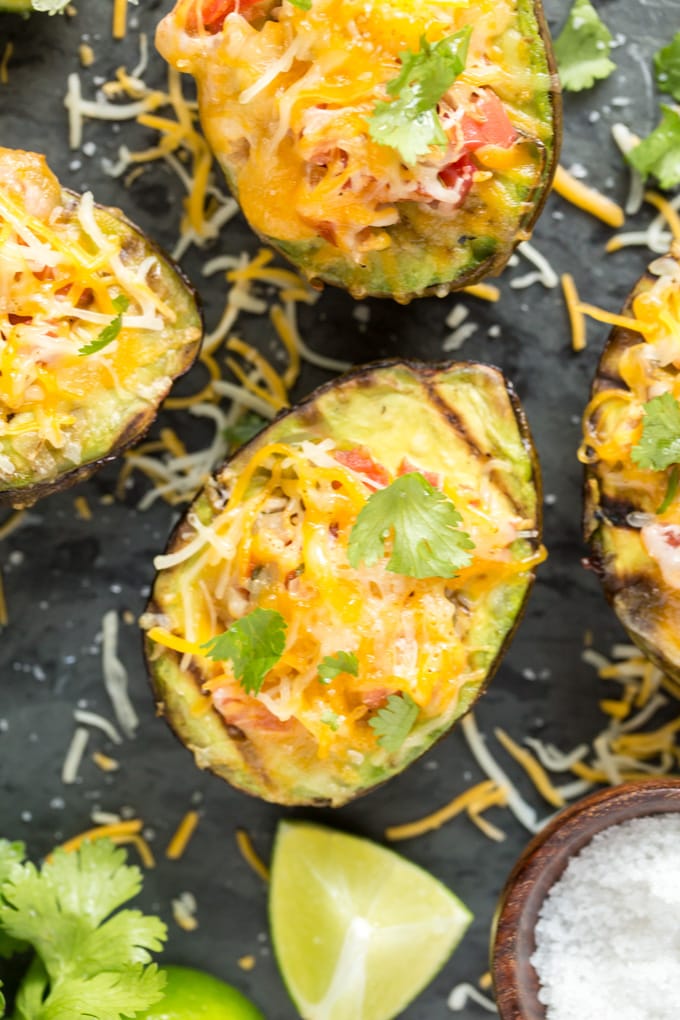 Grilled Avocado Fillings
Avocados are like little edible bowls; once you remove the seed that hole in the center is perfect for creating a variety of ways to serves sides or even a main dish! We filled our avocados with salsa and cheese, but you can use a variety of fillings to take your grilled avocados to the next level:
Taco meat – instead of tortillas, fill grilled avocados with meat and taco toppings.
Fried egg – crack an egg in the center while the avocados are on the grill and cook for 10-12 minutes.
Add more Mexican flair to your meals by serving them with Mexican Rice, Slow Cooker Mexican Beans and Mexican Street Corn Salad.
Recipe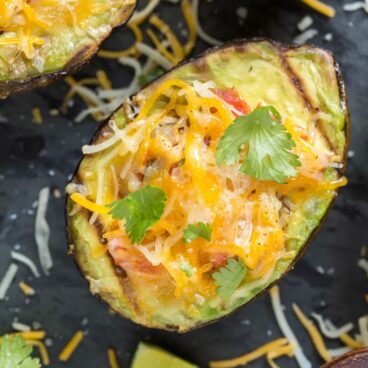 Grilled Avocados
Velvety smooth avocados are charred and filled with salsa, then topped with melted cheese to make the perfect summer appetizer or side dish. Or, add them to your favorite guacamole recipe for a smoky dip!
Ingredients
2

ripe avocados

1

tablespoon

olive oil

1

tablespoon

lime juice

1/4

teaspoon

kosher salt

1/4

cup

salsa

1/4

cup

shredded mozzarella or Monterey Jack cheese

fresh minced cilantro
Instructions
Cut avocados in half lengthwise. Remove the pits and gently scoop the flesh from the peels with a spoon, keeping the flesh fully in tact.

Combine the olive oil and lime juice and brush over all sides of the avocados. Sprinkle the tops with kosher salt.

Preheat an outdoor grill to medium heat (about 350-400 degrees)

Place avocados cut-side-down on the hot grill over medium for about 5 minutes, or until nicely browned. Turn avocados over and place a spoonful of salsa in the center of each, then top with shredded cheese.

Close or cover the grill and heat about 5 more minutes or until the cheese is melted.

Remove the avocados with tongs. Sprinkle with snipped cilantro and serve immediately. If desired, you can plate them on a bed of lettuce with additional salsa and sour cream.
Notes
Near ripe avocados will work; they will become creamy and smooth as they cook.
Nutrition
Serving:
1
half
Calories:
218
kcal
Carbohydrates:
10
g
Protein:
4
g
Fat:
20
g
Saturated Fat:
4
g
Cholesterol:
6
mg
Sodium:
311
mg
Potassium:
534
mg
Fiber:
7
g
Sugar:
1
g
Vitamin A:
272
IU
Vitamin C:
11
mg
Calcium:
52
mg
Iron:
1
mg