Velvety smooth avocados are filled with salsa and topped with melted cheese to make these Easy Grilled Avocados – they are the perfect summer appetizer or side dish!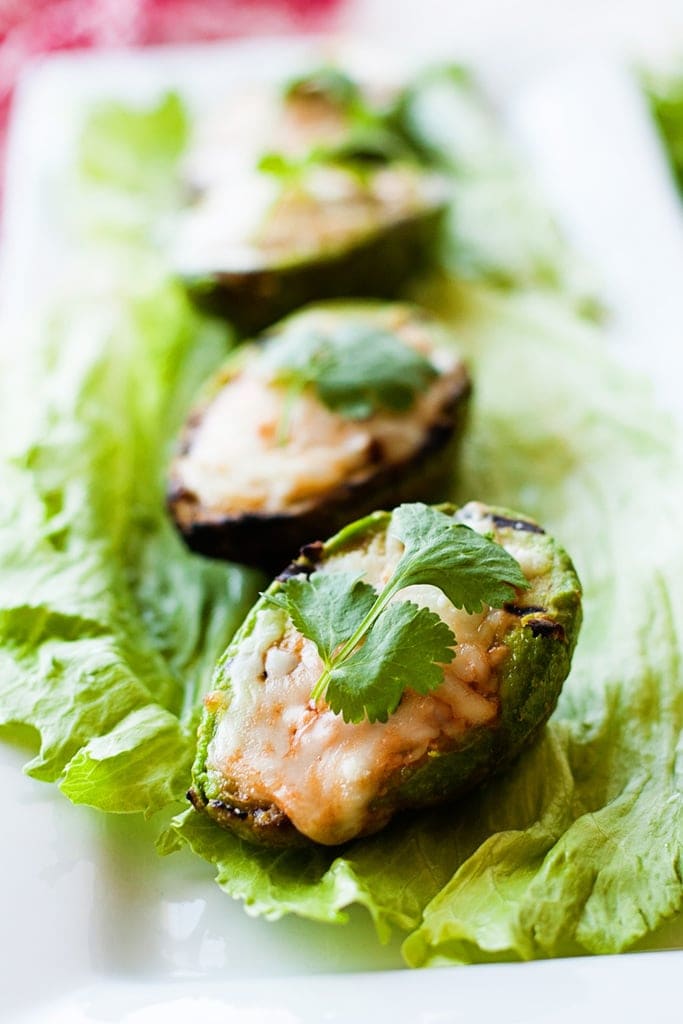 When I think about these Grilled Avocados, I'm speechless. I seriously do not know how to describe how good they are. Smooth, tangy, and salty; the flavor combination is perfect, and the buttery texture is pure nirvana. You're just going to have to experience them yourself to understand what I'm talking about. Luckily, these are simple to make, and perfect if you've already got your grill going for your barbecue.
First, cut your avocados in half, remove the pit, and carefully scoop out the flesh with a spoon, keeping it in one piece.
Brush them all over with a combination of olive oil and lime juice. Be sure to brush the bottoms and sides, too.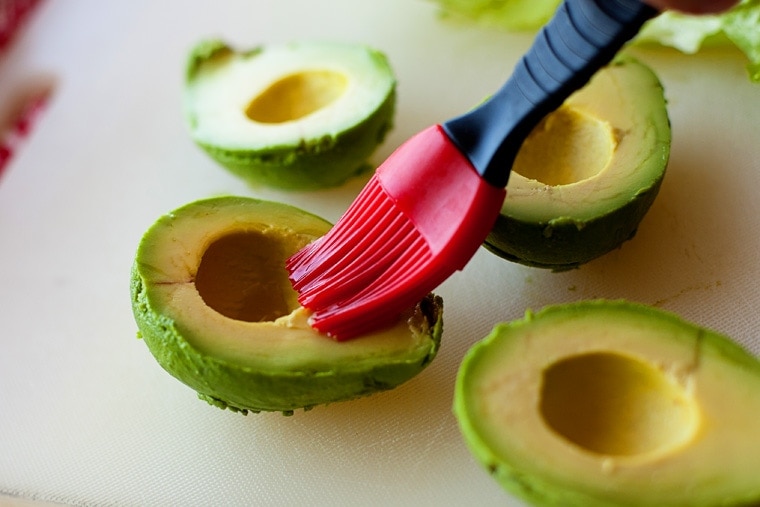 Next, sprinkle some kosher salt over the top.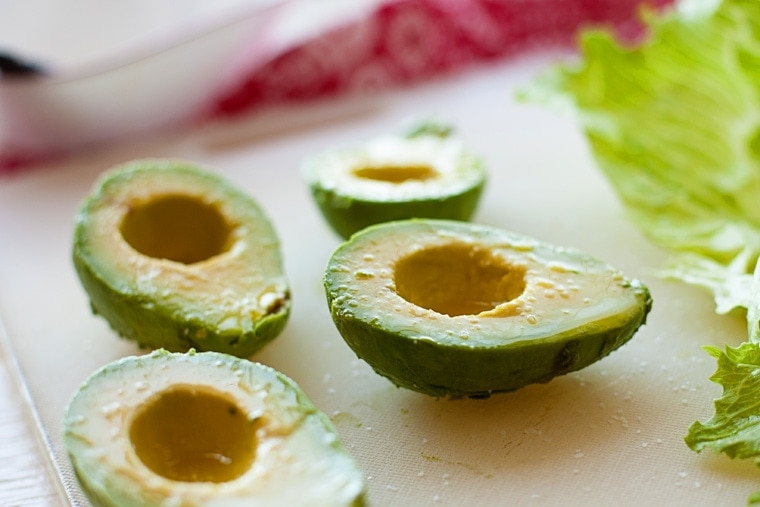 Now it's time to pop these on your grill. You want to have your grill on a medium flame for these. Just place them face-down on the grill for about five minutes or until you get some nice grill marks.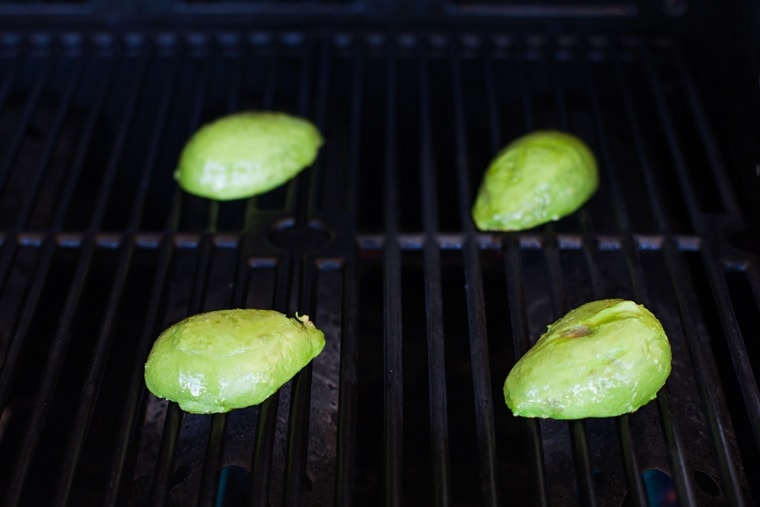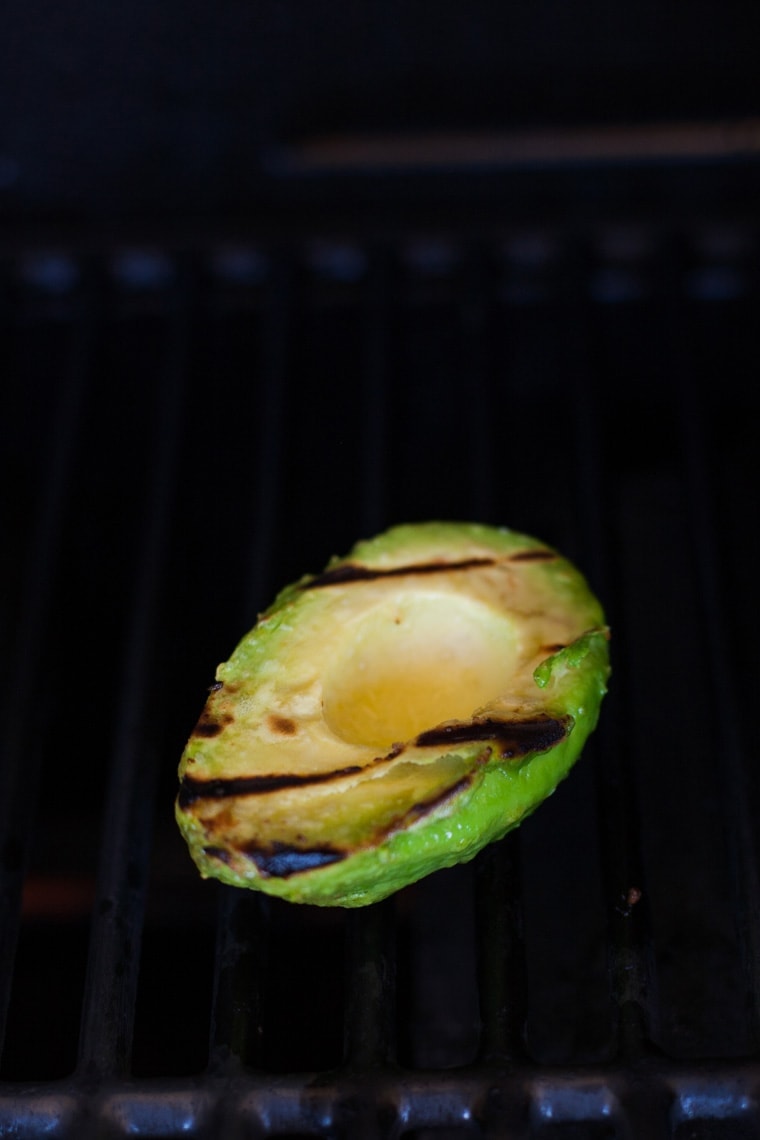 Using tongs, turn your avocados over, and fill the centers with salsa.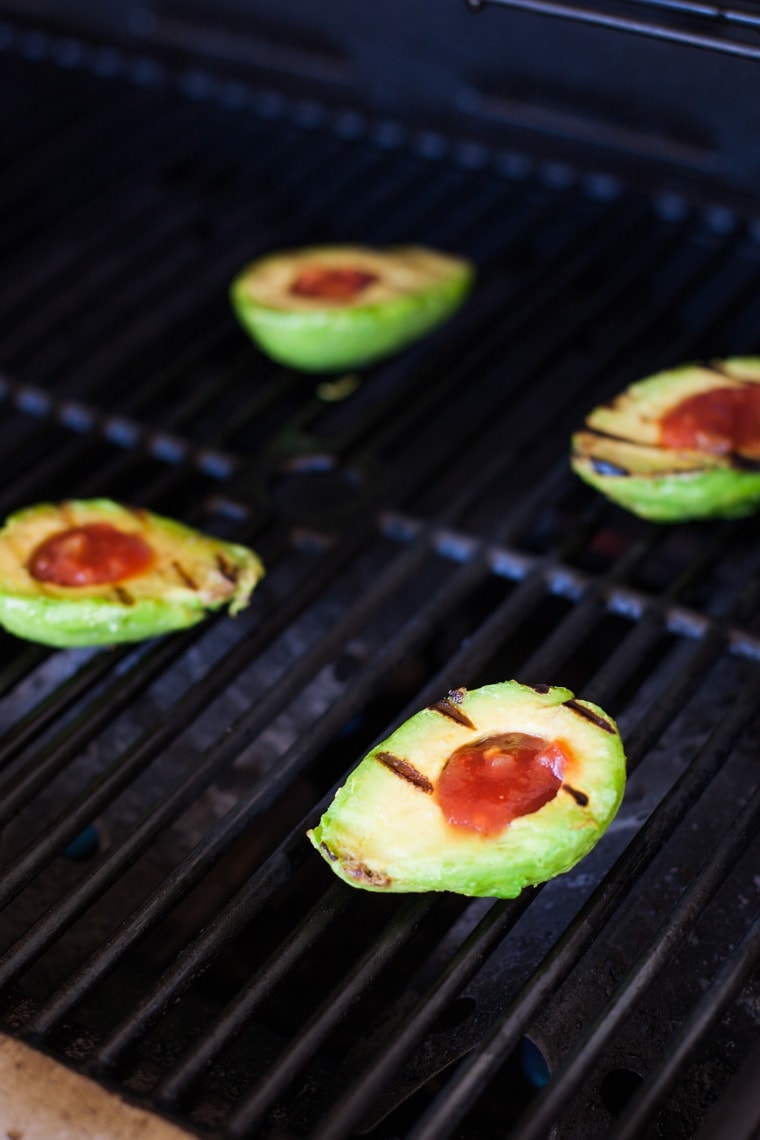 Then top with shredded mozzarella cheese.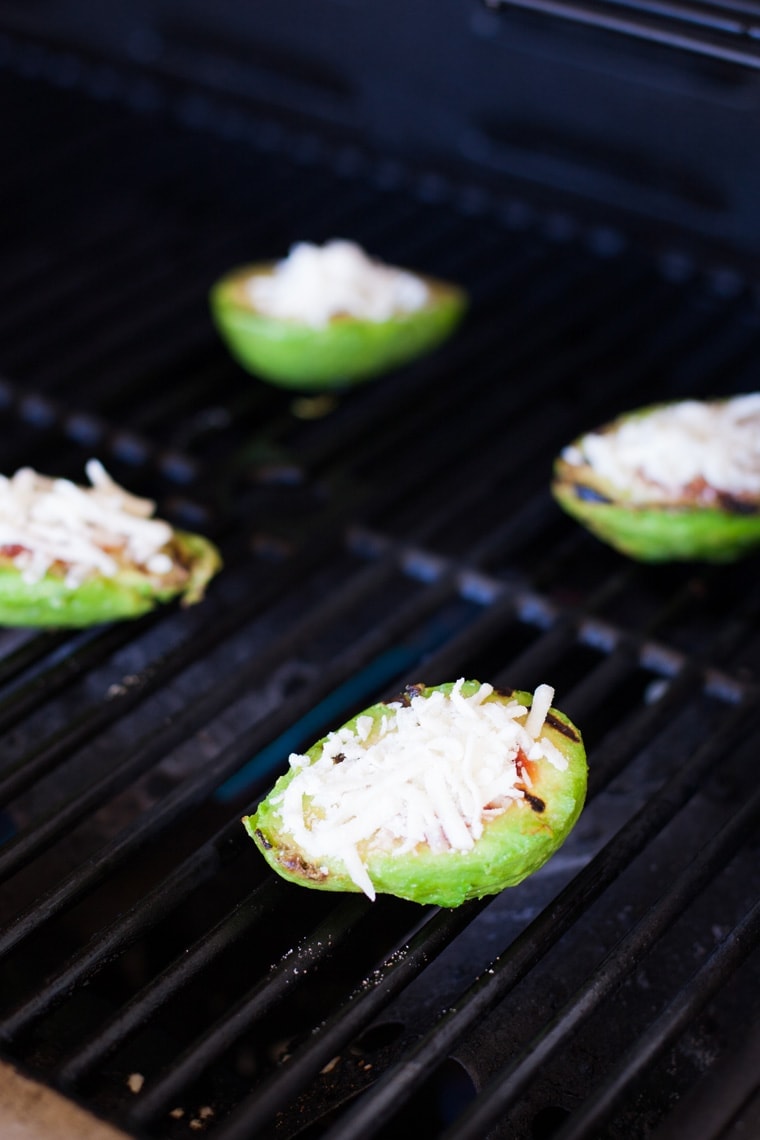 Close the lid on the grill and heat the avocados for about five more minutes, until the cheese is melted. If you worry that the bottoms of your avocados are getting too brown, you can move them off the flame or to an upper rack in your grill if you have one. Just try to leave the lid down as much as possible so the heat will be trapped and melt the cheese.
Remove the avocados with tongs and serve atop lettuce with extra salsa and sour cream if desired. Eat with a spoon. Close your eyes and sigh with every bite.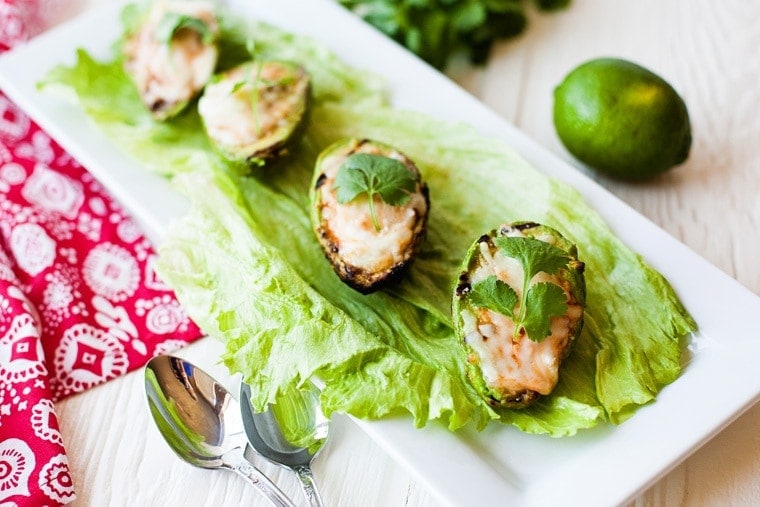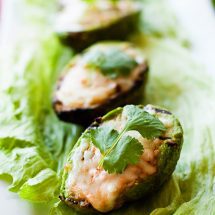 Grilled Avocados
Print
Pin
Rate
Prep Time: 5 minutes
Cook Time: 10 minutes
Total Time: 15 minutes
Servings: 4 avocados
Ingredients
2 ripe avocados
1 Tbsp. olive oil
1 Tbsp. lime juice
1/4 tsp. kosher salt
1/4 cup salsa
1/4 cup shredded mozzarella or Monterey Jack cheese
snipped fresh cilantro
Instructions
Cut avocados in half. Remove the pits and gently scoop the flesh from the peels with a spoon.

Combine the olive oil and lime juice and brush over all sides of the avocados.

Sprinkle the tops with kosher salt.

Place avocados cut-side-down on a grill over medium heat for about 5 minutes, or until nicely browned.

Turn avocados over and place a spoonful of salsa in the center of each.

Top each avocado with shredded cheese.

Close or cover the grill and heat about 5 more minutes until the cheese is melted.

Remove the avocados with tongs. Sprinkle with snipped cilantro and serve immediately. If desired, you can plate them on a bed of lettuce with additional salsa and sour cream.
For more great barbecue dishes, try these!
The Best Darn Beans You Will Ever Eat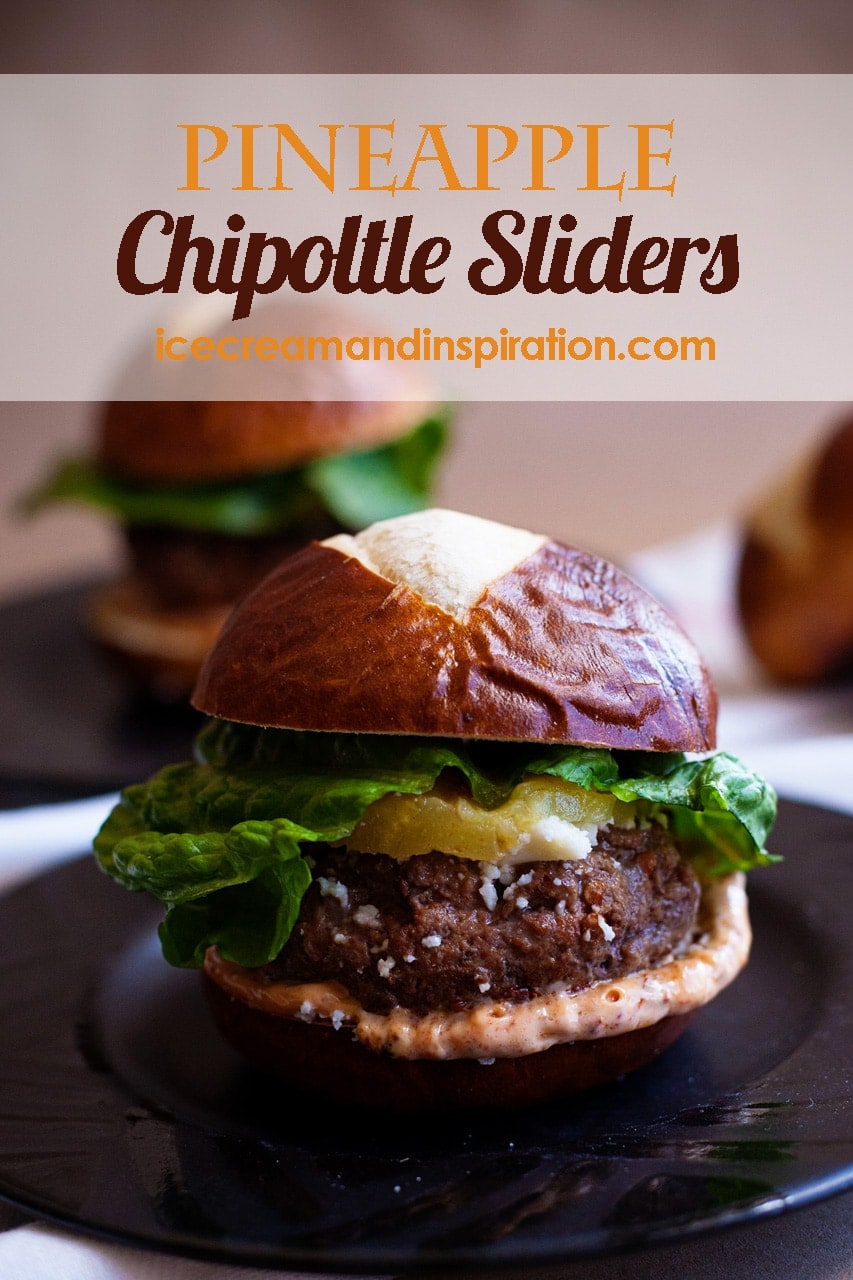 Secret Ingredient Pico de Gallo
Want more GRILLED FOOD? Try these 35 Recipes for the Grill:

For all side dishes go HERE, and for the recipe index go HERE.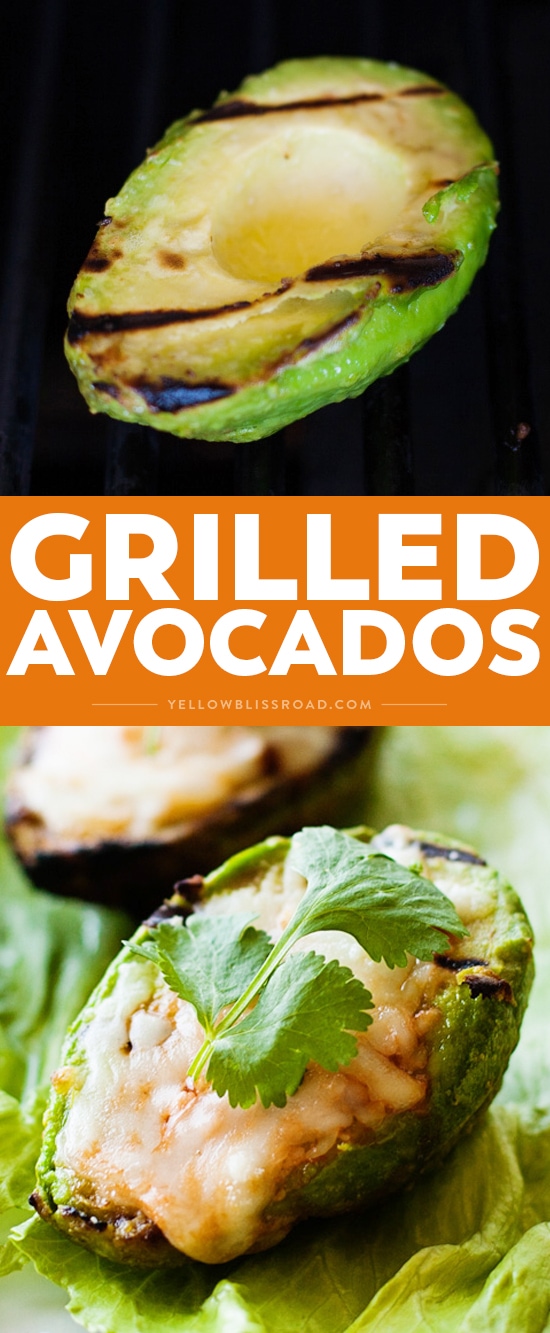 Melissa loves inventing new ice cream flavors and helping people declutter and organize their homes. You can see her organizing e-course HERE.