There are hundreds of potato salad recipes out there, and this is mine! It's creamy and tangy with fluffy potatoes, crunchy pickles and more. The perfect side dish for your next barbecue!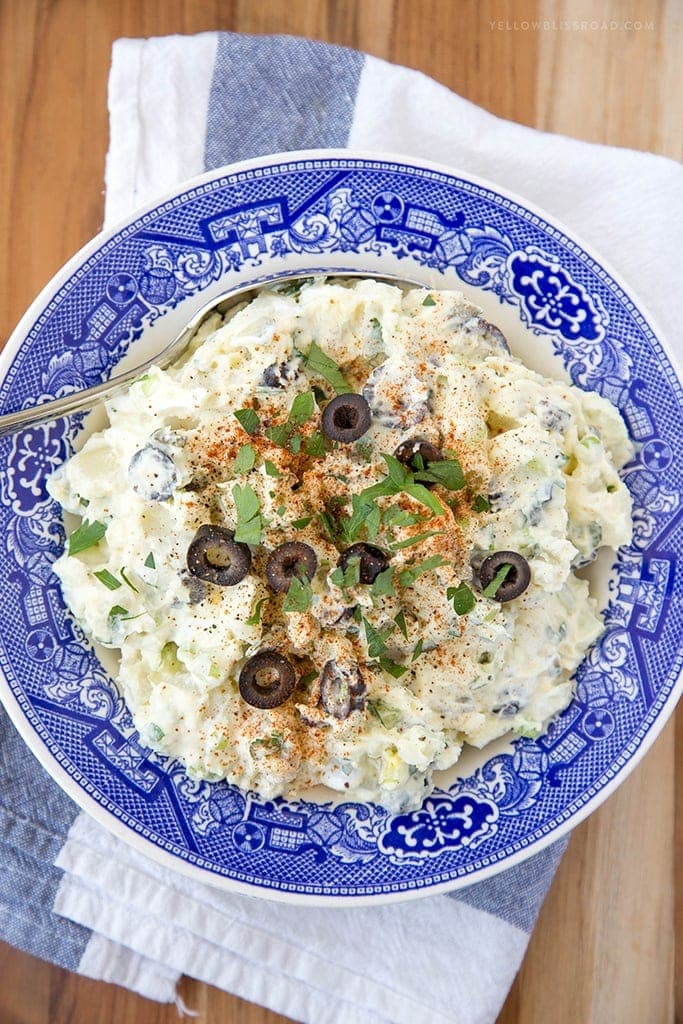 I've always had a huge affinity for potato salad. I love every potato salad, from my Grandma's German  Potato Salad to the kind you get at thee grocery store. I figured it was time to come up with my own favorite recipe so here it is!
I actually took bits and pieces from some of my favorites that I've tried over the years. It's really easy to make and starts with peeling and cutting up the potatoes and boiling them for about 10 minutes. The thing about potatoes is they are almost devoid of flavor just on their own so it's really important to make sure they are salted. I always add salt to the boiling water, but a trick I learned is to lay them out on a cookie sheet or large cutting board after draining them, then sprinkle them with salt. This will ensure that each of the potato pieces is salted to bring out the best flavor. Brilliant, right?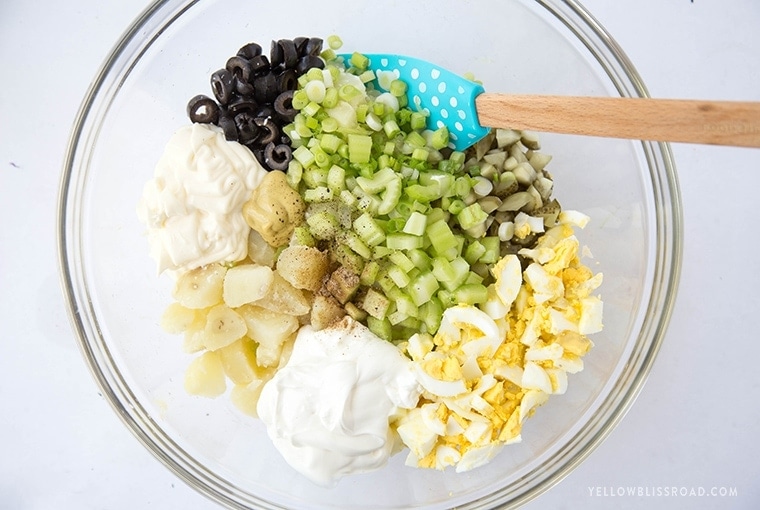 Now, the best way to make sure the flavors for the dressing are well combined would be to mix the mayo, mustard, pickle juice and celery salt together before stirring into the potatoes. However, I've done it both ways and haven't noticed a huge difference other than it can make the potatoes a little mushier since you have to stir it more. This doesn't bother me and I actually like it better than having big chunks of potato.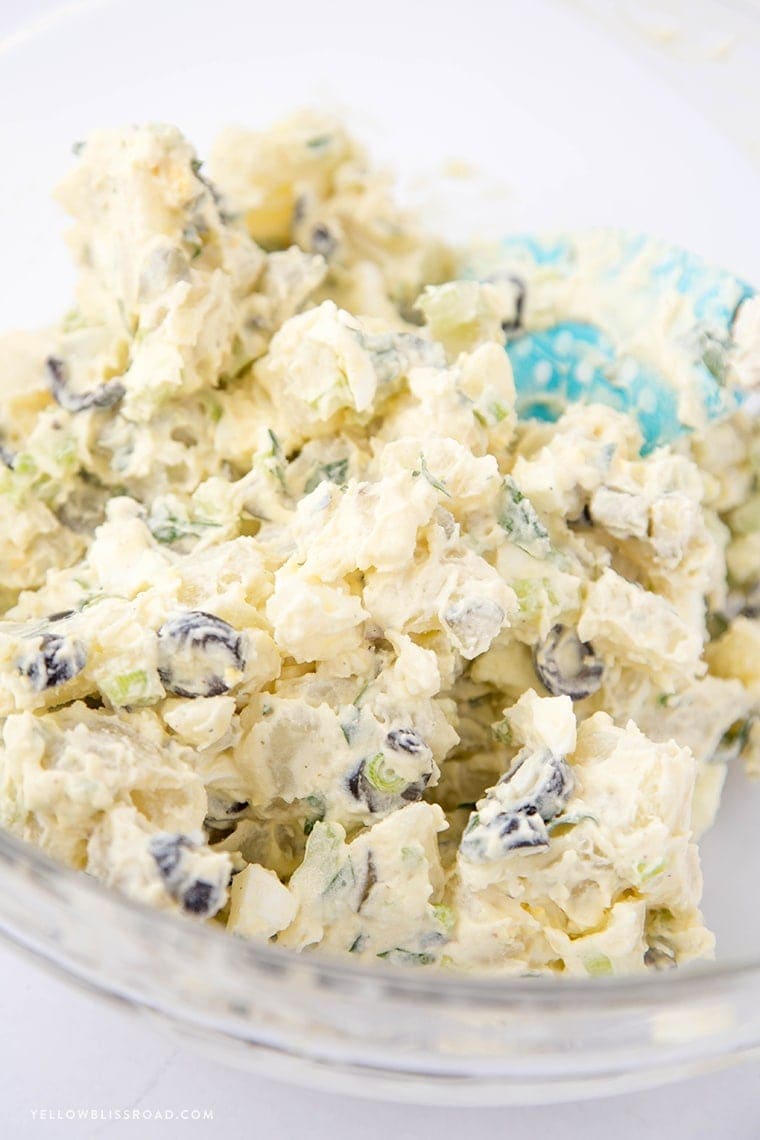 Finally you'll stir in the remaining ingredients – olives, dill pickles, hard boiled eggs, celery, parsley and green onions, plus a little salt and pepper. Taste your handi-work and add more salt and pepper as you like. I like to sprinkle some paprika on top for a little color, but that's completely optional.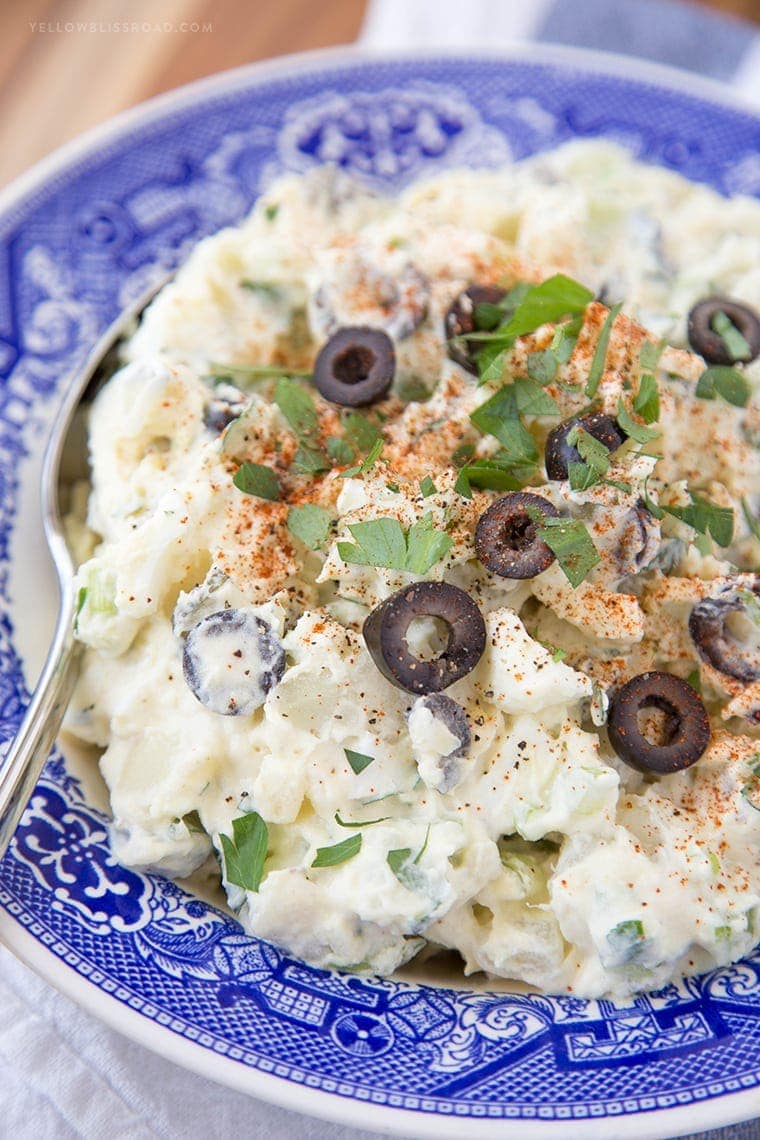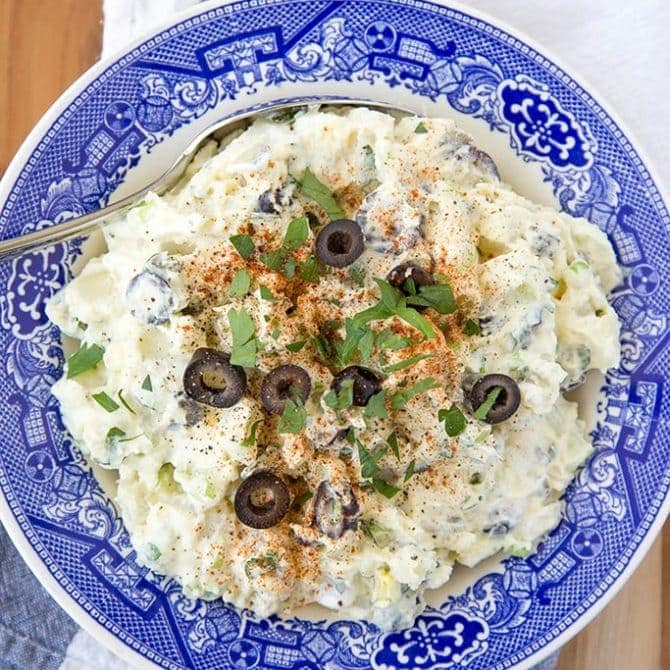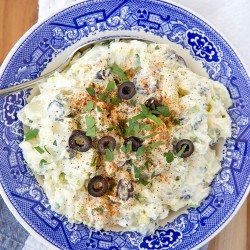 Favorite Potato Salad
Ingredients
2 pounds russet or red potatoes peeled and cut into 1/2 inch pieces
3/4 cup mayonnaise
3/4 cup sour cream
2 tablespoons dijon mustard
1 tablespoon dill pickle juice
1/2 teaspoon celery salt
3 hard boiled eggs diced
2 stalks celery diced
5 green onions diced
2 tablespoons freshly chopped flat-leaf parsley
1 4- ounce can sliced olives
4 mini dill pickles chopped (about 1/4 cup)
1/2 teaspoon paprika
Salt & pepper to taste
Instructions
Bring a large pot of water to a boil. Add a couple teaspoons of salt and diced potatoes. Cook over medium-high heat for 10 minutes, or until potatoes are fork tender, but not mushy. Drain and spread potatoes out on a flat surface (like a cookie sheet) to cool. Sprinkle with salt.

While the potatoes are cooling, dice the parsley, celery, green onions, eggs and pickles. Set aside.

In a large bowl, stir together mayonnaise, sour cream, dijon mustard, pickle juice and celery salt. Add potatoes and stir to coat completely. Fold in remaining ingredients. Taste and add salt and pepper as desired.
For more barbecue friendly side dishes, try these: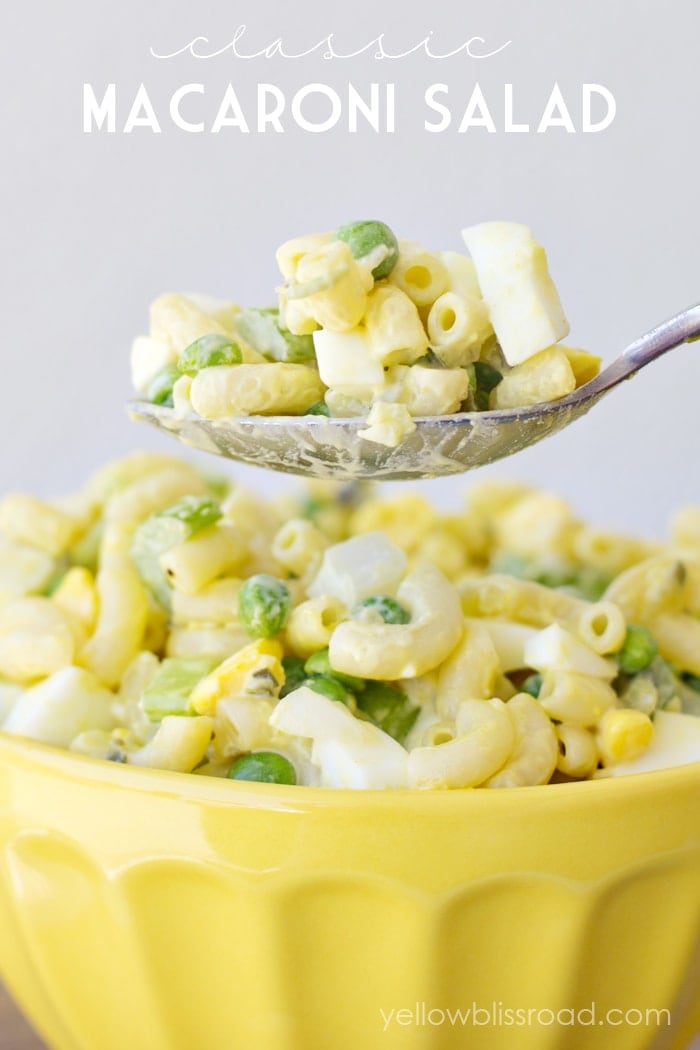 Bacon Ranch Chicken Pasta Salad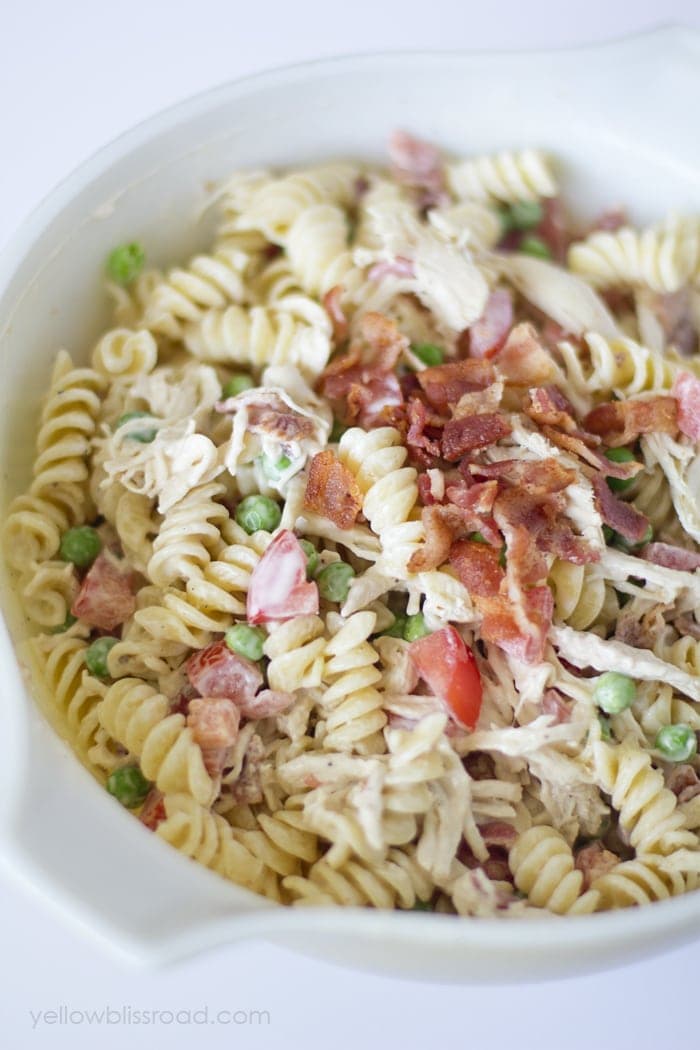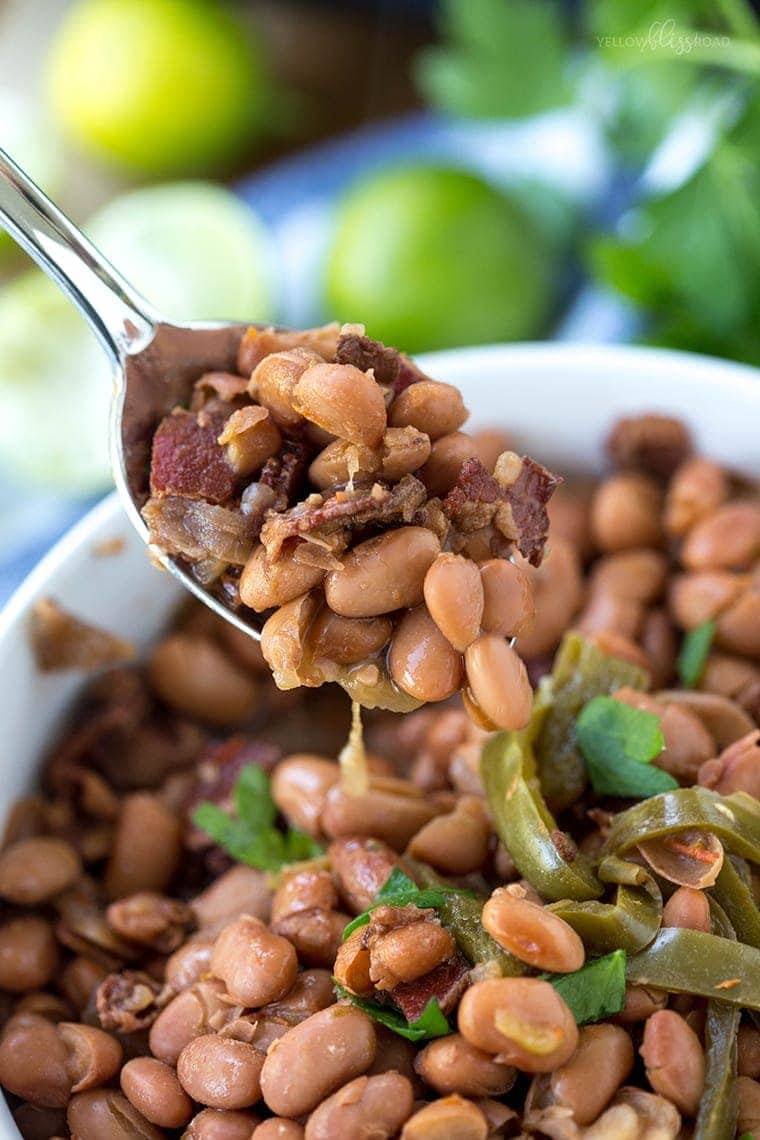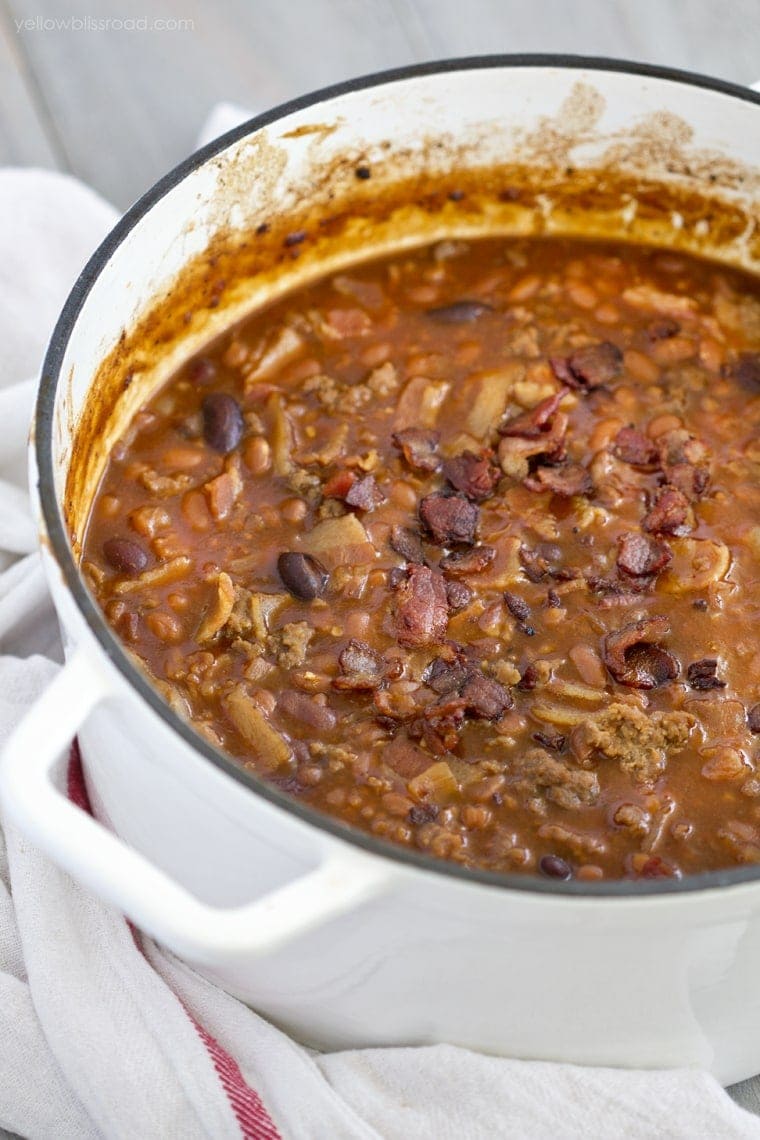 For all side dishes go HERE and for all recipes go HERE.