Learn how to make the best, easy Ground Beef Enchiladas! This classic Mexican recipe has seasoned ground beef rolled up in soft corn tortillas and smothered in red sauce and melted cheese.
These tex mex style enchiladas are super cheesy and flavorful. They are one of the most common combo plates served with Mexican Rice and Refried Beans.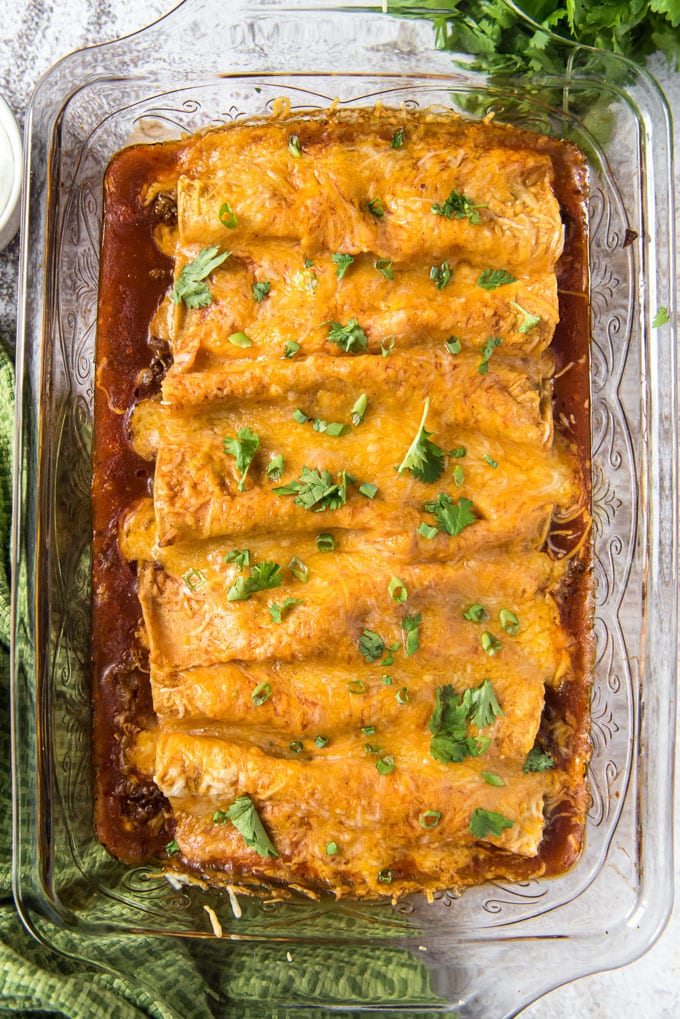 Pin this recipe for later!
Ingredients for Beef Enchiladas
Enchiladas are a staple in most Mexican restaurants. They are one of the most common combo plates served with Mexican Rice and Refried Beans. You don't always see them on menus, but my favorite has always been ground beef enchiladas.
Ground beef – I prefer to use a lean ground beef, such as 90/10. You are welcome to use whatever you prefer or have on hand, just make sure to drain the excess grease.
Onion and garlic – both are chopped and added to the ground beef for flavor.
Taco seasoning – I highly recommend making your own seasoning, which I've linked here, but you can certainly use a packet of the blend as well. I also add extra cumin because I love the flavor.
Corn tortillas – These work best for beef enchiladas because they are heartier than their soft flour counterparts. Can you use flour tortillas for enchiladas? You can, and I do for my Green Chile Enchiladas. But corn tortillas are thicker and can stand up to the red sauce better and they don't tear as easily.
Red enchilada chile sauce – You can definitely use a homemade enchilada sauce recipe, in fact I recommend it if you have the time. But the canned sauces available are just so good that I often take the shortcut! My favorites are Old El Paso and Las Palmas. They are available in mild, medium or hot.
Cheddar jack cheese – freshly grated off the block is best. Pre-shredded cheese has a coating that prevents proper melting.
Toppings – There are a lot of options for topping enchiladas before serving, like sliced green onions, sour cream, Pico de Gallo, Homemade Salsa, sliced avocado, cilantro or Guacamole.
How to Make Beef Enchiladas
Ground Beef Enchiladas are pretty simple to make, but do require a few extra steps.
See recipe card below for ingredient quantities and full instructions.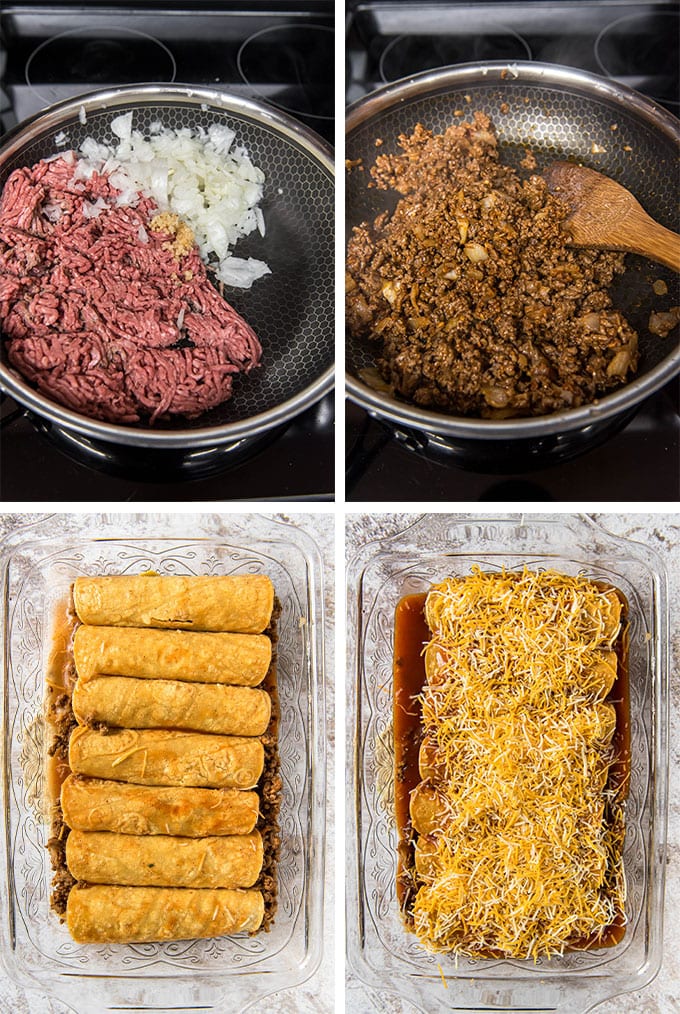 Cook the ground beef with onions and garlic in a large skillet over medium-high heat, then simmer in taco seasoning. I like to use a higher fat content beef, like 85/15 because the fat adds flavor and I always drain out the extra grease. But you can use a leaner variety if you like.
Heat red enchilada sauce in a skillet big enough for the corn tortillas. Let it simmer so you can dip the tortillas in to soften them. Use tongs to hold the tortillas because the sauce is very hot.
Lay the tortilla on a flat surface and spread about ¼ cup of the ground beef mixture down the center of the tortilla. Top the meat with some shredded cheese. You can do this right in the baking dish you're going to use for baking the enchiladas to save yourself from having to transfer them and risk all the meat falling out. Roll the tortilla around the filling and arrange seam side down in the pan. Depending on how much meat you use for each enchilada, you may get anywhere from 8-14. Use another pan if necessary rather than trying to stuff them all in one dish.
Pour the remaining sauce over the enchiladas and top with lots of shredded cheese. You can use cheddar, jack or a combination of the two, but always use cheese that's freshly shredded off the block. Pre-shredded cheese contains preservatives and won't melt nicely.
Bake the ground beef enchiladas uncovered until hot and bubbly. You can tent some foil over the top if they are getting too brown. Baking them uncovered gets the edges of the tortillas get a little crispy – that's my favorite part! To make them even fancier, top with thinly sliced green onions or sliced olives.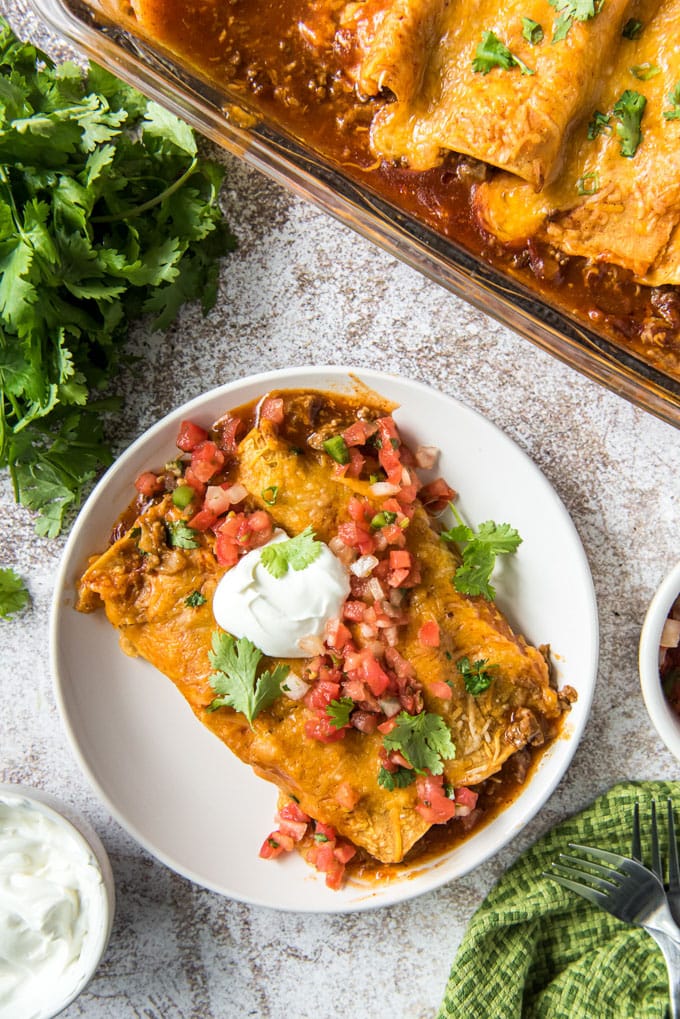 FAQs
What kind of tortillas should I use?
Traditional enchiladas are made with corn tortillas because they won't soak up the red sauce. My Creamy Chicken Enchiladas are made with a cream-based sauce which works better with flour tortillas.
Do you have to fry the tortillas?
This one is a little more controversial because some will tell you that you have to fry them in order to soften them. Instead of frying, we heat up the enchilada sauce to a simmer and dip the tortillas in to warm them. This makes them pliable enough to roll without cracking. If you notice they are still breaking, heat your stack of tortillas in the microwave for one minute, then proceed with dipping.
Serving Suggestions
While beans and rice are the most popular sides that you'll find at every Mexican restaurant, I also recommend serving beef enchiladas with Black Bean and Corn Salad, Elote, or just a simple green salad.
Helpful Tips
Assembling the enchiladas: Roll the filled tortillas right in the baking dish to prevent meat falling out when you move them.
Storing leftovers: Leftovers should be stored in an airtight container in the fridge for up to 3-4 days. Reheat in the microwave or covered in an 350 degree oven until warmed through.
Freezing cooked beef enchiladas: Bake the enchiladas and let cool completely. Cover the entire pan tightly with foil, crimping around the edges to seal and prevent freezer burn. This method also works with freezing smaller portions in individual containers. Thaw in the fridge overnight, then bake at 350 degrees F until enchiladas are warmed through.
Make ahead tips: Ground Beef Enchiladas can be made and refrigerated up to 2 days in advance before baking. Let sit out for 15-30 minutes to come to room temperature, then bake as directed. To freeze, make enchiladas and cover with the sauce and cheese. Cover tightly with foil and freeze up to 3 months. Thaw overnight in the fridge, then bake as directed.
If you plan to make these ground beef enchiladas ahead of time for freezing, use disposable foil pans instead of your ceramic baking dishes.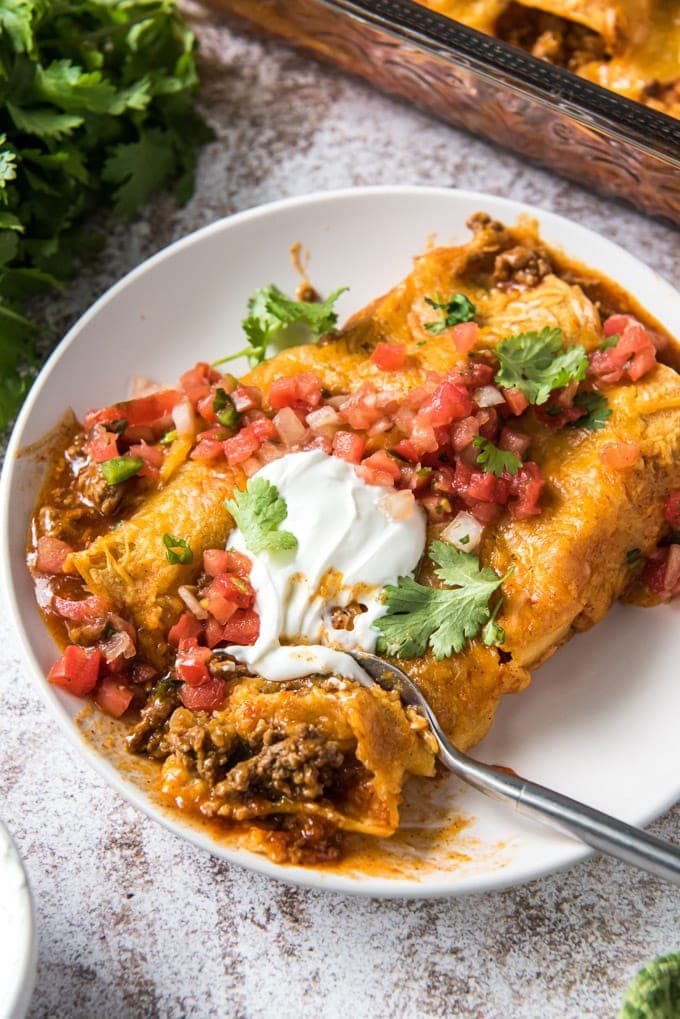 More Mexican Recipes
Recipe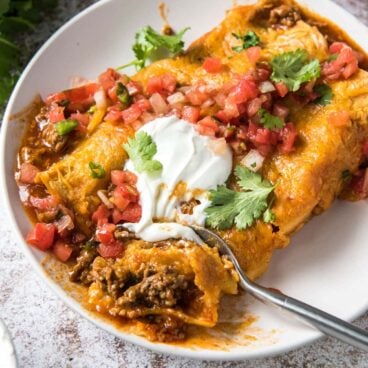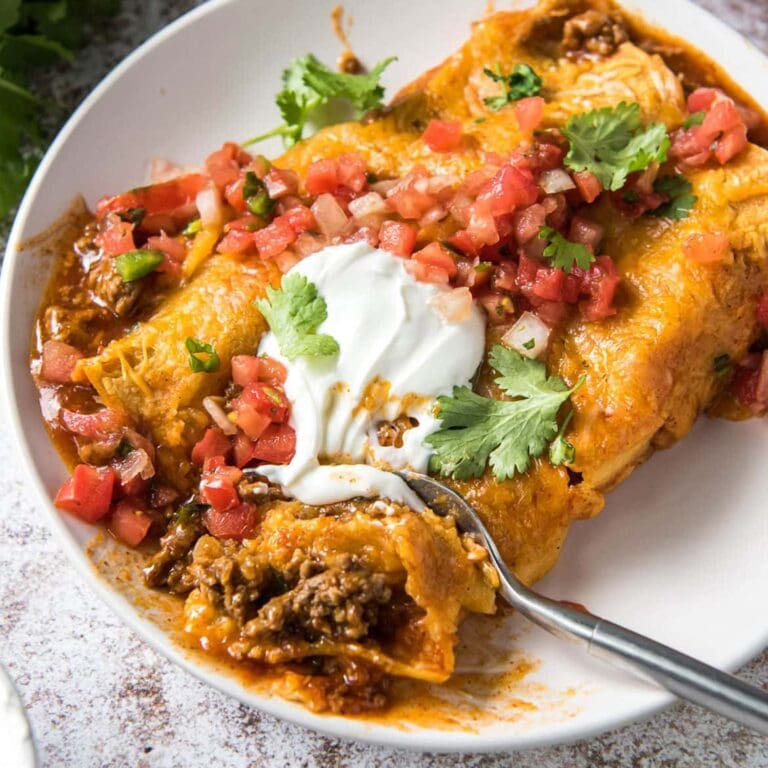 Ground Beef Enchiladas
Seasoned ground beef rolled in soft corn tortillas and smothered in red sauce and melted cheese for a classic Mexican favorite.
Ingredients
1

pound

ground beef

1

small white onion

diced

1

clove

garlic

minced

2

tablespoons

taco seasoning

1 packet

½

teaspoon

cumin

1/4

cup

water

8-10

corn tortillas

28

ounce

can red enchilada chile sauce

2-3

cups

freshly shredded cheddar jack cheese

1

green onion

thinly sliced

Optional Toppings: Sour Cream

Pico de Gallo or salsa, Diced Avocado, Fresh cilantro
Instructions
In a large skillet over medium heat, cook ground beef with diced onions and garlic, breaking up the beef with a spoon as it cooks. Cook until no longer pink. Drain any excess grease.

Sprinkle taco seasoning and cumin over the beef and stir in ¼ cup of water. Continue to cook, stirring often, until water is absorbed.

Preheat oven to 350 degrees F. Pour ½ a cup of enchilada sauce in the bottom of a 13×9-inch baking dish and spread evenly.

Heat remaining sauce in a small skillet, just until bubbly, then remove from heat. Wrap a stack of 10 corn tortillas in a clean kitchen towel and microwave on high for 30 seconds to a minute. Dip a tortilla in the enchilada sauce to coat both sides then lay flat on a cutting board or plate. Add a small amount of the meat mixture (about 3 tablespoons) down the center of the tortilla, then top with about 1-2 tablespoons of shredded cheese. Roll up both sides and place seam side down in the prepared baking dish. Repeat with remaining tortillas and meat.

Pour remaining sauce over the enchiladas evenly and top with remaining shredded cheese. Feel free to add more or less cheese based on your preferences. Sprinkle sliced green onion on top.

Bake uncovered for 20-30 minutes, or until cheese is melted and sauce is bubbly. Let sit 5 minutes before serving. Garnish as desired with optional toppings like sour cream, pico de gallo, avocado, sliced green onions or cilantro.
Notes
You can get anywhere from 8 to 14 enchiladas depending on the amount of meat you place in each tortilla. You will have about 2 ½ cups of meat mixture to work with. Using ¼ cup of meat on will yield 8-9 enchiladas.
Nutrition
Calories:
454
kcal
Carbohydrates:
30
g
Protein:
28
g
Fat:
25
g
Saturated Fat:
13
g
Cholesterol:
91
mg
Sodium:
1516
mg
Potassium:
351
mg
Fiber:
5
g
Sugar:
10
g
Vitamin A:
1358
IU
Vitamin C:
5
mg
Calcium:
315
mg
Iron:
3
mg