Wet Burritos are the very best way to eat a burrito. They are stuffed with meat, beans, cheese, and sour cream and topped with red enchilada sauce and cheese. Make your favorite Mexican food at home with this simple smothered burritos recipe!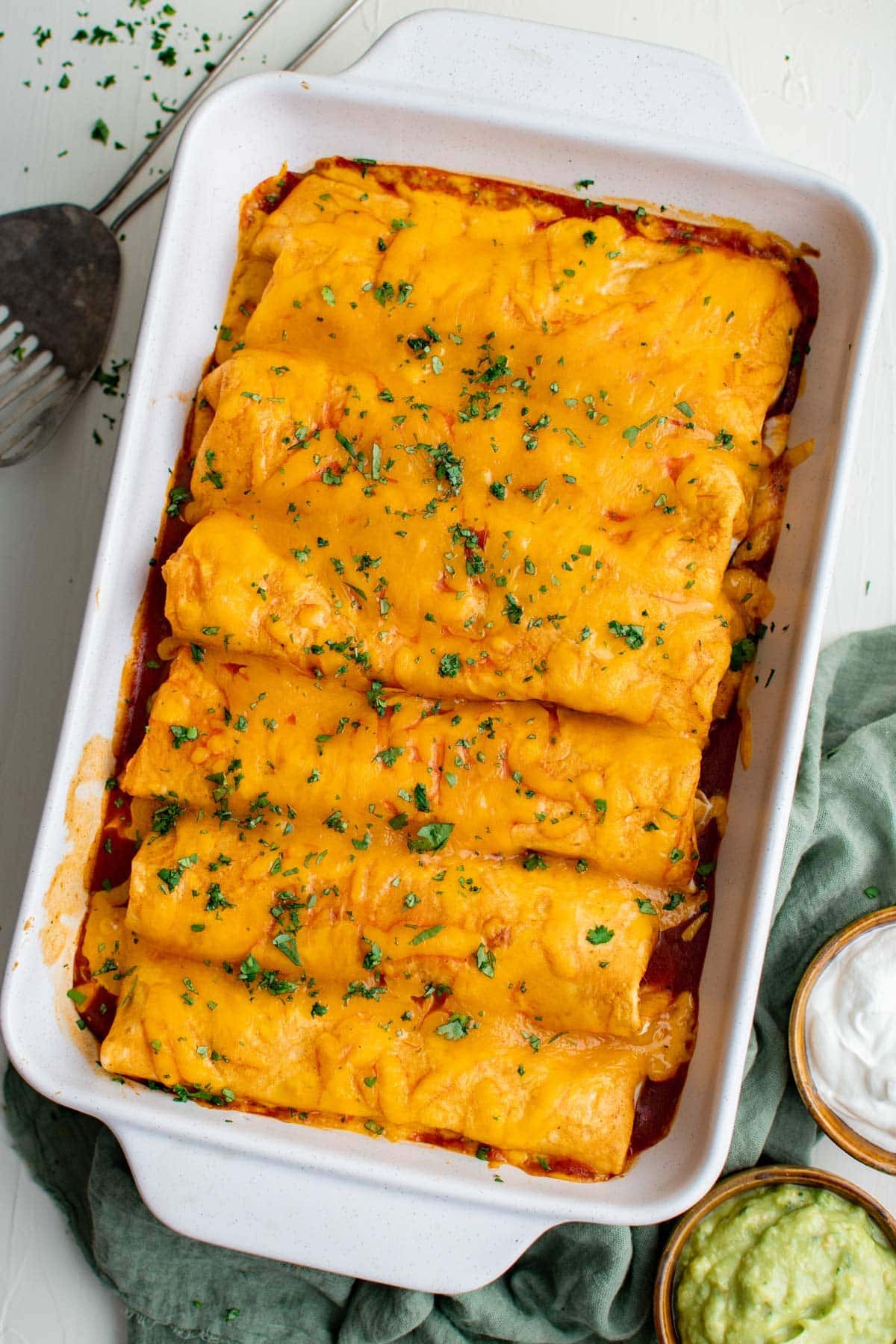 My whole family gets excited when they find out mom's making wet burritos for dinner. They are pretty filling, so I don't usually serve a lot with them. We like them best with Fresh Corn Salad, Mexican Rice, or just some simple veggies. Of course there's got to be some homemade Guacamole on top. I love that I can make them ahead of time if I need to, or even freeze for a few months so I always have some wet burritos on hand.
What is a Wet Burrito?
My son has one order, and one order only at any Mexican restaurant. A wet burrito. That's all it takes to make this boy happy. You'd think his tastes would change since he's been eating them this way since he was 5 and he's now 13. But these smothered burritos are this kid's all-time favorite food. Soft flour tortilla stuffed full of meat, beans, cheese, and rice – that's his happy place.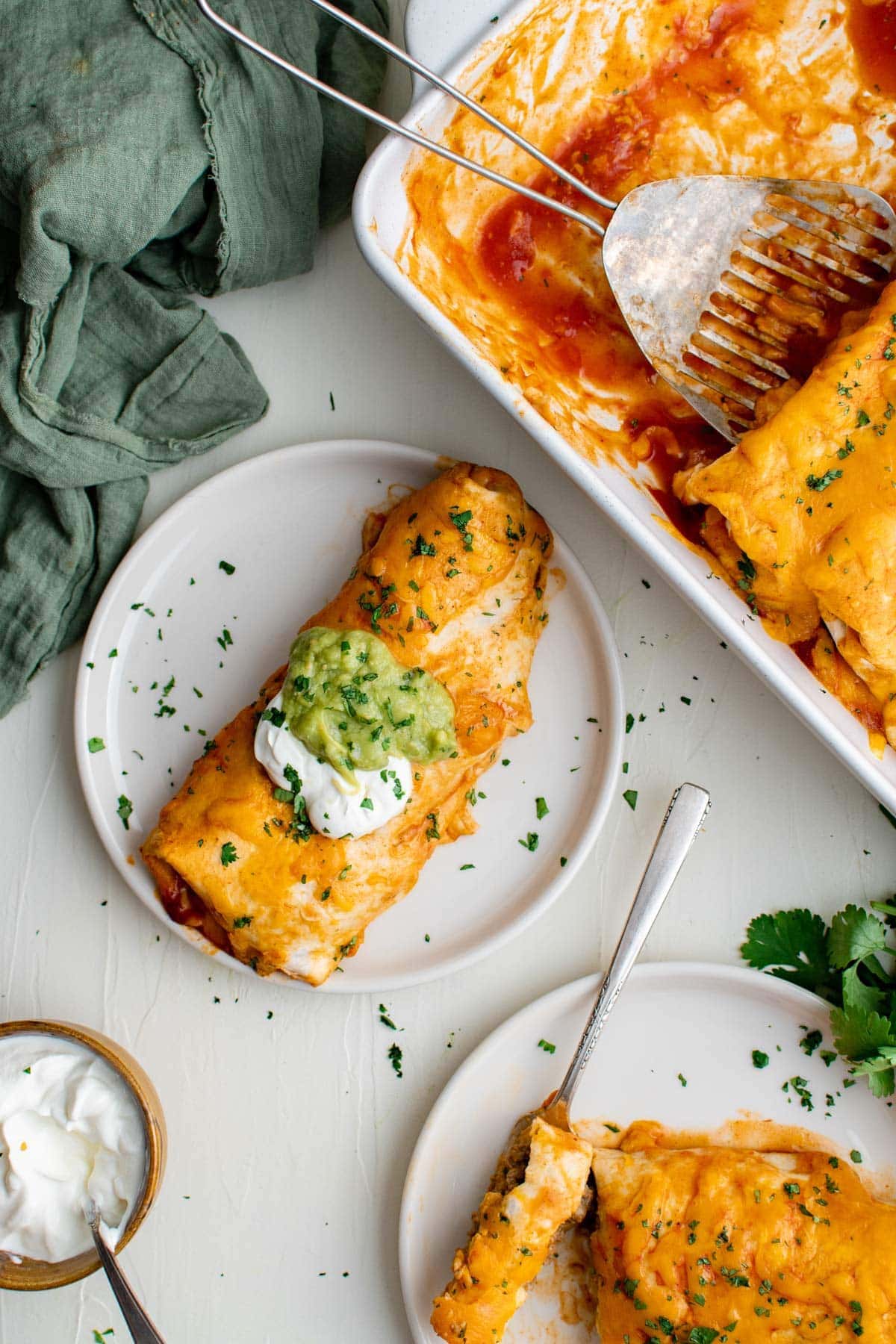 Since we've been eating at home instead of out at restaurants, he's really been missing his favorite meal. So I finally decided to make the perfect wet burritos at home and he was in heaven.
A wet burrito is basically just as it sounds. A burrito, stuffed how you like it, smothered with green or red enchilada sauce and cheese, or "wet." In restaurants, they are typically baked individually, but I like just baking them all in a big dish, like we do Ground Beef Enchiladas. The difference is not using quite as much sauce, and the flour tortillas are already soft so they don't need to be dipped in sauce the way corn tortillas do.
The difference between a regular burrito and a wet burrito is how you eat it. A regular burrito is rolled tightly and handheld while a wet burrito is served on a plate, smothered in red or green sauce, and eaten with a fork.
How to Make Wet Burritos
This is a super simple meal to make at home. My family loves these for dinners, and even more for lunch the next day!
The filling. When I make these for my family I cook some ground beef and onion, then mix in some salsa, refried beans, sour cream, and taco seasoning. Just cook long enough to warm it through. You can really stuff your burritos with anything you like, from shredded chicken, shredded beef, or ground turkey, or even add some veggies or rice. I like to mix everything together.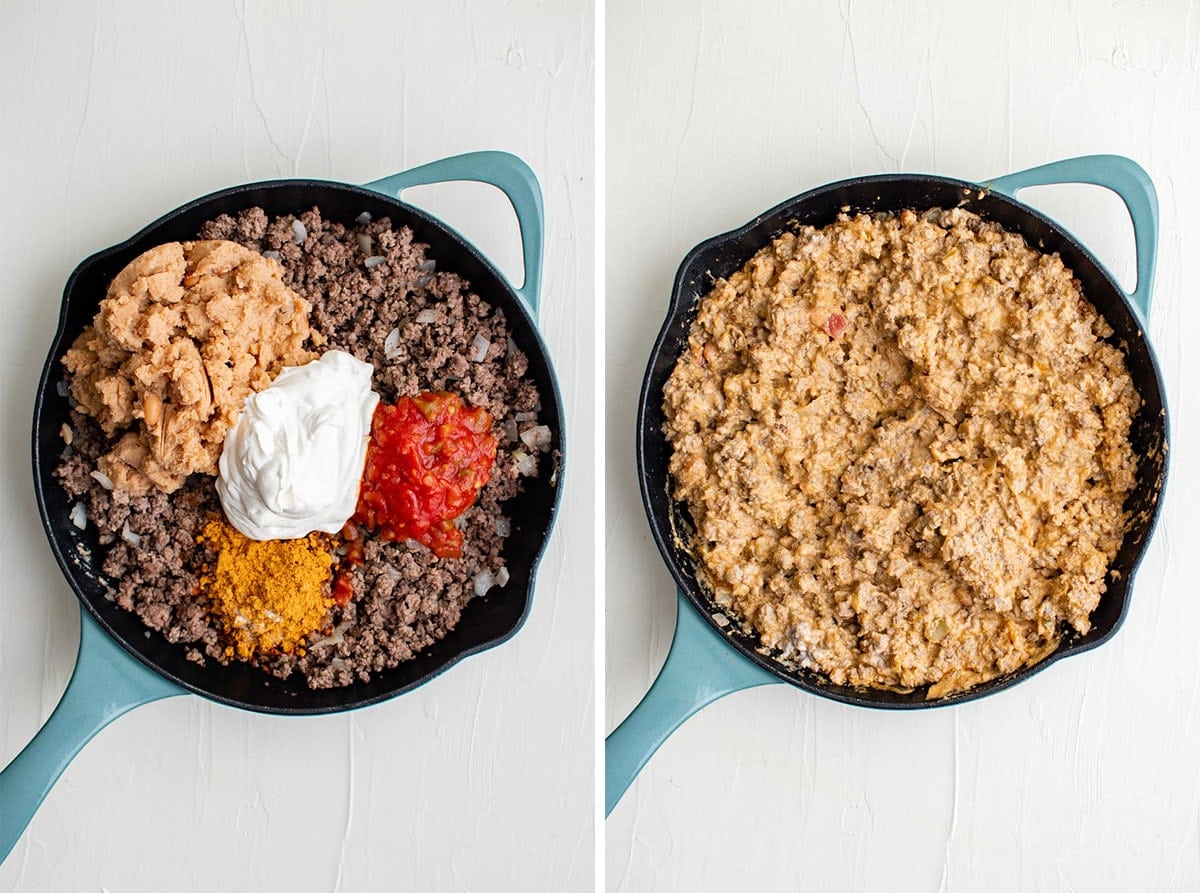 Tortillas. You want to choose a large flour tortilla, at least 10-inches but 12-inches is better. Look for the burrito size of your favorite brand.
Stuff and Roll tightly. Lay the tortilla out on a flat surface and spread about ½ cup (or a little more) of the ground beef mixture in the middle. After the first one, you'll get a feeling for how much will fit in each tortilla. Sprinkle cheese on top of the meat, then fold in the sides and roll tightly into a burrito.

Smother and Bake. Arrange those tightly rolled up burritos seam side down in a large baking dish. Depending on how many you end up with, which really depends on how full you stuff them, you might need to use a second dish. Smother them in enchilada sauce and shredded cheese. Sometimes I'll add green onions and olives, too. Bake them uncovered until the cheese is melted and bubbly.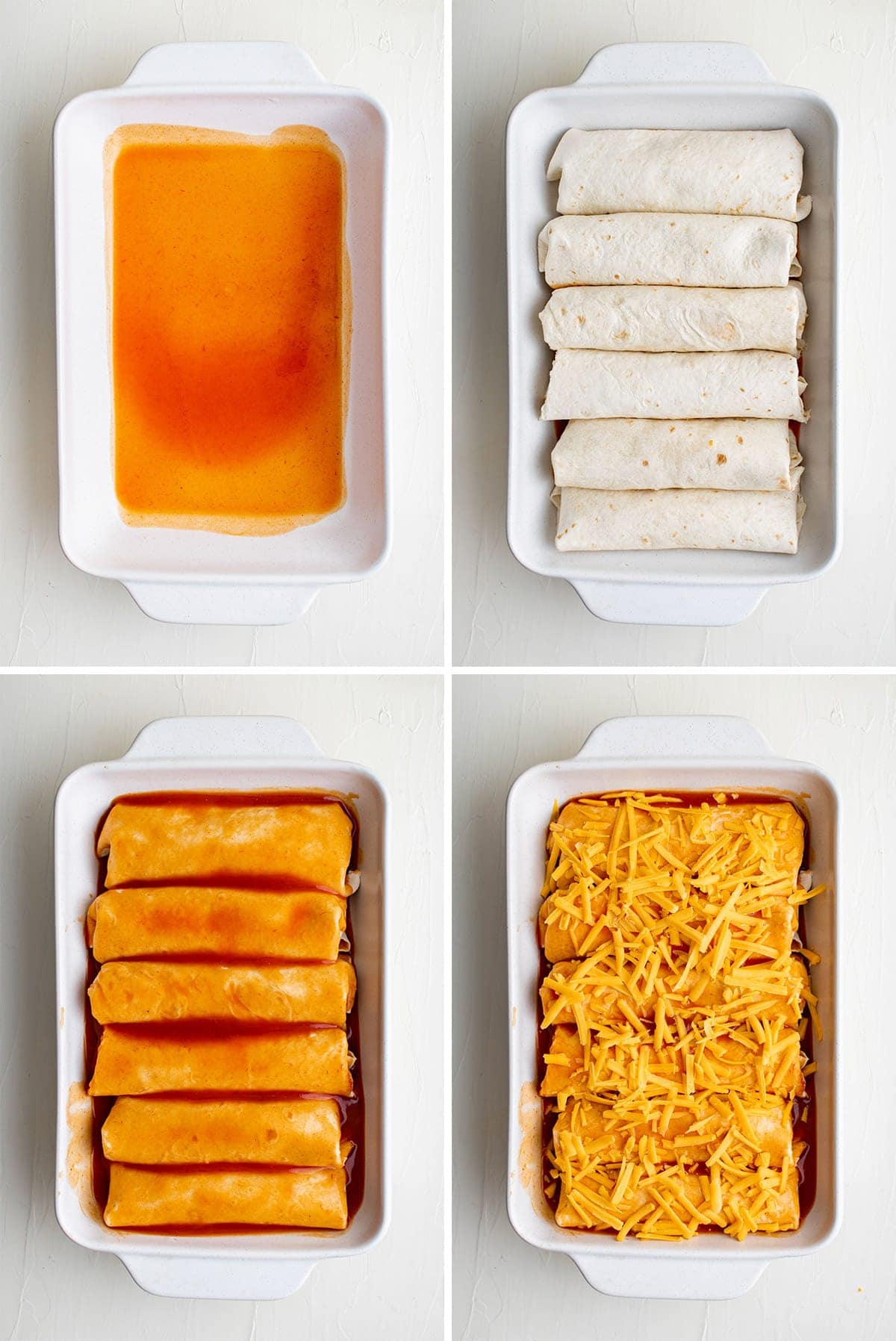 Make Ahead, Storage, and Freezing Instructions
One of the best things about these smothered burritos is how perfect they are for making in advance and freezing for a delicious Mexican-inspired meal anytime.
Make Ahead: You can make the burritos up to 3 days in advance. Fill them up and roll tightly, then store in the fridge. When you're ready to bake, just smother them in enchilada sauce and bake as directed. Let the pan sit out on the counter while the oven preheats to bring them up to room temperature.
Storage: Store baked burritos in an airtight container for 3-4 days, depending on the freshness of the ingredients used. Reheat in the oven or the microwave.
Freezing: Fill the burritos and roll them up tightly. Place seam side down on a baking sheet and flash freeze for about an hour. Once they are solid, place in a freezer bag and store up to 3 months. Thaw completely in the fridge overnight, then bake as directed.
Variations and Tips
One of the great things about these wet burritos is how customizable they are. Here are a few tips for making them and for making them your own.
Not a fan of red sauce? Try smothering them in Roasted Tomatillo Salsa Verde or your favorite jar of salsa instead.
Use anything you like in the filling. Mix it together like I do or layer everything on the tortilla
It's really important to roll them up nice and tight. If they are too loose you'll end up losing the filling.
To connect the flavors even more, add enchilada sauce into the beef mixture instead of salsa.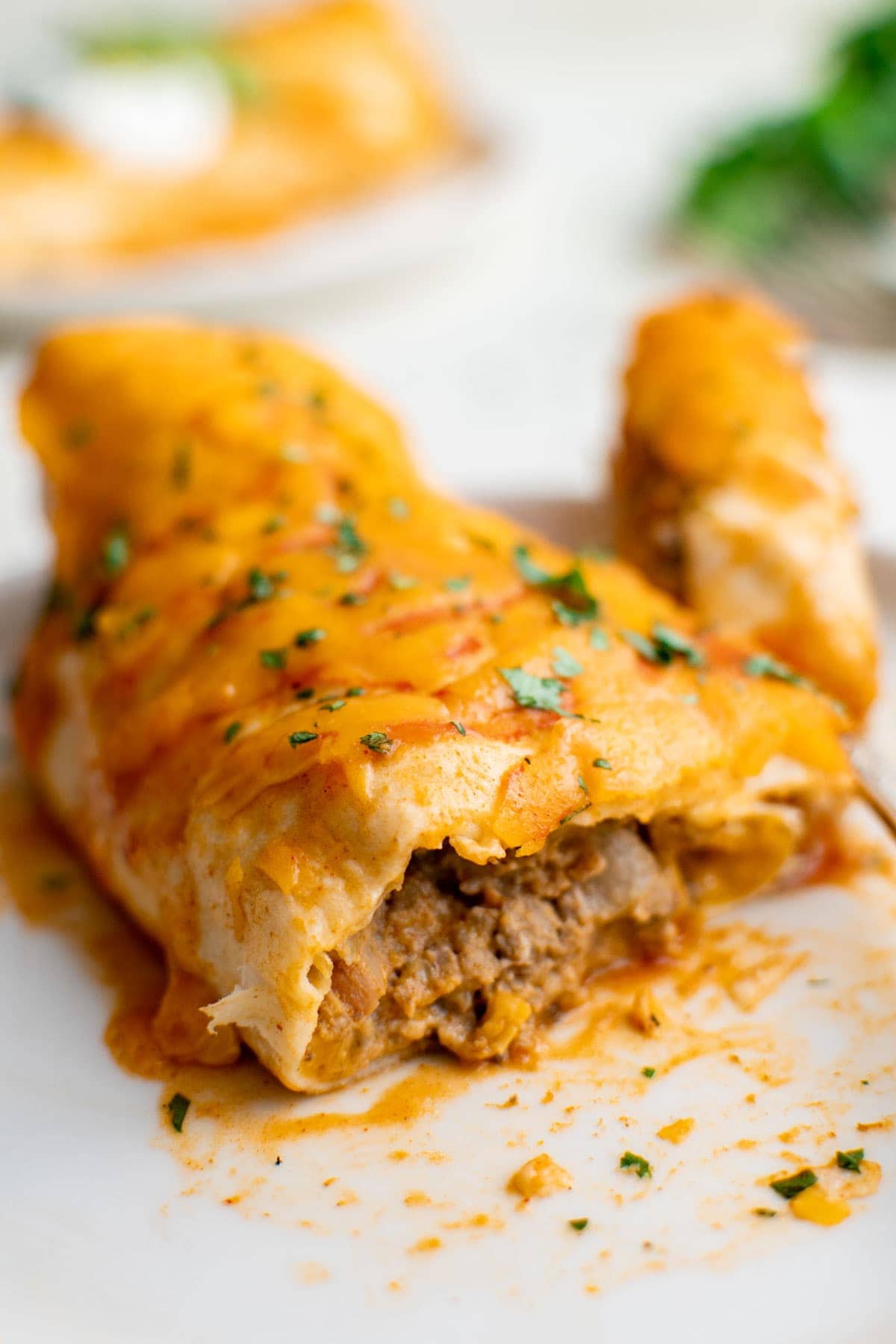 More Mexican Inspired Favorites
Recipe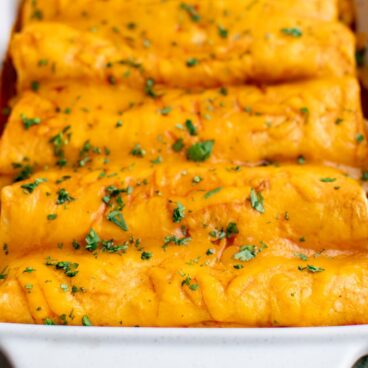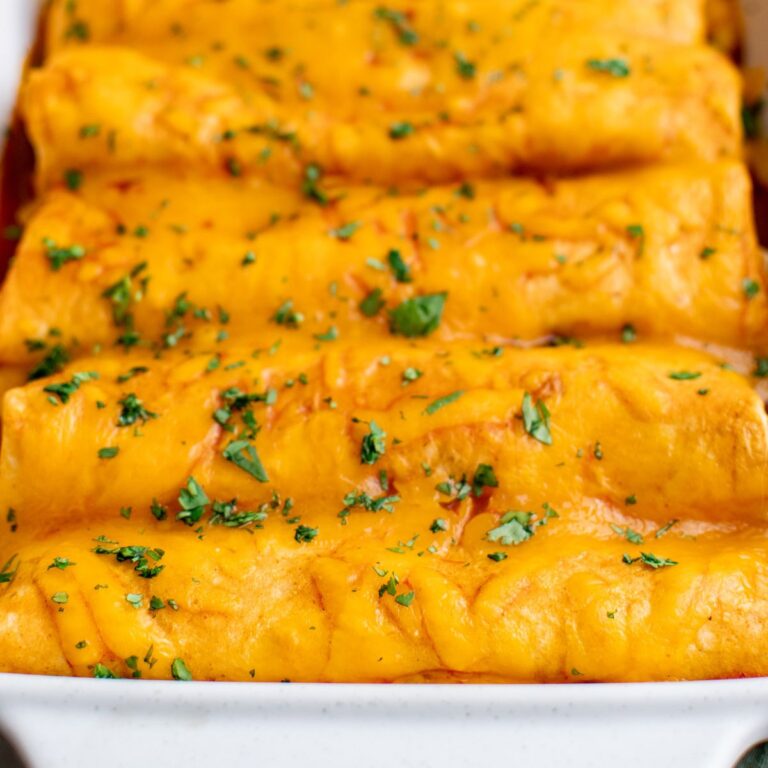 Wet Burritos
Wet Burritos have a beef and bean filling wrapped tight in a soft flour tortilla and smothered with red or green sauce and melted cheese.
Ingredients
1

medium onion, diced

1 ½

pounds

ground beef

¼

teaspoon

salt

2

tablespoons

taco seasoning

15

ounces

refried beans

½

cup

of your favorite salsa

½

cup

sour cream

1

cup

red enchilada sauce

3

cups

freshly shredded sharp cheddar cheese

divided

6

12-inch flour tortillas

burrito size tortillas

Optional garnishes: Cilantro, olives, green onions, avocado

optional
Instructions
Preheat the oven to 375 degrees F.

Heat a little oil in a large skillet and add the onion and ground beef. Season with salt and cook until no longer pink. Soak up any excess grease with paper towels.

Stir in taco seasoning, refried beans, salsa and sour cream. Cook, stirring often, for a couple of minutes then turn off the heat.

Spread a few spoonfuls of the enchilada sauce in the bottom of a 9x13-inch baking dish.

Divide the meat mixture evenly in the center of each tortilla and top with 2-3 tablespoons of cheese. Fold in the sides then roll into a burrito. Arrange the burritos seam side down in the baking dish.

Top with remaining enchilada sauce and cheese. Bake uncovered for 20 minutes, or until filling is hot and cheese is melted and bubbly.

Serve with additional sour cream, cilantro and avocado garnishes, if desired.
Notes
The filling will make enough for 6-8 burritos, depending on how you fill them. 
If you like rice in your. burritos, make my Mexican Rice and add it to the filling.
The amounts for the cheese are just a suggestion. Feel free to use as much cheese as your heart desires!
Nutrition
Calories:
677
kcal
Carbohydrates:
31
g
Protein:
42
g
Fat:
42
g
Saturated Fat:
21
g
Trans Fat:
1
g
Cholesterol:
146
mg
Sodium:
1719
mg
Potassium:
551
mg
Fiber:
5
g
Sugar:
8
g
Vitamin A:
1194
IU
Vitamin C:
3
mg
Calcium:
511
mg
Iron:
5
mg