Banana Bran Muffins are moist and delicious, and they are an excellent source of protein and fiber. Store extras in the freezer for an easy on the go breakfast or snack!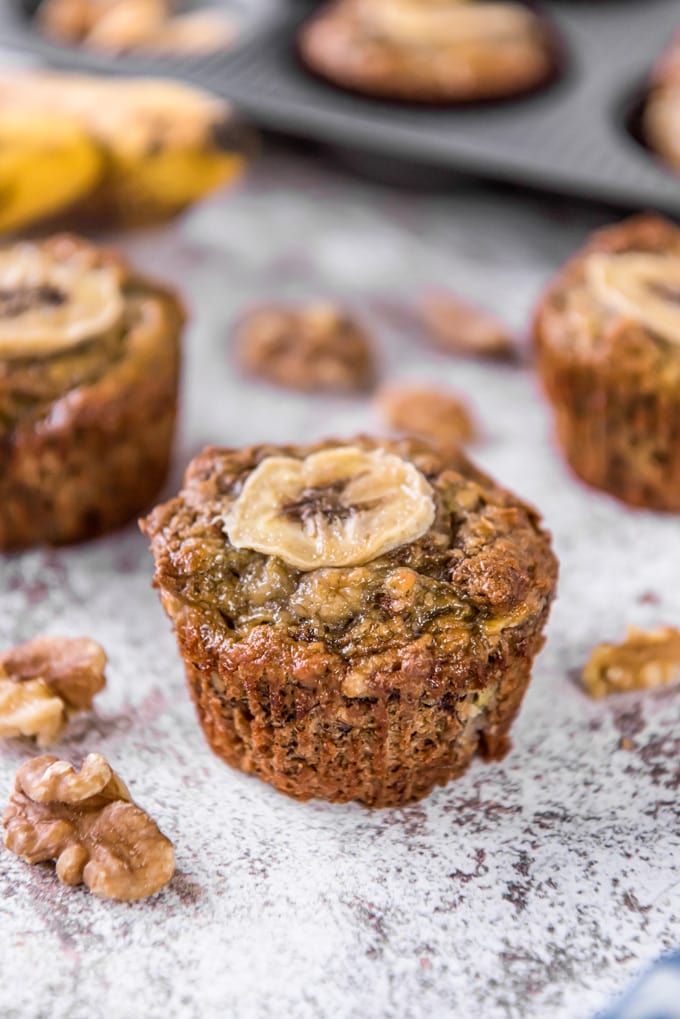 HEALTHY BANANA BRAN MUFFINS
Muffins are my go-to when my kids want to bake something delicious. When my kids were little I would make muffins almost every weekend. I tried to keep them healthier like my Whole Wheat Strawberry Muffins or Zucchini Carrot Oatmeal Muffins.
Sometimes my kids catch on that I'm trying to feed them something healthy and they refuse. That's not the case with these Banana Bran Muffins because they don't taste healthy at all even though they've got 3 grams of protein, a gram of fiber and only 1 gram of fat per muffin.
They are sweet from the bananas, so you could cut the sugar if you want to lower that, or use a sugar substitute. I like to add raisins to half of the batter since one kid likes them and one kid doesn't.
This recipe actually is one that my mom has been making for nearly 30 years. It came from the Betty Crocker Working Woman's Cookbook that was released in 1982. That title always cracks me up, but it's actually got a ton of great recipes!
Why we love them
They have 3 grams of protein per muffin, which makes them a hearty snack that will help keep you feeling full.
They are low in fat (only 1 gram of fat per muffin).
You can customize with your favorite additions. Up the protein even more by adding some chopped walnuts or pecans, or more fiber by adding a half cup of raisins.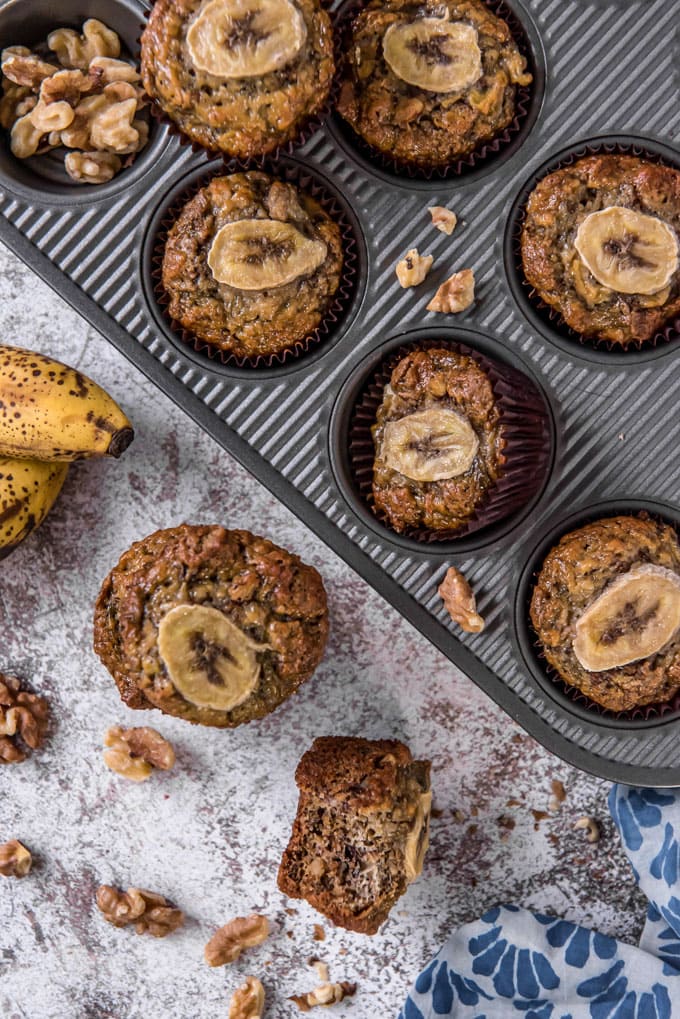 HOW TO MAKE BRAN MUFFINS WITH BANANAS
These healthy muffins are super simple to make and don't require a ton of crazy ingredients. The bananas keep these bran muffins nice and moist so no oil or butter needed. If you wanted to cut the sugar in half you could do so and it wouldn't change the texture or flavor too just, other than making them a little less sweet.
PREP. Preheat your oven and grease a 12-count muffin pan with nonstick cooking spray.
MIX. Combine dry ingredients in one bowl and wet ingredients in another, then combine the two together just until mixed. When you can no longer see the flour, stop mixing. These muffins are more dense and therefore will become even more so if you overmix. Finally, mix in the bran cereal and any optional add-ins, like walnuts or raisins.
BAKE. Spoon the batter into the muffin cups, filling them about 2/3 of the way. An ice cream scoop with a trigger like this one is an excellent tool for this and will help to fill the cups evenly. Bake for 25-30 minutes  or until the tops are golden and spring back when lightly touched.
STORAGE
Bran muffins are a great make ahead snack because they last several days stored at room temperature in an airtight container.
You can also freeze them in a freezer bag or container for up to 6 months for optimal freshness. Perfect for when you're on the go and need a quick breakfast. Just pop a muffin in the microwave for 30 seconds to defrost.
SERVING SUGGESTIONS
These bran muffins make a healthy addition to your lazy Saturday breakfast or fancy Sunday brunch. They are tasty and simple and everyone loves them. Serve them alongside other brunch favorites, like Baked Egg Muffins, Egg & Cheese Hash Brown Waffles and Fruit Salad.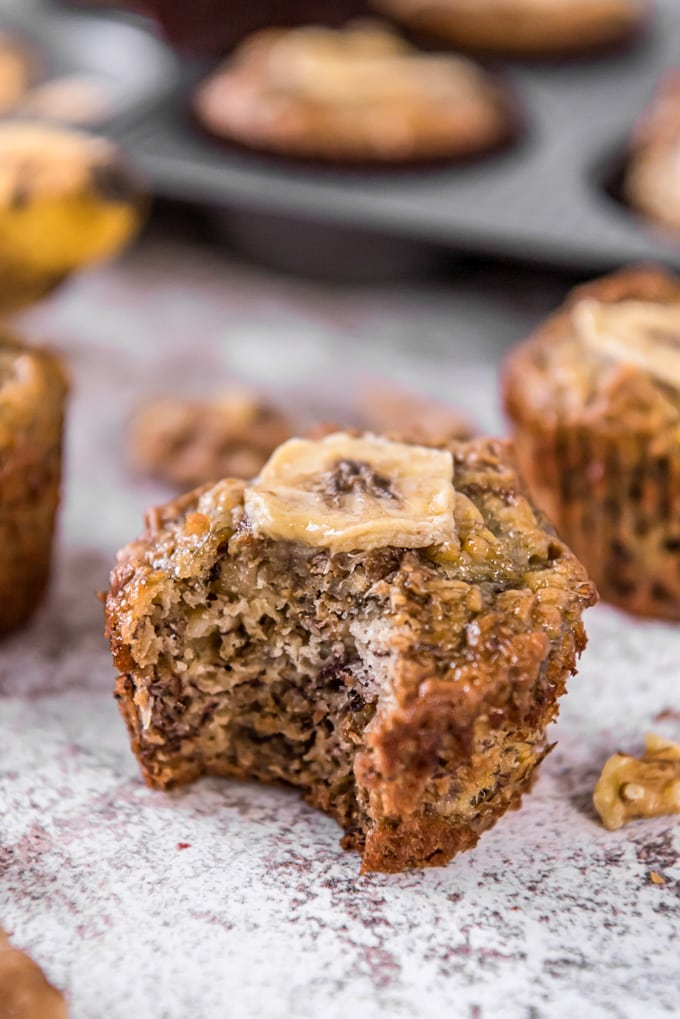 HOW TO RIPEN BANANAS FAST
What happens when you really want to make Banana Bran Muffins but your bananas are still a little green? Ripen bananas quickly for use in chocolate chip banana bread, snack cake or sour cream banana muffins using your microwave or oven!
Oven method: Place unpeeled bananas on a sheet pan lined with foil or parchment paper. Bake at 300 degrees for about 15-20 minutes or until the skins have turned black all over. Let them cool – they will be very hot so handle with care. Once cooled, scoop out the flesh from the peel and add to your recipe.
Microwave method: Pierce the bananas all the way through a few times with a sharp knife and place on a microwave safe plate. Microwave in 30 second intervals until the skins have turned mostly black. Handle with care as they will be very hot. Allow to cool, then peel and use for your recipe. This method is better for partially ripe bananas rather than bananas that are still a bit green.
Another quick banana tip – if you have the opposite problem and your bananas are turning brown before you can use them, just place them into a freezer bag, squeeze out the air and into the freezer they go. They will be ready for you the next time a craving for Banana Bars strikes!
More banana recipes to try:
Recipe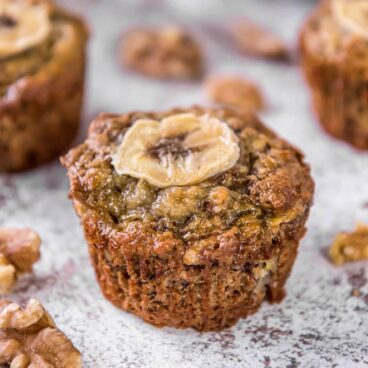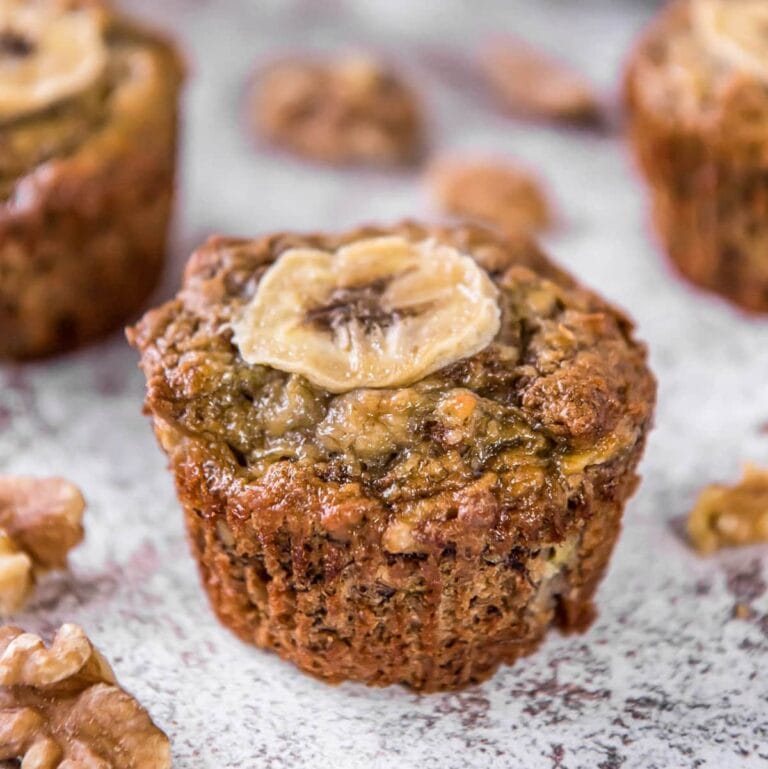 Banana Bran Muffins
Banana Bran Muffins are moist and delicious, and they are an excellent source of protein and fiber. Store extras in the freezer for an easy on the go breakfast or snack!
Ingredients
1

cup

flour

1/2

cup

granulated sugar

1

teaspoon

baking soda

1/2

teaspoon

salt

2

eggs

3

medium ripe bananas

mashed (1 ½ cups)

1 1/2

cups

Bran Flakes cereal

crushed

1/4

cup

optional: chopped walnuts or raisins
Instructions
Preheat oven to 350 degrees F.

In a large bowl, combine flour, sugar, baking soda and salt.

In a separate small bowl, beat eggs, then stir in mashed bananas.

Add the banana mixture to the flour mixture and stir just until moistened and flour has disappeared. The batter will be a little lumpy. Stir in the bran flakes cereal and optional walnuts or raisins.

Spray a 12-cup muffin pan with nonstick cooking spray. Spoon batter into each cup, about ⅔ full. Bake in the preheated oven for 25-30 minutes or until tops are golden and spring back when lightly touched.

Cool in the pan for 10 minutes, then transfer muffins to a wire rack to cool completely.
Notes
From Betty Crocker's Working Woman's Cookbook.
Nutritional information is approximate and does not include optional ingredients.
Nutrition
Serving:
1
muffin
Calories:
123
kcal
Carbohydrates:
27
g
Protein:
3
g
Fat:
1
g
Saturated Fat:
1
g
Cholesterol:
27
mg
Sodium:
229
mg
Potassium:
155
mg
Fiber:
2
g
Sugar:
13
g
Vitamin A:
183
IU
Vitamin C:
3
mg
Calcium:
10
mg
Iron:
2
mg