These Easy, Cheesy Scalloped Potatoes are smothered in a creamy cheese sauce and baked to perfection. With a quick shortcut, this classic side dish takes less than an hour from start to finish. They are sure to be a hit at your holiday feast.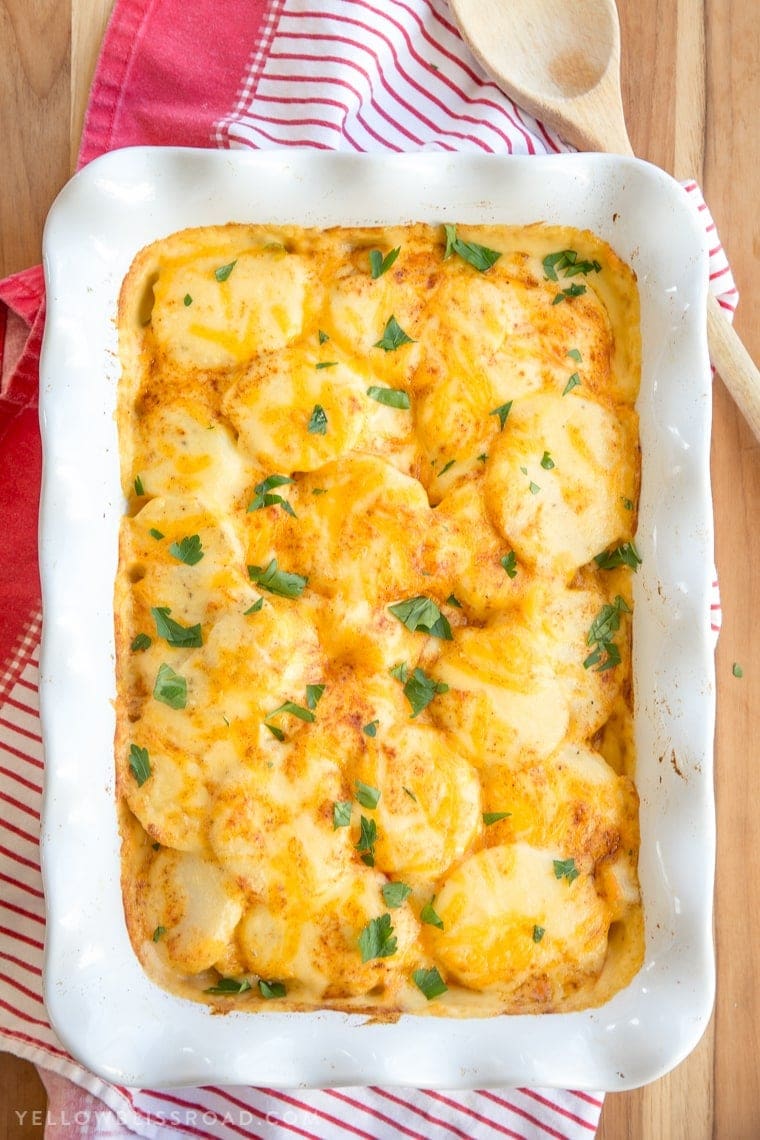 This post has been updated from 2016.
My grandma was know for her comfort food cooking. From authentic German and Hungarian dishes to American classics like these Easy Cheesy Scalloped Potatoes, each recipe she cooked was her pride and joy. In our family she was known for certain dishes, like her Shortcut German Potato Salad and her Zucchini Bread, among others. She never had to follow a recipe – she knew each one like the back of her hand. Which of course leaves us trying to recreate the flavors she made…thankfully we cooked with her enough that we are usually successful.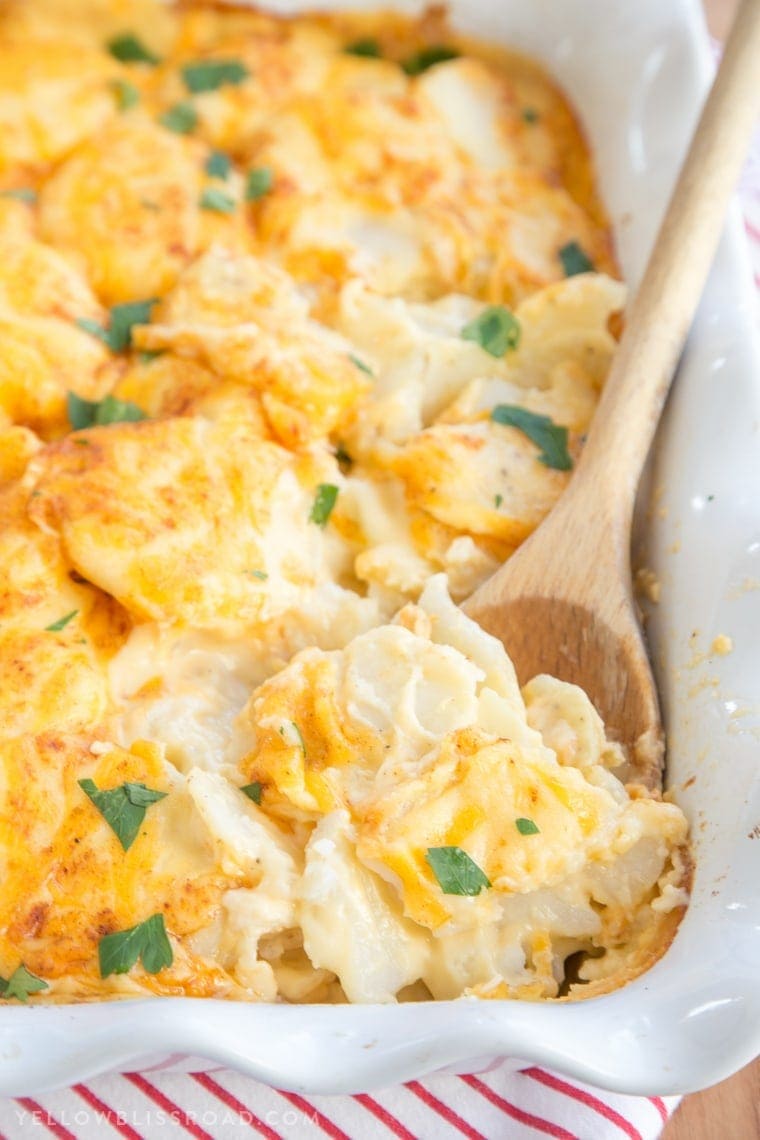 I remember the first time I cooked these Scalloped Potatoes on my own. It was for a Christmas party that I was hosting at my home, and it was the first Christmas since my grandma had passed away. My boss was bringing the ham, so I knew I had to make my grandma's cheesy potatoes. I did and they tasted just like hers…which of course made me cry as I ate them!
How to Make Cheesy Scalloped Potatoes
I love this recipe because it's super easy and tastes better than any cheesy potato casserole I've ever had. That could be due to the massive amounts of fresh Cheddar cheese in the rich, creamy sauce, but who knows? Most potato casserole recipes I've seen (au gratin or scalloped) use raw potatoes and bake the casserole for over an hour, up to an hour and a half or more! The potatoes take quite a while to cook so that lengthy time was necessary. But since we ain't got time for that, my grandma boiled the potatoes whole and unpeeled first, for about 25 minutes, to cook them most of the way through.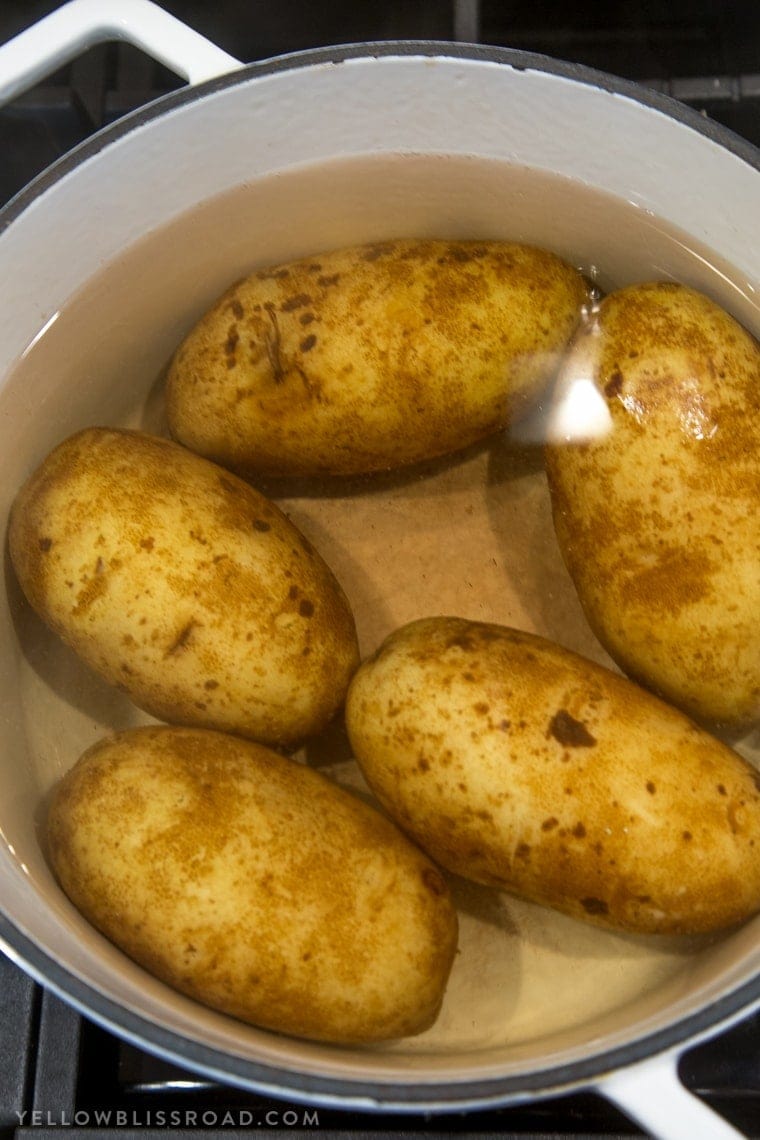 Then she would peel them when they were cool enough to handle and slice them. While the potatoes are cooking the cheese sauce is made, which is a basic bechamel sauce with grated cheddar added. The potatoes and cheese are layered and topped with more grated cheddar and some ground Hungarian paprika for color.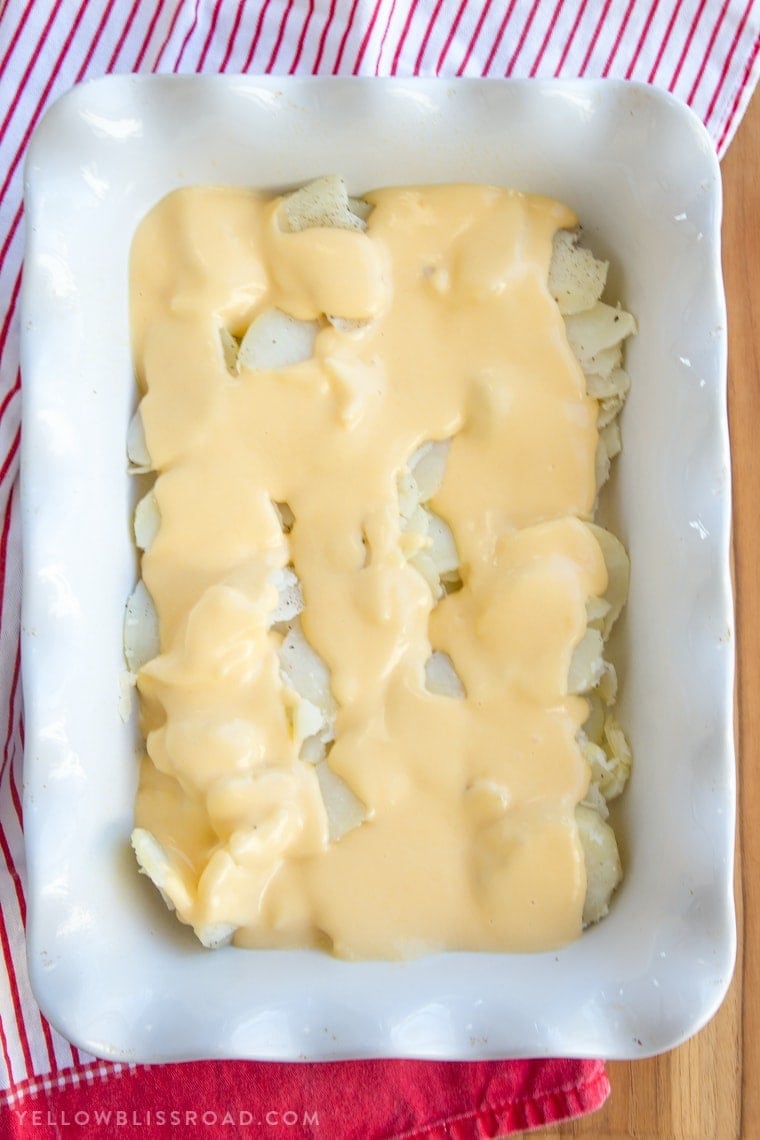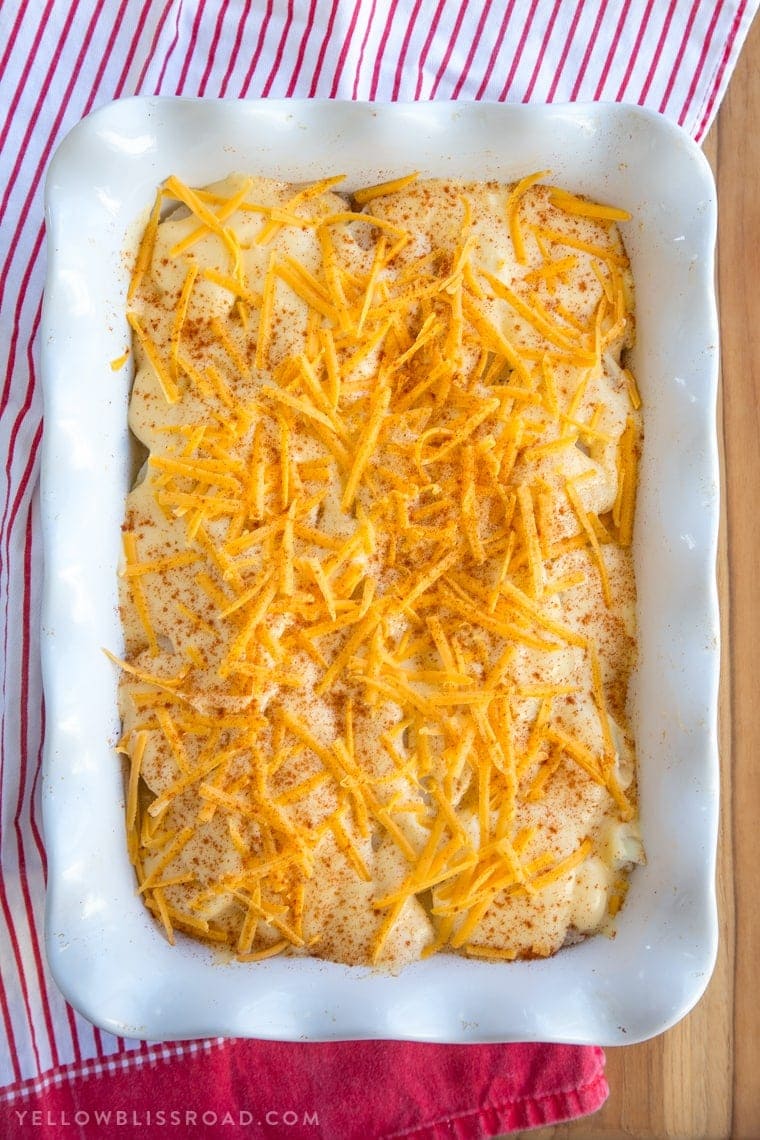 The par-boiling of the potatoes ensured that the potatoes will be creamy and soft and cooked all the way through in under 30 minutes. Most casseroles that start with raw sliced potatoes always have comments stating that the potatoes are unevenly cooked. You won't have that problem with my Grandma's Cheesy Scalloped Potatoes!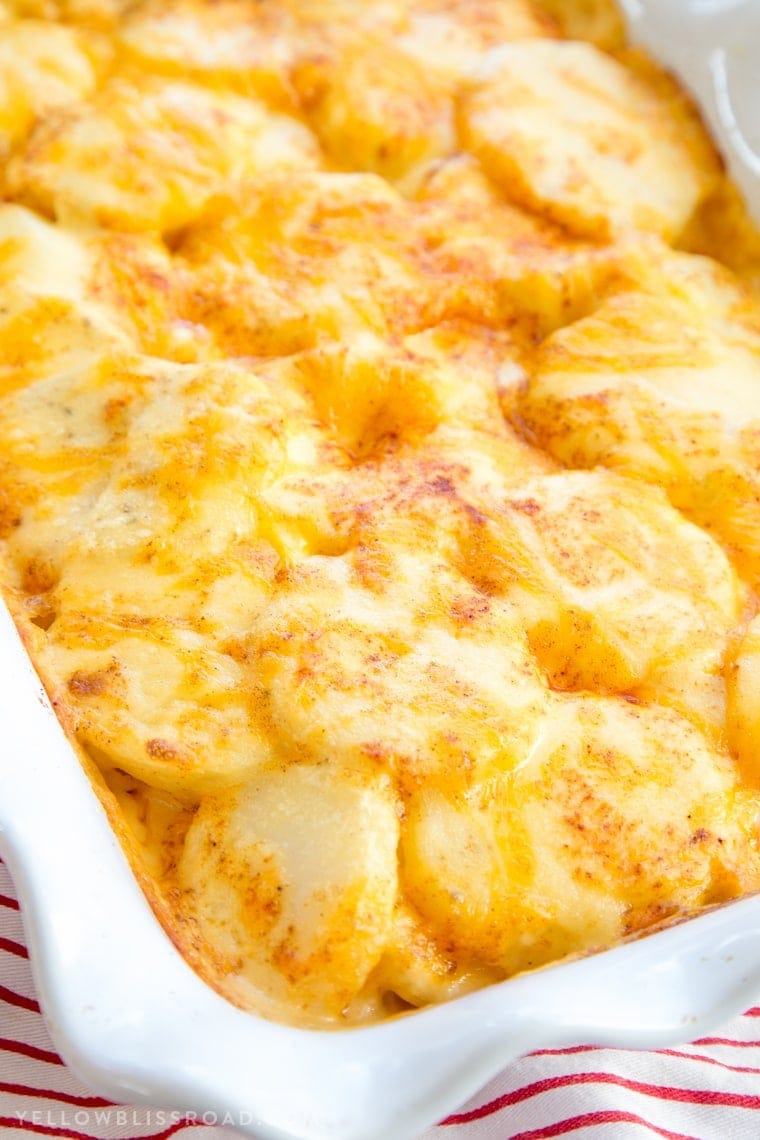 These Easy Scalloped Potatoes were a hit at my dinner party, and they're sure to be a hit at yours. They are delicious with ham, turkey or even as a fancy side for your favorite steak.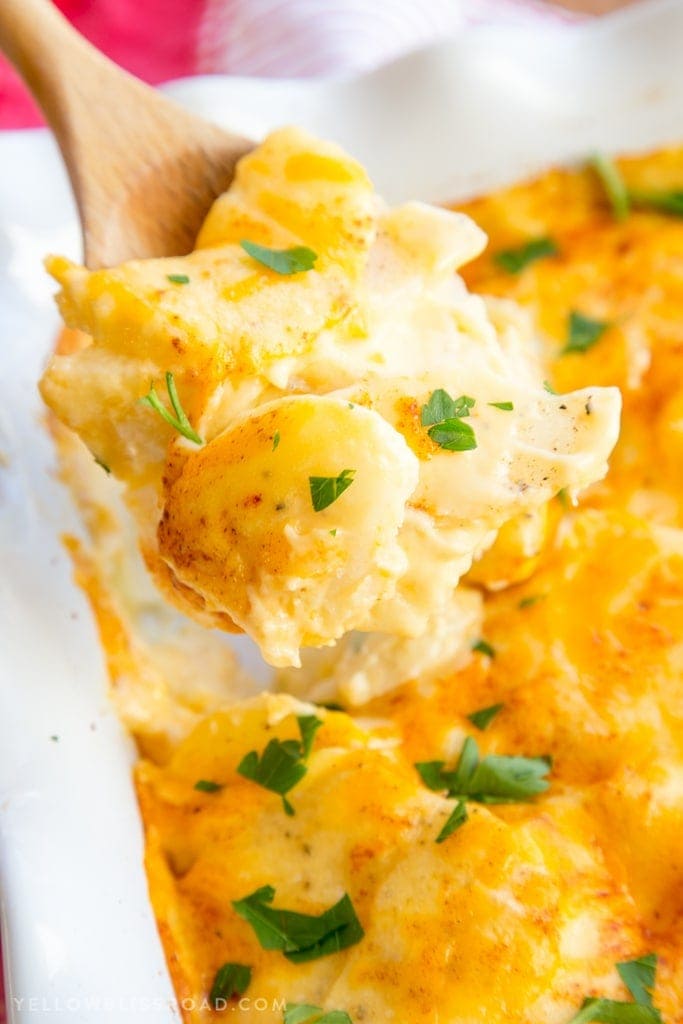 Here are some more delicious potato recipes to check out:
And for more amazing side dishes, try these:
Easy Cheesy Scalloped Potato Recipe: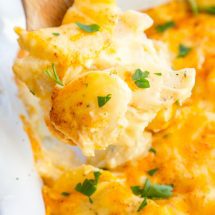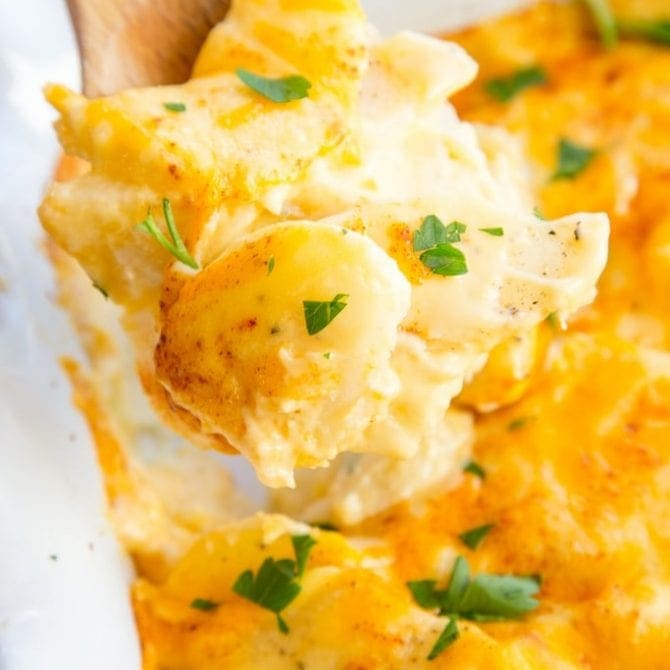 Easy Cheesy Scalloped Potatoes
Print
Pin
Rate
Prep Time: 30 minutes
Cook Time: 20 minutes
Total Time: 50 minutes
Servings: 6 -8 servings
Ingredients
2 pounds russet potatoes
¼ cup butter
¼ cup all-purpose flour
1 1/2 cups nonfat milk or half & half
Salt & pepper
8 ounces about 2 cups freshly shredded cheddar cheese + 1/4 cup for topping
Paprika for garnish
Fresh chopped chives or parsley for garnish
Instructions
Preheat oven to 350 degree F and grease a 13"x9" baking pan with cooking spray.

Bring a large pot of water to a boil. Scrub potatoes and place them, whole, into the boiling water. Cook for about 20 minutes. Remove from the water and let sit until cool enough to handle.

Meanwhile, make the cheese sauce. Melt butter in a medium saucepan over medium heat. Whisk in flour and cook, whisking constantly, until flour is golden brown; about 2 minutes. Stir in milk and cook, stirring often, until thickened; about 2-3 minutes. Remove from heat and stir in shredded cheese. Season with salt and pepper.

Gently peel potatoes and slice into 1/8 inch rounds. Place 1/3 of the

potatoes overlapping in a single layer in the baking dish, seasoning with salt and pepper. Spoon about 1/3 of the cheese sauce on top of the potatoes.

Repeat for two more layers. Pour all of the remaining cheese sauce over the top layer of potatoes. Spread to ensure all of the potatoes are covered.

Sprinkle with 1/4 cup shredded cheddar (if desired) and paprika (about 1/8-1/4 teaspoon.

Bake in the 350 degree oven for 20-25 minutes, or until sauce is bubbly.

Garnish with fresh chopped chives or parsley, if desired. Serve immediately.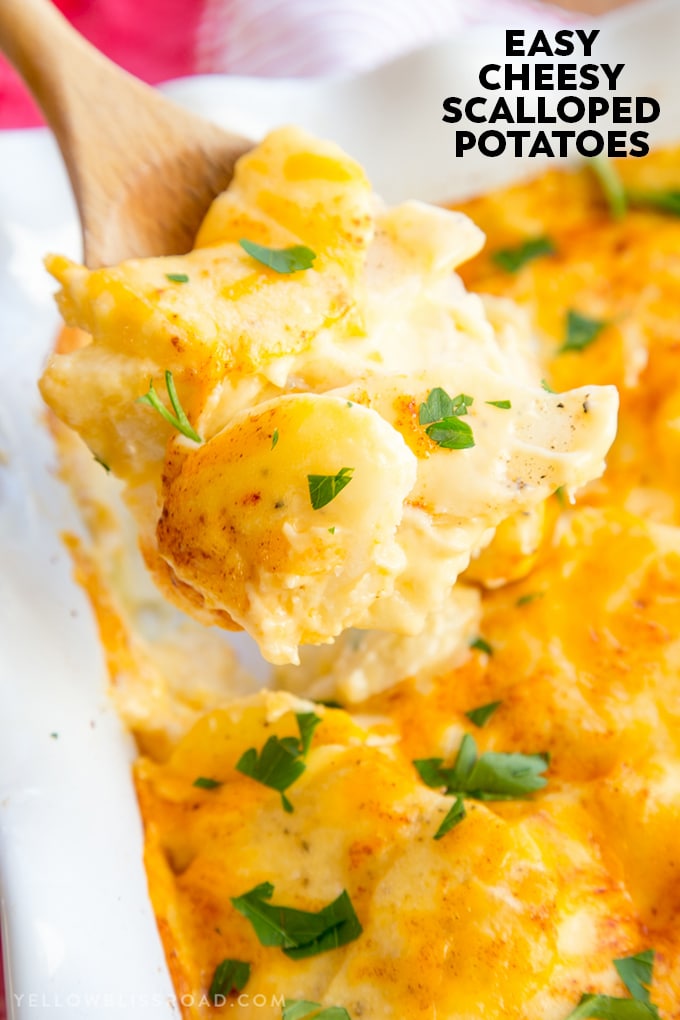 For all side dishes go HERE and for the Recipe Index go HERE.
Hi! I'm Kristin, the creative mind behind Yellow Bliss Road where you will be inspired by tons of easy to follow recipes, lots of free printables, and a little sprinkling of life thrown in for good measure.