Crispy Baked Chicken Wings are a game day party hit! Chicken wings are dipped in flour and spices, then baked until their skin is nice and crispy. Coat them with some homemade buffalo sauce and your family will devour these Crispy Baked Chicken Wings as quickly as mine did. 
When it comes to these baked chicken wings, they are truly a family favorite. They rival other favorites like my easy Baked Chicken Breasts and Easy Oven Baked Chicken Drumsticks and Cheesy Baked Buffalo Chicken.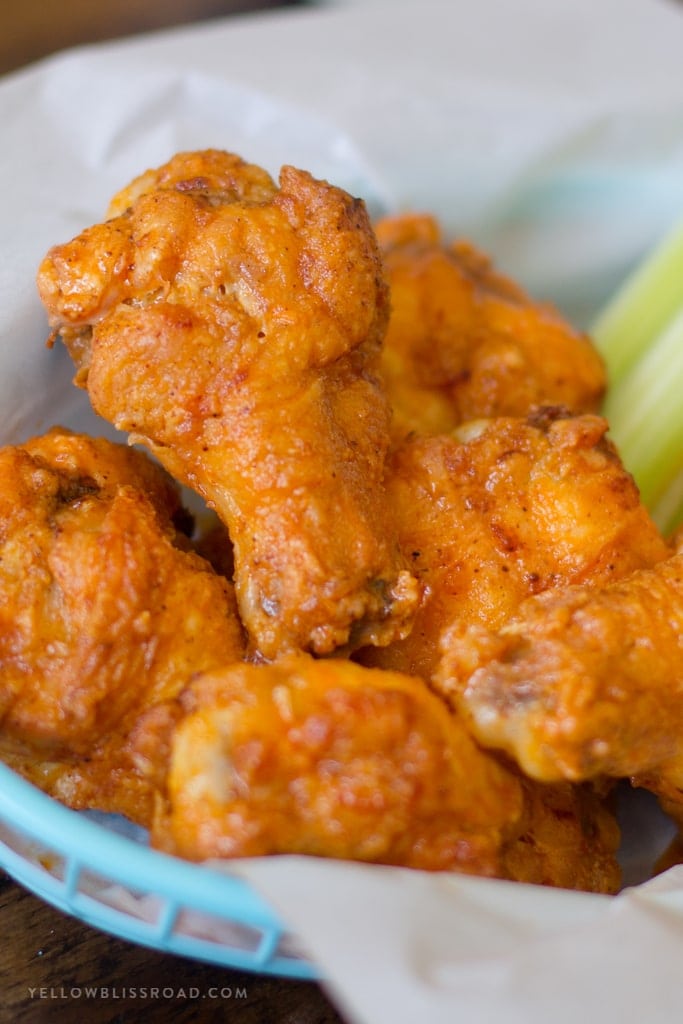 CRISPY BAKED CHICKEN WINGS
We love finger foods for game day or just a fun family Netflix night! Crispy Baked Chicken Wings are almost always on the menu, and we love to serve them with some of our other favorite appetizers, like French Bread Pizza, chips and homemade Guacamole, and Fried Ravioli with Marinara.
We also happen to love all things Buffalo flavored, and will put that delicious, spicy sauce on anything, from Buffalo Chicken Nachos to Cheesy Buffalo Chicken Dip to Buffalo Chicken Pasta Salad. But our all time favorite buffalo wings recipe is the classic Baked Chicken Wings!
Chicken Wings have been a guilty pleasure of mine for ages. It's a favorite snack or even meal when I want to really indulge and get a little messy. Buffalo Baked Chicken Wings like these are a must-have staple for game day parties especially – everybody loves them! Well I happen to love them too but I'm a bit of a wimp with the buffalo sauce. The great thing about these Crispy Baked Chicken Wings is you can control the amount of heat but adding more of less hot sauce.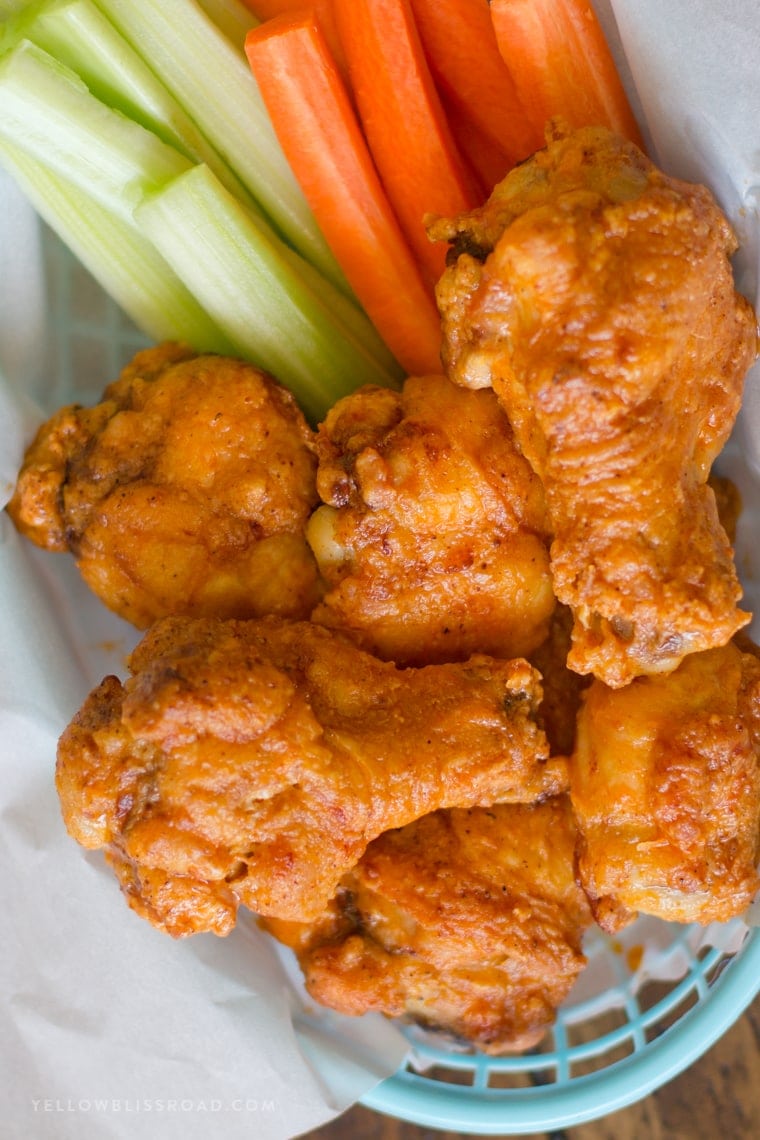 HOW DO YOU MAKE CHICKEN WINGS CRISPY IN THE OVEN?
We love heading out to Buffalo Wild Wings on hockey night to watch the game and enjoy a big basket of wings. While the kind of crispy chicken wings you get in restaurants are quite tasty, they are also typically deep fried – that's how they get that crispy skin. Well now you can get that perfect crispy skin at home with my Crispy Baked Chicken Wings recipe!
I've made chicken wings before, but I've never been able to perfect the crispiness until now. The key? Coat them with a little flour and baking powder! I also added some simple spices, but this little mixture coated over the wings made all the difference. They were delicious!!
HOW LONG DOES IT TAKE TO BAKE CHICKEN WINGS IN THE OVEN?
Preheat your oven to 450 degrees F. A hot oven helps the chicken to cook faster and aids in the crispy skin result that you want. Bake chicken wings for about 30 minutes, or until they are nice and crispy and golden. Cooking them on a wire rack is optional, but can also help with the crispiness factor.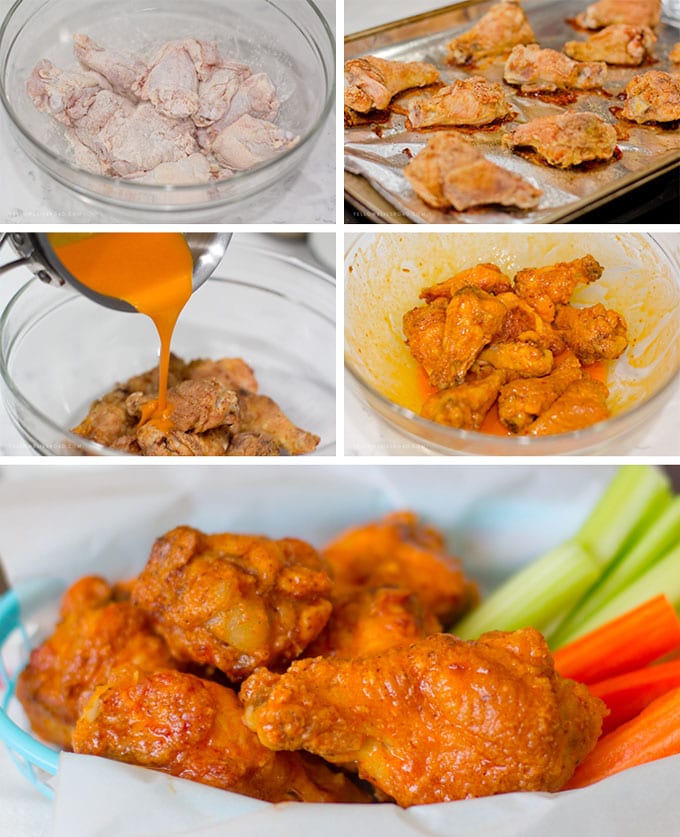 HOW TO MAKE CRISPY BAKED BUFFALO CHICKEN WINGS
Mix the flour and spices together in a large bowl, then coat the wings. Once the wings are coated in the flour mixture, place them on a foil covered cookie sheet that's been sprayed with cooking spray (don't forget this step – trust me!).
Bake them in a 450 degree oven for about half an hour, turning them about halfway through. You can also place the wings on a baking rack that you set on top of the baking sheet. You'll still want to flip them for even cooking, but it might make the skin a little crispier (but honestly, I haven't seen much of a difference).
In the meantime you can make your own hot wing sauce, which is basically just melted butter and hot sauce. If your family likes it spicy, add more hot sauce. Alternatively, you could leave the wings unsauced, but what's the fun in that? If you've got some that like it hot and some that don't, use two separate bowls to coat the wings. Make the sauce more on the mild side and pour some over the wings in one of the bowls. Then stir more hot sauce into the remaining sauce and pour that over the other bowl of wings to coat.
Serving Suggestions
Of course you'll want to make sure you have carrot and celery sticks to help cleanse the palette, as well as some creamy Ranch or Blue Cheese Dressing for dipping. I actually like to mix the two together for a great flavor.
If you're looking to make these wings a meal, add some yummy sides like these:
Will this work with chicken drumsticks?
A lot of readers have asked if this recipe works with chicken drumsticks. It does! Come find out with my Easy, Crispy, Oven Baked Chicken Drumsticks!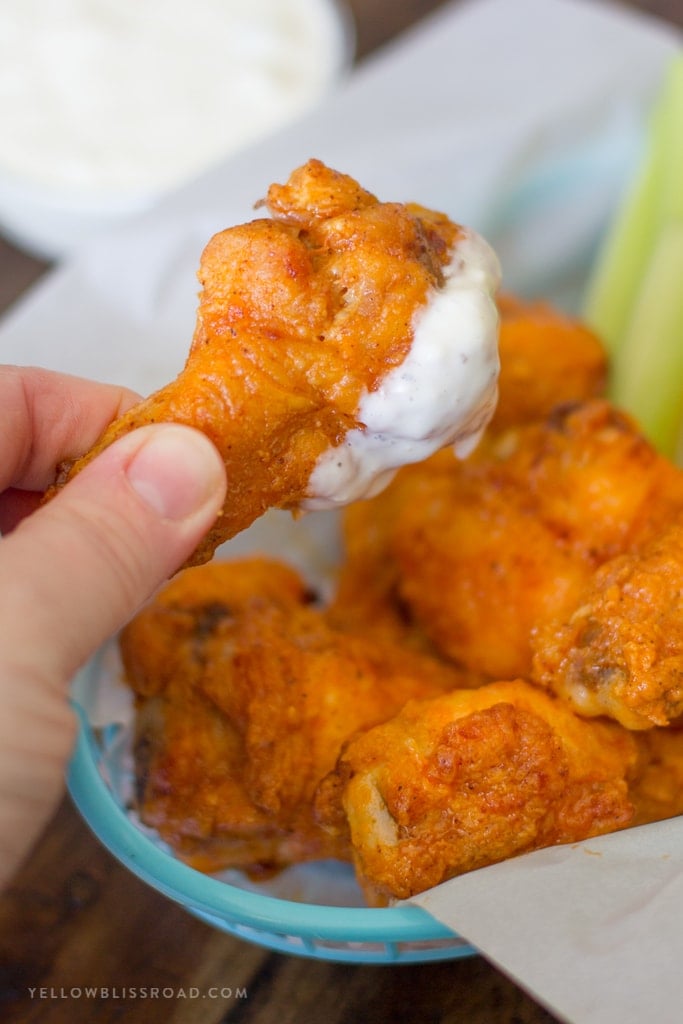 Love these Crispy Baked Chicken Wings? Try these other chicken recipes:
Get more of that tasty buffalo wings flavor with these recipes: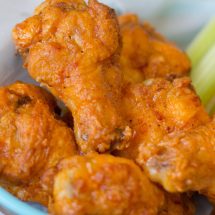 Crispy Baked Chicken Wings
The best Crispy Baked Chicken wings are dipped in flour and spices, then baked until golden and crispy. Super easy for game day or just a weeknight dinner!
Print
Pin
Rate
Prep Time: 10 minutes
Cook Time: 30 minutes
Total Time: 40 minutes
Servings: 6 people
Calories: 318kcal
Ingredients
3 pounds chicken wings or drumettes thawed or fresh (about 3 dozen pieces)
1/2 cup flour
1 teaspoon salt
2 teaspoon chili powder
1 teaspoon garlic powder
1/2 teaspoon pepper
2 tablespoon baking powder
Bottled Cayenne Hot Sauce like Frank's Red Hot
Butter not margarine
Instructions
Preheat oven to 450 degrees.

Rinse chicken wings and trim any excess skin. Do not remove the skin or you will lose the crispiness. Pat chicken dry.

In a large bowl, whisk together flour and seasonings. Add chicken and coat with the flour mixture.

Prepare a large cookie sheet by covering with foil and spraying with cooking spray.

Arrange chicken on the cookie sheet, at least an inch apart.

Bake for 30-35 minutes, turning once after about 20 minutes.

While the chicken is cooking, make the sauce. Add about a 1/2 cup of the bottled Cayenne hot sauce and a stick of butter to a small saucepan. Heat on low and stir until butter is melted and sauce begins to bubble. Taste. If the sauce needs more heat go ahead and add some in batches, or add a few dashes of Tabasco.

Transfer baked chicken wings into a large bowl. Pour the sauce over the crispy baked chicken wings and toss to coat.

Serve with celery and carrot sticks and a side of ranch or blue cheese dressing for dipping.
Notes
I typically do a 1/1 ratio of butter to hot sauce. If you want more heat, add less butter. For less heat, add less hot sauce. The great thing is that you can keep adding one or the other until you have a taste you love. Nutrition information does not include hot sauce and butter since the amount used is to personal taste.
Nutrition
Calories: 318kcal | Carbohydrates: 11g | Protein: 24g | Fat: 20g | Saturated Fat: 6g | Cholesterol: 94mg | Sodium: 492mg | Potassium: 625mg | Fiber: 1g | Sugar: 1g | Vitamin A: 378IU | Vitamin C: 1mg | Calcium: 190mg | Iron: 2mg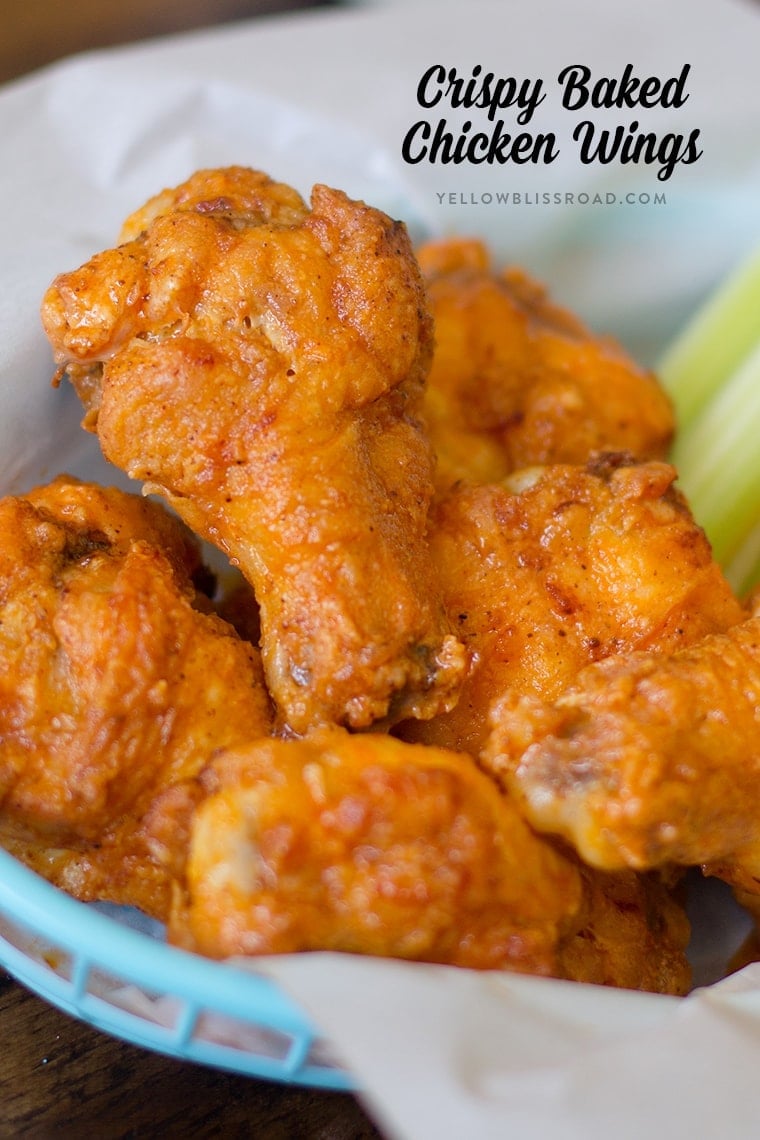 Hi! I'm Kristin, the creative mind behind Yellow Bliss Road where you will be inspired by tons of easy to follow recipes, lots of free printables, and a little sprinkling of life thrown in for good measure.