These crispy Fried Chicken Thighs have a golden, crunchy breading with a juicy flavorful center. This easy chicken recipe is sure to become a family favorite after your first bite!
This fried chicken recipe goes great with classic sides like Classic Macaroni Salad or Instant Pot Mashed Potatoes!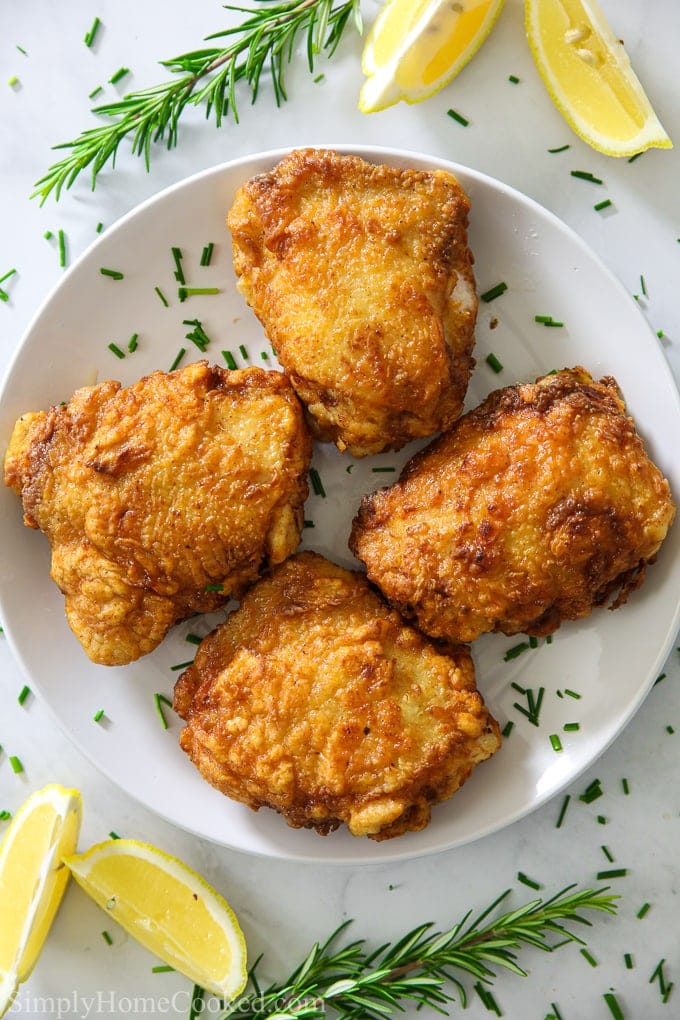 How to make the best fried chicken thighs
Fried chicken might seem like an intimidating dish to make but you won't believe how easy it comes together. Follow these 3 simple steps and you'll get the most delicious juicy and crispy chicken thighs ever!
While we are using chicken thighs today, this recipe will work for chicken breasts, drumsticks and even wings. The amount of frying time will vary so I recommend using a meat thermometer to test doneness. Any cut of chicken should register 165 degrees F on a digital thermometer. Read my Meat Temperature Chart for more information.
Buttermilk marinade 
This is where all the delicious flavor comes in. All you need to do here is pour the buttermilk with the spices in a bowl and let the chicken marinate for about 4 hours. Buttermilk also keeps your chicken moist, making it incredibly juicy with every bite.
The breading
The "breading" is actually just a seasoned flour mixture that combined with the skin get nice and crispy when dipped into the hot oil and fried.
When making the flour coating you want to make sure to use only dried spices here (so dried onion, dried garlic, cayenne, paprika, salt, and pepper). Avoid fresh spices because they will burn during frying.
After your chicken has marinated, tap off the extra buttermilk and thoroughly coat it into the flour mixture (do this one at a time).
How to fry chicken
Pour a good amount of oil into a deep pot, preferably one with a heavy bottom like a cast iron or dutch oven. Bring it to medium heat and fry the chicken thighs until golden brown. Then finish them off in the oven as instructed in the recipe card below.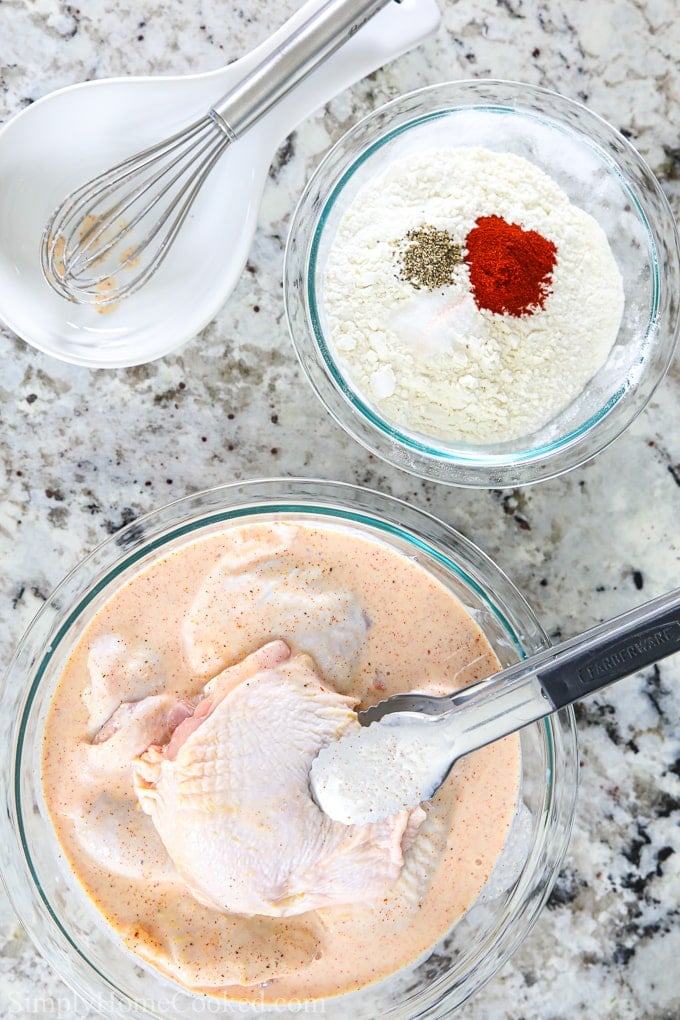 Fried Chicken Tips
Let it rest –

One of the most common methods to keep the breading from falling off of fried chicken is by letting it rest on a baking sheet so that the breading sticks to the chicken better. 

Dust and pat – Make sure to dust off the extra buttermilk and flour when dredging the chicken. And lightly pat the chicken after you've dusted off the extra flour.
Don't overcrowd – When frying the chicken you want to make sure the pot is not overcrowded. Overcrowding will cause the temperature to drop and you won't get that beautiful golden crunchy exterior. And having too many chicken thighs can cause you to accidentally knock off the breading when flipping the one next to it.

Best oil for frying chicken – 

Whenever you're frying any kind of meat, you want to make sure to use a high smoke point oil. My favorite is corn oil since it's affordable and tasty. But you can also use vegetable oil, avocado oil, peanut oil, and safflower oil.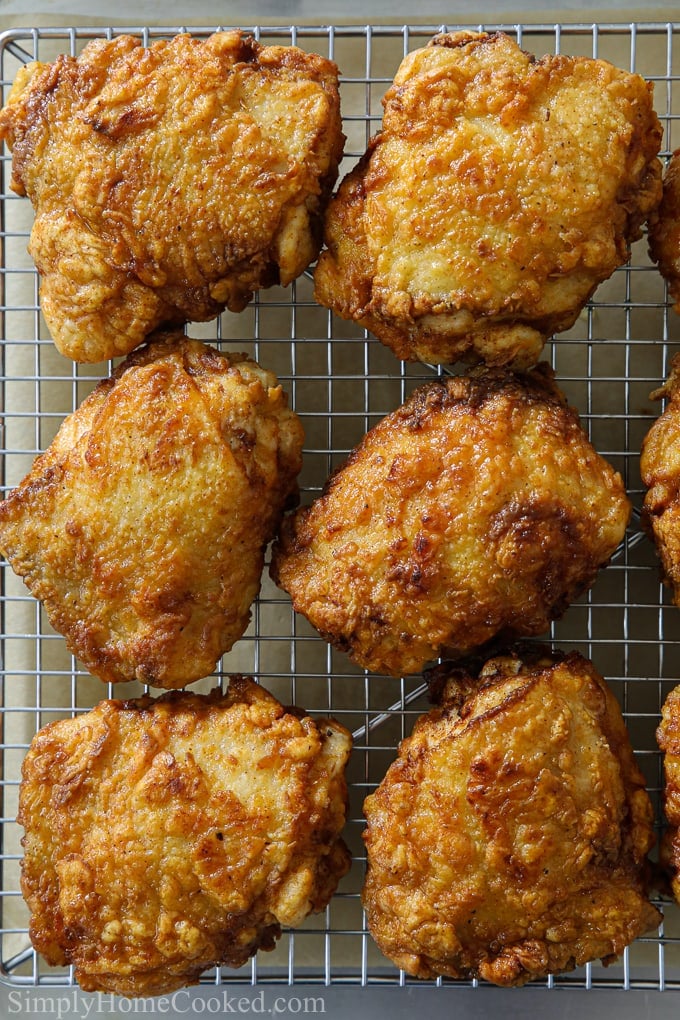 Storage and Reheating
Fridge: Store leftover fried chicken in an airtight container or plastic bag. They will remain fresh for 3-4 days. The best way to reheat fried chicken is by placing the pieces on a baking sheet and baking at 400 degrees Fahrenheit for about 20 minutes. The higher heat will help retain the crispiness.
Freezer: Cool chicken completely and store in an airtight container or freezer bag. For best quality, use within 4 months of freezing. Thaw overnight in the fridge and follow the instructions above to reheat.
Serving Suggestions
Fried Chicken is a classic picnic staple or Sunday dinner favorite. When I make fried chicken thighs for dinner, I make it a hearty meal served with Make Ahead Mashed Potatoes, Garlic Green Beans and Homemade Biscuits.
These crispy fried chicken thighs are perfect for potlucks and picnics because they are delicious hot or cold. Serve with classic American sides like Creamy Walnut Coleslaw, Fruit Salad, Lemon Herb Red Potato Salad, Bacon Green Bean Salad and Creamy Cornbread Casserole.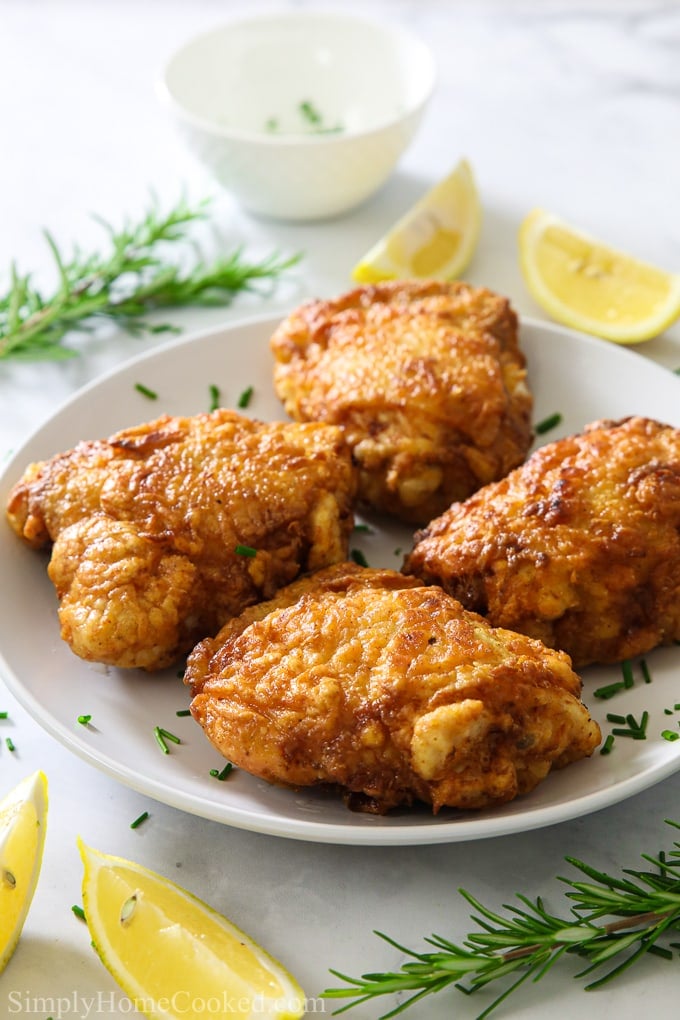 Eat more chicken!
Recipe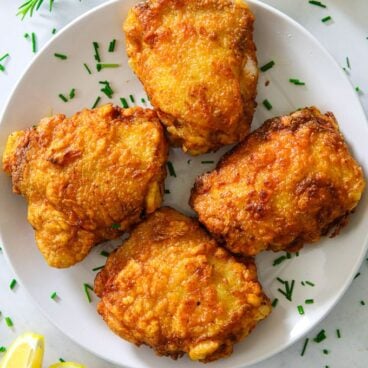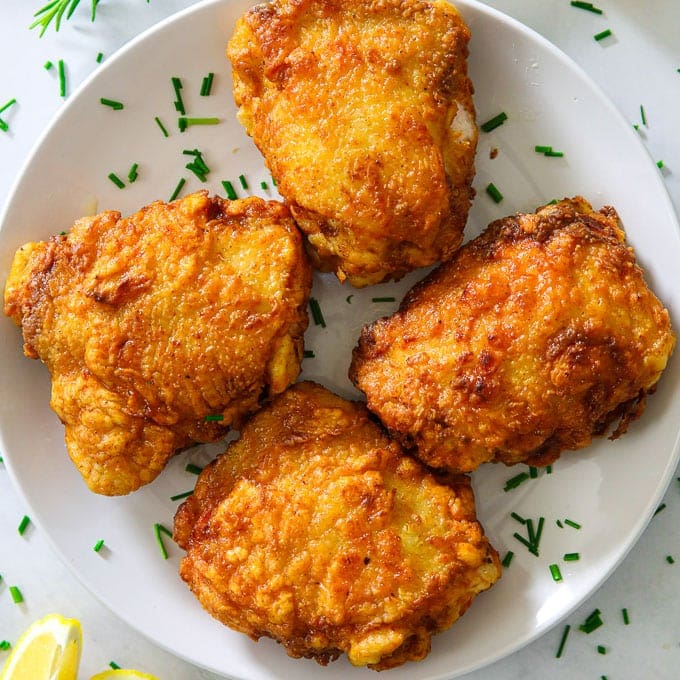 Fried Chicken Thighs
These crispy fried chicken thighs have a golden and crunchy breading and a juicy flavorful center. This easy chicken recipe will become a family favorite!
Total Time
2

hours
10

minutes
Ingredients
For the buttermilk marinade
1

pint

Buttermilk

1

teaspoon

salt

2

teaspoon

garlic powder

1

teaspoon

onion powder

1/2

teaspoon

black pepper

1/2

cayenne pepper

1

teaspoon

paprika

3

pounds

bone-in, skin-on chicken thighs
For the flour breading
2

cups

all-purpose flour

1/2

teaspoon

salt

1/4

teaspoon

black pepper

1

teaspoon

paprika

Corn oil for frying
Instructions
Marinate the chicken thighs
Rinse and pat the chicken thighs dry with a paper towel.

In a large bowl add the buttermilk, salt, dried garlic, dried onion, black pepper, cayenne pepper, and paprika. Then give it a good whisk.

Now place the chicken thighs into the buttermilk marinade and submerged them for about 30 minutes and up to 4 hours (the longer, the better).
Make the flour coating
Meanwhile make the flour dredge by combing all-purpose flour, salt, pepper, and paprika in a large bowl.

Now dredge the chicken thighs into the flour mixture and place them on a baking sheet to rest for about 30 minutes. This will give an adequate amount of time for the flour coating to adhere to the chicken thighs.
Fry the chicken and finish off in the oven
Now bring a few inches of corn oil in a heavy-bottomed pot to medium heat (350 degrees F). Now fry the chicken thighs until golden brown on both sides. Then place them on a wire rack with a baking sheet beneath.

Now finish the chicken thighs in the oven at 380 degrees for 40 minutes or until the chicken reaches an internal temperature of 165 degrees Fahrenheit. I highly recommend checking for doneness with a meat thermometer.
Nutrition
Calories:
529.65
kcal
Carbohydrates:
28.64
g
Protein:
33.03
g
Fat:
30.61
g
Saturated Fat:
8.81
g
Cholesterol:
173.2
mg
Sodium:
630.71
mg
Potassium:
492.33
mg
Fiber:
1.17
g
Sugar:
3.28
g
Vitamin A:
502.54
IU
Vitamin C:
0.46
mg
Calcium:
87.9
mg
Iron:
2.74
mg