Learn how to make the most flavorful, tender and juicy baked chicken breast – no more dry chicken! With a five minute prep time and just 20 minutes in the oven, you'll have this dinner on the table in less than 30 minutes.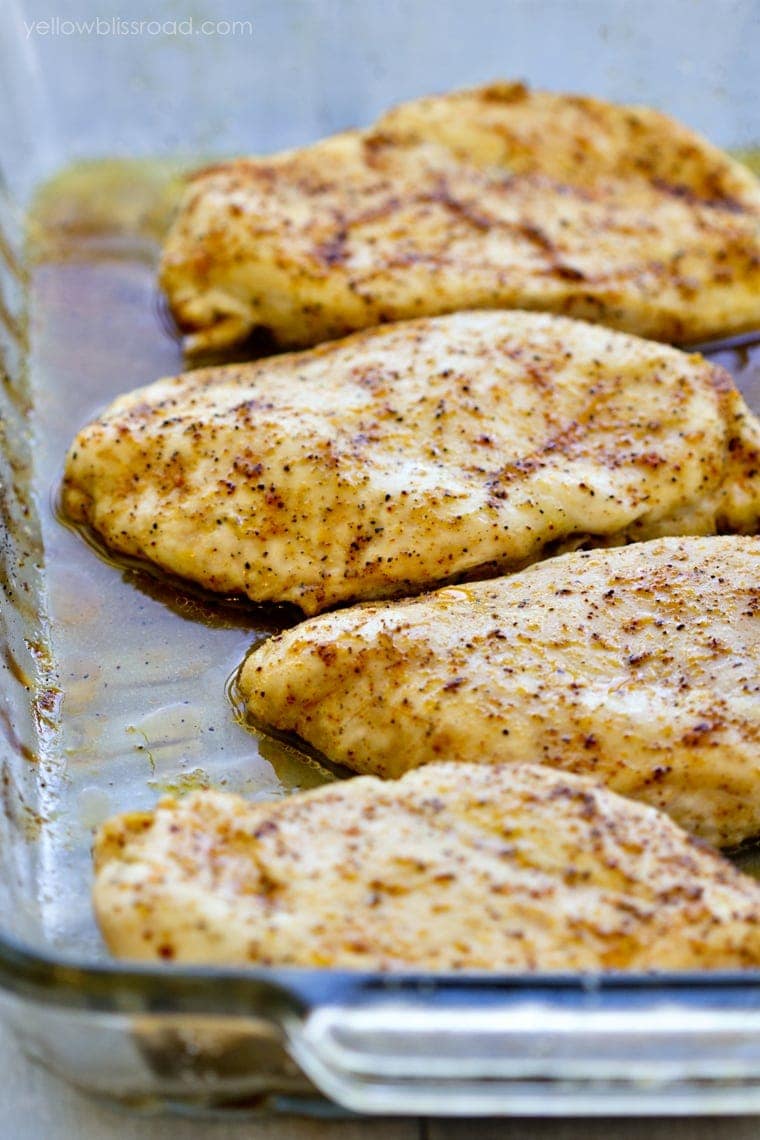 Did you know that "chicken breast recipes" are one of the most highly searched things on Google? I realized that while I have a lot of chicken recipes, I hardly have any that call for chicken breasts, and they are actually something I cook A LOT around here. For years I have been using a method that yields the most tender and juicy chicken, which is important because let's face it, chicken breasts, especially baked, are usually bone dry. It's so easy to dry out chicken breast because there's very little fat. So how do you rectify that? By adding fat of course! But the good kind – the EVOO kind.
HOW TO MAKE THE BEST BAKED CHICKEN BREAST
I've got lots of tips to share when it comes to my favorite chicken breast recipes, so let's dive in!
Rubbing the chicken with a little olive oil before baking helps add moisture to the chicken and also helps the seasonings stick to the breast.
I use a very simple seasoning of salt and pepper, garlic powder, onion powder and chili powder or paprika.
Chicken breasts do best at a high temperature (roasting) around 425-450 degrees Fahrenheit. This allows the chicken breast to cook quickly and retain a lot of moisture. Lower temps result in a longer cooking time and a higher chance of dry chicken, which is not something anyone wants!
Make sure to let your chicken REST. This is so important when cooking any meat, but especially with this chicken breast recipe. When cooked at a high temperature the juices in the chicken quicky rush to the center, so when you cut into it right away, all those juices come pouring out and boom Dry chicken. Resting allows the juices to redistribute through the chicken breast and gives you a tender, juicy piece of meat every time.
This is my go-to method that I've been using for years. I use it for a quick and easy dinner, and I will also cook extra and save it to add to soups and casseroles. Keep it in a sealed bag in the fridge for a few days, or pop it in the freezer if you're not using it right away.
The method lends itself quite nicely to experimenting with different flavors, like my DIY Cajun Seasoning. Baked Lemon Chicken is also a great alternative!
I use THIS BAKING DISH for making my Baked Chicken Breasts.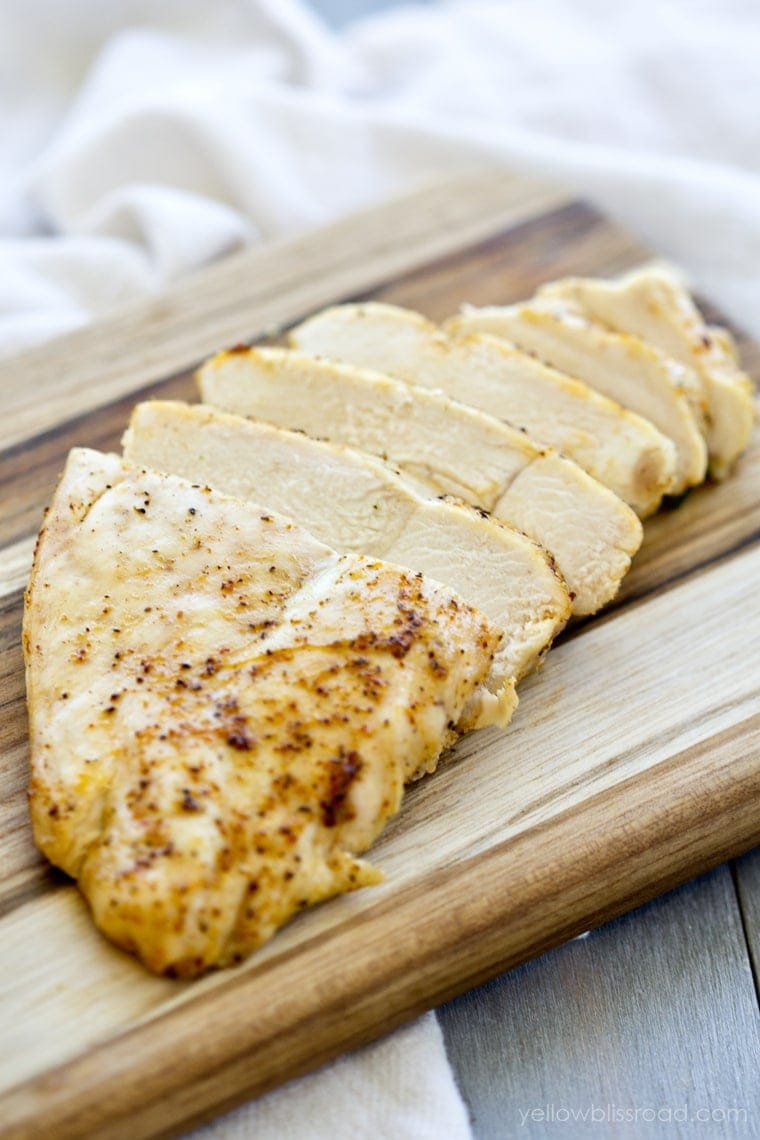 For more easy baked chicken recipes, try these:
How to Make the most tender and juicy Baked Chicken Breasts: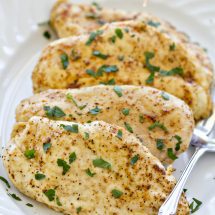 Baked Chicken Breasts
Print
Pin
Rate
Prep Time: 5 minutes
Cook Time: 15 minutes
Total Time: 25 minutes
Servings: 6 servings
Calories: 332kcal
Ingredients
4 boneless skinless chicken breasts, or 1 1/2 pounds
2 tablespoons Extra Virgin Olive Oil
1 teaspoon kosher salt
1/2 teaspoon black pepper
1/2 teaspoon garlic powder
1/2 teaspoon onion powder
1/2 teaspoon chili powder
Instructions
Preheat oven to 450 degrees. Pound chicken breasts lightly so they are of even thickness.

Pour olive oil in a 13" x 9" baking dish. Lightly dredge the chicken through to coat it, then place chicken breasts side by side in the dish.

In a small bowl, whisk together salt, pepper, garlic powder, onion powder and chili powder. Sprinkle the seasoning mixture over both sides of the chicken and rub it in with your hands. Place chicken breasts side by side, making sure there is no overlap.

Bake in a preheated oven for 15-20 minutes, until juices are clear or a meat thermometer reads 160-170 degrees. *Note - depending on the size of your chicken breasts, it could take longer. Mine were pounded to less than an inch thick.

Cover with foil and allow to rest for 5-10 minutes while the juices settle before slicing.

Serve hot.
Notes
A lot of people were concerned about the olive oil being cooked at such a high temperature and that it can break down and become harmful so I have switched to using corn or canola oil. Although the oven temp is 450 degrees, the food (and consequently the oil) doesn't reach anywhere near that temperature and it's only in the oven for a short time. I have never had an issue with the small amount of extra virgin olive oil reaching it's smoke point on the chicken, but if you are concerned, I recommend doing some research and making that decision for yourself.
Nutrition
Serving: 6ounces | Calories: 332kcal
Here's another favorite Baked Chicken recipe we love:
Easy Oven Baked Chicken Drumsticks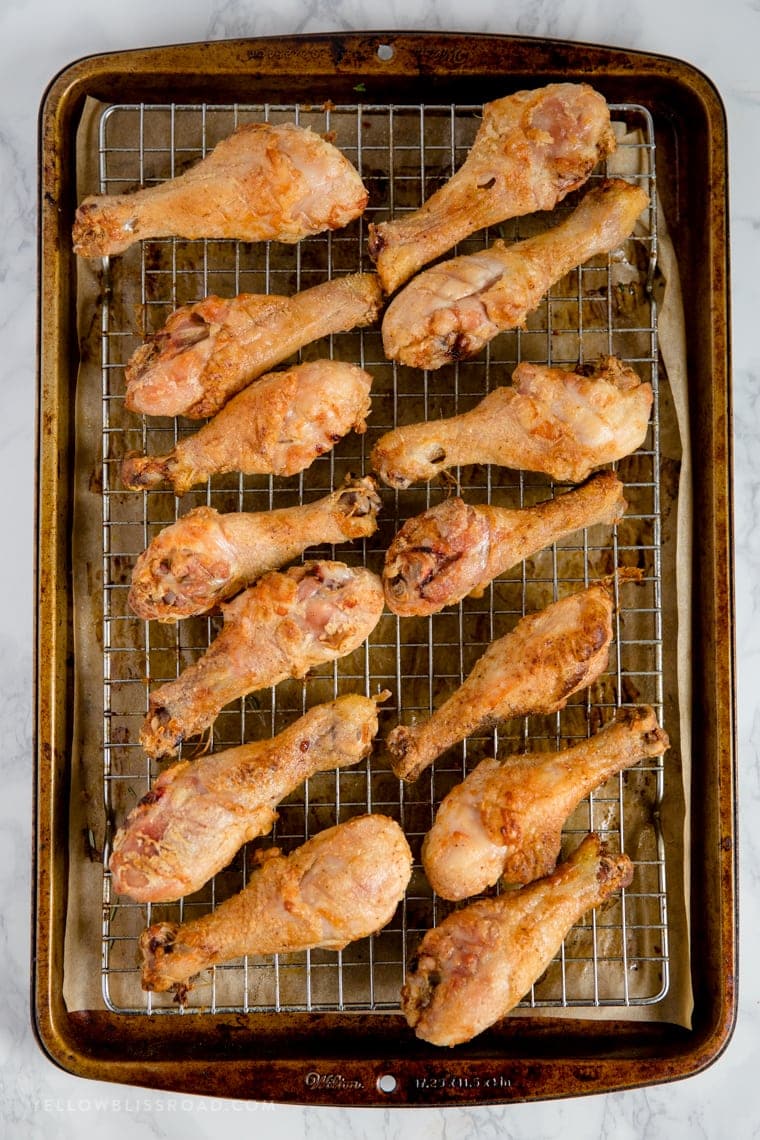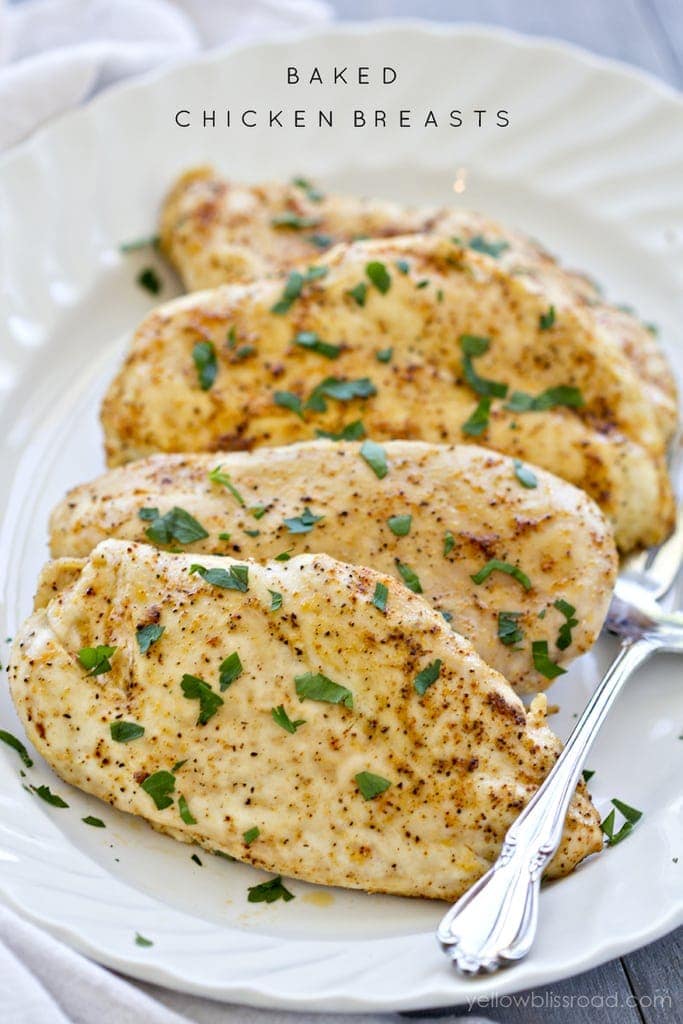 Hi! I'm Kristin, the creative mind behind Yellow Bliss Road where you will be inspired by tons of easy to follow recipes, lots of free printables, and a little sprinkling of life thrown in for good measure.