The Best Cheesy Garlic Bread has 3 kinds of cheese, fresh herbs and tons of garlic. You can turn plain french bread into cheesy, garlicky perfection with this easy homemade garlic bread recipe!
We love this cheesy garlic bread recipe served with delicious Italian dishes like Chicken Alfredo Baked Ziti, Creamy Garlic Penne with Chicken, and Spaghetti with Chicken.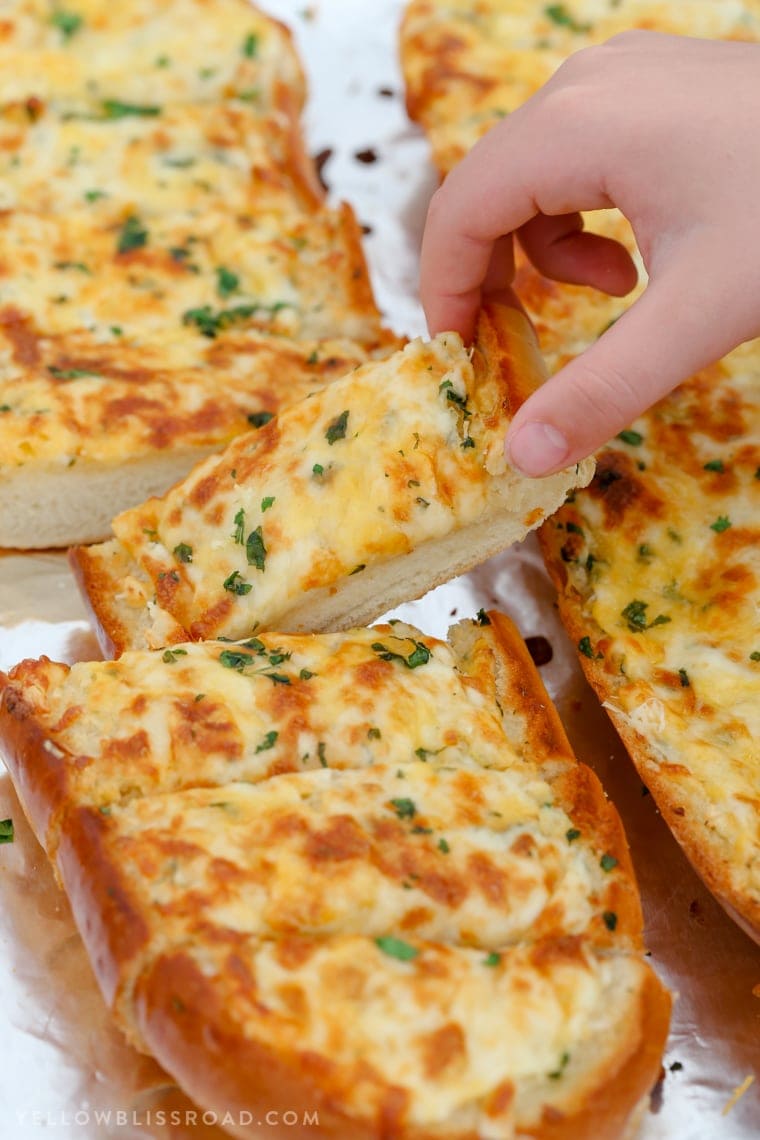 Pin this recipe for later!
Ingredients for Cheesy Garlic Bread
French Bread – the one pound loaf that you can buy in the bakery section of the grocery store works best.
Butter –

softened.
Fresh Parsley, chopped – Dried parsley also works, and you need about half as much. You can also add some dried Italian seasoning, basil, or oregano.
Garlic – lots of it. Five fresh garlic cloves to be exact. We're going for maximum garlic flavor here.
Cheese – Mozzarella cheese, sharp cheddar, and parmesan. All freshly grated when possible.
How to Make the Best Cheesy Garlic Bread
Start by making the garlic butter. There are 5 garlic cloves mixed with a stick of softened butter. You're also going to stir in a generous tablespoon of fresh chopped parsley. You could use dried here, but use about half a tablespoon. It's just as much for color as it is for flavor.
Now slather all that buttery goodness on some french bread. I try to get the freshest loaves I can because they just taste better. But even a loaf from the discounted, day-old section will work fine. Slice it in half lengthwise and place it cut side up on a baking sheet, then slather that butter and garlic mixture all over. You want the butter to reach all of the outside edges.
Next pile on the cheese. We're using a luscious combination of Mozzarella, Parmesan, and sharp cheddar. The Parm and cheddar have a nice sharp bite that compliments the smooth creaminess of the Mozzarella. Sprinkle on a little more parsley for color.
Bake. Now bake those lovely loaves in a 350 degree oven for about 10 minutes, then flip on the broiler (no need to move the rack) and broil for several minutes to get that cheese nice and golden brown.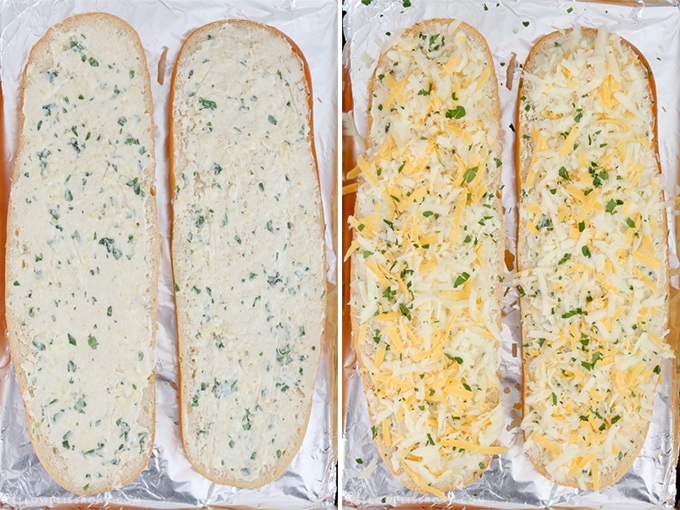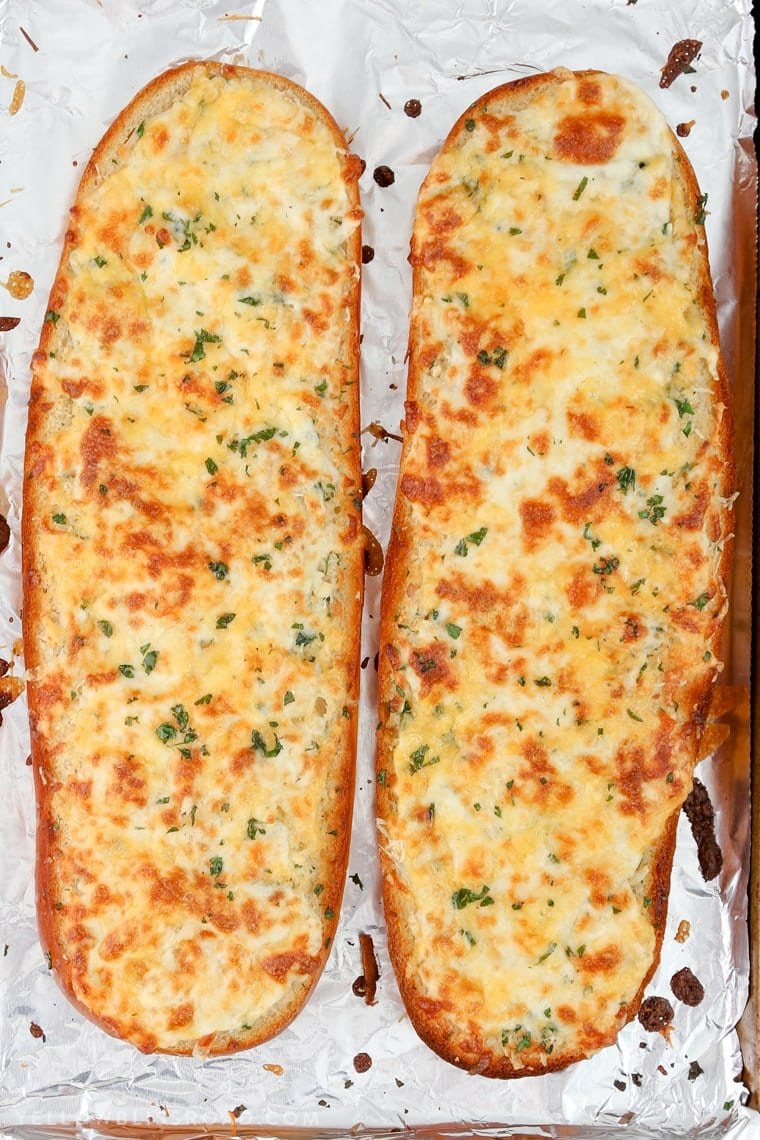 FAQs
What kind of bread is best for garlic bread?
The best kinds of bread are soft on the inside and crusty on the outside. A thick loaf of french bread or a hearty Italian loaf will yield the best results, but in a pinch, even sliced sandwich bread will work.
Serving Suggestions
Garlic bread is one of my go-to side dishes because it's easy to prepare and everyone loves it. I love that I can serve it with just about anything from Italian recipes, to soups to salads to just regular old baked chicken.
It's definitely the most requested side dish in our house! My kids enjoy the leftovers with some Homemade Marinara Sauce for dipping. Here are some ideas for a main course: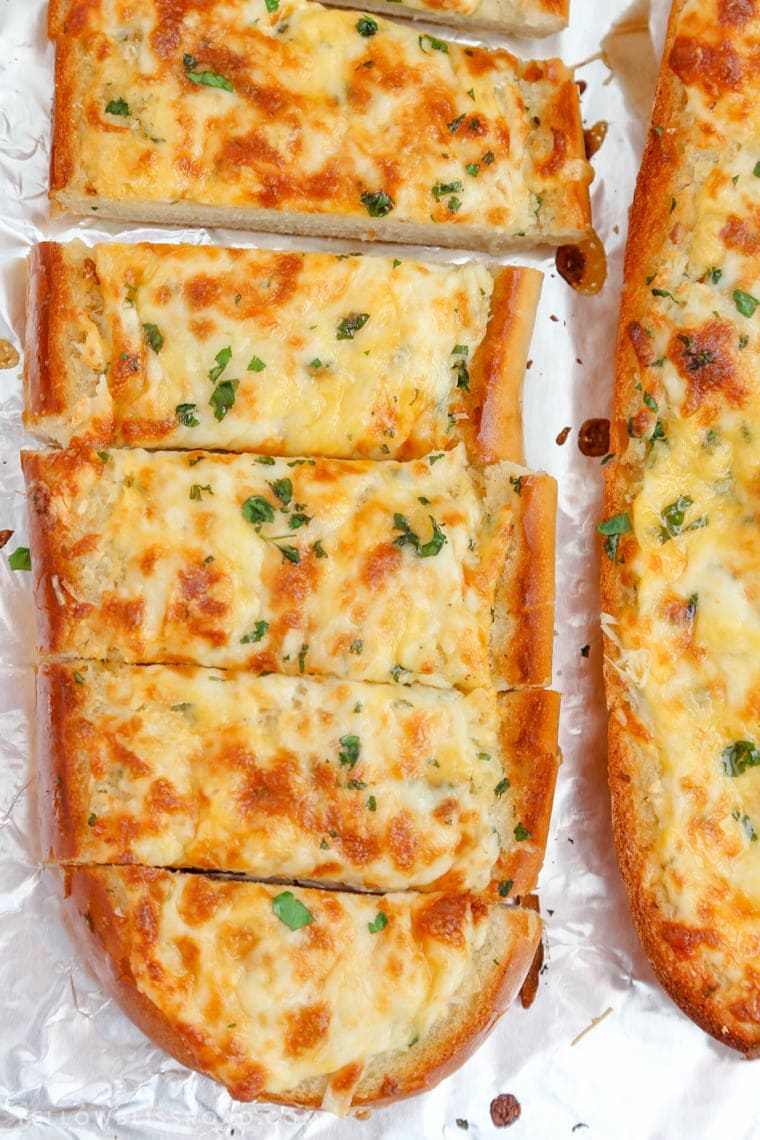 Variations
Spicy – Add red pepper flakes or slices of pickled jalapenos.
Cheese – Fontina, Provolone, White cheddar or Asiago are also delicious.
Bread – I like to use a whole loaf of french bread like you see in the pictures, but there are options, too. Ciabatta, Sourdough or Italian bread work well, and in a pinch you can even use sandwich rolls or hot dog buns.
Slices – Instead of slice the loaf in half, slice the full loaf into pieces and prep and freeze for another meal.
Storage
Storage: Place leftovers in a resealable plastic bag or airtight container and store in the fridge for up to 2-3 days. To freeze, wrap leftovers in foil and freeze for up to 3 months.
Reheating: Reheat in the oven or air fryer for best results.
Make Ahead and Freeze
This recipe is an excellent candidate for making ahead and freezing. I will often make a double batch so I can just pull it out of the freeze when the mood strikes.
Prep the loaves and top with the cheese, then flash freeze on a baking sheet for 1-2 hours. Once they're frozen solid, wrap tightly in plastic wrap, then foil and store in the freezer.
To cook, unwrap and place on a baking sheet and bake as directed, adding 10 minutes to the cook time. Keep an eye on it, and tent with foil if the top starts to brown before the bread if fully warmed through and crispy.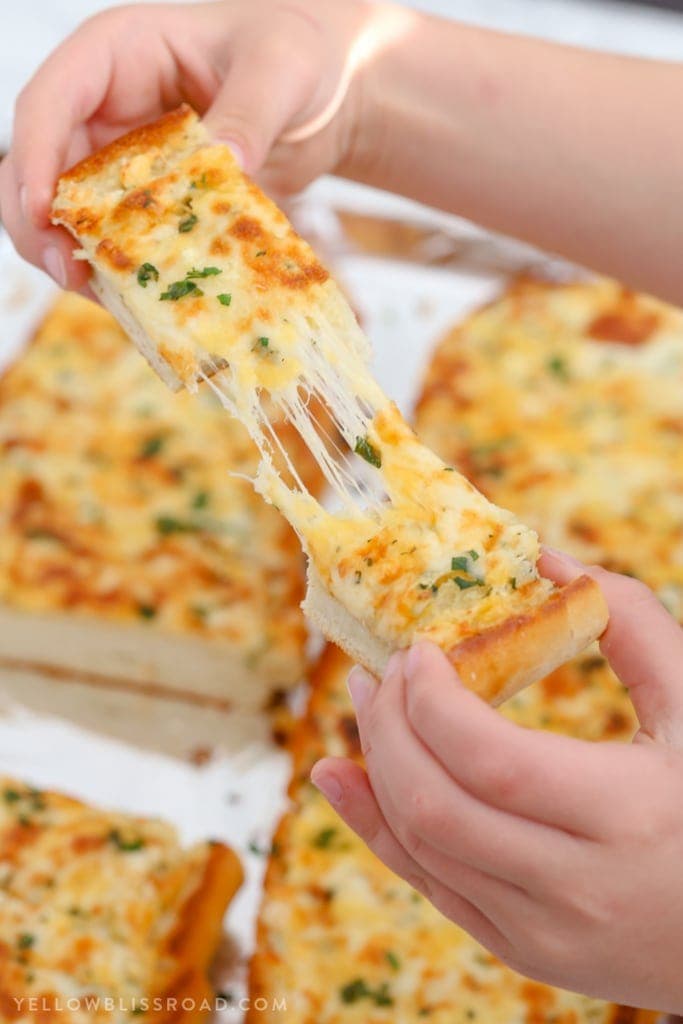 Be patient when your bread comes out of the oven. Let it sit for 5-10 minutes to cool and so the cheese will set. It's best when it's hot, but not straight out of the oven.
Line your sheet pan with foil or parchment for easy clean up.
Don't cover the bread. You want it to melt and brown a little on top.
You have to have soft butter. Make sure you take the butter out of the fridge at least an hour before you plan to make this bread.
More Cheesy Bread Recipes
Recipe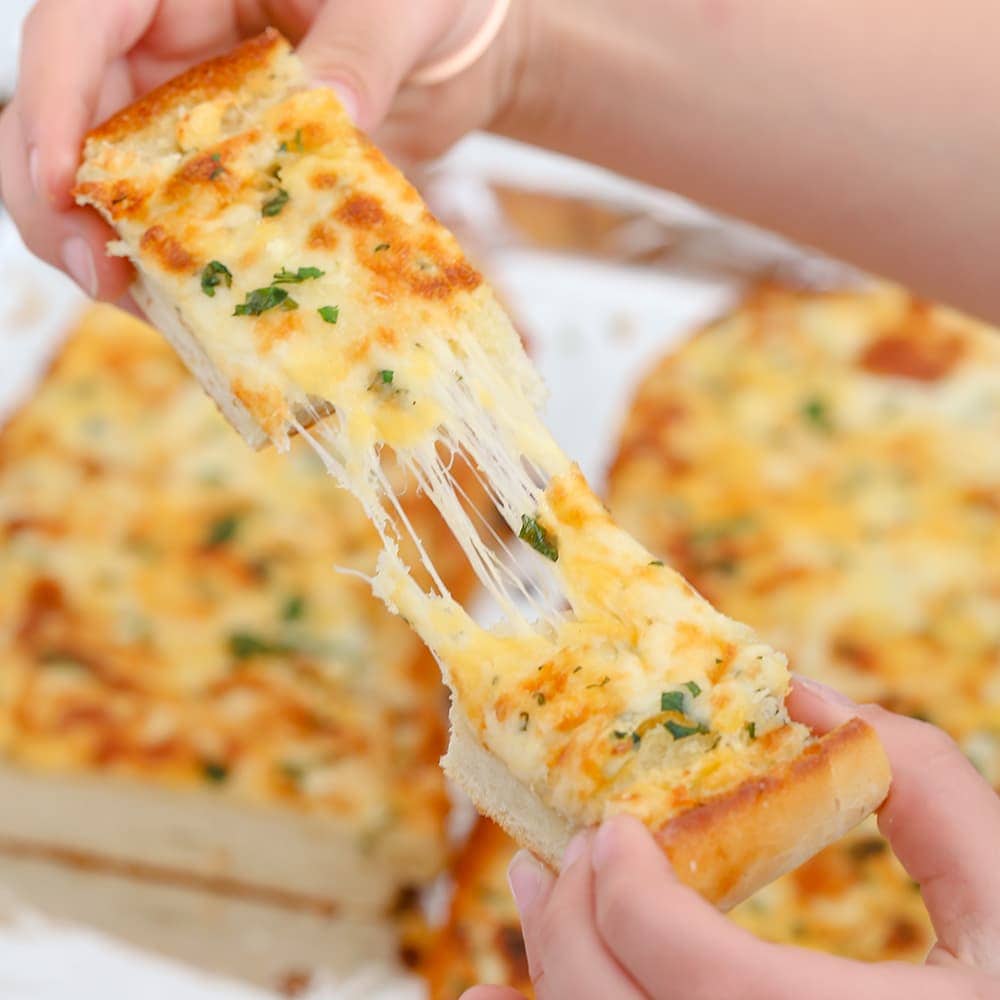 Cheesy Garlic Bread Recipe
The Best Cheesy Garlic Bread has 3 kinds of cheese, fresh herbs and tons of garlic. Turn plain french bread into cheesy, garlicky perfection!
Ingredients
1

loaf french bread

1/2

cup

butter

softened

2

tablespoons

chopped parsley

divided

5

cloves

garlic

minced

1

cup

fresh grated Mozzarella cheese

1/2

cup

fresh grated sharp cheddar cheese

1/2

cup

fresh grated Parmesan Cheese
Instructions
Slice French bread loaf in half lengthwise. Place each half, cut side up, on a foil lined baking sheet. Set aside.

Stir together softened butter, minced garlic, and 1 tablespoon fresh chopped parsley. Spread evenly on each half of the french bread loaf. In a small bowl combine cheese then sprinkle evenly on top of the bread. Sprinkle remaining parsley even over the cheeses.

Bake in the 350 degree oven for 10 minutes. Turn on the broiler to high, move the rack to the top position, and broil for the last 2-3 minutes until cheese is golden and bubbly. (*The broiling step is optional – you could just let it bake for the 10 minutes and call it good).

Allow bread to cool and cheeses to set for about 10 minutes before slicing and serving.
Nutrition
Serving:
2
slices
Calories:
400
kcal