Learn how to cook perfect, tender, great-tasting baked chicken breasts using my simple seasoning and easy 3-step method. A five minute prep time and just 20 minutes in the oven is all you need for the most juicy baked chicken breasts you've ever tasted!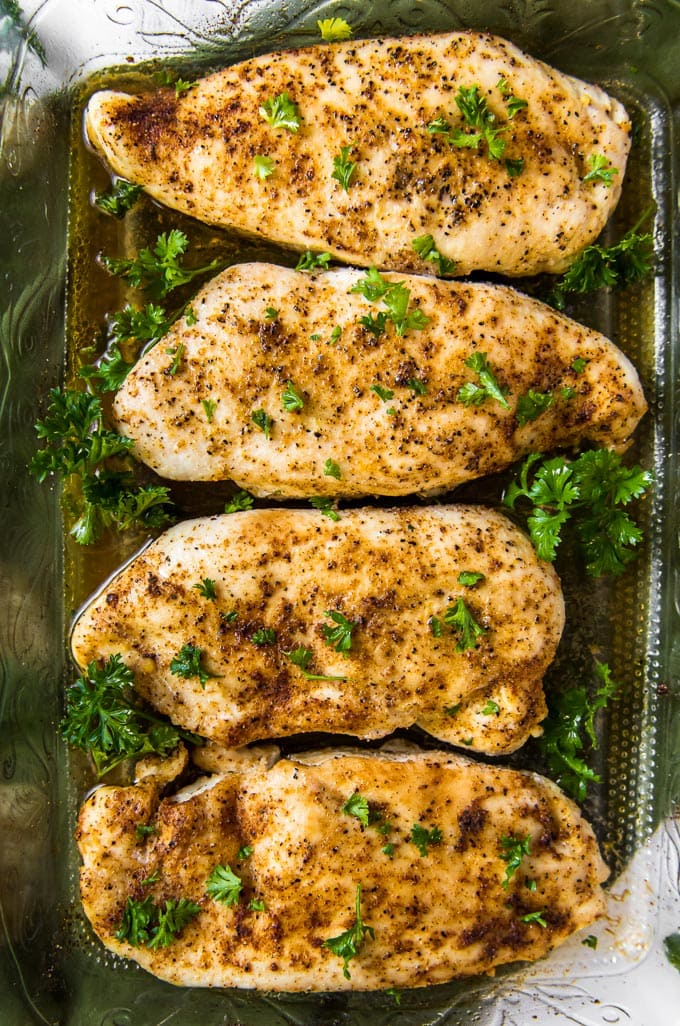 With this recipe, you can have an easy baked chicken breast dinner in less than 30 minutes! Simple and full of flavor, just serve with some Garlic Bread and vegetables or salad for a fast dinner your family will absolutely love.
If your family loves this baked chicken breast recipe as much as mine does, try some of our other favorite chicken dinners, like Creamy Baked Chicken, Easy Oven Baked Chicken Drumsticks and Juicy Baked Lemon Pepper Chicken.
Pin this recipe for later!
The BEST Juicy Baked Chicken Breast
White meat often gets a bad rap for being dry and flavorless. I am usually quick to agree that dark meat just tastes better. But this baked chicken recipe is so tender, juicy and has so much flavor you can hardly tell the difference. Plus it's a much healthier protein than dark meat.
Today I'm sharing the go-to method that I've been using for years for this quick and easy chicken dinner. I always cook a couple of extra for adding soup, casseroles and chicken salads. Keep it in a sealed bag in the fridge for a few days, or pop it in the freezer if you're not using it right away.
Ingredients for Baked Chicken
Boneless, skinless chicken breasts – I prefer to buy these fresh and then freeze them, but a bag a frozen is fine too. Keep in mind that in the frozen bags, they often include rib meat and have added salt and moisture.
Olive oil – Rub this on the meat for to lock in moisture and help the seasoning to stick.
Chicken Seasoning – This is my tried and true all-purpose seasoning blend of garlic powder, onion powder, paprika or chili powder, salt and pepper. It's simple, and in the right blend it's a powerful flavor enhancer.
Garnish – This is of course totally optional, but a garnish of fresh parsley for a little vibrant color makes everything look and taste just a little better.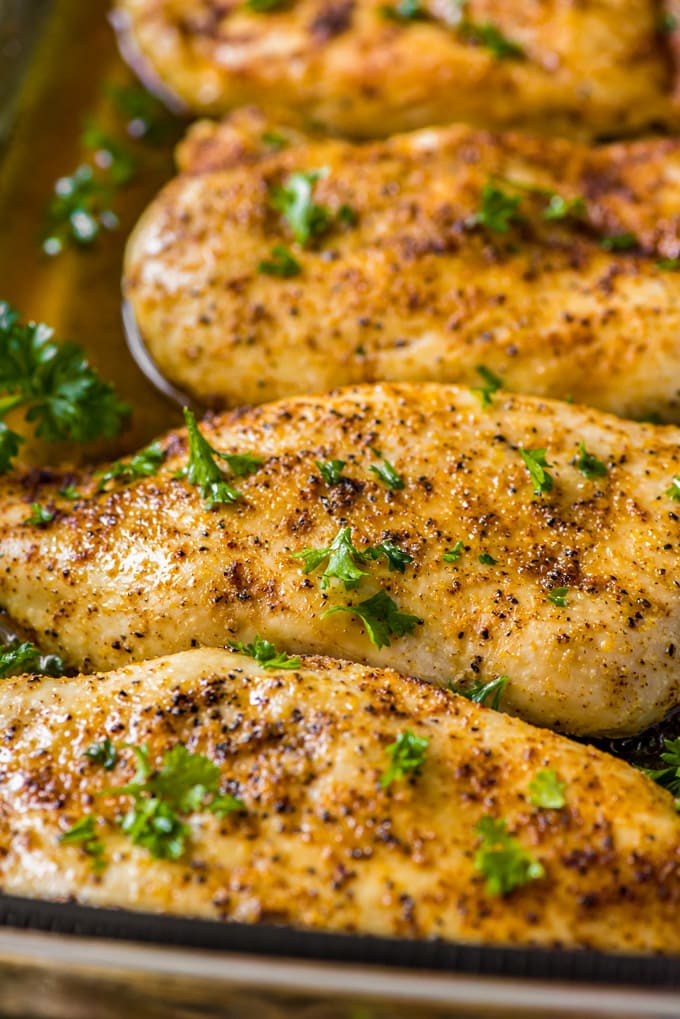 How to Bake Chicken Breasts
Pound chicken to an even thickness. Pat the chicken dry with paper towels. Place chicken between two pieces of parchment paper or in a sealed plastic bag and lightly pound with a meat mallet. This will tenderize the meat and also help the chicken to cook faster and more evenly.
Rub all over with olive oil. You could also use melted butter, or a variety of different types of oil, like avocado or corn oil.
Season the chicken well. Rub salt, pepper, garlic powder, paprika and onion powder all over the chicken. I like to add a sprinkling of salt over the top just to make sure it's properly seasoned. Sometimes I'll use chili powder instead of paprika.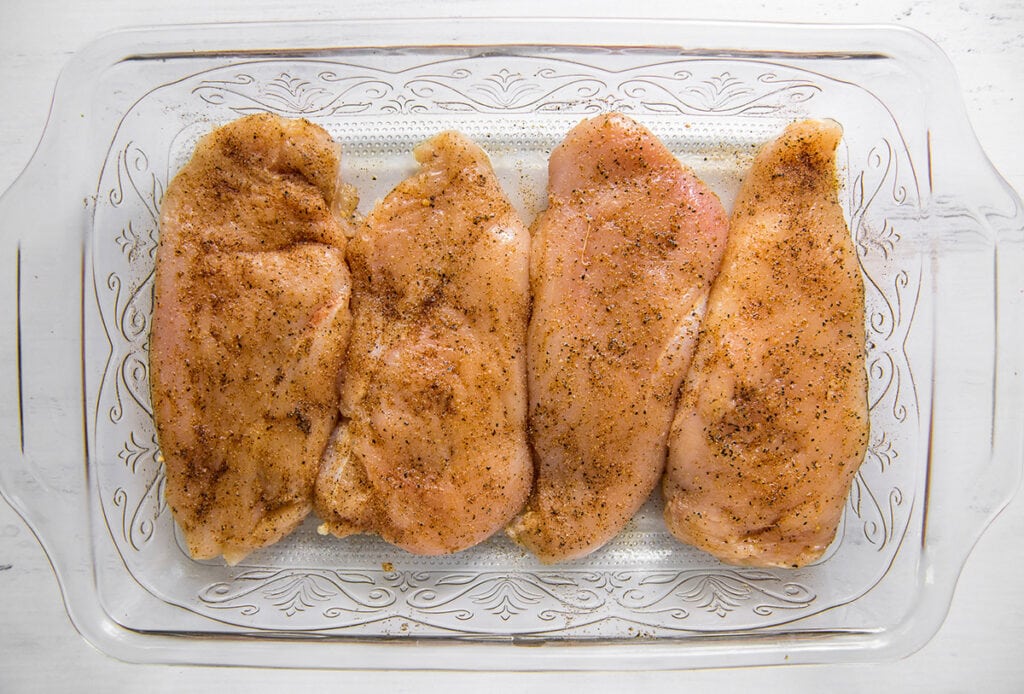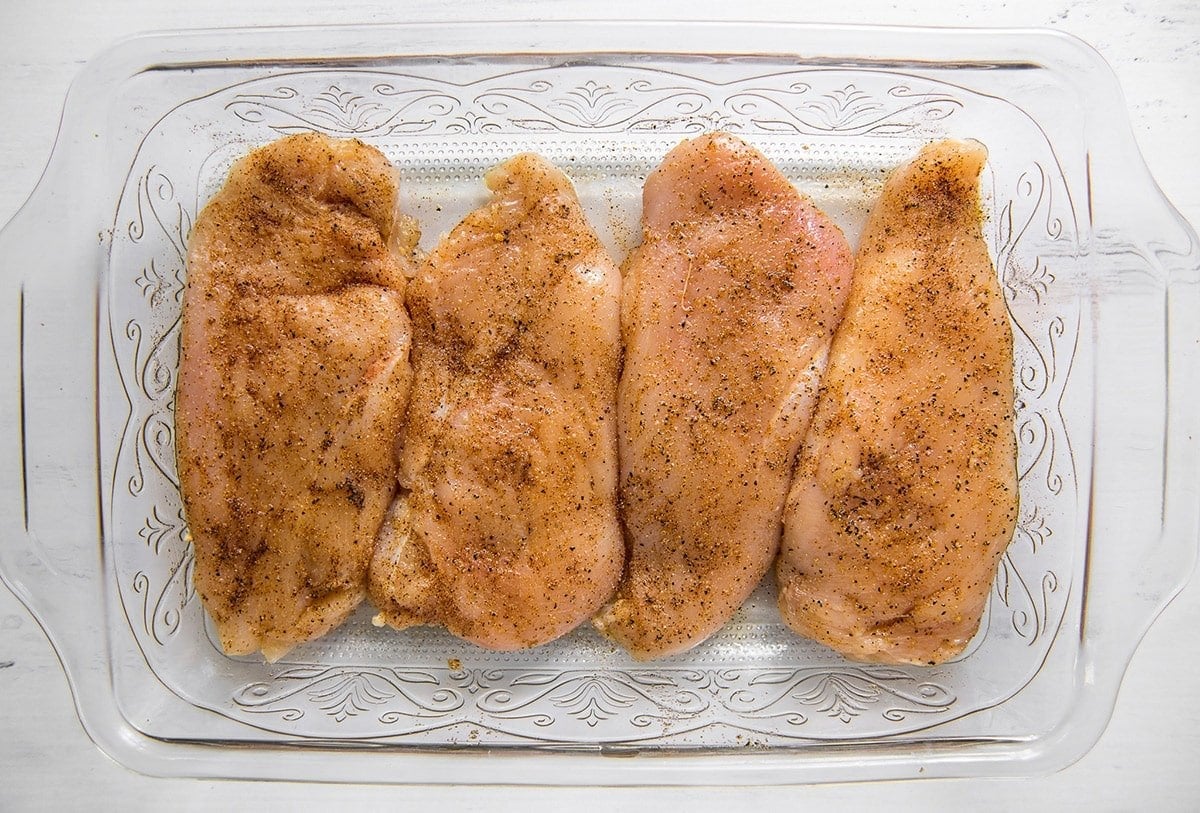 Place the chicken side by side in a glass baking dish. Arrange each piece of chicken in the opposite direction and you should be able to fit 4 pieces in a 13×9-inch dish. For best results, they can be close together but not on top of each other. They will shrink slightly as they cook.
Roast in the oven at 450℉ for about 15-20 minutes. It doesn't sound like a long time, but at the higher temperature the chicken will cook fast.
Cook chicken to 165℉. Once the chicken reaches the optimal temperature, remove the pan from the oven and tent with foil to allow the chicken time to rest. Check out my free downloadable Meat Temperature Chart for more information on proper temperatures.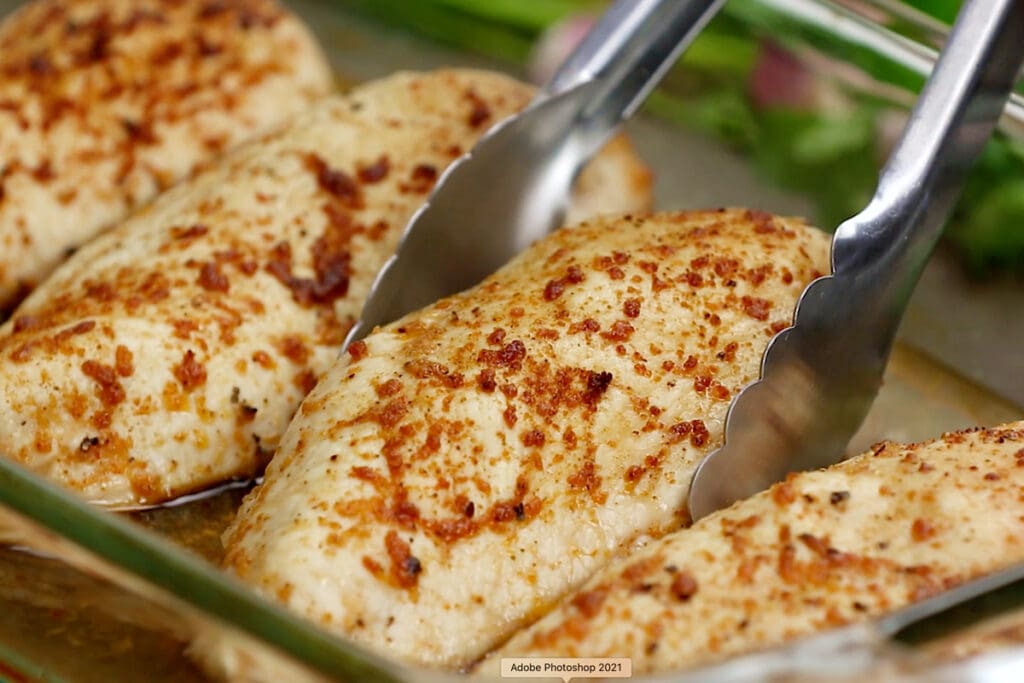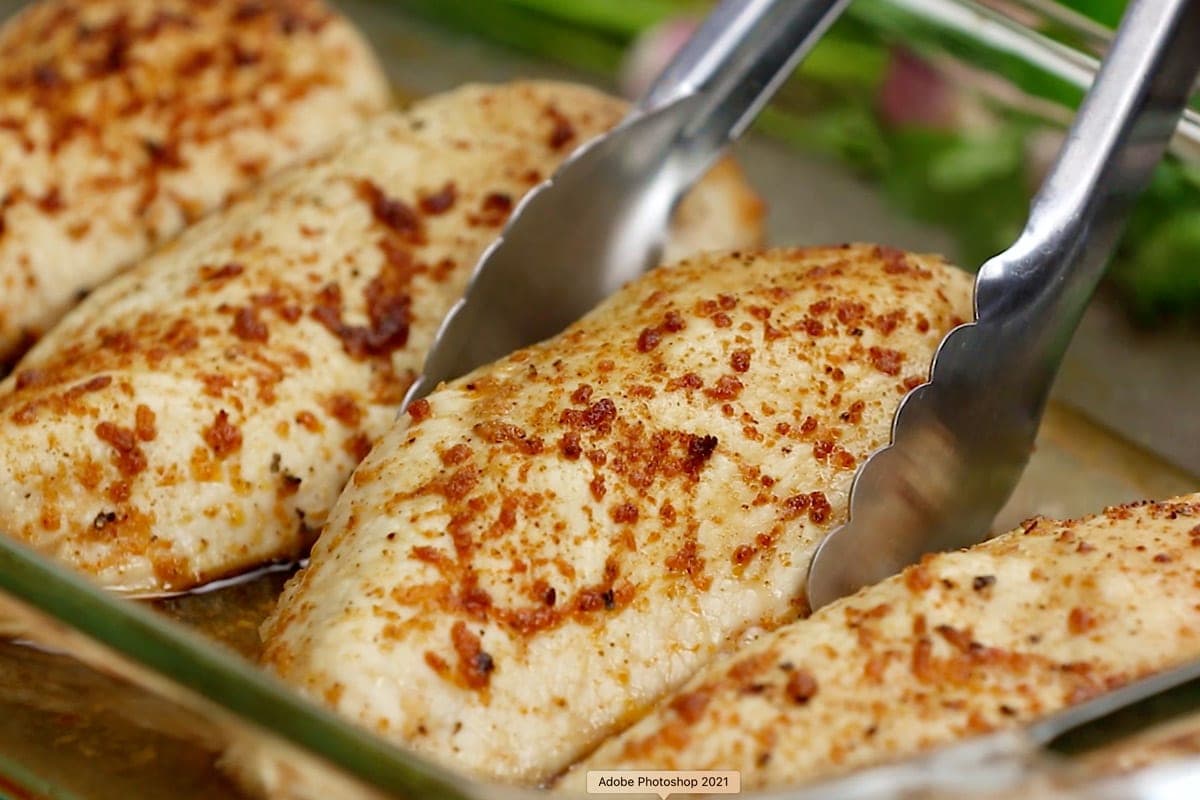 How Long Does it Take to Bake Chicken Breasts?
Boneless skinless chicken breasts are very lean, so it's easy to overcook them. I always set my oven to 450℉, but maybe you want to cook something else at the same time and need the oven at a lower temperature. You can still get good results using this guide.
Here's how long to bake chicken breasts at each temperature:
350℉: 30-35 minutes
375℉: 25-30 minutes
400℉: 22-25 minutes
425℉: 18-22 minutes
450℉: 15-18 minutes
Keep in mind that the exact time needed will depend on the size and thickness of the meat. It's super handy to keep a digital instant-read thermometer in your kitchen to get the temp just right.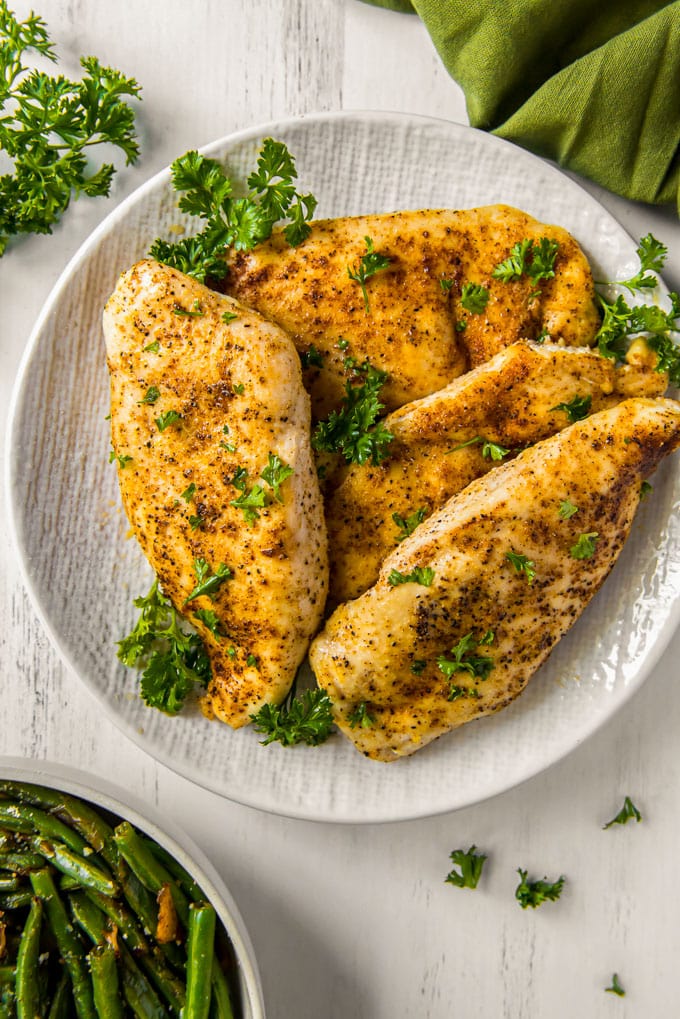 FAQs
Does this recipe work with other types of chicken?
The seasoning blend I use for this chicken recipe is simple and easy, using spices that are usually readily available. It is my favorite blend and I use it with a variety of recipes. It works great with boneless or bone-in breasts, chicken thighs and drumsticks, and in the oven, on the stovetop or even on the grill! Just rub the seasoning into the chicken and cook accordingly.

Boneless, skinless chicken thighs can be cooked at the same temperature as this recipe but may need an extra 5 minutes depending on size. Bone-in chicken will always take much longer; at least an extra 20 minutes. Chicken tenders work wonderfully as well and should just take about 10 minutes.
What is the Best Temperature to Bake Chicken at?
I have tested boneless skinless chicken breasts at a variety of oven temperatures and have found that the higher temperatures seal in the juices and produce the juiciest baked chicken. I prefer to stick to 450 degrees, but going as low as 425 would work fine.
What Internal Temperature Should Chicken Be Cooked to?
All chicken, no matter what part of the bird, should be cooked to 165℉. Use a digital meat thermometer and stick the pointy end into the center of the thickest part of the meat, or for bone-in chicken, the thickest part near the bone. Once the internal temperature registers at least 160-165℉ you know it's time to tent and rest. The time it takes to reach the proper temperature can vary by size. These times are based on 450℉ in my recipe:

– 6 ounce breasts: 13-16 minutes.
– 8 ounce breasts: 16-19 minutes.
– 12 ounce breasts: 22-26 minutes.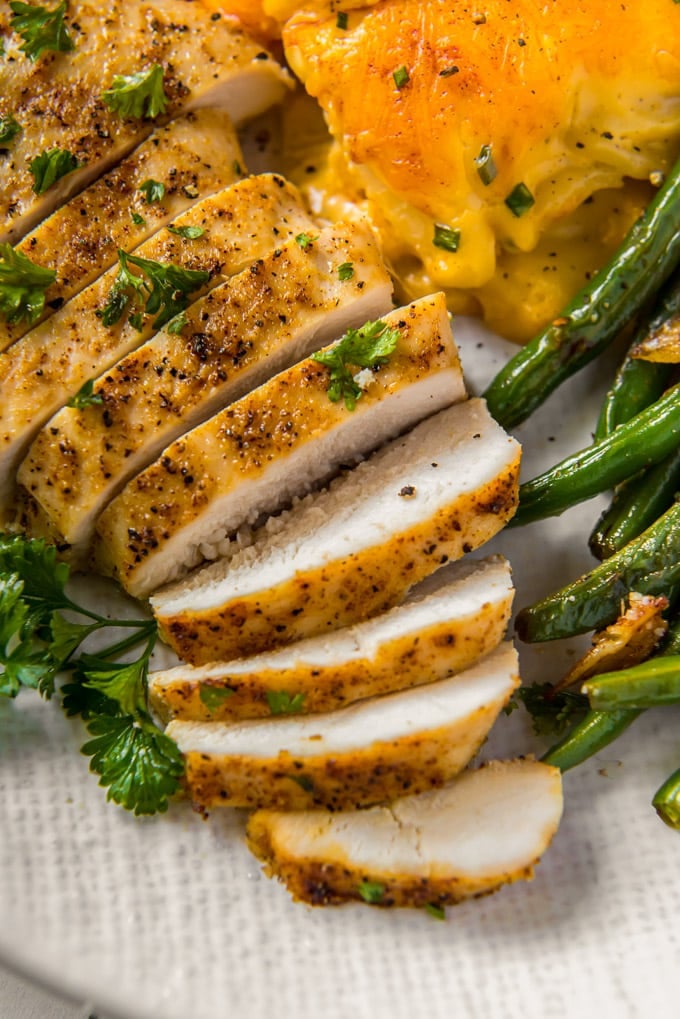 Side Dishes
The beauty of this recipe is that it is incredibly versatile. You could serve it with just about anything from pasta to salad and have a delicious meal. I often just go with roasted red potatoes and salad. But here are some of favorite sides to serve with chicken:
How to Store Leftovers
Refrigerator: Store leftover cooked chicken up to 4 days in the fridge in an airtight container. Perfect for meal prepping for the week and for using in a variety of recipes from salads to soups.
Freezer: Cool completely and store cooked chicken in a freezer safe container for up to 6 months. I recommend wrapping each breast in parchment paper before freezing for easy portioning.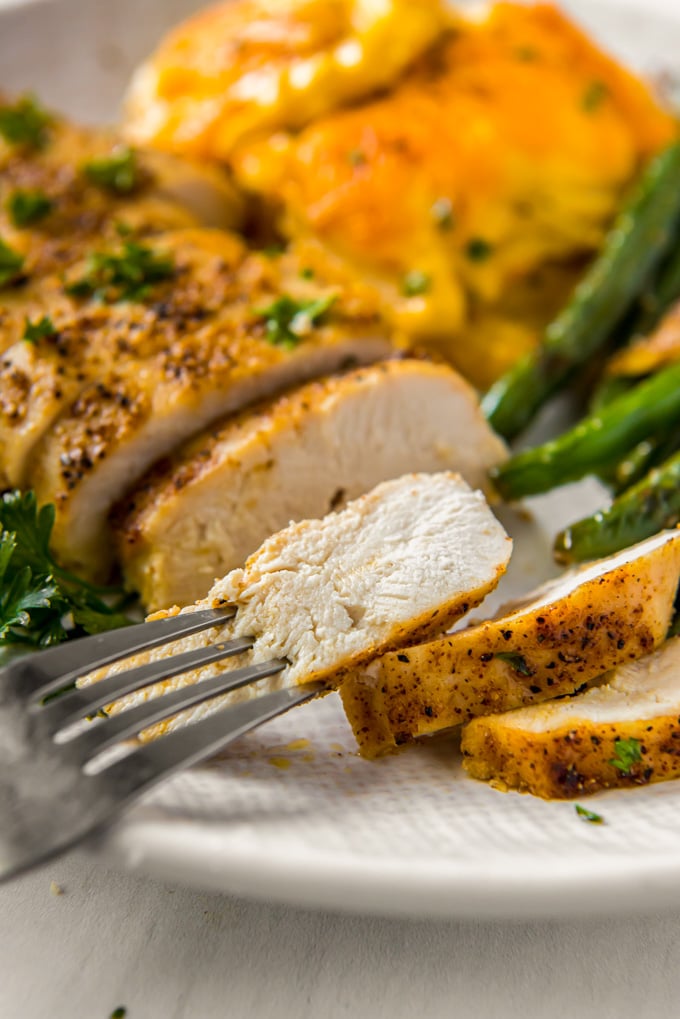 Expert Tips
White meat can be tough to get just right. It's all too easy to overcook and end up with dry, rubbery chicken. I've got lots of expert tips to share when it comes to my favorite chicken breast recipes.
Add healthy fat with olive oil. Rubbing the chicken with a little olive oil before baking helps add moisture to the chicken and also helps the seasonings stick to the breast.
Keep the seasoning simple. I use a very simple seasoning of salt and pepper, garlic powder, onion powder and chili powder or paprika. Oregano, thyme, Italian seasoning or even taco seasoning are also great to use. Pick the spices, herbs and flavors you enjoy.
Chicken breasts do best at a high temperature (roasting) around 425-450℉. This allows the meat to cook quickly and retain a lot of moisture. Lower temps result in a longer cooking time and a higher chance of dry chicken, which is not something anyone wants!
Make sure to let the chicken rest. This is so important when cooking any meat, but especially with this recipe. When cooked at a high temperature the juices in the chicken quickly rush to the center, so when you cut into it right away, all those juices come pouring out and boom – dry chicken. Resting allows the juices to redistribute through the breast and gives you a tender, juicy piece of meat every time.
Serve with the juices. Adding a drizzle of the juices from the pan with add extra flavor and moisture to the meat.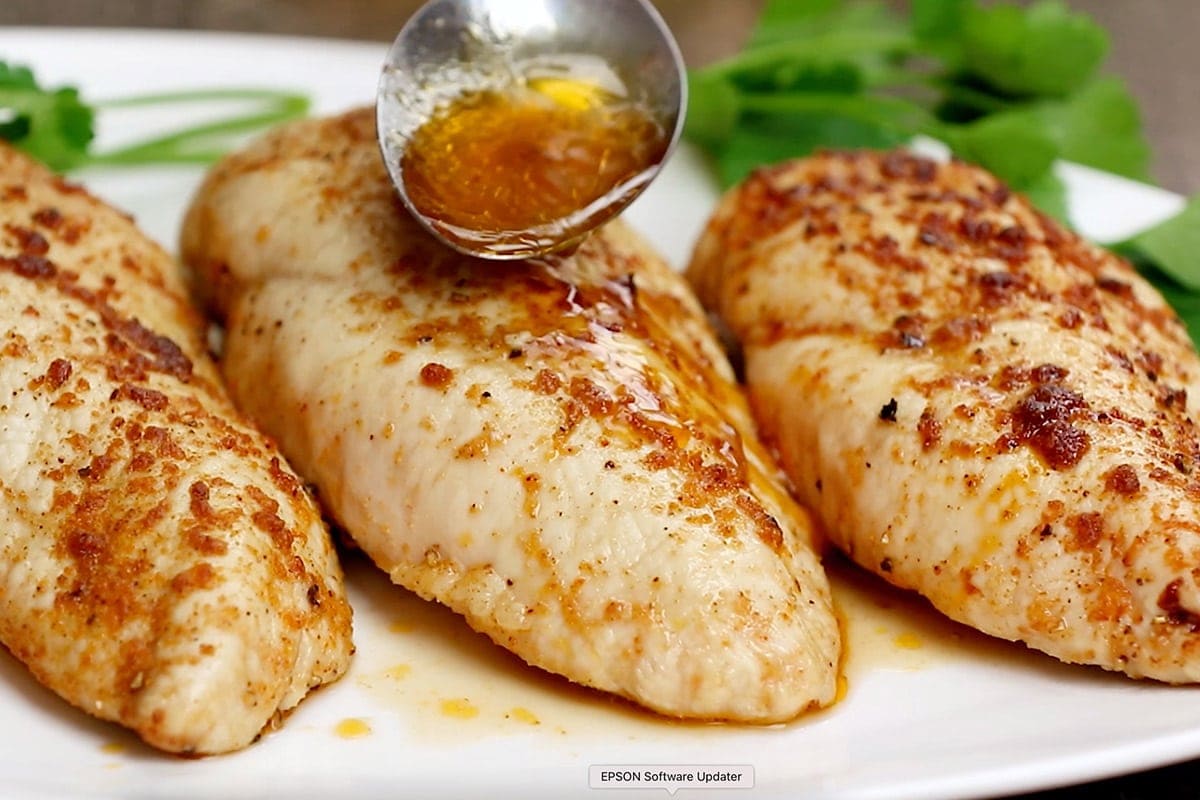 Slice against the grain. This will result in the most tender, easy to chew chicken.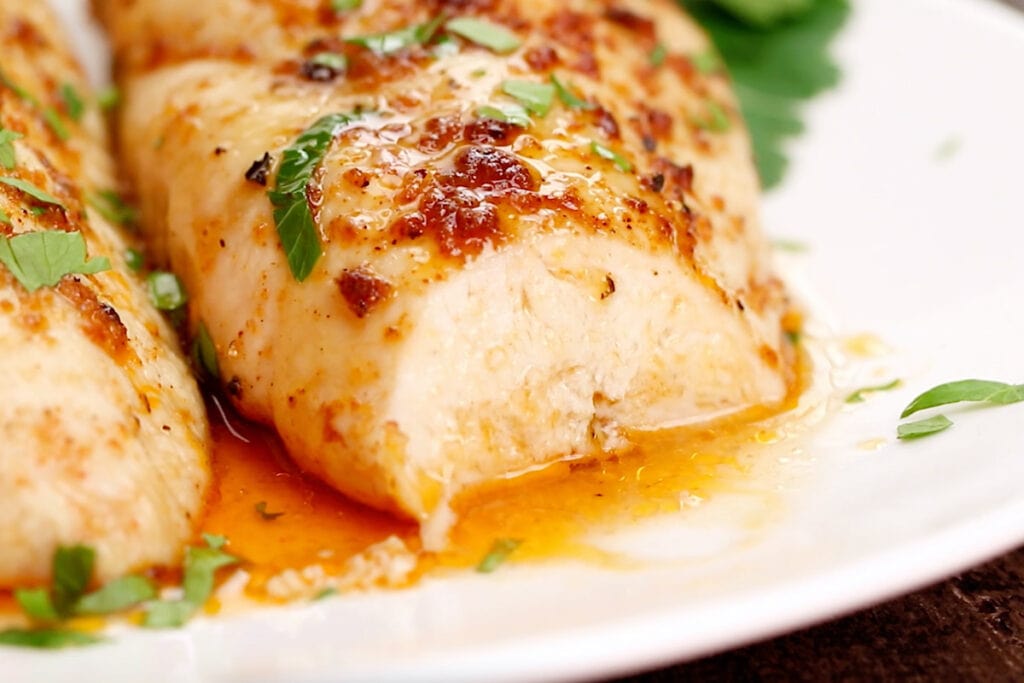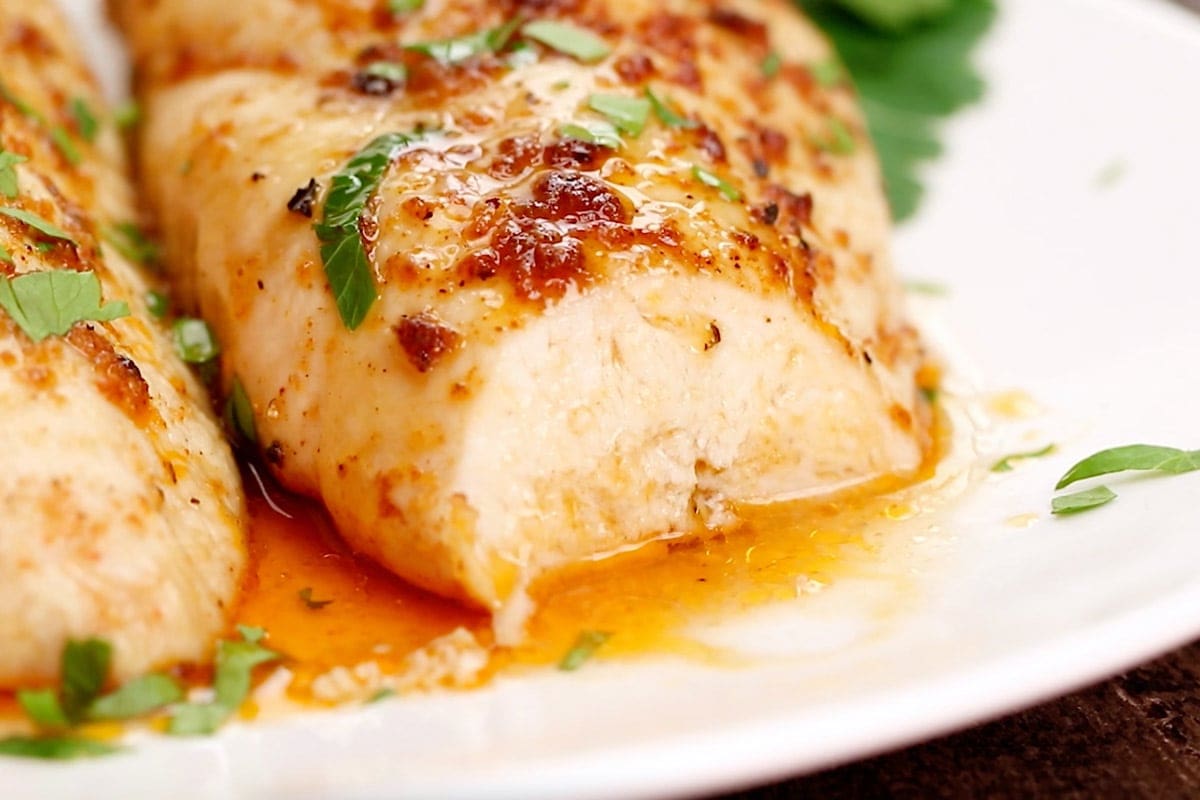 Use a deep baking dish. I use this baking dish (or one similar) for making my baking chicken. You could also use a foil or parchment lined rimmed baking sheet, but a high sided baking dish seems to do better at keeping the meat juicy.
Add a topping. Try topping with some Homemade Garlic Butter to mix with the juices for extra flavor.
More Chicken Recipes You'll Love
If you've made this recipe, please come back and leave us a star rating or a comment below. Or, tag us on social media @yellowblissroad or #yellowblissroad for a chance to be featured.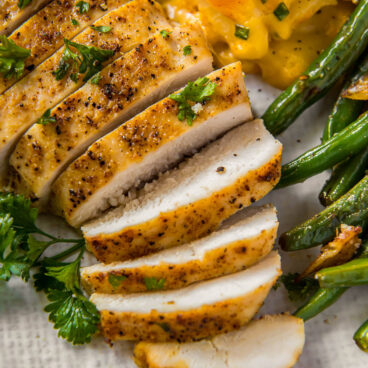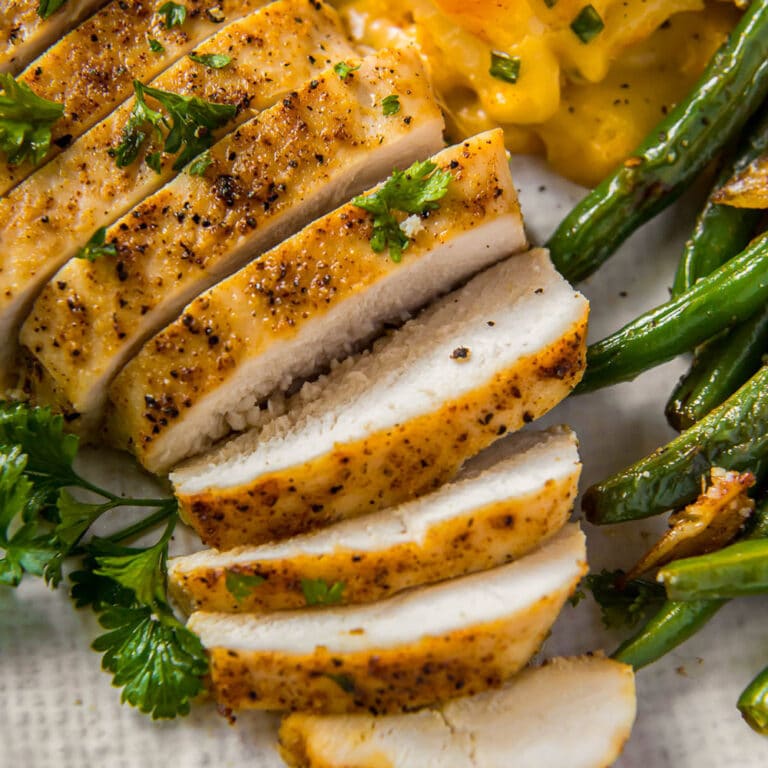 Baked Chicken Breasts
Learn how to cook tender, juicy baked chicken breasts with this easy 3-step method. Just 5 minutes of prep time and 18 minutes in the oven.
Ingredients
2

pounds

boneless, skinless chicken breasts

about 4 medium size breasts

2

tablespoons

extra virgin olive oil

1

teaspoon

kosher salt

1/2

teaspoon

black pepper

1/2

teaspoon

garlic powder

1/2

teaspoon

onion powder

1/2

teaspoon

paprika

or chili powder
Instructions
Preheat oven to 450 degrees. Pound chicken breasts lightly so they are of even thickness.

Pour olive oil in a 13″ x 9″ baking dish. Lightly coat the chicken with the oil to coat it, then place chicken breasts side by side in the dish.

In a small bowl, whisk together salt, pepper, garlic powder, onion powder and chili powder (or paprika). Sprinkle the seasoning mixture over both sides of the chicken and rub it in with your hands. Place chicken breasts side by side, making sure there is no overlap.

Bake in a preheated oven for 15-20 minutes, until juices are clear or a meat thermometer reads 160-170 degrees. *Note – depending on the size of your chicken breasts, it could take longer. Mine were pounded to less than an inch thick.

Cover with foil and allow to rest for 5-10 minutes while the juices settle before slicing.

Serve hot.
Notes
Store leftover cooked chicken breast up to 4 days in the fridge in an airtight container. Perfect for meal prepping for the week and for using in a variety of recipes from salads to soups.
In the freezer, cool completely and store cooked chicken breasts in an airtight container for up to 6 months. I recommend wrapping each breast in wax paper before freezing for easy portioning.
Nutrition
Calories:
215
kcal
Carbohydrates:
1
g
Protein:
32
g
Fat:
9
g
Saturated Fat:
2
g
Cholesterol:
97
mg
Sodium:
563
mg
Potassium:
559
mg
Fiber:
1
g
Sugar:
1
g
Vitamin A:
45
IU
Vitamin C:
1.8
mg
Calcium:
8
mg
Iron:
0.6
mg
Nutrition information provided is an estimate and will vary based on cooking methods and brands of ingredients used.